Growing up with an unusual surname means that I am very sensitive to unusual or hard to pronounce names and never make fun of them. Unless of course it is truly comical. I did work with a man whose last name was Horniblow and well even he delighted in saying his last name...
But when Freaky Flier suggested a lunch catch up and mentioned that he would be having dinner later that evening in Double Bay I looked up my Rolodex of places to eat (okay it's not a Rolodex but a piece of paper ;)) and my finger rested on Wieczorkowski, a Polish cafe and shop in Woollahra. Wieczorkowski is a Polish surname and the word wieczor means night. Even thinking about the hearty Eastern European fare warmed me up.
The front of Wieczorkowski is a shop, full of beautifully merchandised items from jams, chocolates, dried mushrooms, cookbooks and displays of pastries. It's like being transported straight to Eastern Europe. The modern looking glass fronted cafe however is accessed through Halls Lane. A sign asks people to wait to be seated but it's blowing a frosty breeze so we slip inside and wait.
Service from the Polish waitress is friendly and there is an outdoor area but inside seems cosier. It's fairly busy on this week day lunch hour with most tables taken. We are handed lunch menus and they feature Polish and European goodies. Upon our request, the waitress steers us towards the Polish tasting plate. I enquire about the charcuterie and desserts and am told that these are bought in. They pour water from the ceramic jugs made in Boleslawiec by local artists since the 1300's.
Polish Tasting Platter $26.50
We're not waiting long before our food arrives. Our tasting platter is a mix of classics including mixed pierogi, veal cabbage roll and barszcz, a clear beetroot soup. There's a side of sour cream and this is delicious mixed with the slightly sweet and smooth barszcz. The pierogi come in three varieties, a "ruskie" aka potato and farm cheese that is mild and comforting, a "traditional" filled with veal and chicken which is my favourite as well as a "classic" with cabbage and mushrooms. The mushroom croquette is coated in crunchy crumbs and filled with sauteed mushrooms - this benefits when eating with the soup as it can be dry otherwise. And the veal and cabbage rice roll is fortifying and filling.
Henrik's Famous Kottbullar Meatballs $19.50
Although Swedish rather than Polish, we both swooned over the Kottbullar meatballs with cream sauce and crushed potatoes. The sauce is delicious and even though I'm really quite full from the platter the saucey potatoes are like a magnet to my fork and mouth.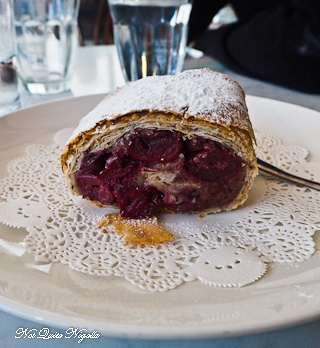 Cherry strudel $7.50
Given the choice of apple or cherry I opt for cherry. It is served on a pretty doily but I wish I had asked for ice cream. It's full of whole cherries and the pastry has a crunchy layer of breadcrumbs and nuts. The pastry remains crisp while the cherries plump and it isn't an overly sweet dessert.
We pop into the shop curious to take a further look. A friendly voice asks us if we like plums and points to a brass bowl filled with chocolate coated plums for customers to try. I am intrigued by the ceramic ware and the items on sale and content myself with a pretty tin of mint caramels.
So tell me Dear Reader, have you tried much Polish food? And given the choice of strudel would you go for apple or cherry?
This meal was independently paid for.
Wieczorkowski
78 Queen Street, Woollahra NSW 2025
Tel: +61 (02) 9327 7014
Monday to Sunday - 8.30am to 4.00pm
http://www.wieczorkowski.com.au/