Ételek (meaning food in Hungarian) is a pop up in Potts Point in the old Gastro Park site that closes on September 14th. Chef Adam Wolfers creates modern Hungarian food, with at times, a Jewish twist. There are modern takes on the langos, everything bagel and parsnip schnitzel as well as other tasty noshes.
For a change, we don't have to rush off at 8pm (my mother usually looks after Mochi and goes to bed at 8:30pm). Tonight Mr NQN's lovely colleague Kim is looking after Mochi and then I notice that Louise and Viggo are without their 9 month old baby Henry so all of us feel like the night is young and ripe with possibilities.
I've already stalked Ételek's online menu and earmarked some things I really want to try. Service from our main waitress is fine although not overly friendly and more efficient and reproachful than anything else.
Ételek inherited a lot of items from Gastro Park (furniture has now been zhushed with fluorescent tape) and they also inherited a range of unfashionable drinks that they describe as "Things we inherited, ask us what we have tonight. We don't judge, We want you to be happy" and includes Jim Beam, Pimms, Amarula, Amaretto and if I really want to relive my teenage nights out in Kings Cross: Midori.
Rum and cumquat $18 and pickle martini $20
We start with cocktails: a "rum and cumquat" with dark rum, amaro and cumquat for me and a "pickle martini" for Louise which is made with whey vodka, dry vermouth and a pickle. Viggo has a beer while Mr NQN can't decide so he sips mine.
Our waitress is concerned by the amount of food that we order but for a change it's not that we have over ordered, it's that we have under ordered. We tried explaining that we just want tastes of everything and a bite is enough (also we wanted to go to other places afterwards).
'Everything Bagel' $4ea
The everything bagel is usually one with sesame seeds, onion, garlic and poppyseeds on top. These canape sized versions are small discs with a paper thin crisp shell and a filling of light cream cheese and dill. It's a tasty bite to start.
Langos, cultured cream, "flavours of Hungary" $14
I remember the first time I tried langos and how smitten I was with the puffy, deep fried bread. And seriously what's not to love about deep fried bread?
Especially when it is served with cultured cream and a spiced dukkah. The bread has a blistered outer with a soft, puffy interior without being greasy or heavy at all.
Parsnip schnitzel, hot sauce 2 pc $8
Although the parsnip schnitzel's proportions look rather slender, the schnitzel is quite satisfying and for those that object to it, doesn't have that strong taste of parsnip. It's a crumbed and breaded parsnip served with hot sauce and cultured cream. And I want a whole enormous schnitzel of this thankyouverymuch.
Cabbage and guanciale skewers, malawach bread $9
The cabbage and guanciale skewers are pieces of chargrilled tender green leaves of sugarloaf cabbage with guanciale. You remove the skewer and place the cabbage and guanciale in the malawach bread (similar to a pan fried roti) and it's pretty damn good. And it's even better with the hot sauce and cream from the parsnip schnitzel.
Spanner crab, crisp corn, sour cream $26
This is a bowl of creamy spanner crab foam or fluff with deep fried and battered corn (seriously, why is this the first time I am eating battered corn? it's so good). The foam is rich and creamy with plenty of spanner crab meat.
Nokedli, mushroom, walnut $25
I had stalked the menu online and originally this nokedli (similar to spaetzle) had sea urchin which I think would have really suited it. The dish is very mild, especially as it comes after some fantastic and strong flavours and the whole dish falls to the background.
Sirloin, kohlrabi, white poppy seed $36
The sirloin comes pre-cut and served medium rare with kohlrabi noodles and a white poppyseed cream as well as a rich jus. It's the sort of dish I'd like a fat piece of langos to mop up that sauce with.
Brussel sprouts, schmaltz, anchovy $14
In terms of sides there is only this and a "red velvet salad" which is a red cabbage salad which our waitress described with a shrug of her shoulders. The Brussels sprouts are cooked with schmaltz or chicken fat with fried anchovies on top.
Tangerine poppy seed cake, buttermilk $15
There are three desserts but we decide to choose two because we have other places to go afterwards. The tangerine poppy seed cake has a nice hit of marmaladey flavours from the tangerine and poppyseed and it's moist and buttery. It comes with buttermilk foam and candied poppyseeds on the side for crunch and creaminess.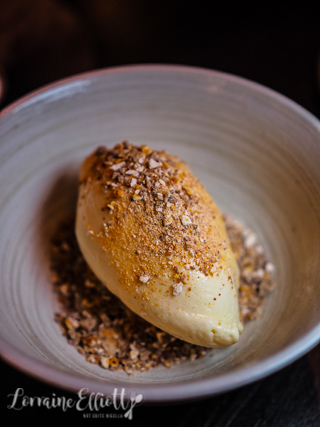 Jerusalem artichoke ice cream, matzo praline $15
Both desserts are a hit and they're different enough from each other to not invite comparison. The Jerusalem artichoke ice cream comes as a large quenelle of ambrosially smooth ice cream scattered with the rubbly crumbs of matzo bread praline in a variety of sizes. There's not really a discernible Jerusalem artichoke flavour but it's the sort of ice cream where you don't get bored, you just scoop and eat and scoop and eat.
Even though we had a lot of time to relax and not rush, all the dishes come out so quickly that we are finished within one and a half hours. And finishing at 7:30pm means that the night really is young although Kings Cross isn't what it used to be (or is that us?).
So tell me Dear Reader, how long do you like to dine out for on a Saturday night? 1.5, 2, 3 or 4 or more hours? And do you often go to pop up restaurants?
This meal was independently paid for.
Etelek
5-9 Roslyn St, Potts Point NSW 2011
Monday & Tuesday closed
Wednesday to Saturday 5pm–12am
Sunday 2pm–12am
Phone: (02) 8354 0766
etelek.com.au/