I look up and there is a piano suspended from on the wall above. A red chair and a wooden desk greets me to the right. I walk in and down the stairs past the displays of fruit, spices, teapots and vintage couches and spy a couple of old fashioned rotary whisks adorning the walls. Two of my travelling companions Tina and Mariam from my recent trip to Canada sit against the banquette on this quiet Monday night. We're early granted for this neighbourhood, and there is one other table quietly dining near the window.
The somewhat mysteriously named Food Society is not actually a food society or club that requires membership to pass under the piano above but instead it is a restaurant that serves Eastern European food, a sector of European food not particularly common in inner city Sydney. At the bar are two gentlemen in checked shirts and bow ties and there are pots of mulled wine well...mulling including one spiced apple pie drink (curses, I'm driving and can't drink!) as well as Svarak which is a mulled red wine.
A faux fireplace glows and we quickly shed our layers. We're dining mid September and Spring is definitely in the air but it's still a bit of Winter here with the fireplace and a Winter menu (said to change soon). We take the waiter's recommendation for entrees and mains and it's the mains we have the most trouble deciding on as there are four must try sounding ones. Orders are taken via iPad and the waiter proudly shows the system where the kitchen can feed back to him how many portions of a dish remain. Dishes are designed to be shared and many of the mains are smaller than normal but the prices reflect this with most mains under $25.
Pierogi with organic pork, roasted shallots $10.50
The pierogis come out first on a long plate as four pierogi dumplings that have been filled with organic pork meat and then boiled and then pan fried with a roasted shallot and speck butter sauce. The pierogi are a sturdier dumpling with some bite back and are good stomach fillers for cold nights.
Beetroot and vodka cured ocean trout blini, dill cream $16
Both this and the pierogi came out in serves of four and the blinis are about the size of 20 cent pieces and topped with a lick of dill cream and a folded over portion of beetroot and vodka cured ocean trout which has a slightly sweet flavour to it. They are delicate tiny mouthfuls.
Spinach, ricotta burek with ajvar $11
Cutting into this there is a satisfying crunch coming from the pastry. The burek comes out as a filo pastry rectangle portion that is filled with spinach and ricotta although some of the edges have little pockets of baked egg white in them. It sits on a bed of smooth eggplant puree which is edged by some red capsicum puree, both quite mild and silky. There were little deep fried garlic crisps on top and to be honest both Mariam and I preferred this without the puree. It also needed some seasoning and we add some salt to it.
Potato dumplings with slow cooked oxtail, roasted pearl onions, cavalo nero and red wine jus $24
Time for the mains and we found ourselves enjoying the mains a bit more than the entrees. The slow cooked oxtail was served in a cast iron pot with the oxtail cooked down with red wine and shredded. There were also whole roasted pearl onions, leaves of braised cavalo nero (Tuscan kale similar to silverbeet) and three terribly good potato dumplings which was good to break up the richness of the meat. If anything the dish could have done with more of the dumplings as the ratio of the meat to dumpling wasn't quite balanced.
Selsko Meso Balkan style slow cooked pork neck, peppers, tomato and spices $22
The Selsko Meso is a perfectly seasoned rich, spicy tomato and capsicum based soup with vegetables and soft chunks of pork in it and a swirl of sour cream that reminded us of a goulash type of soup. It is warm and comforting and we take up their offer of some bread to dip in the soup to soak up the flavours.
Ten hour braised lamb shoulder, field mushroom, white bean puree and mint jelly $26
The favourite main was however the ten hour braised lamb that was so soft that you needed a spoon to fish out a portion from the deep recesses of the dish. It sat on a smooth, rich white bean puree with a whole braised field mushroom and a squirt of delicious and sweet mint jelly that rounded off the flavours and cut through the richness of the slow cooked lamb.
Potato salad, dill pickle and egg $9
I grew up eating Russian potato salad as my best friend in high school was Russian and since then I've always loved potato salad with dill pickles and eggs. We all adore this potato salad with large chunks as well as softer, smoother bits of pureed potato, chunks of boiled egg and sweet dill pickles on top.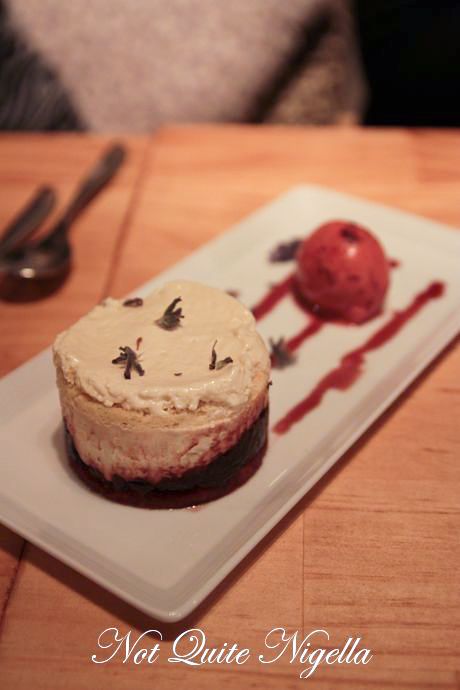 Lavender cream and sour cherry trifle $12
Dessert time! The lavender cream trifle is a top layer of lavender cream, strong in lavender and a bottom layer of sweet sour cherries. The lavender is very strong, for lavender lovers only and even a trifle excessive (no pun intended) in lavender for me but the sour cherry base is good as is the strawberry ice cream.
Society baked pashka $12
The pashka is made using a cottage or ricotta type cheese and comes out as a square with a macadamia nut crumble on top and a side of soft strawberry sauce. The cake by itself isn't very sweet although it is creamy but it comes together with the crunchy crumbs and the sweet strawberry sauce.
Honey vodka
By now the crowds have come in and there are quite a few other tables dining. They offer us a complimentary parting gift, a taste of honey vodka but alas my license means that I can't try any-next time perhaps! And we like the thoughtful gesture where they have already worked out the cost per person of splitting the bill in three.
So tell me Dear Reader, do you ever keep in touch with people that you have met on your travels? And do you ever eat out on Monday nights?
Food Society
91 Riley Street, Darlinghurst, NSW
Tel: +61 (02) 8090 3462