I was recently speaking on a panel and someone in the audience asked a question about rules about visiting restaurants. My fellow panelists answered that there weren't any rules and that sometimes they review a place on opening night. It's something I avoid doing and have only done once but then less than a week later, I find myself visiting a place unwittingly on their first night of service. Gulp! So much for those rules!
It was a Tuesday night and a rainy one at that. After doing many laps around Stanley Street looking for a park Mr NQN dropped me off and he went to find a park. I parked myself at the bar flicking through the menu while waiting for Natalie and Rowan to arrive.
Rupert and Ruby's is located in Stanley Street where fledgling businesses win turns taking up the space through IconPark. It is funded through a crowd funding campaign where almost $300,000 was pledged in the 21 day period. Rupert and Ruby's was the people's choice winner and they follow on from Stanley Street Merchants who occupied the space for three months prior.
Canadian born chef Eli Challenger is formerly of Porteno and the name Rupert and Ruby references Fat Rupert's at Bondi where he is currently the chef. Fat Rupert's owner Aaron Pearce says, "When the invitation came to try something in Darlinghurst after the reception we got for Ruby's BBQ during the IconPark series, we couldn't say no. I'm so so proud of this place, everything about it; it's exactly why I left my corporate job 18 months ago. Even though the hours are ridiculous and a lot of restaurants and cafes fail, every day reminds me that you should be doing what you want to do, something that you have a passion for."
They offer us a table upstairs or we can stay at the bar downstairs. Downstairs is a little more lively but upstairs gives us room and privacy so we adjourn upstairs and slide in a wooden framed booth and flick through the menu.
Everything is supposed to be shared as it arrives at different times. Service is friendly and helpful, even when we are too busy talking to attend to vital duties such as ordering. The first taste to arrive is the beetroot cured salmon, pretty as a picture on a vintage plate. It is sweetened from the beetroot curing and served with pickled red onion, grilled leeks, parsley, shaved fennel, dabs of dill labneh topped with caviar. It is fresh, well balanced and moreish.
One of the mains arrives next and it is tender blackened crusted snapper with a bright green NOLA (New Orleans Louisiana) salsa with traditional Southern flavours like green tomatoes, grilled sweet corn and avocado. The snapper is served with chunks of avocado, tomato and coriander. It's priced a little on the high side for the serving size but the snapper is perfectly cooked and melts in the mouth.
Little did Mr NQN and I know that Rowan is a total fried chicken connoisseur - he loves the stuff and eats it at least once a week. The fried chicken is crunchy, tender and served boneless and dunked in sweet honey butter. I particularly like the sweet butter as a change for fried chicken. Just one complaint though: it does say bucket and I think we were all expecting a bucket, especially Rowan who I think had his heart set on downing a bucket of the stuff.
The next dish confuses us a little. It's an unusual mix of textures as the smoked chicken is a little dry and the flavours don't quite go together as much as we'd like although it sounds good on paper.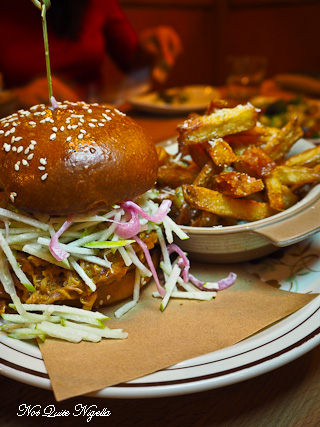 I'm always glad when a burger comes with chips. It feels like it something is missing otherwise. The burger is filled with Black Berkshire slow cooked free range pork shoulder that is shredded and served with apple slaw and barbecue pork in Eastern North Carolina. The slaw dominates so that the pork isn't very distinct but the chips are excellent and very crispy.
The flavour of the house baked cheesecake changes every week and this week it is strawberry. It's very light and fluffy and doesn't have any crust at all which just spurs discussion on crust vs filling. Natalie and I are crust girls while Rowan and Mr NQN are filling guys. I wonder if this is how and why people get married?
The pecan pies come as two individual pies. I'll admit I am a hard judge of pecan pie because I made it for a living and this one is good but the pastry is a bit thick. It comes with two scoops of vanilla ice cream on top.
And true to form, we are too busy discussing the merits of fried chicken and pie crust to notice that we are again, the last to leave the restaurant, every other table clearing prior to and unbeknownst to us!
So tell me Dear Reader, are you often the last to leave a restaurant? And do the waitstaff ever have to come back multiple times to take your order?
This meal was independently paid for.
Rupert & Ruby's
78 Stanley St East Sydney NSW 2010 Australia
Tel: +61 (02) 7901 0396
http://www.iconpark.com/rupertandruby/
Open Breakfast & Lunch 7 days
Open Late Tuesday through Saturday