"It's a furniture store," said Mr NQN.
"No it's a cafe, why would a furniture store be called carrots?" I answered albeit doubtfully. He may have been right.
It was a Friday night and we were walking around looking for some place to eat. It was entirely my fault - I had almost forgotten how hard it was to get a table without a reservation. Walking around Surry Hills we spotted White Carrots. It wasn't open and with the white chairs and minimalist look we both wondered what it was, but I did what I always do when I come across somewhere new and that is to look it up on the internet.
Just a few days later, I was meeting up with my friend and hairdresser Elly @maxbrennerswife and I suggested that we meet here. I had read that White Carrots isn't named after an actual breed of carrot (and yes there are white ones). It was named so after the owner Jenny Foreman's little brother, aged 6, referred to parsnips as "white carrots". Service in the cafe is friendly and easy going.
Juice $5.50 and Cappuccino $3.50
It's a Monday and things are fairly quiet. The sign tells us that the focus here is on "old school, nutritious meals with top notch produce." I see loads of sandwiches being ordered at the other tables and it is only a quick look at the menu (with a child's drawing on one side) and we know what we want to order. I have a coffee while Elly has a fresh juice - carrot (of course, not white ;) ), apple and ginger.
Pulled Pork Sandwich with Slaw $8.50
The pulled pork is the most popular item - of course every cafe does a version of a pulled pork sandwich with varying degrees of appeal and this is an excellent one. With very finely sliced slaw and just the right amount of soft, pulled pork and plenty of spices, the filling is wedged into doorstop sized slices of fresh, soft sourdough bread from Infinity sourdough.
Egyptian folded eggs with Persian feta, on toast with a mint, macadamia and artichoke pesto $14
Next up we try the Egyptian folded eggs which are really like scrambled eggs with nice big chunks of soft Persian feta. A mint, macadamia and artichoke pesto is spread across the single piece of lightly toasted bread and atop is a shower of dukkah. It's a herby, delicious dish that could double as breakfast or lunch.
Pumpkin and green bean salad with roasted coconut and tahini $12 large size
There are several specials as detailed on the chalkboard and some of these appear on certain days (hello 8 hour brisket alas on a different day!). The pumpkin salad is substantial - perhaps we should have ordered the small one but we were trying to eat our veggies. This is a richly flavoured salad with tender green beans, chunks of pumpkin with an appealing spicy nuttiness from tahini and roasted shredded coconut and the spices used. It's good enough for Elly to want to take the leftovers home with her (she has a hungry construction worker to feed after all).
Peach & almond muffin $3
We have just a little more time before we have to go our separate ways so it's time for some sweets. Alas there is no carrot cake but there are home baked peach and almond muffins. These have slices of baked in peach and slivered almonds and a moreish, dense but not dry texture.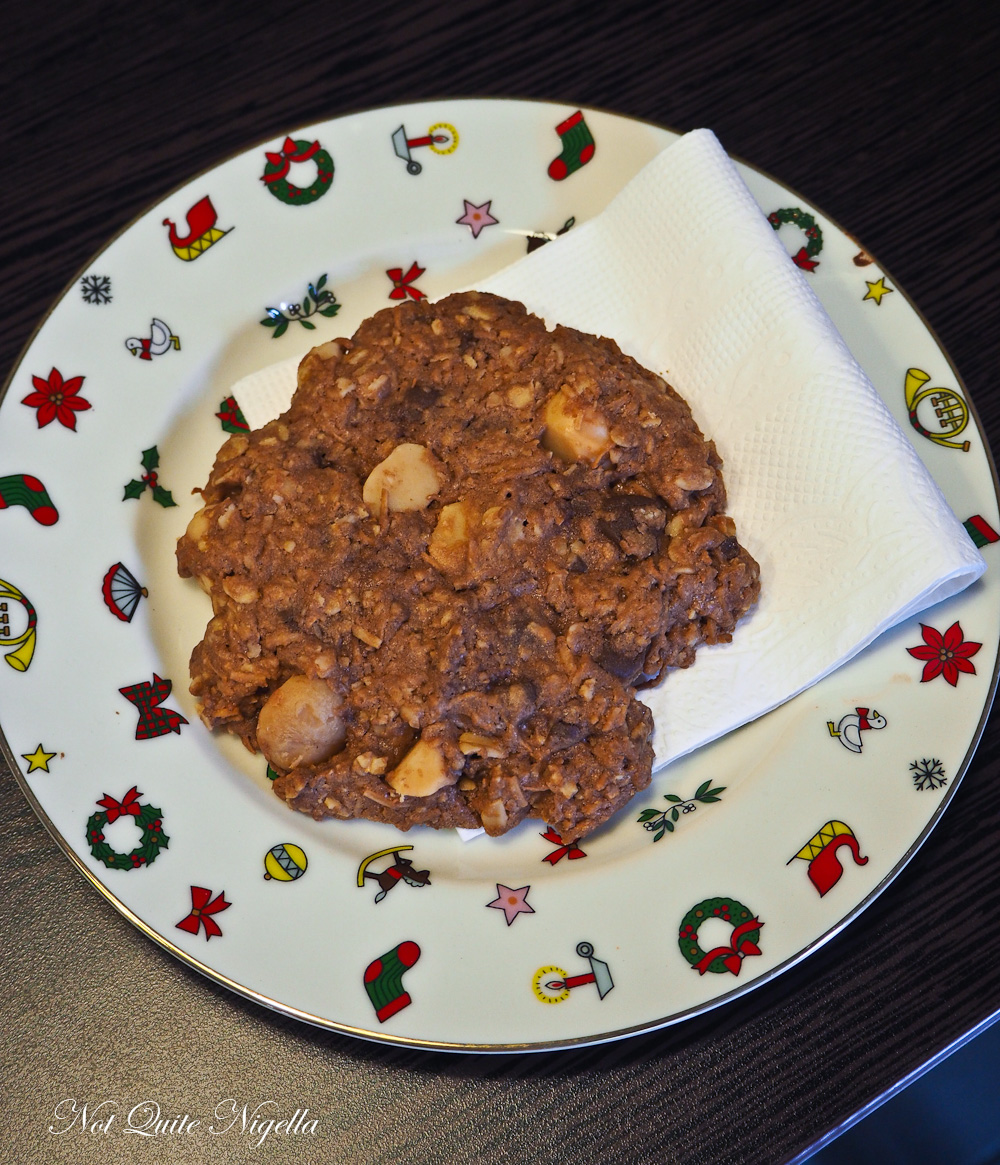 Cowboy Cookie $3
The cowboy cookies are made with chocolate oats and macadamia nuts. They're crumbly and combine the goodness of oats with the indulgence of chocolate and macadamias. Almost healthy no? :)
So tell me Dear Reader, do you always research a place before visiting it or do you often chance things? And how often do you eat something sweet following lunch?
This meal was independently paid for.
White Carrots
216 Crown Street, Darlinghurst, NSW
Tel: +61 (02) 93603898
Open: Monday to Friday 7am - 3 pm, Saturday 8am - 3pm