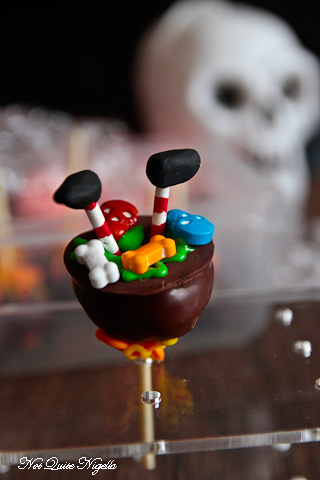 I absolutely love these Halloween Cake Pops that are shaped like cauldrons. If I have leftover cake from trimming the tops off cake I like to freeze it to make cake pops. There's no better second life for cake trimming than being shaped into a ball (or in this case cauldron) and then being dipped in chocolate. The feet were inspired by the Wizard of Oz and the bones were purchased from a candy shop.
Did you make this recipe?
Share your creations by tagging @notquitenigella on Instagram with the hashtag #notquitenigella
Cauldron Cake Pops
An Original Recipe by Lorraine Elliott
Preparation time: 35 minutes
Cooking time: 5 minutes
Makes 15-20 pops
2 cups leftover cake trim, discard the hard parts (or you can always make a cookie pop mixture like the one here)
3 tablespoons chocolate ganache
300g/10ozs. dark chocolate
1 teaspoon copha
Orange, yellow and green royal icing pens
Black fondant
Red food colouring dye
Skeleton and bone decorations
Step 1 - Line two trays with parchment. Shape the cake pops into small around, about the shape of walnuts. Melt the chocolate in a microwave or a double boiler. Dip a pop stick into the melted chocolate and push through the cake pop making sure not to go all the way through the ball. Refrigerate.
Step 2 - Once the chocolate has set, add the copha to the chocolate mix to make it a little runnier. Spoon the chocolate on top and around the ball and place back onto the paper to dry and set. When it has set, draw squiggles of flames in orange and yellow icing on the bottom side of the cauldron. Set.
Step 3 - Make the legs by cutting up some of the cake pop sticks and draw stripes with red colouring and a fine paintbrush. Shape small shoes at the end and allow to dry and set hard.
Step 4 - Place the pops in the display stand. Place the legs into the top of the cauldron and then pipe a little green royal icing and attach the skeleton bits.