Whenever I eat somewhere, I have two questions that I just have to know the answers to. The first thing is the meaning of the name of the establishment and the second thing is what used to be in that space. I'm not sure why I need to know these two things but it's a compulsion.
One might assume that Three Williams Cafe in Redfern (formerly the storage or display room for the furniture store next door) is run by three men called William. Indeed, looking behind the counter, there are three men in grey t shirts. But Three Williams is named not after them but after three gentlemen called William who were significant in the area of Surry Hills -William Redfern, William Chippendale and William Hutchinson. The owner Glen Bowditch was formerly of The Grounds and Sonoma Bakery while chef Tim Bryan is ex Aria and Chiswick.
We're meeting my dear friend and hairdresser Elly and her boyfriend Sebastian and they're running a little late. Well, 40 minutes late which gives Mr NQN and I time to ponder the menu and order a couple of drinks. Come 1pm when lunch hour hits, a queue forms. The menu is a smart selection of cafe crowd-pleasers including their signature home made narnie (naan sandwich). It's a huge space with painted brick walls and raw wood finishings. Service is very warm and friendly.
Peanut Caramel Shake $6
There are three items that have caught our eye and we ask our waitress which one she recommends. The peanut caramel shake is popular so we order this. Mr NQN takes a sip and smiles before passing it over to me. "It's right up your alley" he says of the milkshake that comes in an old fashioned milkshake tumbler. He's right. It's like dessert in a cup.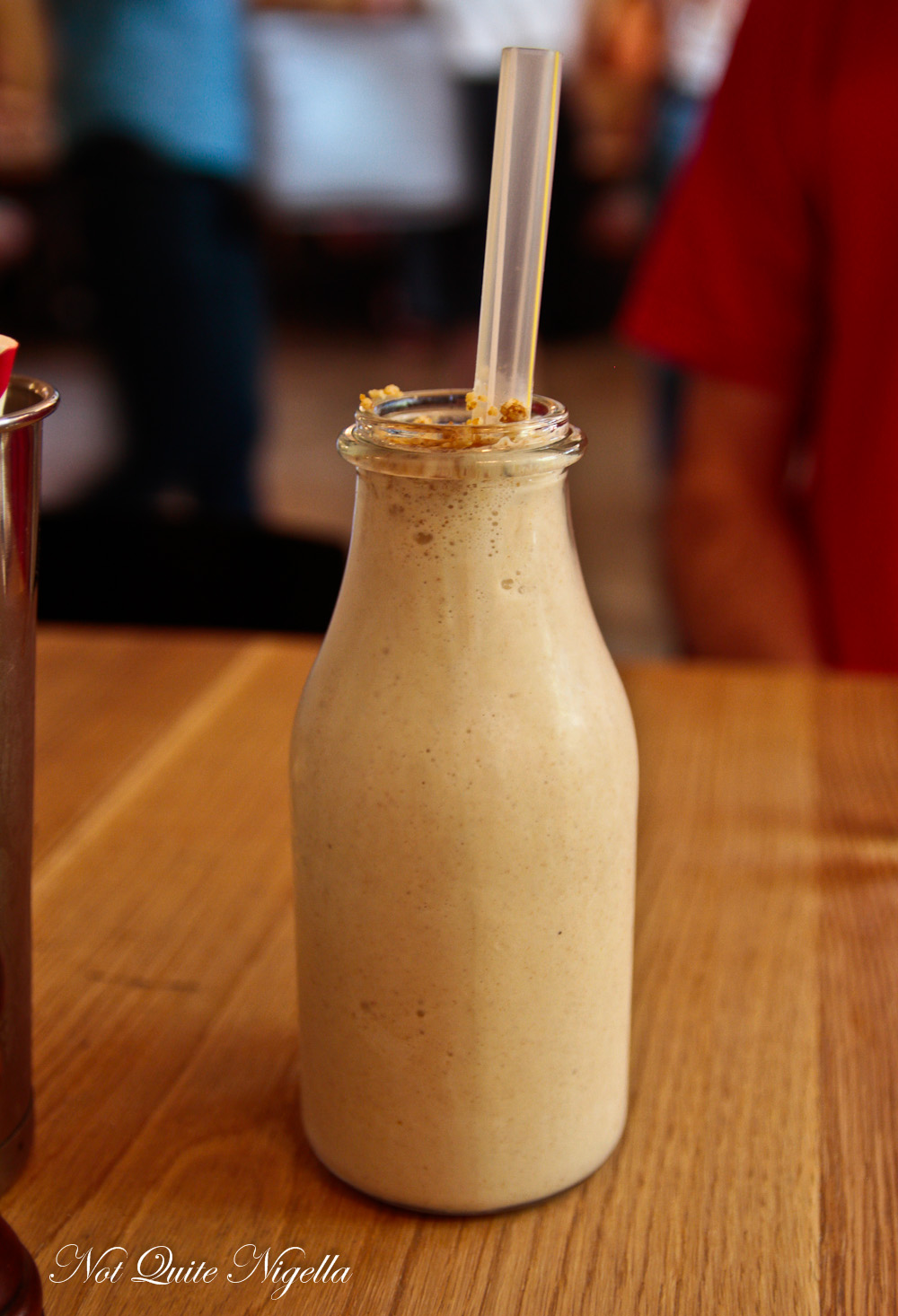 Banana, medjool date and walnut praline smoothie $7
While the peanut caramel shake tasted indulgent, this was a healthy tasting smoothie with sweetness from banana and medjool dates. It is topped with walnut praline and reminds me of liquid muesli and milk served in a cute retro glass bottle with oversized straw. Out of the two, I have to admit that the peanut caramel shake won my heart.
Seasonal house made soda jug $12
Elly and Sebastian arrive and we're all ravenous by this stage so we make our choices quickly based on staff recommendations. We try the house made pineapple and mint soda which is made with roasted pineapples that are juiced giving it that darker, caramelised shade. It's refreshingly good and just the right level of sweetness.
Fish Croquettes $3 each
I'm convinced all meals should start with croquettes. And when they're fish croquettes like this even more the case. Cutely presented in egg cartons, the fish croquettes are soft inside and filled with fish while they are crunchy and bronzed on the outside. They come with a slice of lemon and some very good aioli.
Cauliflower Tabouli with chicken $16
I try a little of Elly's salad and it has caramelised cauliflower, quinoa, walnuts, preserved lemon, pomegranate seeds and she opted to add chicken breast to it for an extra $2. It's a refreshing salad with clean flavours. Some of the cauliflower was more caramelised than other pieces though and I preferred those.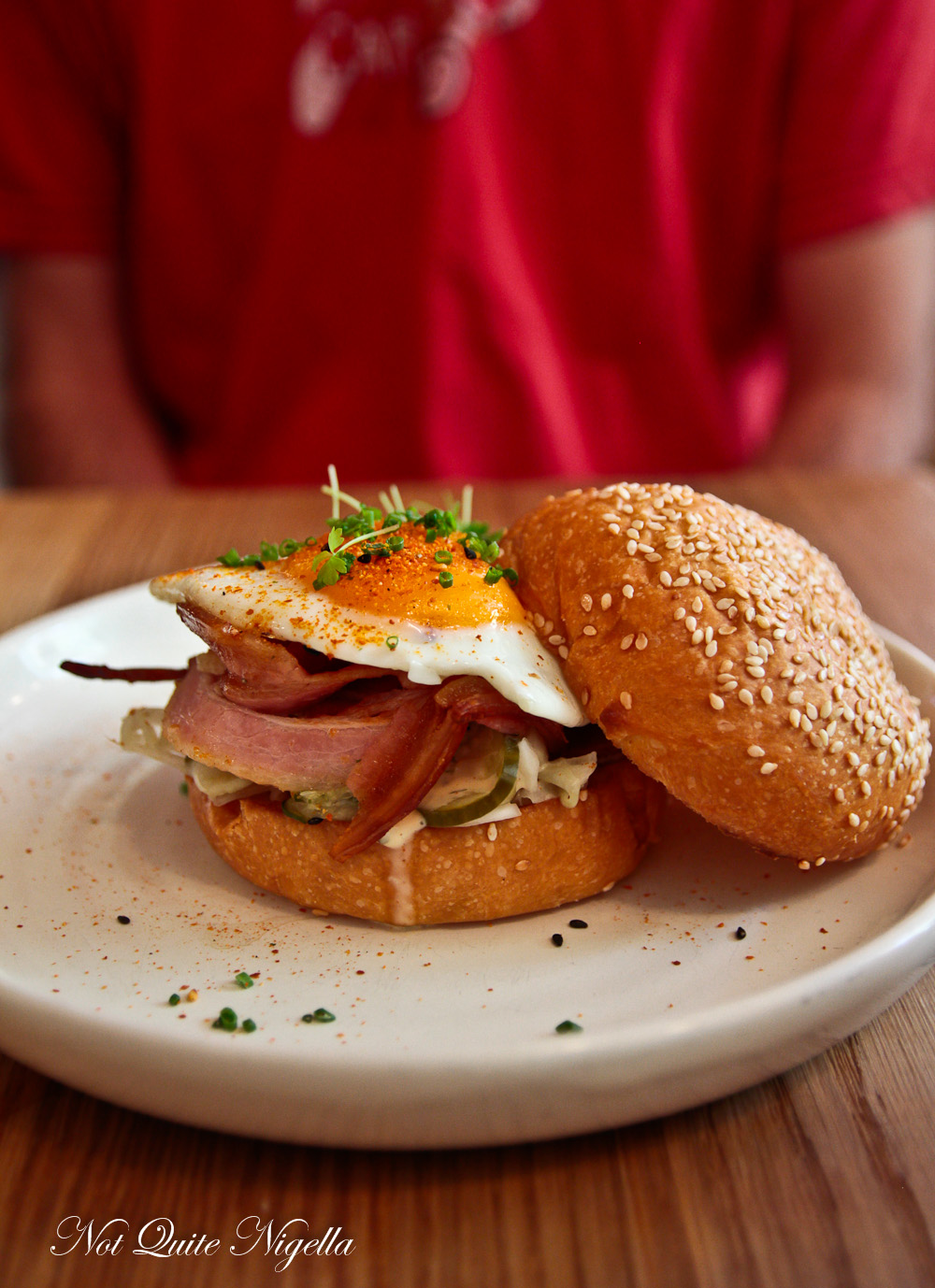 The Merchant $12
I was more smitten with The Merchant, simple in idea but well executed. It's essentially a bacon and egg roll but the eggs are chilli fried with crispy bacon, pickled slaw and a creamy ranch dressing on a warm, toasted soft and pillowy brioche bun. It comes with two Tabasco sauces so you can add more heat if you want to.
Beef Brisket Narnie $14
Poor Mr NQN. He really wanted the prawn and avocado narnie but when we were told that the beef brisket was more popular and that one customer liked it so much that they wanted to get married to it, we had to order it. The naan is house made and thick enough so that it doesn't break up or disintegrate but fresh enough to be soft and yielding. It is filled with a soft glazed beef brisket, slaw, gherkins and chipotle mayo. It's delicious although I do wish that there was a bit more spice with the mayo.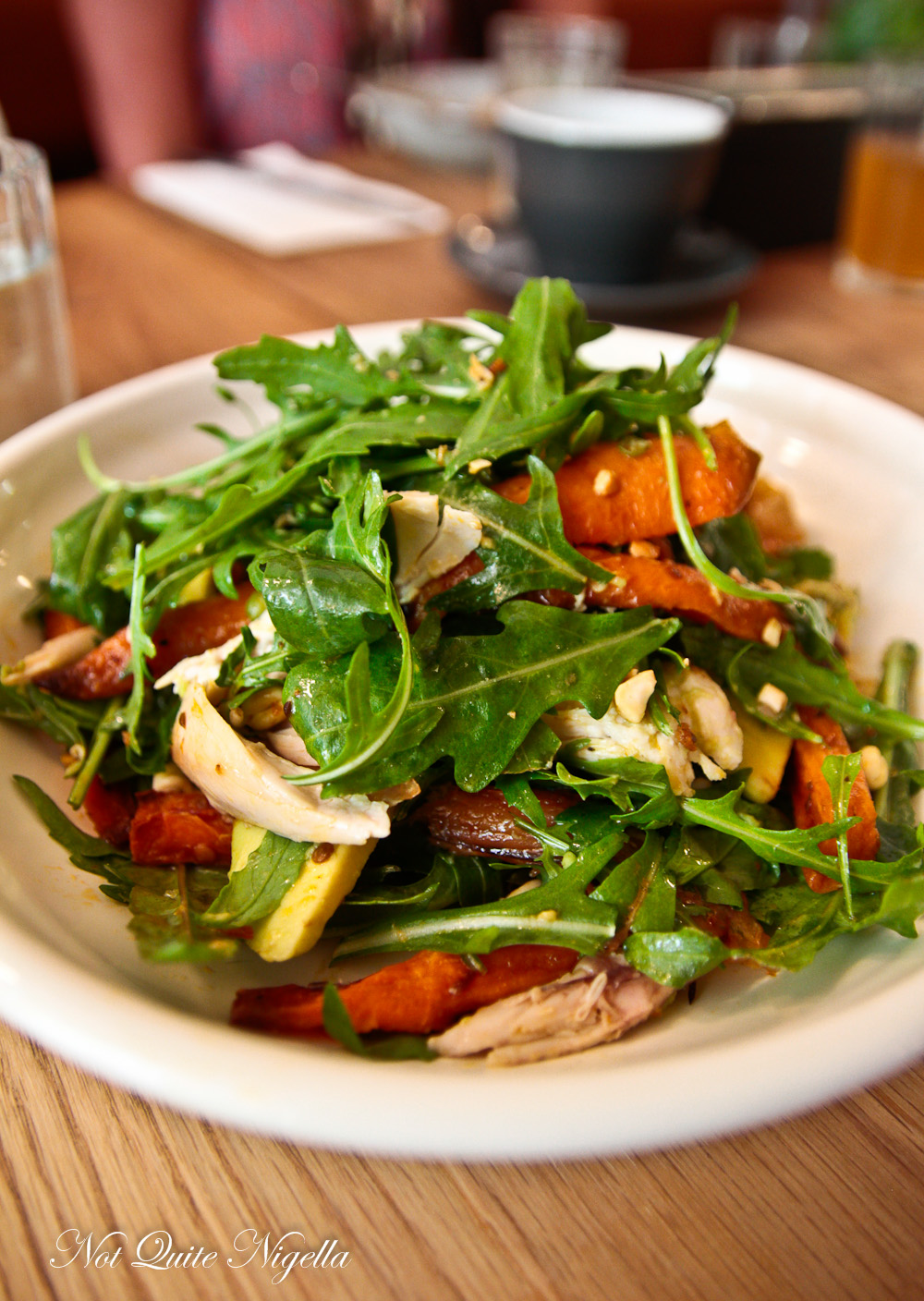 Chicken Salad $15
Sebastian is still hungry so he decides to go for another dish. The chicken salad is a simple but healthy dish with rocket, chicken breast, spice roasted carrots, avocado, cashew and a refreshing citrus dressing.
Crunchy Brioche French Toast $14
Whoever said that you shouldn't have dessert for brunch or lunch probably never met French Toast which comes as a single slab of thick, downy soft brioche bread rolled in crushed cornflakes and pan fried. It's served with natural yogurt, blueberries, raspberries, chopped roasted pecans and maple syrup. It's all about the crunchy texture and tart flavours and we all enjoy the soft filling against the crunchy cornflakes on the outside. It tips us over the edge in fullness and even the ever hungry Mr NQN and Sebastian put up the white flag. Finally!
So tell me Dear Reader, do you prefer healthy smoothies or milkshakes? And have you ever enjoyed a food so much that you wanted to marry it (a la the narnie gentleman)?
This meal was independently paid for.
Three Williams
613a Elizabeth St, Redfern NSW 2016
Phone:(02) 9698 1111
Open 7 days, 7am-3pm