"This doesn't qualify as a toasted cheese if it's a croissant," Belinda says convincingly, knowing of my self imposed ban on toasted cheese sandwiches. You see I saw some video footage of myself and alarmed, I decided that banning my favourite winter food would help.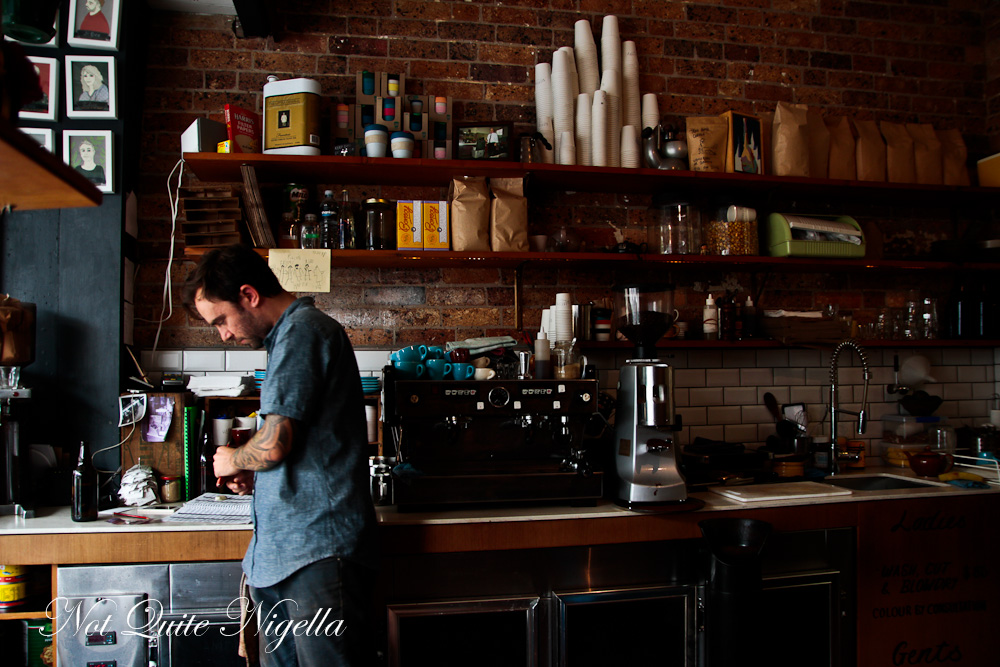 We are sitting in the window of Cleveland Salon and Cafe on Cleveland Street in Redfern. The back of the shop is a hair salon and the front is a tiny but welcoming cafe. The location was a former barber shop for 60 years and the original signage advertising "Toys, hairdresser and gifts" still hangs outside. The space came up for rent when the barber passed away and behind the glass partition I watch as two hairdressers cut patrons' hair. A woman walks in enquiring about a haircut and the prices for these feature on the menu too. Apart from haircuts they also offer cut throat razor shaves for $20.
Owned by a former barista and chef Harry Levy and his business partner Pat a hairdresser, the menu is currently a neat selection of sandwiches, salads, cookies and pastries. Harry's plans are to evolve the menu to something more substantial - inspired perhaps by his time at Black Star Pastry, Porteno and The Little Marionette. The salon opens for longer than the cafe that closes at 4pm and on Thursday and Friday nights, the salon closes at 10pm.
Sticky Chai $4
At the moment, seats are dotted alongside the walls of the cafe and I take a spot by the window. They bring a small table and water and my loose leaf sticky chai arrives shortly after. It's delicious and comes already sweetened. Coffee is by The Little Marionette and the bread is by Brickfields Bakery down the road. The lovely waitress steers us towards the toasted rolls and we place our orders. There is also a sandwich version of the rolls but the rolls are toasted which we prefer.
Tuna toasted roll $8 and Jamon, manchego and tomato relish croissant $9
She brings us two halves on two separate plates. The tuna is a substantial and delicious sandwich filled with tuna, tomato, pickles, aioli and dill. You can have the croissant as it is or toasted for an extra $1. And once we try the toasted version that is all flattened crispy goodness we wonder why toasted croissants aren't more popular as toasting emphasises the crispiness of the buttery, crispy croissant.
Huey's Home Baked Choc Chip cookie $3
The cookies are baked by a customer of their (presumably one called Huey) and it is a sizeable filled with milk and dark chocolate and packed with home made fresh cookie goodness. Now all I need is a trim on my hair!
So tell me Dear Reader, have you ever tried a toasted croissant? And do you hate having your photo or video taken or do you like it?
This meal was independently paid for.
Cleveland's Salon & Cafe
311 Cleveland Street, Redfern, NSW Tel: +61 (02) 9698 8449
Cafe Hours
Mon 7am-4pm
Sat-Sun 8am-3pm
Salon Hours
Mon 10am-8pm
Tue-Wed 10am-6pm
Thu 10am-10pm
Fri 12pm-10pm
Sat 8am-6pm
Sun 9am-4pm (or by appointment)
http://www.clevelandsoncleveland.com/