Toronto is one of the most multi cultural cities in the world and is also known for its neighbourhoods. There are over 200 official and unofficial neighbourhoods in total which has earned it the title of the "city of neighbourhoods". In this post we explore four of these areas!
1. Brick Works
"You have to be an opinionated and pushy bastard to do what I do," says Brad Long the chef and owner of Cafe Belong in the Evergreen Brick Works in the Don Valley area. What he means is this was an abandoned and disused area of old buildings and brick works that was given a new lease on life in 2010 where he signed a 20 year old lease to develop it and turn it into shops, a farmer's market and nature trails. They fund raised $55 million capital for it and now it's an oasis from the city with plenty of areas for kids to play and plant vegetables in their garden and a large pond.
We are sitting down to lunch at Cafe Belong where 87% of the produce comes from the Ontario region. The only things that aren't grown there sugar, coffee, chocolate and they import liquor.
House Trencher
The house trencher is a crispy bottomed flatbread topped with mushrooms, kale, goat's cheese and a delicious bean dip and lentils with a sweetish aspect to it.
St Lawrence Salad $16 (half serve)
They are known for their St Lawrence Salad and for every salad sold, they donate a meal to charity. It's made with greens, grains, nuts, fruit and cheese with browned butter vinaigrette. I try a little and I must admit I wasn't as taken as everyone else was as I am not keen on strawberries in salad but hey it's very popular so maybe it's just my taste.
Pork Tacos $16
However I do like the hard shell corn tacos filled with a sweetish bean spread, shredded vegetables and pulled pork and micro cilantro or coriander. It's a good sized serve too.
On the weekends much of the space is used for outdoor farmers markets and in Winter there is an ice skating rink. What is important is that the area that would have been disused has been reactivated to become something vibrant and appealing to Torontonians.
*2. Midtown *
When I knew that I was coming to Toronto, one person that I was very keen to meet was the gorgeous Eva, a longtime blogging friend from KitchenInspirations. On my last trip to Canada she had looked into flying to Nova Scotia to meet me but the hectic schedule meant that it would have been a bit of a wasted trip. This time I managed to spend the morning with her firstly watching filming of an episode of Chopped Canada where we had unrestricted viewing access to the show while it was being filmed as well as taking a peek at what goes into the making of a reality television cooking show.
Then Eva and I hotfooted it to downtown Toronto to have lunch with the lovely Trudi and Barb at Bar Mercurio in Yorkville right near where I am staying at The Hazelton. During this trip I have been made to feel so welcome, especially in Toronto where friends and friends of friends have been so helpful in showing me the best of their city.
Gnocchi Gorgonzola $22.00
Over talking and gift giving we spear pieces of the tender house made gnocchi in a light gorgonzola sauce.
Pizza Pistacchio $18
I'm a hands only gal with pizza and our curiosity was piqued by the fresh pistachio pesto on one of the pizzas. It was also topped with pecorino romano, buffalo mozzarella, fennel sausage, basil and extra virgin olive oil. Alas there is no time for dessert with these three lovely gals who also bought me lunch!
3. Downtown
Downtown houses a classic Toronto restaurant called Canoe. Located in the financial and entertainment district, it is located on the 54th floor of the Toronto Dominion Centre and has a spectacular view of the city. It's somewhere you go when you want to impress people, be it with a business colleagues, a date or a dinner with friends.
We start with cocktails and there's a chef's creation called Northern Crush created by chef Coulson Armstrong. It's said to be a spring cocktail inspired by Northern ingredients including Quebec sea buckthorne berries, Absolut Elyx vodka and kombucha. Service from our main waiter is wonderful although it is a little less assured from some of the younger waitstaff.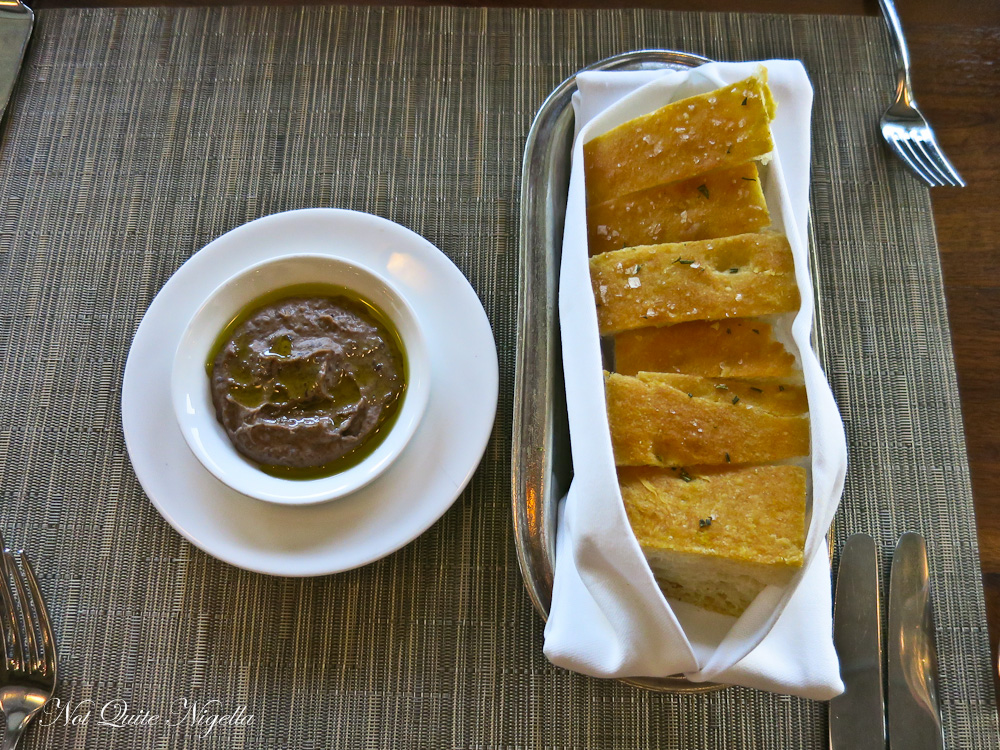 There is a course of fluffy, addictively soft focaccia bread brought out along with a delicious black bean puree. It's a bit hard to stop eating this and when they offer more I want to say yes please!
S'mores foie gras $28
When I saw S'mores foie gras I just had to try it. With graham cracker crumbs, a dark chocolate sauce and two perfectly caramelised and seared foie gras pieces, waffle and toasted marshmallow cream you can make this as sweet or savoury as you want. I adore the crispy edged foie gras and melting, creamy jellied core.
They offer a raspberry and lemon zest granita in between the entree and main and this is perfectly sweet and refreshing.
Grass rubbed bison rib eye $55
The grass rubbed bison rib eye is a sizeable dish. Bison is similar to beef - even perhaps heavier and this is a rich, meaty cut. It comes with green tomatoes for acidity, horseradish greens for heat, pickled cauliflower for sweetness and tonka beans and k2 milling grain pakoras. The dish is very well balanced but I can barely make a dent in it as it is rich and large. It would be the perfect dish for a person that loves a big steak.
Classic canoe butter tart $12
Pastry chef Robert Gonsalves' take on the Canadian butter tart involves deconstructing it and reconstructing it as two slender rectangles of the pastry and then the sweet filling. The filling is not so much buttery but sweet like a pecan pie caramel filling. It comes with smoked vanilla cream, flax seed nougatine, rye and ginger ice cream.
Milk chocolate + kernal peanut $12
I really like my desert, a 46% milk chocolate split in the centre and filled with a banana caramel butter and served with caramel ice cream foam. There are caramelised peanuts and a chocolate nut truffle to accompany this. As I mentioned, this is a place to impress.
4. The Distillery
Our fourth stop is the Toronto neighbourhood called the Distillery, a National Historic Site. Originally a windmill they've managed to maintain the original rustic look of the location and the brickwork while giving it a modern makeover and reenergising the space. There is a Segway tour (you know how much I LOVE Segways!) but alas this is more a historical tour rather than one that involves food.
There are 75 shops and restaurants and there is a noticeable absence of chain stores. Our first stop is at Balzac and involves a refreshing coffee stop-or is that a beer stop? My mind and taste buds play a visual trick on me as they hand over a nitrogen cold brew coffee that they have on tap here. It looks like a Guinness, all dark blackness but it's actually a coffee with hints of maple syrup. It's such a refreshing way to drink coffee and I really enjoy it.
The next stop is El Catrin Destileria a restaurant serving Mexican cuisine. They brought over Mexican born chef Olivier Le Calvez and his whole family to set this restaurant up. Beautifully decorated you never know where to look or what to photograph. There is an enormous 3D mural by three Mexican street artists including Oscar Flores that took 100 days as well as a wall of tequila and mezcal. It is said to be Canada's largest tequila and mezcal bar.
The menu is a mix of modern and traditional Mexican and we take a seat outside as it is a glorious day. We're just trying a few things from the menu today and the cocktails? Well they're just superb. This is the spot to be on a sunny day. The only thing that I would comment on is that a couple of the servers looked quite glum although others made up for the deadpan looks. Perhaps it's the super short and skimpy outfits! I feel positively Victorian around them.
Guacamole $8 and Baja tacos $15 for three
Oh my kingdom for a plate of these tortillas! The beer battered cod is crispy fried cod so that you hear it in every bite and it is paired with a chipotle lime coleslaw, cilantro on a sof flour tortilla. The guacamole is made at the table and there is the option to have it with crickets too. It's a terrific guacamole and the tortilla chips are addictive.
Carrillera en Mole Negro $25
The 24 hour braised beef cheek is so soft and unctuous and cooked in an Oaxacan mole negro sauce. It comes on a plantain puree with some glazed chayote squash.
Our last stop at the Distillery is Cluny where we will have dessert and a few more savouries. Named after Cluny the poet and writer who was known for breaking the rules, they serve food that is slightly different from traditional French cuisine.
Ginger Chilli Fried Frog's Legs $15
For example the frog's legs here are lightly floured and fried but are served with a chilli and garlic sauce. The meat is so succulent that I convince Vicki to try some. And it's true, frog is like chicken except here it is extraordinarily moist.
Grilled Bass Almondine $27
There is grilled bass version of trout almandine which is served with a toasted almond and cumin sauce and roasted heirloom carrots.
And one last stop for something sweet for my travels as I am off to Ottawa the next morning. Soma chocolates is a small chocolate producer based in Toronto. David Castellan and Cynthia Leung named their chocolate after Soma, a mystical substance referenced in Rigveda and in Brave New World.
I'm drawn to their display of truffles but then I spy a roasted white chocolate bar. Roasted chocolate? I am not sure how they got such a gorgeous toastiness to it while still keeping the shape but it's fantastic. Kind of like Smores in a pure chocolate form. And that can't be a bad thing!
So tell me Dear Reader, which meal or place caught your eye in this post? Do you like strawberries in savoury salads? And have you ever tried bison and if so, what did you think of it?
NQN visited Canada as a guest of the Canadian Tourism Commission and Ontario Tourism.
The Hazelton
118 Yorkville Ave, Toronto, ON M5R 1C4, Canada
Phone:+1 416-963-6300
http://thehazeltonhotel.com/
Cafe Belong
550 Bayview Ave, Toronto, ON M4W 3X8, Canada
Phone:+1 416-901-8234
http://www.cafebelong.ca/
Bar Mercurio
270 Bloor St. W. Toronto, ON, M5S 1V8, Canada
Telephone: (416) 960-3877
http://www.barmercurio.com/
Canoe
Toronto-Dominion Centre, 66 Wellington St W, Toronto, ON M5K 1H6, Canada
Phone:+1 416-364-005
http://oliverbonacini.com/Canoe.aspx
Balzac
1 Trinity St, Toronto, ON M5A 3C4, Canada
Phone:+1 416-207-1709
http://www.balzacs.com/
El Catrin Destileria
18 Tank House Lane, Toronto, ON M5A 3C4, Canada
Phone:+1 647-846-8061
http://www.elcatrin.ca/
Cluny
35 Tank House Lane, Toronto, ON M5A 3C4, Canada
Phone:+1 416-203-2632
http://clunybistro.com/
Soma Chocolates
32 Tank House Lane, Toronto, Canada
416.815.7662
http://www.somachocolate.com/