The Wellington West area of Ottawa is a little off the tourist's city map but not far away from downtown Ottawa. It's also worth visiting and spending a day eating at some of Ottawa's favourite local stops. Holland's Cake and Shakes is a tribute to all things sweet and retro while Suzy Q Doughnuts makes light as air munnki (that's Finnish for donut) with flavours such as Dirty Chocolate, London Fog, Matcha Green tea and Mango Lassi. Wellington Gastropub is a must stop for a fabulous lunch at crazy reasonable prices. And then there is Atelier, slightly out of Wellington where all conventions of a regular restaurant are turned on its side. Book as soon as you know you are going to Ottawa!
"I was in a metal band and my name then was the 'Overlord of Eternal Darkness' and now I'm the overload of pastry", says pastry chef Michael Holland, of Holland's Cake and Shake in Ottawa's Wellington West district. It's an area that is fast becoming a hub for food.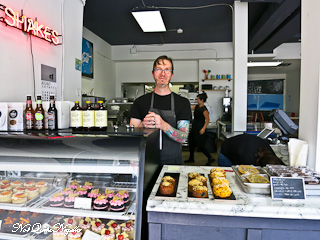 His fingers tattooed with "Over" and "Lord" slide across two of his famous Elvis truffles. "These are the best thing I've ever made." I'm inclined to concur as I take a bite into these super sweet bonbons. They're a centre of raw banana surrounded by peanut butter ganache dipped in white chocolate sprinkled with bacon bits. The King would have definitely approved. Michael was the pastry chef at restaurant Atelier (more on that later).
Things don't stop there. A Cakeshake is a blend of one his signature individual layer cakes with a milkshake. And then there is the Overlord selection for just $13 (an absolute bargain). This is a 16oz milkshake of your choice, a soft serve, the Elvis truffle and a cake of your choice.
It's not just sweets-they bake their own bread here and use it in sandwiches. All sandwiches are stuffed with a layer of potato chips to give it crunch. And chips don't just appear on the sandwiches, cheezies appear atop a rich, dense layered chocolate cake sandwiched with chocolate frosting. These cheezies which are similar to Twisties in Australia are sweet lacquered and lend the cake a fabulous savoury quality that surprisingly isn't out of place.
There is also soft serve that tastes of pure, fresh sweet fruit. Today's flavour is peach and the fruit comes straight from the market across the street. After shaking off the cake crumbs we have a closer look at the market. This is a local's market and not a tourist market and there are a range of farms selling direct to buyers. The fruit and vegetables look colourful and appealing.
We ask if I can buy some of the wicker baskets for styling-I'm besotted by these but I can't cook or eat the produce inside quickly enough. "Here, have a gift from Canada!" one woman says smiling handing me a basket.
At another stall they give me two wooden cubes. I stop at another stall where a woman is buying mushrooms. I'm intrigued by some brown items in a basket that resemble rocks. They're a type of mushroom called "Chaga" that are used in tea.
We reach the Wellington gastropub. Here they make everything in house and focus on local, seasonal produce along with having several local beers on tap. Prices are very good and certainly I can't imagine being able to make anything to this level for that price at home. During summer at lunchtime only the patio is open so we take a seat in the shaded area and decide what to order. Chef Chris Deraiche recommends that we order the tostada and the tomatoes.
The Whale's Pass coho tostado is a crispy whole tostado topped with coho salmon from British Columbia, salsa verde, lemon yogurt, piquillo sauce and micro cilantro or coriander. It's fresh and bursting with flavour and the tostada remains crunchy while eating this.
I try some of the heirloom tomatoes as it is the start of the season here. They come in a variety of sizes with breaded and fried cheese curds, parsley pistou and dried black olives. It's summer on a plate with sweet, luscious tomatoes.
The corn and chanterelle toast is an absolute treat. I love fresh sweet corn and we don't often get fresh chanterelles and this is a decadent, divine lunchtime dish.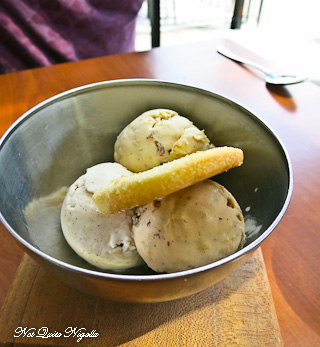 There is one dessert on offer and that is three scoops of ice cream in a bowl with shortbread with each scoop being $2.50 each. There is hazelnut crunch, cinnamon and oatmeal raisin. I particularly like the latter two especially the cinnamon with the sugar crystals from the cookie on top that remind me of a donut.
On the subject of donuts, Wellington is also home to Suzy Q Doughnuts. The concept of the doughnut shop is based around the Finnish donut the Munkki or Sugar Munkki from owner Susan Hamer's Finnish childhood. She and her family left Finland and moved to Canada taking the family recipe with them.
Lines can attest to how good they are. There's a constant line of people who crowd into their small premises to buy donuts in flavours like Dirty Chocolate, London Fog, Mango Lassi and what appears to be the most popular: Maple Bacon.
The line moves quickly and prices are excellent-half a dozen donuts is $10 (which would only buy you two donuts in Australia). I pick quickly having made my choice while in the queue and take my box of donuts outside. I cut into each one and try them. There is a London Fog, Dirty Chocolate, Mango Lassi, Maple Bacon, Matcha Latte and Wundercrunch.
I love the pillowy softness of these donuts and they all seem to be very recently fried as they are still warm - I think only the London Fog is a bit firmer so I assume that it has been cooked earlier. However the toppings are fantastic, especially the matcha latte and the Wundercrunch which are my favourites. The mango lassi has a little chilli salt sprinkled on it too which gives it a savoury sour aspect.
As I've eaten so much sugar already today we bring the rest of the precious donuts to our next location. It's not in the Wellington area but it's definitely worth a stop. Atelier is one of Ottawa's most well regarded fine dining restaurants. Chef Marc Lepine creates 12-14 course degustations using molecular gastronomy techniques.
At first the dining room that seats only 22 may seem plain. Stark even with just drawings by his kids as the artwork. There isn't even signage for the restaurant outside. You just need to look at the sign for number 540 on Rochester street. The menu changes very regularly to keep it interesting for the kitchen and they do things like themed dinners - there was a Seinfeld dinner where they served marble rye on a fishing rod among other Seinfeld inspired creations. I don't even have a booking here-seats are so contested and Fridays to Sundays are booked a month ahead but thanks to Marc I'll get to try three dishes that the kitchen produces.
The first dish is made up of a dehydrated pumpernickel disc with celery salt, bacon fat powder, Oregon pink shrimp, chickpeas, chipotle dressing with avocado puree, mint mayonnaise, lemon balm, french beans, radishes and pickled jalapenos and onions. It's sublimely pretty and even though it sounds like a lot of ingredients, it's perfectly balanced and moreish. And despite how much I've eaten, I eat every little speck.
The second dish is a dish made with Hawaiian yellowfun tuna tartare and is topped with almond oil, cucumber, yuzu, marinated creme fraiche, wasabi powder, nori mayonnaise, crispy chicken skin, heart of palm, light chilli oil, cornflower and sorrel leaf. It's a beautifully clean tasting dish, again perfect en pointe and balanced.
I try a dessert: there is a base of sous vide cheesecake and a microwaved tonka bean sponge-there is an absence of a traditional oven in Marc's kitchen. There are blackberries from Rochon farms and these are set under a thin sphere of passionfruit and embellished with orchid petals. I crack the egg to reveal a hollow passionfruit sphere and take a spoonful of everything. It's soft, cold, tangy and creamy all at once.
So tell me Dear Reader, when you visit a city do you try and venture out of the CBD or main tourist area? Which cities have you found the most rewarding for that? And what do you think of the prices in Ottawa? When you eat out do you ever think that you could never make the same for that price?
NQN visited Canada as a guest of the Canadian Tourism Commission and Ottawa Tourism.
Fairmont Chateau Laurier
1 Rideau St, Ottawa, ON K1N 8S7, Canada Phone:+1 613-241-1414 http://www.fairmont.com/laurier-ottawa/
Holland's Cake and Shake
229 Armstrong St, Ottawa, ON K1Y 2W5, Canada Phone:+1 613-695-3311 http://cakeandshake.ca/
Wellington Gastropub
1325 Wellington Street West, Ottawa, ON K1Y 3B6, Canada Phone:+1 613-729-1315 http://www.thewellingtongastropub.com/
Suzy Q Doughnuts
991 Wellington St W, Ottawa, ON K1Y 2Y1, Canada Phone:+1 613-724-2451 http://suzyq.ca/
Atelier
540 Rochester St, Ottawa, ON K1A 0E4, Canada Phone:+1 613-321-3537 http://www.atelierrestaurant.ca/