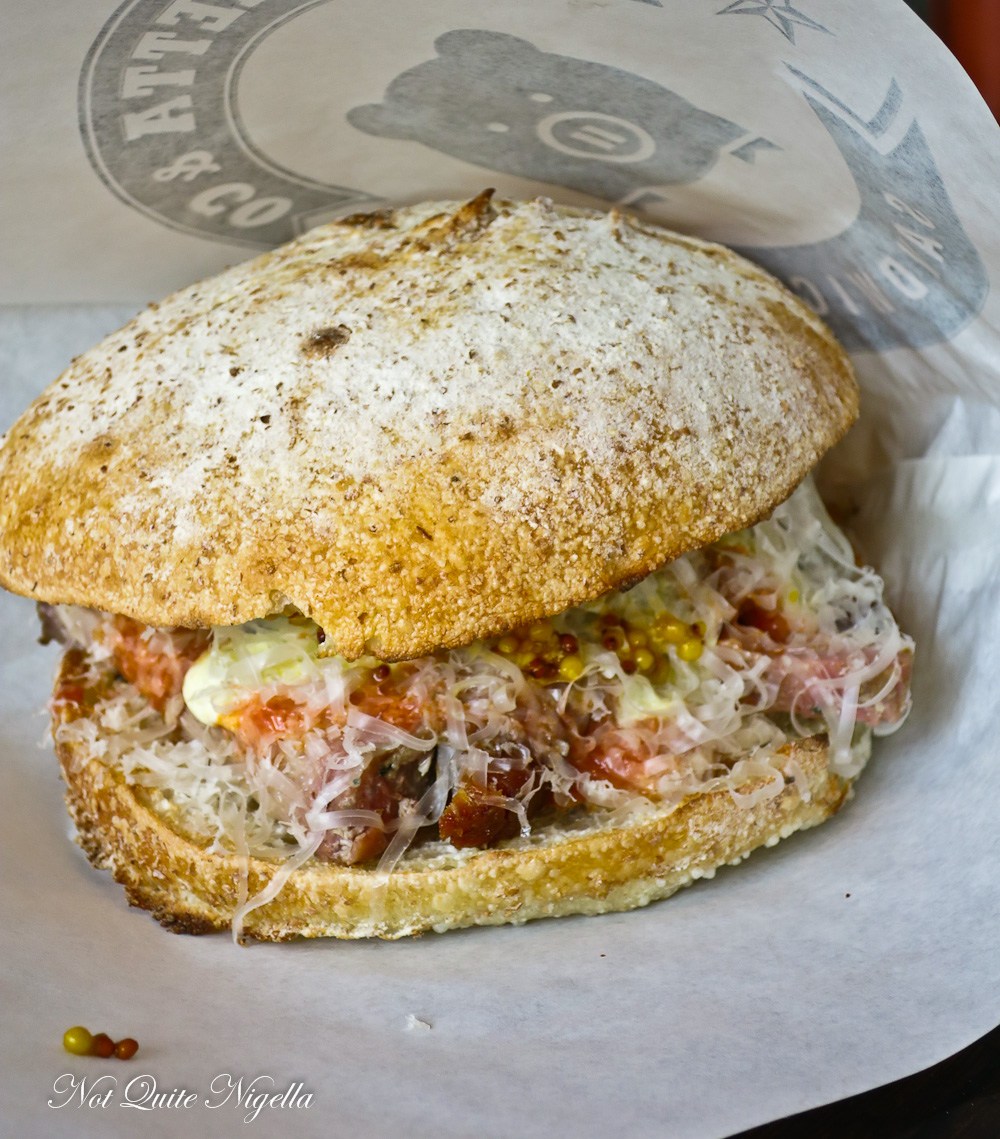 For a hipsteriffic view of Toronto, look no further than the Ossington Avenue and Queen Street West areas. Here artisan produce and craft beer rule and it's an area where new trends in food are played out. It all starts with a porchetta roll done to perfection, fun sweets and then indigenous recipes and produce which all spells out modern Canadian or Torontonian cuisine.
"I'll take two house buns," Ayngelina Brogan says.
"I'm happy to split one with you," I whisper.
"Oh one of them is for Chef Rouge Dave," she says. He is her chef boyfriend and the two have an agreement that if one is in the area, they pick up an extra bun.
We're at Porchetta & Co on West Dundas Street, what she describes as a "slightly sketchy" neighbourhood. But even though it may have some issues, what it does have is some incredibly good porchetta house buns. The bun is a fresh, warm bun with a slight crust and piled onto it is 4ozs or 125 grams of porchetta, all herby aroma as well as crisp crackling. On this they add truffle sauce, parmesan, mustard and hot sauce. It's the kind of sandwich that you tear yourself away from. Resentfully.
"The black hoof made this neighbourhood popular," she says referencing the restaurant that is bringing offal and charcuterie to the fore in Toronto. And try as I might, I can't fit in a visit here to my already tightly packed schedule. We walk the streets and pass colourful characters going about their business.
We cross the road to Le Dolci where Ayngelina's friend Lisa creates the city's best cakes for weddings and events. She also does a busy trade with cupcakes, macarons, ice pops and cookies. Her flavours range from traditional to other ones that she creates for festivals-garlic marshmallows or ice cream anyone? I have to admit that I love the sweet and salty caramel pretzel mix and the limoncello almonds. I'm sent on my way with a bag of cookies, meringues, cupcakes and macarons. Lisa's cake decorating classes are also a hit with Torontonians.
We head towards Ossington Avenue. "Ossington is hipster central" says Ayngelina. The area used to be a Portuguese and Vietnamese area but now the streets make way for vintage shops, a Cuban sandwich bar, street art and microbreweries.
We walk towards Queen Street West and Ayngelina points out restaurant Noce that sells horse tartare. Shops display summer produce like ice creams. A wine bar has a meat display in the window. We pass by The Whole Beast where you charge the chefs with procuring you a whole best (of anything really) and they will cook it up in several preparations. A duck can feed two while an elk can feed fourteen.
I ask Ayngelina about what sort of food represents Canadian cuisine now. She says, "There's a real renaissance for chefs to create Canadian food and that's different from what it used to be. What it means to be Canadian or Torontonian actually is different because we are so diverse now but we express it as Canadian food. Using Canadian ingredients."
With that in mind, dinner that evening with Vicki is at Boralia. The restaurant on Ossington Avenue is run by husband and wife couple Evelyn Wu Morris and chef Wayne Morris. The restaurant's menu is inspired by historical Canadian dishes from the indigenous population, settlers and immigrants and some dishes denote the year of origin. They scoured historical cookbooks for these dishes like the Canadian Home Cook Book of 1877, Toronto Dominion Cookbook of 1899 and the Book of Quebec Gastronomy and between them they cover 400 years of Canadian cooking.
Grapefruit Shrub Spritz $12CAD
The restaurant has a bar area as well as tables and is a bistro style restaurant. A raccoon cushion sits in the bright windowsill seat. I take that as an omen (unlike Canadians I love raccoons). To start the evening I order a Grapefruit Shrub Spritz. A shrub isn't an actual shrub or plant, it's an acidulated fruit syrup mixture and a mixture of tart and sweet flavour. In this cocktail the grapefruit shrub is paired with Aperol, grapefruit shrub, lemon and cava. It is utterly delicious and I have the song "No Scrubs" in my head.
Chop suey croquettes c.1855 $6CAD
Courses are appetiser size and prices are excellent. We start with some chopsuey croquettes that are crumbed with crispy rice and filled with pork, celery and sweet soy sauce with a spicy aroma strong in star anise.
L'eclade $17CAD
"Whether good or bad, we've become known for our mussels," Evelyn says. It's true, a few people recommended this dish to us and many tables around us order it. It's easy to tell as it comes to the table under a cloudy glass cloche. They remove it to reveal some Prince Edward Island mussels and a cloud of smoke. They're smoked with pine needles and served with pine ash butter. The mussels are smokey but juicy and plump, the smoke making them very rich.
Kedgeree c. 1845 $14CAD
Probably my favourite course, his kedgeree is nothing like your mama's kedgeree (well that is, if she made it, mine didn't). It's a delicately textured fillet of smoked whitefish with crispy rice crackers, curry mayonnaise and parsley puree. It has the perfect balance of flavours and I go back for more and more of this.
Bison "Pemmican" Breseaola $15CAD
Pemmican is a dried meat jerky made by the field tribes in Canada. This is an updated version of it made with bison bresaola. It is sliced thinly and fanned like flower petals. It is intertwined with thin shavings of lardo and served with a wild blueberry juniper vinaigrette.
Pan roasted elk $16CAD
The pan roasted elk comes out along with the pigeon pie. The elk fillet is served rare in the centre with a wild rice crusted soft yolked egg, cranberry gastrique, burnt onion sauce and thinly sliced radish. The elk is wonderfully tender and flavoursome and not surprisingly quite like venison.
Pigeon Pie c.1611 $24CAD
The pigeon pie is filled with duck and squab meat as well as cubed parsnips. It is served in a hot pie crust that has a crumbly quality like a suet pastry. There are two pieces of sous vide squab breast on the side that are perfectly mouth meltingly tender as well as green beans. At $24 it is the most expensive dish although it is still great value as is the rest of the menu.
Louisbourg Hot Chocolate Beignets c.1795 $9CAD
There are three dessert choices. A strawberry tart, chocolate beignets and a syllabub cake. We go for the first two. The hot chocolate beignets are they warn true to name: they're filled with hot, liquid spiced chocolate ganache, beer batter and lemon sugar. And oh my they are good - soft and light but liquid in the centre.
Strawberry Tart c. 1899 $9
The strawberry tart has a crisp biscuity shell and is filled with sweet, light caramelised white chocolate and honey jelly as well as fresh strawberry pieces. It's a simple dessert done well.
So tell me Dear Reader, do you try to get to neighbourhoods when you travel? Have you ever tried a shrub drink? And do you have deals with your family or friends to buy certain foods if you are in the area?
NQN visited Canada as a guest of the Canadian Tourism Commission and Ontario Tourism.
Porchetta & Co
825 Dundas St W, Toronto, ON M6J 1V4, Canada
Phone:+1 647-352-6611
http://porchettaco.com/
OPen: 11:30am-9pm Tuesday to Saturday
Le Dolci
1006 Dundas St W, Toronto, ON M6J 1W6, Canada
Phone:+1 416-262-3400
http://www.ledolci.com/
Tuesday to Saturday 11:00 am – 6:00 pm
Sunday 12:00 – 5:00 pm
Boralia
59 Ossington Ave, Toronto, ON M6J 2Y9, Canada
Phone:+1 647-351-5100
http://boraliato.com/ Wednesday to Sunday 5:30pm-10pm