Feel like eating close to downtown while visiting Ottawa? All of these delicious and fun activities are within 10 minutes' walking distance from the very centrally located Fairmont Chateau Laurier hotel in downtown Ottawa. From the colourful Byward Marketplace to Beckta, there's no need to wander far to get something delicious to eat.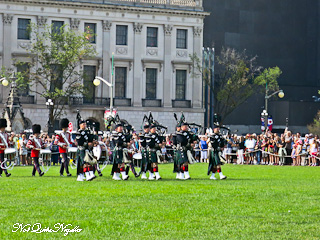 No matter what side of the fence that you sit on politically, one of the quintessential Ottawan experiences is watching the daily changing of the guard at Parliament Hill. At the time of my visit, Canada was just two months shy of holding federal election and everyone that I met had strong views about what should happen. Ottawa's place at the nation's capital means that nowhere is it more relevant and Parliament Hill is where a lot of action happens. Viewers gather around the grassy area to watch the old guard hand over to the new guard.
This occurs every day at 10am-10:30am during summer. To demonstrate Canada's bilingual connection, marching commands are issued in English while weapon commands are in French. The old guard are inspected and their uniforms checked ceremoniously while bagpipes play in the background. The troops are made up of the Governor General's Footguards and the Canadian Grenadier Guards.
After the ceremony is over I join Clare from C'est Bon Culinary Tours for a tour of the Byward Market area. The C'est Bon tour is a light sampler tour and money is not exchanged between C'est Bon and the merchants so they are smaller morsels. You can purchase things on the way if you would like but it isn't a tour where you eat a lot of food.
The area was originally designated as the market area by the British Colonel John By who was charged with setting up the Rideau Canal. He knew that the labourers would be bringing their families with them and needed somewhere to shop for provisions so he set up the market near the base of the canal. The canal was completed in just six years but he was sent back to Britain to answer erroneous charges of overspending but was cleared.
Clare is a 19 year old tour guide who has a passion for food that she tells me is unusual for her age group. She first brings me to Ferme Lacroix where she explains the different signs for vendors - farmers have green coloured signs so you know that you are buying from and talking to the farmers themselves. Red signs indicated vendors that resell produce.
At Femme Lacroix they have a combination of greenhouses and a 100 acre field. As it is summer most of the produce on display is from the field and there is a bounty of fresh berries as raspberry season is coming into full force. I try a ground cherry - a fruit with a exceedingly sweet tomato flavour wrapped in a paper thin skin. These are also called physalis and cape gooseberries. They call them ground cherries because they fall on the ground when they are ripe.
We stop by Byward Fruit Market, known by chefs and food enthusiasts as one of the best greengrocers for exotic fruit and vegetables. Their display in the front shows that they have taken delivery of Australian truffles and there is produce from all over the world. They give us samples of fresh cucumber which is crispy and juicy. There are also fresh sour cherries which is a real treat because I've never eaten these fresh. They are brightly coloured and small and have a tart flavour although it isn't quite as sour as a sour candy.
A "sugarbush" is a term for a maple farm and Maple Country Sugar Bush is a family business that produces maple syrup in Perth, Ottawa. The son Ross explains the difference between the colours of maple syrup. Maple starts to flow from the trees when the temperature hits zero and at first the syrup is light in colour because when the ground is frozen the tree can't pick up the minerals. As time goes on and the ground gets progressively warmer the syrup turns darker in colour.
Darker is not necessarily better-it can often edge towards bitter or burnt flavours and most products are made using light syrup. Often the darkest one is used for baking and flavouring while pancakes are served with the medium shade. And did you know that maple syrup doesn't age well? Use it within two years as it will start to lose its flavour. Also the best place for your syrup is in the fridge (or actually the freezer is the best place as it doesn't set solid). If you start to see mold spores on top of your syrup, you can remove these and reboil the syrup.
On the way we pass by Moulin de Provence, not a scheduled stop on the tour but the place where you can buy the Obama cookie. He visited Byward market in 2009 and bought one of these sugar cookies decorated like a maple leaf and since then it has become a popular item. I buy one that comes in a tin. The cookie and tin are $11.05CAD.
Clare explains that the main building of the Byward market has burnt down four times and has now been rebuilt in brick. We stop by Shafali Bazaar for some naan bread but the tandoor oven isn't quite ready so we skip ahead to our next stop which is Canada in A Basket where everything is arranged in Canadian regions. We try some pretzels and a cranberry & pot mustard and a chipotle lime mustard. And did you know that Canada grows between 75-90% of the world's mustard seeds?
Heading back out we make our way to La Bottega Nicastro, a family run Italian emporium filled with Italian goodies. Everything is in easy walking distance from each other and the area is wonderfully vibrant and full of people. There is anything and everything Italian you can think of to buy here and one of the drawcards is the sandwich station where you can buy an enormous sandwich for a mere $5.75CAD.
You choose the bread, meat, cheese and the fillings and you can certainly add the whole lot and they won't bat an eyelid. The samples given here during the tour are of the reggiano cheese with honey but I can't help but order a sandwich too. The bread is wonderfully fresh and I love the generous amount of filling.
They also sell Pingue prosciutto, a delicious prosciutto made in Niagara as well as cheeses from Canada with one of the largest selections of Italian cheese in Ottawa. The family is Calabrian so their region's specialties are well represented here.
Our next stop couldn't have come at a better time. I had eaten my sandwich and was eager for a cup of tea. And Tea Store was my salvation. Here they have over 200 teas on hand for sale with recipes for 1,000. The teas here are gorgeous and I particularly like the hand drawn labels and whimsical names. The bestselling tea is the Earl Grey which comes in a dozen scents. They also sometimes use oils to infuse the flavours and taking a sniff of the "Fifty Shades of Earl Grey" is a knockout. They're heady and perfumed.
Our sample here is a cold brew of tea. The cold brew tea is cold steeped overnight to keep the flavour and aroma of the tea. They've also kindly brought out some Canadian Nanaimo Bars. All of the sweets are baked in house except the lamingtons - yep they have lamingtons here baked by an Australian owned bakery. Nanaimo Bars are like a chocolate and caramel slice in terms of sweetness and they're made with a layer of graham cookie crust and a layer of cream, vanilla custard powder and then chocolate on top.
Our next stop is Boulanger Francais or The French Baker where they serve us a croissant. They're made using Canadian butter and they also sell raisin danishes and other sweets and cakes. At the back is Benny's Bistro, which according to Clare has "Ottawa's most decadent brunch". You wouldn't know it was there as it is tucked away but come weekends the lines are said to be long.
Vegans and vegetarians are catered for well at Market Organics in a location that is hidden away a little so it tends to cater to mainly local crowds. They have lots of pre-made salads and dishes including vegan broccoli salad and a harvest medley made with local squash, pecan and brown rice which we sample. They also stock local chocolate brands like Coco Camino and Hummingbird as well as intriguing things like Magic Vegan Bacon Grease.
There is one stop that is normally on the tour but is closed as they are on holidays. Stubbe chocolates have their own cocoa farm in Columbia in an effort to provide alternative work rather than people going into the drug trade. Their farm supports many families and has 250,000 cacao plants. Clare opens up a box of chocolate bark to sample while we stand outside.
We remember the Indian naan and make our way back there and order one. We watch as they slap the dough against the side of the ferociously hot tandoor oven and it blisters and puffs. We sit down to eat it and a man approaches us. "Are you a blogger writing about this place?" he asks. He has been a customer for many years and introduces us to Gias Salim Uddin one of the three brothers that run Shafali.
Named after their mum whose image adorns the logo, Shafali Bazaar is the casual counterpoint to the restaurant also of the same name. The family came to Canada from Bangladesh. At this location they sell a chicken tikka wrap which was voted one of the 100 Things to eat before you die by Ottawa magazine.
They are made using freshly baked naan and chicken tikka as well as lettuce and tomato. Gias also explains that the "secret soul sauce" is what sets it apart and is made using turmeric, tamarind, chilli and lemon juice. It gives it almost a ranch style tang and it's wonderfully fresh and tasty. I see table after table order this. Gias invites us to sit down and pours us some chai and we eat our wrap while chatting to him.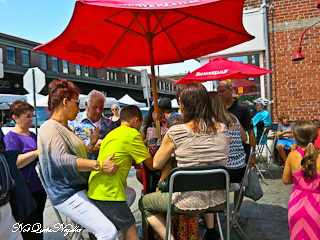 Our very last stop is one that isn't on the tour but Clare offers to take me there - isn't she lovely? A Beaver Tail is one of the most popular Ottawa food items and we stop by where it all started. In 1987 Grant and Pam Hooker decided to market a family recipe for beavertail pastries (also called elephant ears). It was until then served as a Thanksgiving treat but they soon found a market for these wholewheat and cracked wheat pastries.
They are egg and dairy free and come in a variety of toppings from Nutella, apple and cinnamon, triple trip (hazelnut spread topped with Reese's pieces) to the only savoury one: garlic butter and cheese (an exclusive to this stand). They also do seasonal beavertails in flavours like pumpkin, s'mores and maple bacon.
So what is it like? We try a "Killaloe Sunrise" flavour with sugar, cinnamon and lemon. The pastry is light and airy and the lemon is a great tangy addition so that it isn't too heavy in grease or sugar. It is oily though and it does soak through the napkins and paper but it's good. It's usually eaten as a treat during Winter. The Rideau Canal usually freezes over and becomes the world's longest skating rink at 8kms. You can ride a sleigh or skate down the canal stopping at one of the Beavertail huts for one of these pastries and a hot chocolate.
There's something to say about coming home but the effect is even more pronounced when you come back to the street where you grew up. The owner of Beckta's Steve Beckta once lived and grew up on Elgin Street in Ottawa. He later worked with Daniel Boulud in New York but returned to Ottawa setting up Beckta on Elgin street in 2014, back on home territory.
Beckta Dining and Wine Bar is one of the most polished restaurants in Ottawa. Frequently acclaimed it combines wonderful service, a contemporary dining room and two menus. On the left is a chef's tasting menu which lists a dozen main ingredients from herring, hare, peas & carrots, foie gras, gnudi, scallops, chocolate milk and cheese cannoli.
Diners pick five ingredients or there is regular a la carte dining but when presented with a choice like that, it was a given that I would go with the chef's menu. As for which five things? I left that up to the chef saying that I eat everything and didn't feel like anything in particular that evening.
I'm dining alone tonight and I am sitting by the window. They bring the amuse bouche: a smoked tomato and cayenne soup with a brandy creme. It is a tasty mouthful with a resounding hit of chilli right at the end that awakens my tastebuds.
Bread is brought out and there are two kinds: a crusty sourdough and a four grain bread. They're accompanied by a lightly whipped butter with Thai basil. The bread and butter are excellent but I have to stop myself.
The tuna is the first dish and it is Albacore tuna crudo on a bed of snow pea sprouts with finely julienned carrots with a lotus root crisp, sesame, osaka puree, yuzu honey and wakame dabs as well as a lemon matured white wine vinegar. This dish has a distinctly Asian flavour to it and is fresh and clean while the tuna has almost a creamy texture to it.
The scallops from the East Coast are poached in verjus and served with a divine Labrador tea polenta, tiny segments of preserved lemon, guanciale powder, maitake mushrooms and clay pepper on top. The latter is a fascinating ingredient harvested in Harwick in Quebec where they harvest it by scent rather than appearance. It is named clay pepper as it is found in clay. This is perhaps my favourite course of the night, the scallops soft and creamy and the rich, creamy polenta flavoured with tea. It's saved from being too over the top rich by the clay pepper and preserved lemons.
The corn and ricotta gnudi has a buttermilk corn gel, a gorgeous smoky corn crisp that is paper thin and resembles guanciale, mizuna and a grilled peach vinaigrette that gives this dish a good acidity. The gnudi are wonderfully crispy on the outside. I only wish that there was more of the smoky corn crisp as you don't get it in every bite.
The venison is a pan seared striploin and is served with golden chanterelle mushrooms and on a bed of Charleston gold heritage rice, roasted beets, grilled corn with black current demi glace and espresso soil sprinkled on top. It's a nicely savoury dish with the venison perfectly cooked and rare.
The sign of a great dessert is if you can finish it off after a series of rich savoury dishes. And you can bet I did. I was hoping that I would get the peanut butter and jelly course so there's a little happy dance when it comes out. It is two small peanut butter bars with pickled strawberry jam, sour strawberry jubes, lime gel, candied peanuts and a strawberry coconut sorbet. It's well balanced so that it isn't too rich or sweet, you can add more lime gel or sour strawberry jube if it is too sweet or the fantastic pickled strawberry jam.
I'm finished around 9pm and on my walk back to my hotel, I pass by the Rideau Canal where fireworks explode brightly. It's the end of this trip to Ottawa and a sad farewell to Canada.
So tell me Dear Reader, do you have a preference for maple syrup? And at age 19 were you very interested in food? And would you let the chefs decide on what to serve you or do you like to choose?
NQN visited Canada as a guest of the Canadian Tourism Commission and Ottawa Tourism.
Fairmont Chateau Laurier
1 Rideau St, Ottawa, ON K1N 8S7, Canada
Phone:+1 613-241-1414
http://www.fairmont.com/laurier-ottawa/
C'est Bon Tours
http://www.cestboncooking.ca/
Beckta Dining & Wine
150 Rue Elgin St, Ottawa, ON K2P 1L4, Canada
Phone:+1 613-238-7063
http://www.beckta.com/