A fun idea for a large children's or adult's party the giant cookie cake is for cookie lovers. Four layers of chewy white chocolate chip cookie are wedged with smooth cream cheese, salted caramel sauce and banana. The is then topped with macarons and marshmallows and dollops of frosting. Feeds 40!
Late last year was another gathering of the Elliotts. It's a challenge to get everyone in the same room or as habit forms, park. Most of my in laws were present when we gathered at Manly Dam for a birthday picnic for four year old Aura Lily's birthday. Like every Elliott gathering, things are never what you expect and you never know what you'll hear about.
1 year old Jett Ador
Mr NQN's mother had lots of news to share. For the past few weeks she has been frantically worried about Mr NQN's brother Manu and a his newly diagnosed disorder. Apparently Manu has Iron Overload Syndrome or Hemochromatosis where his body stores an excessive amount of iron in his system. It is just as well that he had it diagnosed because now he can have it treated.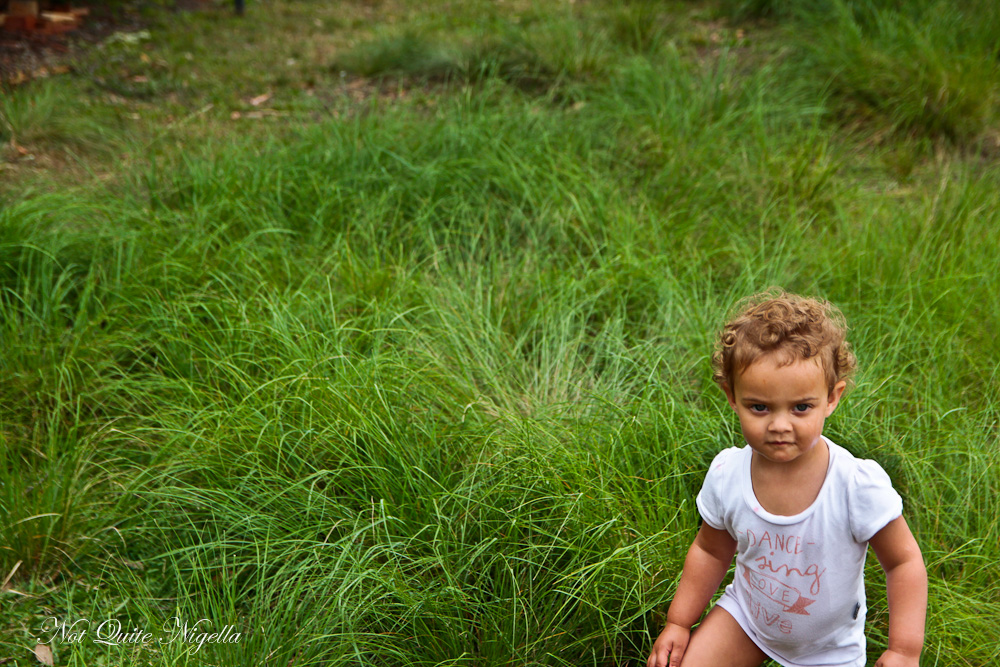 What is odd however, that for the past few years that I've known him, I've noticed that Manu has a ferrous aroma to him particularly when he would come around at the end of the day and he was a bit sweaty. It would be so noticeable to me that I had remarked on it to Mr NQN on many occasions. At the picnic, Mr NQN told Tuulikki about this and the whole extended family gathered around our discussion including Mr NQN's aunt Sisko, uncle Seppo and cousin Sam.
Four year old Aura Lily
"Maybe you could open up a business diagnosing people!" cried Tuulikki excitedly, her hands up in the air, her face animated and her eyes wide. "Can you smell us?" asked Seppo. Someone suggested that I go into a sauna with them and then everyone was offering me tips on how to sniff out the disorder. "It doesn't come with any guarantees!" I said laughing and it's true, while I don't smell it on Mr NQN, I don't know if he has it. It is apparently inherited from the Vikings and has spread all over Europe and is really only seen in Caucasian people.
Anyway, after all the sniffing and games were over, there was the cake. And this was my contribution to the picnic. It was a giant four layer cookie cake inspired by the cookbook Artichoke by Bjorn Shen, the Singaporean chef. It was a gift sent to me from the lovely Jac Weiley from Foodscapes and Bjorn had kindly autographed it for me. I flipped straight to desserts (a girl can't help it) and my finger landed on the giant cookie cake. My cookie and fillings were different to Bjorn's. I decided to not fill it all the way with cream cheese icing because that might be too much (did I really say that?) but with bananas and salted caramel.
You see I was a little worried about the construction of this as the cookies themselves are heavy and I didn't want them to squash all of the icing, especially as it was a warm day and the icing might melt. So the banana pieces would no doubt delight the fruit loving Elliotts but also serve as an edible dowel to keep the next layer high above.
At the risk of stating the obvious, this cake does actually feed about 40 people. To cut it, slice each layer separately and give each person a wedge of cookie (or two, how I love those who ask for seconds!). Below is a little video that we filmed on the day and also showing how to make this. It was surprisingly straight forward as cookies are much sturdier than cake.
So tell me Dear Reader, would you have an occasion for a cake like this? Do you have video of your childhood birthday parties? I have photos but no video alas. And I know I may sound like your mum but when did you last have a health check up? I'm due for one soon!
DID YOU MAKE THIS RECIPE? Share your creations by tagging @notquitenigella on Instagram with the hashtag #notquitenigella
Giant Layered Cookie Cake
An Original Recipe by Not Quite Nigella
Preparation time: 1 hour plus 1 hour waiting time
Baking time: 30 minutes
340g/12ozs. butter softened
1.5 cups caster or superfine sugar
1/5 cups brown sugar, firmly packed
3 eggs
2 teaspoons baking soda
1.5 tablespoons hot water
4.5 cups plain all purpose flour
2 teaspoons baking powder
1 teaspoon fine salt
2 1/4 cups white chocolate buttons
1.5 cups flaked almonds
750g/26.5ozs. cream cheese, softened
1 cup icing or powdered sugar
1/2 cup salted caramel sauce
2-3 large bananas sliced quite thickly (as thick as the height of the icing)
Macarons and marshmallows to decorate. I also used butterflies but I don't know if they worked...
Step 1 - Line four identical round baking tins with parchment on the base and sides. Beat the butter and sugars until pale. Beat in the eggs one at a time. Dissolve baking soda in the water. Add this to the mix and incorporate. Fold in flour, salt and baking powder and mix until combined.
Step 2 - Divide dough into four and press the dough against the tin. I find this the easiest way although you can roll it out and cut it out too but it's a rather large cookie so it can be more difficult. Use a piece of baking parchment to smooth it over. Place in the fridge for 1 hour.
Step 3 - Preheat oven to 180C/350F. Bake each cookie for 25-30 minutes until golden on top. I took one out of the tin and realised that the base was too soft so I put it back in the oven for another few minutes. Cool completely on wire racks. You can bake these a day or two ahead of time and wrap in clingfilm and place in an airtight container.
Step 4 - Make the cream cheese icing by beating together the cream cheese and icing sugar until smooth. Place in a large piping bag with a plain tip and place in fridge for 20 minutes or so if the weather is hot. I made this on a really hot day so I needed to do this, you might not need to.
Step 5 - Pipe two concentric circles around the edge of the circle and then pour some of the salted caramel sauce in the centre and smooth this over with a spatula. Fill the centre with the bananas. The bananas will make sure that the weight of each cookie tier doesn't weigh down on the other layers-I use them in place of dowel rods. Repeat until you place the last layer on top. Spread or pipe more cream cheese icing. Top with marshmallows and macarons and serve!
Step 6 - The best way to cut it is to give someone a cake sized serve of one layer. Giving them four cake sized wedges is a bit too much. Did I really just say that? ;)