The iconic Iced Vovo biscuit is, for those unfamiliar with it, a raspberry jam, marshmallow and coconut topped vanilla biscuit or cookie. As a child I used to eat these by scraping off the marshmallow, coconut and jam with my teeth without a conscionable thought as to wastage. These cupcakes are even better and taste just like an Iced Vovo with a raspberry, coconut and vanilla cake topped with an easy marshmallow frosting and raspberry jam.
If anyone had called me late at night for the past two and a half weeks I would have picked up the phone all shaky voiced and nervous and whispered a raspy "What is it?? What do you want???". You see, I've been buried myself in a new television series called The Killing (not sponsored, just obsessed :P ) and it was so scary that every night I would watch several episodes until around 2am and then have to watch snippets of something funny (episodes of The Office) to prevent having nightmares.
It was just the other day that I finished the entire series and it felt like I had emerged from a stupor. I thought isn't it funny how many of us do television show marathons nowadays? The only problem was that nobody else that I know has watched it. Whenever I would meet up with friends, my first question to them would be "Have you watched The Killing?" to no avail. A friend had promised to put me in touch with another friend of his who was similarly obsessed with the show but had nobody to talk about. Would this be the basis of a new type of friendship?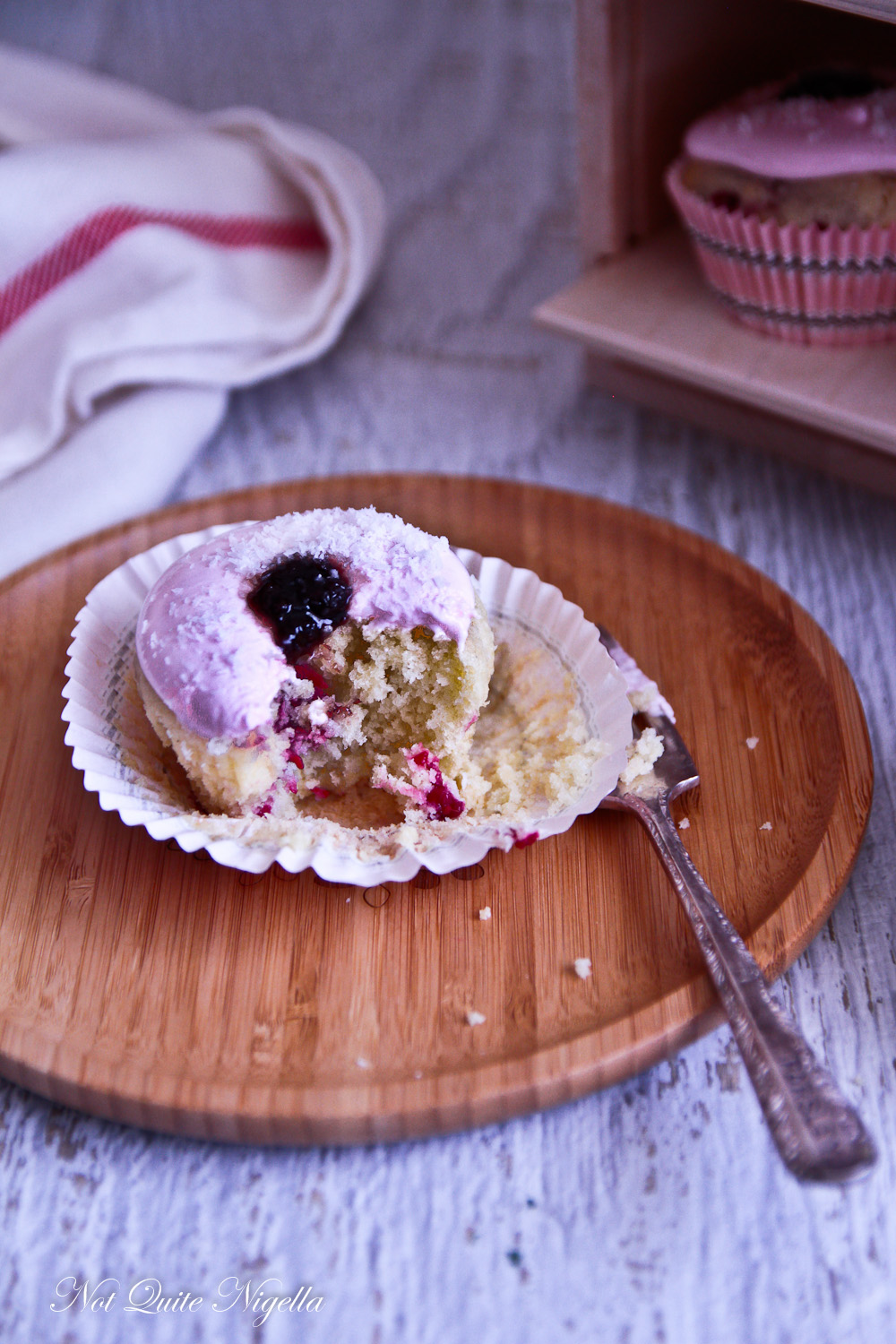 Mostly my friendships revolve around a common love: food and adventures. And Mr NQN and I have two friends Viggo and Louise that often come on food adventures with us along with Belinda and Nick. Louise and Viggo love entertaining and there is some sort of implicit agreement where I will bring along dessert to these occasions. I'm happy to do it because there are just the two of us at home and we can't possibly eat everything that I bake and it is low pressure because they don't explicitly express the need for dessert (in case I get overwhelmed or distracted by something, say a new tv show ;)).
On Australia Day this year (the 26th of January for those of you who are playing overseas ;) ) they will have a barbecue and so I thought about what would be the most appropriate thing to bring. One thing that is Australian is the Iced Vovo biscuit. Overseas readers are perhaps unfamiliar with these raspberry and coconut biscuits but many Australian kids grew up eating them. I was inspired by Brydie's cupcakes and they were so gorgeous they went on the list straight away. I made a couple of changes - I added raspberries and coconut to the vanilla cupcake but apart from that, it was all Brydie's brilliance. Even if you aren't a firm farm of the original biscuit but just liked the idea of the flavours, I urge you to try this very easy cupcake. The marshmallow frosting is a cinch and simply involves heating it up in a microwave and then piping it.
So tell me Dear Reader, do you do television marathons? Did you watch it (if so, let's talk! Haha!). What is a show you can recommend now that I've finished with this one? And are/were you a fan of Iced Vovo biscuits?
Looking for other Australia Day recipes? Here are some more!
Caramel Lamington Map of Australia!
Pumpkin, Cheese & Rosemary Scones
Giant Cheese & Vegemite Scroll!
Barbecued Spiced Butter Prawns
No Knead Cheese & Onion Beer Bread
And yes I have an obsession with sausage rolls!
Vegemite and Cheese Sausage Rolls
Pork, Fennel and Beetroot Sausage Rolls
Low Fat Chicken & Apricot Sausage Rolls
Cheese, Caramelised Onion, Pork & Fennel Sausage Rolls
DID YOU MAKE THIS RECIPE? Share your creations by tagging @notquitenigella on Instagram with the hashtag #notquitenigella
Iced Vovo Cupcakes
A recipe adapted from Brydie at CityHippyFarmGirl
Preparation time: 10 minutes
Cooking time: 25 minutes
150g/5ozs. butter, at room temperature
2/3 cup sugar
2 eggs, at room temperature
1 teaspoon vanilla
2 cups self raising flour
1/2 cup milk or buttermilk
1/4 cup raspberries (fresh or frozen)
1/4 cup desiccated coconut
200g/7ozs. pink and white marshmallows
3 tablespoons raspberry jam
3 tablespoons desiccated coconut extra
Step 1 - Line a baking tray with 12 liners and preheat oven to 160C/320F. Beat butter and sugar until pale and fluffy. Add eggs one at a time and then vanilla. Fold in the flour, milk, raspberries and 1/4 cup of coconut. Use an ice cream scoop to divide into twelve portions. Smooth over the top with the back of a spoon (it helps if you ever so slightly wet the spoon). Bake for 20 minutes or until a skewer inserted in the centre comes out clean.
Step 2 - Microwave marshmallows for 30 seconds and then stir to get a consistent pink colour. Before it firms up, spoon into a piping bag. The key to this easy icing is to get it at the right consistency. Too warm/soft and it runs a little and too cold/stiff and it becomes grainy. It just took about a minute of cooling before it was right for me. Pipe a circle leaving a hole in the centre for the jam. Spoon the jam in the centre (I used a lovely artisan jam so it had plenty of liquid, one less liquid will mean that it won't spread as much) and sprinkle with the extra coconut.