It was a bitterly cold winter's day where the morning laid frost across the landscape of Sydney. Where else better to go than a warm bakery on a day like this? Azuki Bakery on Enmore Road serves up Japanese style baked goods. Brioche buns are filled with soba while savoury donuts are stuffed full of delectable curry while cakes are made with mochi, yuzu and chestnut.
Sammie and I had just finished making and serving lunch at the Asylum Seeker's Resource Centre when our stomachs started growling uncontrollably. Fighting the wind and the breathtaking cold sucking the air from our lungs, we headed down Enmore Road but then a person stepped in front of us and we looked right and saw Azuki Bakery.
"Oh I've always wanted to try this place," I said to Sammie, "Shall we go in?" and with that we changed our destination and stepped out of the cold into the warmth of Azuki Bakery.
It's a small bakery with four outdoor tables and half a dozen or so inside bar seats against the window. We buy some goodies from the friendly Japanese staff and I ask if they can warm up the savouries for us and this isn't a problem at all (you've just got to love Japanese style service!).
Matcha Latte $2 and Long Black $4
I start with a matcha latte and Sammie gets a long black. My matcha latte is delicious, on the sweet side but not too sweet as it is perfectly strong in matcha. The matcha latte is $2 I think because it was purchased with food.
Karaage pan $5.50 (front)
They bring out the warmed baked goods out on wooden boards. I start with the karaage chicken hot dog bun with mayonnaise and coleslaw. It's delicious even if the karaage chicken isn't freshly fried. The warm buns are so soft and the whole thing is eaten in about 3 seconds flat.
Yakisoba pan $5.50
Likewise the yakisoba bun which is Sammie's choice is also a winner. I like it because the bread has been warmed which makes it less dense and drying (carb on carb can sometimes be on the dry side).
Bacon epi $2.80 (right)
The bacon epi is crisp and we eat it one leaf at a time. There's plenty of bacon intertwined between the folds.
Wasabi Pork Sausage Roll $5.80
The sausage roll has a pork mince filling and is served with a soy sauce and wasabi mayo dipping sauce. The pastry is the dominant part and it is super flakey and buttery and just a warning: the pastry shards fly everywhere and I look down at my black jeans to see them covered in pastry crumbs.
Kare pan $4.20
Hands down my favourite item is the kare pan. Sammie has never tried one before and once she sees the curry filling oozing out and tastes it she is similarly smitten.
It's a savoury donut with a luscious, saucy curry mince filling. I was sort of hoping Sammie would hate it so I could have more but it's probably good that she didn't.
Custard puff $4.80
It's cake time and it's a rather hard decision to choose which one to order. Yuzu cheesecake beckons but then again the mochi cake is also one of my favourites. And then there's the chestnut mousse cake and then pumpkin pastries - arrgh! A friendly customer helps me decide. First to share, it's a cream puff with a thick, rich pastry cream that has the texture of a rich double cream in a choux bun.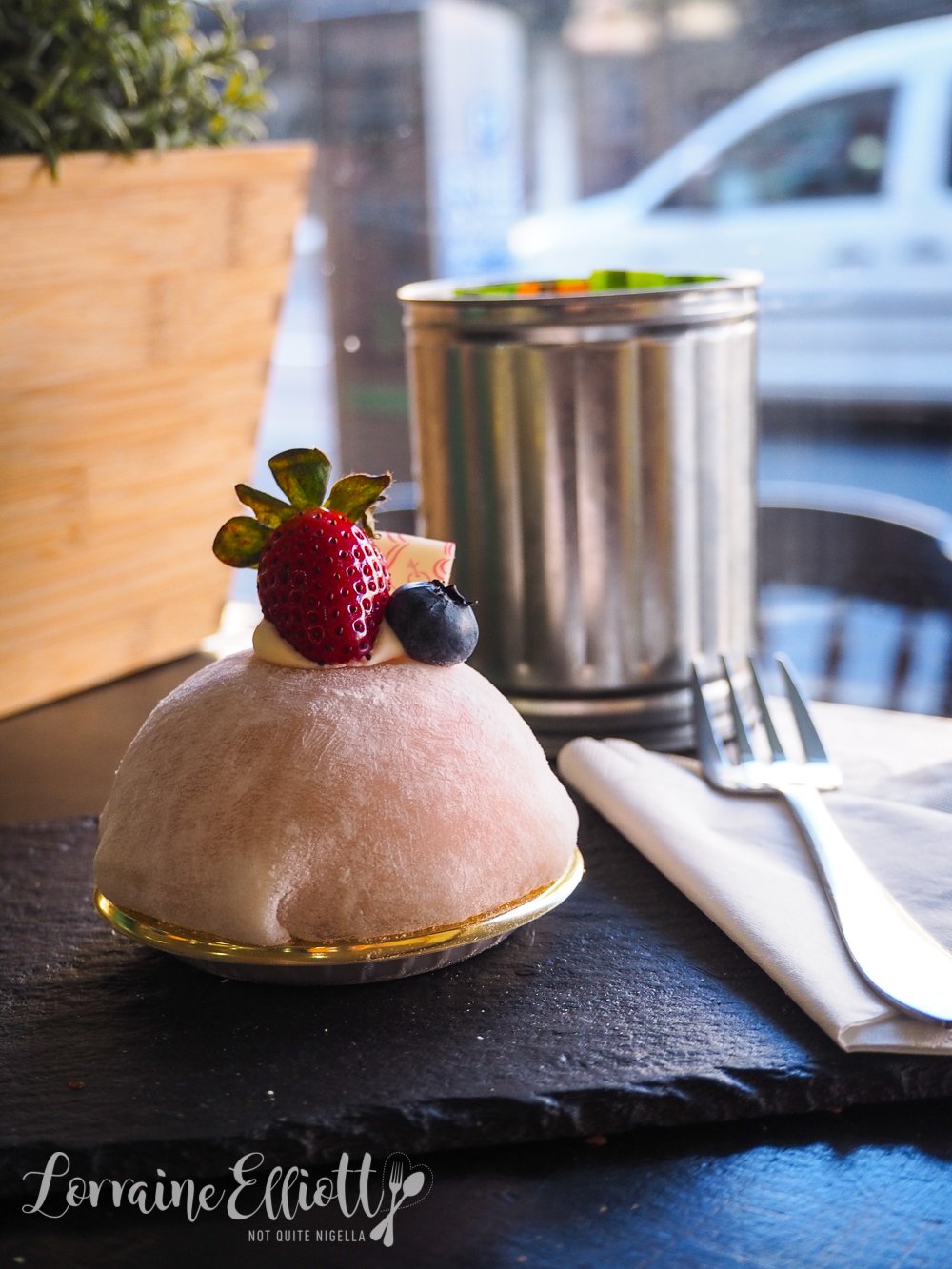 Mochi Ichigo $7.50
I have to choose the mochi cake. It' has a sponge base, strawberry mousse filling and a thin skin of mochi surrounding it. It's light and tasty with fresh berries.
Almond croissant $5.80
Call me a glutton but I ordered a couple of croissants to take away (research darlings, research!). The almond croissant somewhat resembles a Lune almond croissant although less styled. Alas it doesn't have an almond filling so I feel a bit disappointed.
Matcha Croissant $5
The matcha croissant is like a matcha chocolate version of a pain au chocolat and matcha chocolate drizzles on the outside. It's the pick of the two especially heated up when the temperatures plunge even further at night.
So tell me Dear Reader, have you ever tried a kare pan? Do you like Japanese style baked goods?
This meal was independently paid for.
Azuki Bakery
3/63/71 Enmore Rd, Newtown NSW 2042
Wednesday to Sunday 9am–7pm
Monday & Tuesday closed
Phone: (02) 8542 9317
azukibakery.com.au/