If I could describe the differences between the island of Kauai versus Oahu to friends, I'd describe it like comparing Mr NQN and I. He is Kauai, all low key and calm and a little bit shy while Oahu, especially Honolulu is me - all excitable, loud and busy.
We've arrived on Oahu after a short 35 minute plane trip from Kauai. We ease into the busier Oahu lifestyle by heading West instead of going directly to Honolulu.
It's a good thing that Mr NQN got his "sea legs" driving in Kauai because Honolulu's traffic is a force to be reckoned with. Hitting Highway 1 during peak hour along with thousands of others, we hope that we're going to right way. I clutch at my folded map hoping that it will provide some guidance. Luckily once we are pointed in the right direction, the signage is easy and the exits are clearly marked. Torrents of rain gush down but we know that fifteen minutes later, it will be sunny again.
We arrive at Kapolei to Ko Olina, a vacation and resort community on the west coast of Oahu. Part of a gated community, things are quieter here than the busy hubbub of Honolulu on the South shore of Oahu. We drive along gently curving Monkey Pod tree lined avenues. We check into our hotel, the JW Marriott at Ko Olina. It is perched on the South Western tip of Oahu.
The hotel lobby looks up onto the tower of floors. The lobby and interior of the hotel look simple and quite dark especially later during the day. But when we get to our room #1509 and swing open the door, the room is lovely. It's a corner room which means that we get views on two sides of the windows and two balconies. Stepping out onto the larger balcony there is Kohola lagoon view down below.
The king bed is extremely comfortable and there are two chairs and a table positioned at the end of the bed for view watching. There is an oversize working desk and internet is $14.95USD per day for unlimited devices. All JW Marriotts have at a minimum a sunken bath, separate shower and his and hers sinks.
The bathroom's two sinks stand opposite each other. There is a spacious shower with an excellent massage head shower as well as a ledge to sit on (I always like these). There are amenities by Aromatherapy Associates.
It's somewhere nearby this evening for dinner. About 200 metres away in a straight line is Monkey Pod Kitchen a lively family friendly eatery that boasts a locally sourced menu. The JW Marriott has a shuttle bus that leaves every 30 minutes to take guests down to the Ko Olina area or you can walk the short distance. At Monkey Pod Kitchen there are plenty of people waiting for tables and downstairs has a large bar area whereas upstairs is just restaurant tables. And of course just outside the restaurant is a Monkey Pod tree, it's branches generously spreading its canopy.
The original location for Monkey Pod Kitchen is in Wailea in Maui. Chef Peter Merriman is one of the twelve Hawaiian chefs who formed the influential Hawaiian Regional Cuisine culinary movement. The idea behind the guild of twelve chefs was to promote Hawaiian cuisine and to develop and support the Hawaiian local food industry.
Service is very friendly and accommodating and there is even free wifi here. We start with a POG, a Hawaiian fruit juice blend of passionfruit, orange and grapefruit juice that is fresh and a just sweet enough without being overly so. Mr NQN has a Mai Tai - it's strong and they're generous on the alcohol.
Smoked Taro Hummus $11.95USD
We try the smoked taro hummus because we've never seen taro in hummus before. You don't taste much taro which is quite a mild flavoured vegetable anyway. The predominant flavour is chickpeas and garlic. It also comes with a salsa that pairs well with the hummus as well as house made tortilla chips. There's a small range of crudites with Waipoli farm organic romaine lettuce cucumber and kahumana farm watermelon radishes.
Pumpkin Patch Ravioli $13.95USD
The ravioli is the most popular dish here. It is pasta dough filled with kiawe wood roasted squash and topped with goat's chevre, organic spinach and drizzled with toasted walnut sage pesto. I like the fact that this tastes like home made ravioli and I wish I had this in a larger size.
Bourgeois pizza $25.95USD
For mains we go with something that people seem to be ordering a lot of. The Bourgeois pizza is topped with plenty of Big Island lobster which is a Maine lobster that has been grown in Kona. There are also sliced hamakua wild mushrooms, parmesan, organic local thyme and garlic white sauce that is strong in garlic.
Pete's Classic Burger $17.95 plus fries $3USD
I'm always a sucker for a well made American burger and we aren't disappointed. They make all of the buns and sauces in house including their very own tomato ketchup that is made with 19 ingredients. The patty is Big Island grass fed beef, with plenty of sliced umami mushrooms, melted gruyere cheese, chopped arugula and horseradish crema. We opt for the garlic truffle fries which look to be hand cut fries but they're more garlic than truffle. The burger however is excellent.
Coconut Pie $8.95USD
The coconut cream pie ends up being one big embarrassment - for me. Because I cannot stop eating it. There's a fluffy layer of coconut and vanilla custard and then an equally thick and high layer of real whipped cream on a shortcrust pastry. And yes I had to tell Mr NQN to take this off me, it was that good.
Banana Cream Pie $8.95USD
He was more preoccupied with the banana cream pie with a bottom layer of banana custard, banana pieces, caramel sauce and more banana. It's hard to say which is better but I do love coconut so it's the coconut cream for me.
The next morning we wake for breakfast at Naupaka Terrace downstairs at the hotel, one of their three restaurants and the main breakfast restaurant with views of the beach. We start with a fresh juice made to order. Diners can either make their own or have their server make one for them. Ours is a refreshing mix of pineapple, orange, carrot and ginger.
You can either order from the a la carte or buffet menu and we go for the a la carte selection. Access to the buffet is $26 for the full or $17 for the continental. The a la carte items come with a little starter from the kitchen and in this case it's a toasted muesli with dried mango and yogurt. The muesli is delicious-crunchy and caramelised and it awakens our appetites for the mains.
Banana bread
The one thing that had me going for bite after bread is the resort's toasted banana bread. I love the crispy edges and the sweetness of the banana bread from the special Hawaiian apple bananas.
Paniolo breakfast $19USD
Paniolo is Hawaiian for cowboy and this is a breakfast for active cowboys. It's a layer of Island beef corned hash and two eggs any style (we choose sunny side up) and a choice of steamed or fried rice or potatoes with toast or a muffin. We go with the fried rice and sourdough toast. The sourdough toast isn't very sour and tastes like a regular white slice bread but the hash and fried rice with runny yolk is good and filling. Fit for a cowboy...
Pokai Bay omelet $29USD
My omelet comes with shrimp, crab meat, scallops, onions, mushrooms and green onions with toast or a muffin. The omelette is full of seafood and it also comes with potatoes and a grilled half tomato. I would have loved the potatoes to be crispier but it's a delicious dish.
A little later we find ourselves wading knee deep with sharks. Part of the JW Marriott's programme is an interactive experience with some of their wildlife that live in their lagoon ponds. We start off small, looking at the range of colourful tropical fish from parrot fish, goat fish and unicorn fish. Our guide and animal husbandrist Kim points out the surgeon fish who has a small blade on each side as sharp as a scalpel and then explains each fish and its characteristics.
We then move onto the sting ray pools with a pair of small spotted eagle rays Kai and Keolani. Sting rays usually fare better in pairs or in the company of others. To feed them, we take small clams and hold them in our hands. Both are trained with food to follow a tennis ball on a pole and they readily look for food. Keolani the female of the pair is the more aggressive one sometimes nibbling on feet!
Kim shows us other specimens from the pond including a frog fish whose surface resembles a slightly rough velvet. There are two star fish and sea urchins in the pond as well. She shows us a collector sea urchin so named because it collects little pieces of shell that adhere to its spiky surface. We go a bit further around to see the larger sting rays and to see them we get behind a fence. This is a precautionary measure as the rays are bigger.
And then comes the sharks. I'm already trembling as I'm terrified of sharks and I'm sure that the sharks can pick up my rapid heartbeat. There are two types of sharks in this enclosure: sandbar and hammerhead sharks. This time everyone is enclosed behind a gate and we move the gate around us to slightly deeper water. The sharks are excited - they are fed at certain times of the day and this is one of them and they circle us quickly. Mr NQN asks "Surely they couldn't really hurt us could they?" as they are juvenile sharks and around 1.5 metres. Kim thinks about it before answering, "No I think they could..." which only makes me grip the gate around us tighter.
I throw the squid and sardines to the sharks. By now a crowd has gathered around the lagoon and I'm trying to throw the fish out as far from us as possible. The sharks whip up the water and I can't imagine doing this without the gate around us. Before I know it, the supply of sardines is gone and the water is calm again. We've survived feeding the sharks!
A little more calm is needed after that episode so I head to the spa while Mr NQN walks to the beach. The Ihilani spa is enormous and I follow a staff member to the changing room. Guests can access the spa and sauna for $35 a day or they can use it if they are having a treatment.
I'm booked in for a 50 minute LomiLomi massage. LomiLomi means to rub or to knead and they massage is a surprisingly vigorous massage with plenty of action from the therapist's forearms. It's similar to a Thai massage although the therapist doesn't get up on the massage table and there is more pressure. The 50 minutes flies by and as I wake myself up from sleep my back is unknotted and she remarks on how tight my forearms are.
There's some relaxing and work done that afternoon - it's almost disconcerting how fast the time goes here. We watch from our balcony as rain storms pass us and then reveal bright sunshine soon after.
It's soon time for dinner and tonight, it's a few minutes' drive away at one of Hawaii's institutions: Roy's. Roy Yamaguchi grew up in Tokyo Japan to a military father born in Maui and a mother born in Okinawa. He opened up his first Roy's in 1998 and now has 31 restaurants to his name.
He focuses on fresh fish and local ingredients and is known for forwarding regional Hawaiian cuisine with his Hawaiian fusion cuisine. He was the first Hawaiian James Beard award winner. And he too along with Peter Merriman was one of the founders of Hawaiian Regional Cuisine.
Sesame chilli edamame
Each Roy's restaurant has a list of items marked with a "Y" that are served at all Roy's. However each restaurant's individual chefs create their own menu and the Ko Olina is said to be described as "local boy" meets French technique. There are three locations on Oahu and one is in Kapolei in the Ko Olina Golf Course.
Arnold Palmer- iced tea with lemonade
The inside of the restaurant appears to be more formal while the outside with a view of the golf greens is a bit more casual. The smell of Tahitian gardenias wafts by and we take a seat outside. Our server is excellent and helps us narrow down some items from the tempting menu. The menu lists the local farms that supply the restaurant with produce.
Volcano Roll
Our server tells us that at times the chefs will make up things and have a bit of fun. This is one of the items that they send over and is dubbed the "Volcano roll". It is a prawn, avocado and cucumber sushi roll topped with a layer of tuna sashimi with fried onions, tobiko roe and green onion. It is so delicious I don't think anything of eating half immediately forgetting that we have a lot of food coming.
Roy's Dim Sum Appetiser for two $31USD
We choose this as it has a little bit of everything and is meant for sharing. I try the blackened tuna rolled in cajun spices and it is soft and melts in the mouth with one last slightly spicy tingle. I move onto a piece of the deep fried tuna maki. It's a sushi roll filled with tuna and sliced on angle and then dipped in tempura batter and deep fried. It comes with a fabulously spicy mayonnaise that has a lingering heat. On top of the tuna is a perfectly succulent tempura prawn.
I pick up a cute little Chinatown chicken spring roll - it's crunchy golden and meaty inside and served with a sweet and sour sauce. The last mouthful is from the meaty side of the menu and it's a juicy, succulent caramelised Mongolian baby pork rib - saucey and smokey and reminiscent in flavours of Chinese bakkwa or sweet pork. They come with two thoughtful hand wipes.
Japanese Hamachi Crudo $21USD
I must admit that we leaned more towards the sushi and sashimi especially after we tried the volcano roll. The slices of sashimi hamachi are topped with bonito, yuzu soy that gives it tangyness and Ho Farms tomato slices. It's very refreshing especially with the tartness from the yuzu.
Mauka to Makai $21USD
The Mauka to Makai is Roy's version of a surf and turf. The surf is the Kona lobster dynamite spicy mix filling the sushi roll along with the avocado and cucumber. On top is a draping of sashimi filet mignon done aburi style and lightly torched so that it remains tender but juicy. It's a wonderful mix and goes perfectly well together and there a strong hit of truffle flavour to the beef.
Classic duet $45USD
The best thing to do if you're dithering between two items is to have the duo of them if at all possible. The classic duet is made up of their two popular fish dishes. The misoyaki butterfish or black cod is luscious and buttery. It comes with a sauce of sweet ginger wasabi butter that brings out the texture of the fish well.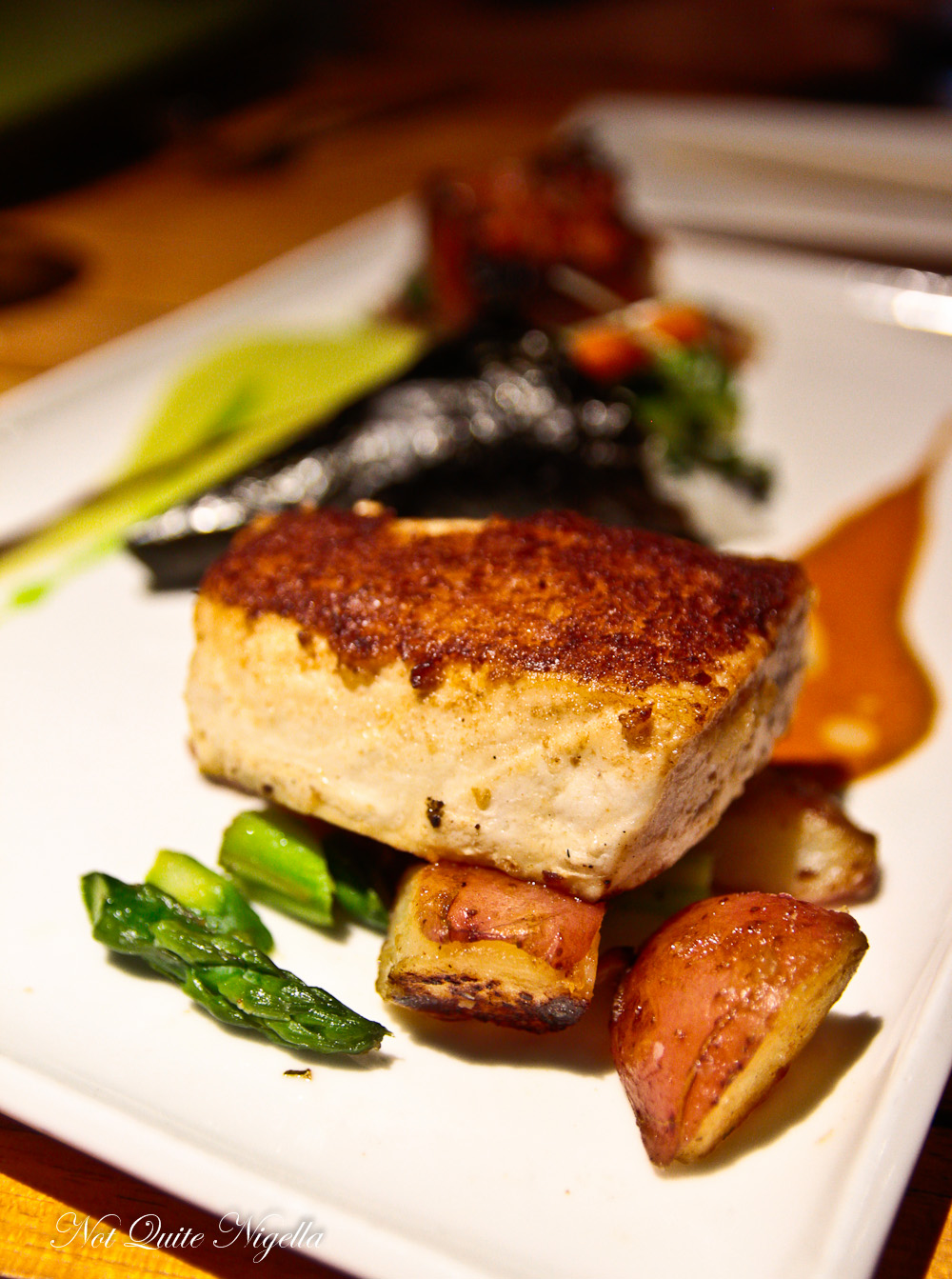 The other half is the macadamia nut crusted broad bill fish that is a firmer white fish that comes with a serve of pan fried red bliss potatoes and a Kona lobster essence sauce made with the shells of the lobster with a beurre blanc.
White chocolate cheesecake $9USD
The dessert menu has a range of five items that need to be ordered 25 minutes ahead of time as they are baked to order as well as a regular dessert menu. Alas my first choice of the Haupia toast has just run out so I choose the other coconut dessert, the white chocolate cheesecake with a coconut and Graham cracker crust. It's a layer of thin crust with a moussey cheesecake surrounded by a thin white chocolate sleeve and shavings on top. It's sweet more than anything else and it really needs a tart contrast or vanilla to add to it.
Pineapple Upside Down Cake $9USD
By contrast we both absolutely loved the pineapple upside down cake baked in an individual muffin tin with pineapple pieces on the bottom. It is then upended with the pineapple on top and then the surface is bruleed so that it is crispy. It's a wonderful combination of crispy and soft textures and the caramel fosters sauce and very vanillaey Lappert's ice cream finishes this dessert off nicely. I could definitely get used to this pace in life.
So tell me Dear Reader, when choosing holiday destinations, do you prefer more laid back place or a place with plenty of things to do? And would you do the shark feeding?
NQN visited Hawaii as a guest of Hawai'i Tourism Oceania