Shave Ice is a Hawaiian classic and is the sweetest, tastiest way to take the edge off the heat. It was brought over to Hawaii as Kakigori by Japanese migrants who were working on sugar and pineapple plantations as a way to cool off in Hawaii's tropical heat after a hard day's work on the plantations. It then became available at Japanese owned grocery stores from the 1900s where it grew in popularity. Since then shave ice stores have proliferated not just in the North Shore where it started but all over O'ahu and the Hawaiian islands. Take a peek at the 12 of the BEST shave ice stores on O'ahu!
1 - Waiola Shave Ice
Waiola Shave Ice was the last shave ice store that we visited and I feel like we really left on a high as it was one of my favourites. It is located about 30 minutes walk from Waikiki in a quiet neighbourhood. There are actually two locations but we visited the original on Waiola Street (there's another one near Leonard's Bakery).
Obama Rainbow $4.50USD
This quaint little store sells little bags of crack seed candy, tshirts and other grocery items. Former president Barack Obama visited here with his kids and staff - there's even a shave ice named after him called the Obama rainbow with three flavours: cherry, lemon-lime and passionfruit. The current president doesn't miss out-scrawled under the Obama Rainbow is a new addition called the Uncle Joe which is a combination of strawberry, vanilla and coconut. The shave ice is well priced starting at $4.50 each and you can add free condensed milk on it if you want. The Obama Rainbow is good but there's another one that's even better.
Azuki Bowl $7USD
Their top seller is the Azuki bowl with a cascade of sweetened azuki beans, chewy little mochi balls and a drenching of condensed milk. Absolute heaven and the best $7USD you'll spend on the island. Look for the rainbow murals on the outside.
2 - Uncle Clay's House of Pure Aloha
Another favourite around 20 minutes away from Waikiki is Uncle Clay's House of Pure Aloha or HOPA. Uncle Clay's HOPA has been going for over 25 years and Uncle Clay and his shave ices featured on the tv show Somebody Feed Phil. It started when Clayton Chang put all of his savings into running a crack seed and candy shop called "Doe Fang" in the 'Aina Haina shopping centre at the outside strip mall. The crack seed and candy store struggled for some time but then his nephew Branson stepped in and Uncle Clay's House of Pure Aloha was born. Due to COVID-19 the shop itself isn't open to walk-in customers. Instead they wait at the door where they will take your order.
Strawberry Dream $8.95
Uncle Clay's menu is found via a QR code and as soon as I opened it up, it was a no brainer. My choice was the Strawberry Dream with strawberry dream syrup, fresh strawberries, homemade mochi, condensed milk and Tahitian vanilla bean ice cream. This is a step above other ones with their real fruit syrup, home made mochi and real vanilla bean ice cream which makes a huge difference in the end product. Usually I take a few spoonfuls and pass it onto Mr NQN but I wasn't giving this one up!
Uncle Clay's House of Pure Aloha
3 - Island Vintage
Ok so you're statying in Waikiki and maybe Waiola and Uncle Clays HOPA is too far for you to walk on a hot day. I get it. In that case head to Island Vintage has a couple of locations in Waikiki, there's a proper shop near the Alohilani hotel and the other kiosk closer to the heart of the action on Kalākaua Ave near the International Marketplace.
Heavenly Lilikoi $10.95USD
Island Vintage have natural flavours and combine shave ice with either soft serve or frozen yogurt. We tried the Heavenly Lilikoi with frozen yogurt in the centre and topped with shave ice drenched in passion fruit and strawberry syrups with mango popping boba balls. When Mr NQN had his first mouthful he swore it was so good and then proceeded to demolish it coming up for air just once asking me if I wanted any!
4 - NIO Snow Ice & Tea
NIO's is the sort of place you wouldn't necessarily happen upon unless you were wandering around or maybe got lost. It's located at the bottom of a residential building and is sort of like a hidden away treasure. NIO specialises in bubble teas and bingsus. The difference between bingsu and shave ice is that bingus are made with a milk ice whereas shave ice is made with water ice.
Strawberry Snow Ice $9.75USD
As soon as I saw the strawberry bingsu on offer I knew that was for me. Even Mr NQN had to concede that the strawberry shave ices were consistently delicious. The one at NIO is beautiful. It's a mound of flakey shave ice, which is a little harder to find but melts on the tongue like a snowflake. On top of this is a real strawberry sauce and on top of the mountain is perfectly placed strawberry slices. The whole bingsu takes them about 10 minutes to make as the strawberries are sliced to order and this extra detail and care makes for a superb ice. A nice little bonus is the cup of sweet jasmine iced tea which is refreshing in the heat.
5 - Ice Monster
Back in the heart of Waikiki on Kuhio Street is Ice Monster, a Taiwanese shave ice store. Ice Monster specialise in ice with a very light, flakey texture. It is designed differently as there are so that you get one flavour type (eg, pineapple, strawberry,mango) rather than the mixes you get at other places. They come in small and large flavours and the large, is well really large. Even the small suited two of us.
Mango Shave Ice $12.80USD
The most popular flavour is mango with mango sorbet, panna cotta and topped off with fresh mango and mango sauce. It's huge, very tasty although I do love the interplay between flavours that you get at other shave ice stores.
6 - Matsumoto's Shave Ice
Matsumoto's Shave Ice is the big daddy of shave ice that everyone knows and goes to when on the North Shore. There are always queues and there are always people sitting outside under the huge tree enjoying their ice confection. Part of the appeal is the price-while some shave ices are over $10USD you can get one here for $3.50USD. Plus they do a generous pour of the syrup so that it is is delicious right until the end. P.S. There is another shave ice across the road from Matsumoto's called Aoki's but it was closed the day that we visited.
$3.50USD+$1 mochi
7 - Kaimana Shave Ice
Kaimana Shave Ice is located in the gorgeous town of Haleiwa on the North Shore. They do a range of all natural flavour syrups that are lower in sugar than others. I let Mr NQN choose and he went for the one named after the location called "North Shore" with mango, pineapple and coconut with macadamia nut ice cream and it's nice although I wasn't such a huge fan of the mac nut ice cream that tasted like macadamia nut milk. Next time I'd go for flavours that I like best. But whatever you do, go out to the back garden to eat your shave ice for an oasis of calm and tranquility.
North Shore Shave Ice $8.50USD
8 - Shimazu Shave Ice
Shimazu Shave Ice is an unassuming shave ice store located with a few other business inside a car park fronted shopfront. It is situated right next to the historic Rainbow Drive-In. Shimazu's shave ice is HUGE-the kid's size could easily feed 1 or even 2 people and for $6USD it's an absolute bargain. They also have a range of really interesting syrups that you may not find elsewhere (durian at times, bananas foster, milk tea royale, pistachio creme and ube creme. Like most you can add mochi, azuki beans, ice cream, Li Hing powder, condensed milk or creamy Haupia. We had a slightly bonkers combination (mea culpa, user error) of ube cream and coconut and the guy behind the counter recommend orange to go with it which I don't think went really well unless you want a shave ice that looks like The Joker.
Kid's size $6USD
9 - Lahaina Shave Ice
Regular $7.50USD
Lahaina Shave Ice is located within the centre of Waikiki on the Beach Walk under an apartment block. They serve up enormous shave ices which you can design yourself or try their combinations. This is a simple shave ice without any ice creams or fancy syrups although they have a lot of flavours to choose from and really friendly service.
10 - Wili Wili's Shave Ice Haven
If you're feasting at the Kahuku's shrimp trucks, cool off afterwards at Wilo Wili's shave Ice. We tried their special shave ice-you pick 2 syrups (strawberry and passion fruit or lilikoi for us) and they make a giant shave ice ball and top it with fresh cut fruit and condensed milk. It's ideal for two and had plenty of really nice tropical fruit in it too. It can be a bit fiddly to eat due to the structure so it's best eaten quickly.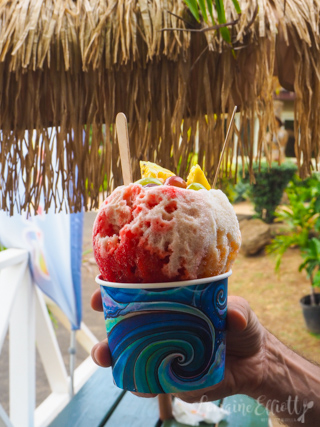 Shave ice $9
11 - Island Snow Hawaii
On the Windward or East coast of O'ahu there's an area called Kailua which also happens to be the area where O'ahu born Barack Obama spends his Christmas every year (smart guy). It is also where his favourite shave ice place is located. Island Snow was originally a clothing brand that started selling shave ice and now the shave ice is what everyone comes for. There are two types of syrups on offer: regular or all natural made by Welch Brothers. The good side of having a long line is that you can stand there trying to decide which flavour to order and what additions you want.
$5.75USD+$1 snowcap and +$1.25 natural flavouring
Island Snow's presentation is in a cup which I didn't love and as we chose the natural flavours they were not as strong as regular ones and we both felt that the syrups needed to be reduced more. But we took these to nearby Kailua beach to cool off perfectly.
12 - Monsarrat Shave Ice
If you're in the Kaimuki area adjacent to Waikiki, Monserrat Shave Ice is a very cute little shave ice shop. They use pure fruit puree with very little sweetener added to it. If you love the flavour of pure fruit and are looking for a healthy shave ice give Monserrat Shave Ice a try. Tip: their pineapple uses Hawaiian pineapple while the other flavours use frozen fruit.
Mango Coconut $7USD
All food in this post was independently paid for. NQN was a guest of Hawaii Tourism Oceania and flew to Hawaii as a guest of Hawaiian Airlines but all opinions remain her own.
Hawaiian Airlines service from Australia - www.HawaiianAirlines.com.au
New Tipping Etiquette in Hawaii
There's a joke that goes around: what's the difference between an Australian and a canoe? An Australian doesn't tip.
It's kind of true, in general we do find the whole tipping thing confusing and honestly we bumble at it. To add to the mystery, tipping has actually changed since COVID. No longer is rounding up sufficient.
Not only do you have to tip bellhops and servers (which we've always had to do) there is now an expectation to tip everyone that makes your coffee, takeaway and Ubers. If you have some $1 notes you can pop a few in the tip jar.
The general rule of thumb is:
Takeaway food and coffee/fast food: 10-25% of your order
Restaurant Dine In: 15-25%
Bartenders: $2USD a drink or 10-15% of bill
Housekeeping: $2USD per person per night or $5USD for extra services
Bellhop: $2USD a bag plus $5USD for room delivery
Valets: $5-$10USD (we preferred self parking because it got too much especially when you were coming in and out)
Uber: 15-20% of total
Hairdresser/nails: 15-20% plus $5-$10USD for assistants
Some people tip with gift certificates/prepackaged food/Venmo. But that's probably too complicated for tourists.