No trip to O'ahu is complete without a visit to the stunning North Shore. The atmosphere is completely chilled, surfers worship the famous waves and all along the scenic stretch there are 51(yes!) beaches, art galleries as well as food trucks selling incredible garlic butter shrimp, shave ice and other must-have treats like chocolate haupia (coconut pudding) pie and snow puffy pastries wedged thick with creamy custard and dusted with powdered sugar. It is a feast for all of the senses with a sense of calm and relaxation.
Banzai Pipeline
It's hard to get lost while on the North Shore as the main road that guides people arcs across the top of the island, shadowing the shore on its right. Whether you decide to go up via the windward or east coast or up the centre of O'ahu you'll hit wonderful spots to eat on the way. Some make it a loop, personally I like going by the windward way if I have time as it is more photogenic with lush tropical foliage but if you go via the centre of O'ahu you'll pass farms and military bases.
We love the North Shore so much that we visited several times during our holiday enjoying some of the best that the North Shore of O'ahu has to offer. If you're driving up through the centre, one of the first stops is a bakery much loved by locals. Paalaa Kai Bakery is in the small town of Waialua just next to its more well known cousin Haleiwa. Waialua is a historic sugar mill town and is a great spot for breakfast if you don't mind your breakfast being made up of custard filled pastry (and who would mind?).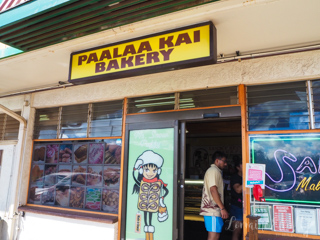 The pastry in question is Paalaa Kai's original creation called a Snow Puffy - the name becomes obvious when you bite into one. It starts with crisp puff pastry on the top and bottom sealed together at one end and then an avalanche of vanilla custard and a chocolate pattern piped on top; the snow is the powdered or icing sugar blanket on top that creates a cloud of snow when you take a bite. Be sure to get in early or before lunch especially on weekends as these babies can sell out. While you're in Waialua there's a cute thrift store called Green Gypsy with Hawaiian clothing and accessories in the pink building adjacent to the bakery.
Snow Puffy
Haleʻiwa (pronounced Ha-lay-ee-vah) is historical surf town and what many consider the surfing capital of the world with "Hawaii's Seven-Mile Miracle" stretch of ocean. The famous Banzai pipeline is located on ʻEhukai beach along this stretch in Haleiwa. Winter brings enormous 30 foot waves while summer conditions are much calmer. Mr NQN loves to make a pilgrimage here every time we come to Hawaii.
Hono's Shrimp Truck with BTS autographs
The town itself has a laid back vibe with colourful, well preserved plantation-era buildings. There's also no shortage of great places to eat. The North Shore is known for its shrimp trucks - it's one of my favourite memories of my time there. Try Honos which is located right next to the Giovanni's graffiti covered shrimp truck. Hono's has its own claim to fame. BTS fans will recognise the signatures of the members on the outside of the truck. Honos has a few different flavours of shrimp including pineapple shrimp which is shrimp in a sweet and sour sauce. The shrimp is wonderfully fresh with this and I can see why people like it. To park there you have to pay the attendant $2 and then park in the car park. Hono's is also cash only.
Pineapple shrimp $16USD
A few minutes walk away is Jenny's Shrimp Truck that offers 8 different types of shrimp and rice. To me Jenny's garlic butter shrimp tastes very, very similar to Giovanni's and it comes with a wedge of fresh pineapple and two scoops of rice. This really hits the spot.
Jenny's shrimp truck's garlic butter shrimp $16USD
For a cool respite from the busy main street of Haleiwa, head to Kaimana Shave Ice. There are some popular combinations already listed or you can choose your own. Mr NQN chose the "North Shore" shave ice with pineapple, mango, coconut, and a scoop of macadamia nut ice cream.
The shave ice is tasty with real fruit blends that are slightly sweetened. Next time I think I'd go for the rainbow shave ice as I wasn't such a huge fan of the macadamia nut ice cream that reminded me of nut milk more than anything. But whatever you do take your shave ice to the peaceful garden out back and enjoy the greenery.
Garden behind Kaimana Shave Ice
Matsumoto's is probably the town's most famous shave ice store and has been serving up shave ice since 1951. It was founded by Mamoru Matsumoto and Helen Momoyo (Ogi) Matsumoto who were both born in Hawaii. It is now run by their youngest son Stanley and his wife Noriko and is the only location of Matsumoto's in the world. They sell up to 1,000 shave ices a day.
Matsumoto's
The queue at Matsumoto Shave Ice stretches out the door no matter what the time of day but it moves quickly. First you tell them what size you want and any extras and then move on to pay and then collect the shave ice. The difference between Matsumoto shave ice is that they are sweeter because they do a very generous pour of the syrups so that it's good 'til the very last drop and all the ice melts. It's also the cheapest shave ice we've seen on O'ahu starting at $3.50USD. Take a seat under the tree along with the dozens of other people and slake your thirst with your shave ice.
Another day we stop at Ted's Bakery where post surf kids, tourists and locals stop by for a slice of pie. Even in the golden tinted afternoon the pastry chefs are smoothing frosting and cream along logs of cake. "How-pee-ahh" I said softly chanting the word for Hawaiian coconut pudding as we round the corner to Ted's Bakery.
Ted's Bakery
The pie that we are after is the chocolate haupia pie. The bottom layer is like a chocolate pudding and then on top is a haupia pudding or coconut pudding. Haupia at its most basic is made with coconut milk, sugar and cornstarch. This is layered on top of the chocolate pudding in a pie crust and then topped with whipped cream. And it is pretty good if sinking your teeth into a cloud of cream and pudding is your thing.
Chocolate Haupia Pie
Ted's story begins in 1906 with Torojiro Nakamura, a Japanese migrant who migrated from Japan to Kihei, Maui. Through hard work with his sons, he became a farmer but in 1950 he and his son Takemitsu bought land in Sunset Beach on the North Shore of Oahu. Takemistu opened a small grocery store there operating it until 1987. Then Takemitsu's son, Ted, opened Ted's Bakery and store. As the North Shore's reputation as a surfing mecca grew so has Ted's popularity as a bakery and they now sell many varieties of pie along with hot savoury dishes like Loco Moco and Garlic Shrimp.
A bit further easy along the trail are the famous Kahuku shrimp trucks. That's where you'll find the original Giovanni's shrimp truck, covered in graffiti with huge queues. Although many debate whether Giovanni's deserves the accolades or crowds the garlic shrimp we had last time was absolutely delicious and seared in my culinary memory that I've recreated the garlic shrimp at home several times.
This time we thought we'd try a different place. Da Bald Guy shrimp truck sells peeled garlic butter shrimp, ideal for those that don't enjoy peeling their shrimp or eating shrimp with the shell on. They also have a couple of other must have dishes like pan fried poke and kalbi beef. All dishes are $16USD each or you can get a combo of any 2 items for $22USD which we opt for with peeled garlic butter shrimp and kalbi beef combo.
Garlic butter shrimp and kalbi plate $22USD
Everything is cooked to order so it does take a while as they are very popular. The peeled garlic shrimp are absolutely delicious. There's plenty of grated garlic and having the shrimp peeled means that the shrimp has a different texture and you don't end up with some shell stuck in the back of your throat - it is definitely one of our favourite shrimp trucks. But it's the beef kalbi that I can't stop eating. The beef is so soft and falls apart even using a plastic fork and knife which I did not expect at all. The juices flavour the rice below and the kalbi is delicious dipped in the garlic butter too. This is the only shrimp truck meal where Mr NQN finished every last bit.
Nearby is Wili Wili shave ice where you can buy shave ice or fresh cut fruit. They also have a special shave ice combining the two. You choose two flavours- we went for strawberry and passion fruit and they fashion a large ball of shave ice, douse it with plenty of syrup, condensed milk and scoop out the centre and fill it with fruit salad. It's best shared between 2 or even 3 people!
Shave Ice with Fruit $9USD
So tell me Dear Reader, have you ever tried Hawaiian garlic butter shrimp/prawns? Do you prefer them already peeled or do you like peeling them yourself?
Tips for a North Shore Adventure!
Car rental is expensive in Hawaii especially when you add taxes and insurance to the deal and renting a car is around $170USD a day! Picking up a car from the airport is considerably cheaper than picking it up from Waikiki (usually half the price for the daily rental) but you may not want the car for the whole time especially if you spend a lot of time in Waikiki and also when you take into account that hotel parking is usually around $40-$60USD a night and you have to tip the valet every time (we preferred self parking because it is quicker and we were in and out a lot).
I found a service called Turo which is like Car Next Door where you rent people's actual cars on a daily basis. We found a woman who managed a whole fleet of cars (Lexus, Porsche, Mercedes and Audis) and rented a Lexus NX from her (it was easier to drive a similar car to ours because we would be driving on the opposite side of the road). It was around $50USD a day, the car was in pristine condition and it was a 15 minute walk from our hotel to pick it up. I would definitely recommend it as an alternative to traditional car rental. This is her fleet of cars (this isn't sponsored, we paid for it all).
Check opening days of shave ice and shrimp trucks. Not all of them close on Mondays, some close on Thursdays and other days.
Driving via the East Coast of O'ahu
You can reach the North Shore either via the East Coast (windward side) or by driving through the centre of Oahu. We preferred the east coast route as it was more scenic, lush and green but it takes slightly longer to reach the north shore by around 10-15 minutes.
NQN was a guest of Hawaii Tourism Oceania and flew to Hawaii as a guest of Hawaiian Airlines but all opinions remain her own. All food in this post was independently paid for.
Hawaiian Airlines service from Australia - www.HawaiianAirlines.com.au