What happens when Pinbone's chefs go overseas for three weeks? A couple of new crews move in for that time. One of the two teams is Out-Bone, featuring an ex Noma chef Tom Halpin along with ex Noma waiter James Audas as sommelier and Pinbone's Jessica Martin on the floor. And it's an experience that divides our group...
There are times when writing reviews becomes difficult. It can be for a few different reasons but the reason that I found this review a bit harder to write was because while some of our dining group enjoyed our experience at Out-Bone, my friends Belinda and Alyson emphatically did not.
Out-Bone was supposed to be a concept called Silverbone. The idea behind it was that while the Pinbone chefs made their way to Paris for the Omnivore event for three weeks, the kitchen would be occupied by two pop up restaurants. The first is Buzo, the much loved Italian restaurant that occupied the same space for many years before Pinbone.
The second was Silverbone, billed as ex Noma chef Sam Miller incorporating a bit of his experience there for Sydney diners. Two days before it was supposed to start, an email went around that Sam was unable to participate but that Tom Halpin would replace him. Tom was at Noma for 4 and a half years with the last year and a half as the sous chef. He was also the winner of Iron Chef Thailand. Sommelier James Audas worked at Noma as a waiter but was the sommelier at Black while Pinbone's Jessica Martin works on the floor.
It's 8:30pm and we arrive for our booking. Our table is upstairs. It's noisy, oh so damn noisy that I can't even hear myself think. Everyone else arrives at our table for six and I find myself torn between either talking to Louise, Viggo and Mr NQN on one side or Belinda and Alyson on the other. As it is, I'm constantly asking "What?" and the whole balance of the group is thrown off. I remember Pinbone being noisy but this is crazy noisy and I feel old just writing about the level of noise.
The menus were emailed to guests earlier that day. The food menu is a very reasonable $65 per person and is cash only. When I booked they had inquired about dietary requirements. When I mentioned Viggo's seafood allergy they asked (not unkindly) whether it was a dislike or an actual allergy which I've never been asked before. Service is very friendly and welcoming from all the staff and they explain that there will be "five substantial courses" and diners can have a wine match for $50 or buy wine by the glass or bottle.
There's no beating around the bush when the first two bites arrive. Displayed on two share plates, the first is a blood tortilla filled with corn, apple and creamed lamb brains. The blood tortilla remind me of Finnish blood pancakes but thinner and because they're so thin, the rich blood has less intensity than the thicker Finnish version that I've made at home. The creamed brains are mild in flavour and the corn adds much texture and flavour while the shredded apple a slight sweetness.
The other bite is a fried, deboned garfish on bok choy with a garfish mayonnaise. On top is some shaved bottarga. "Don't eat the heads," they warn us. My garfish is fine but Louise and Viggo's pieces apparently have a lot of bones in them. I like this dish; it's fresh and savoury.
This is where we start to lose Belinda and Alyson. Belinda picks at the courgette dish listlessly while Alyson finds it bland. I don't mind an all vegetable dish and certainly the saving grace is the crunchy buckwheat. I'm less enthralled by the melon that is strong against the very mild courgette.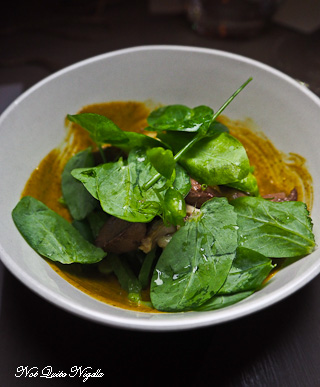 The duck parts in question are duck heart and there's also lamb's tongue (I believe, I kept asking them to repeat things but it got embarrassing after asking too many times). The bowl is brushed with a pistachio paste and there is also a pea butter emulsion. It's finished off with snow pea sprouts and a pea and lemon verbena puree. I like this dish because I like the livery richness of the offal but it doesn't find many fans at the table.
Probably my favourite course is the potatoes and mussels. Tender, soft Tasmanian blue mussels are served in a mixed greens and mussel broth that has the aroma of nutty browned butter. There are some pieces of crunchy fermented potatoes and I like the textural contrast between these and the soft mussels. I don't really taste any sort of the fermenting treatment in the potatoes though.
The lamb breast is the part of the lamb that is near the lamb ribs. The last time I cooked this piece and cut up the ribs, a torrent of liquid fat poured out that showed me just how fatty a cut it was. I have no problems with fat, I love the stuff but this was just way too fatty for me. They instructed us to leave the skin til last but I found it difficult to cut my piece.
It's served with a warm spinach and radish salad that tastes predominantly of radish and some onions filled with an almond and mushroom sauce. While the sauce is nice enough, the onions could be a bit softer. We are instructed to pick up the onions which means that we don't really eat them with the lamb.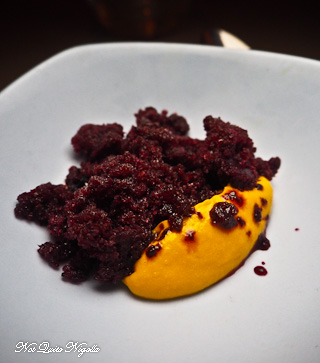 By now there was no saving Belinda as she groaned when she saw pumpkin on the desert menu. "I haaate pumpkin," she sighed. To its credit the pumpkin custard is smooth and delicious (but obviously you need to like pumpkin) and the berry granita is a good match with some fresh berries included as well.
The plum and coffee tarts are served last and they give us three tarts, each already cut in half. The pastry is thin and the filling a little soft and we have to ask for plates. There's no discernible coffee flavour in these, the tart plum overpowers the rest. The pastry is very thin but quite crunchy and hard in texture and not a buttery melt in the mouth shortcrust.
By now, there are only half a dozen tables left and the noise has dimmed considerably. The bill comes out in an envelope with a "Thank you for dining" in handwriting. As for my throat, it's sore from shouting across the table to be heard.
So tell me Dear Reader, do you like noisy or buzzy restaurants? What did you think of the dishes? And do you ever have dining experiences where everyone's opinion differs and some enjoy it but others don't?
Out-Bone at Pinbone
Dinner Wednesday & Thursday, Lunch Sunday until March 15.
3 Jersey Road, Woollahra NSW 2025
0450 155 377 or outboned@gmail.com