This restaurant is now closed
So there I was. Talking on facebook with Belinda and Nick trying to decide where to eat on a Wednesday night. Our "to eat" list comprises of a decent number of places to eat but it was when I looked at one menu and saw "smokey, potatoey, cheesy thing" (which is how I tend to describe food), "fairy bread" and "chocolate crackle" that we decided on Pinbone.
Pinbone, opened in November 2013 is helmed by three young Sydney talents: Mike Eggert (ex-Duke, Billy Kwong), Jemma Whiteman (ex-Three Blue Ducks and Billy Kwong) and front of house Berri Eggert (ex-Moncur Terrace). Formerly known for their pop up events, they decided to take a chance on a permanent space and now occupy the former site of Buzo on Jersey Road in Woollahra. They moved in a mere nine days after Buzo closed its doors. Named Pinbone after the small bone found in fish, it was a name chosen to reflect the chefs' attention to small details.
The space is white and airy whereas Buzo was dark and moody. We head upstairs and Belinda is already waiting for us. We take a seat and wait for Nick to arrive. Service is friendly, approachable and relaxed. We take a look at the menu and sure enough the three treats that caught our eye are there. There is also a list of sixteen share plates and three desserts to choose from.
The wine list is what has Belinda excited as it is a well priced wine list. There are wines by the glass, champagnes under "Fizzy S*t" and magnums under "Big St" We decide to order the $70 a head chef's selection which our waiter promises will give us a really good sample of the menu and may leave some of us clutching our stomachs.
"Most people put up a white flag" and he explains that people usually get about ten mains and some extra dishes along with a good selection of snacks and dessert. "We're big eaters you know" Nick says pointing to himself and Mr NQN as though it were a challenge.
You can let the kitchen know if there is something you would particularly like to eat or conversely something that you don't. We did ask for the chocolate crackles and fairy bread. The chocolate crackles are a unsweetened take on the Australian children's classic party food. The base is crunchy and the cocoa flavour balances well against the rich chicken liver parfait on top.
Fairy bread, usually buttered bread with hundreds and thousands sprinkled on top is given a savoury adult treatment with slices of buttery brioche (crusts on) topped with silky creamy mascarpone, three types of caviar and chives. Each bite is heavenly and we love sinking our teeth into a lusciously creamy, buttery slice of bread with the caviar balls popping with every bite.
I think the aim of the game is not to have all of your toasted, flaked almonds fall off when you break the two rib pieces apart. You can probably guess that I managed to somehow knock most of my almonds off. Placing them back on, the five spice roasted almonds were aromatic and crunchy against the fatty, sticky lamb ribs.
The coffee and leek gougeres are filled with a gruyere, parmesan, leek and thyme custard filling and are flavoured with coffee on the outside. The filling was good but it had a burnt flavour to it.
So far they've brought out five or the six snacks and we haven't even headed towards the share plates yet. We were intrigued to see what these would be like given the name and they are hollowed out potato skins filled with cheese with a distinctly smoky flavour to them.
I'll admit it, roasted cauliflower is one of my favourite things in the world. So much so that I can eat a whole small roasted cauliflower by myself. So when I walked in this evening and could smell it I was later hoping that we would get this dish in the chef's selection. Not only is it cauliflower but it also has bone marrow, another love of mine. This is one of my favourite dishes of the night. The cauliflower is roasted until sweet and it comes with whipped bone marrow, squid and squid ink powder dusted on top. The marrow's flavour really gives so much flavour in the same way that bacon or bacon fat does while the squid takes a backseat to the cauliflower and marrow.
The next plate is roasted carrots with cumin seeds and mussels sitting on a cream of mussels. The double treatment of one ingredient is something that we see in a few dishes here and the sweet carrots and aromatic cumin goes well with the succulent, small black mussels and smooth cream. The deep fried carrot fronds on top give the dish a crispy crunch.
This is an extra dish that they brought out as they were testing it out. It's small cubes of sweet potato and coconut meat and tiny cubes of jelly. The refreshing, tropical flavours remind us of Thai dishes as there's kaffir lime as well.
This is another favourite. The leather jacket comes as four pieces, one for each of us with sliced asparagus and kombu. Fish is usually a delicate, mild dish but this is full of flavour.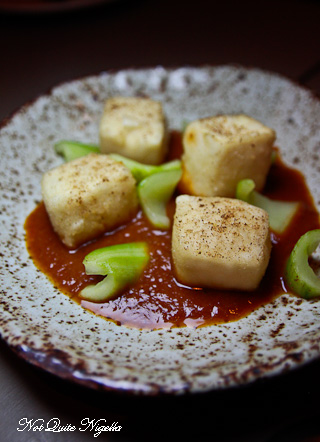 Do you know how people complain that tofu doesn't have any flavour? They should just try adding bacon, the item that adds flavour to everything! And here they serve cubes of crispy edged but silken soft Szechuan tofu with a bacon sauce and pickled cucumber. It's delicious although it's best approached in one or two bites.
This was another dish from the kitchen that wasn't on the menu. It's an 8 week lamb leg topped with popped sorghum with finely diced white nectarine and white pepper. The sorghum smells just like popcorn and the raw lamb is luscious underneath the coating of crushed sorghum kernels.
I'm glad that we received the duck heart. I don't mind offal but I have had mixed experience with hearts, some have been chewy while others have been juicy and plump. This falls into the latter category and it sits on a bed of black beans cooked in duck stock, slices of celery and nettle on top.
As soon as this dish came near, you could smell it. Belinda tasted it and said "Boy oh boy, that's a challenging dish." The aroma of this is similar to stockfish or pickled mud fish which can polarise people. The octopus is chargrilled and the more char grilled the piece, the stronger the aroma and flavour. Whilst it's a strikingly beautiful looking dish with thin purple cabbage pickled wafers on top and chickpeas, alas none of us go for this dish.
We're coming to the meaty end of the meal and so far we've had five snacks and eight sharing mains so the bravado the boys initially had is dissipating as they start to fill up. The chicken, kale and garlic is a mild tasting dish, especially when compared to the octopus before and the chicken is well cooked and still juicy while the garlic and dashi provides much of the flavour.
The skirt steak is served already sliced and medium rare on the inside. The beef is flavoursome and given extra pep from the pickled mustard cream sauce and the mustard greens on top.
We are given two sides to accompany the meat. The first was a refreshing raw, shredded zucchini salad with lemon, mint and a showering of finely grated pecorino on top.
The second salad is a Jap pumpkin, pepita and silverbeet salad which comes as squares of roasted pumpkin atop a creamy, nutty pepita puree.
I was really hoping for this dish but didn't expect it as we had gotten so much food but there it came, our final savoury dish. There are eight cubes of luscious pork belly served with barbecued pineapple and a kombu, nori and licorice root salt on the side. They recommend starting with the pork dipped in the salt and then following this with a piece of pineapple and the fresh herb salada - all with our hands.
The crispy skinned pork is in short fabulous. I risk first degree thumb and finger burns taking the cube of fatty pork to my mouth and then chasing it with the tangy, char grilled pineapple and the fresh dill, chive and chervil salad. To show that I just don't learn, I go back immediately for a second piece, burning my fingers again but I want another bite of the pork belly immediately. The salt adds a burst of flavour and I can't help thinking that it would be a great chip flavour too.
The desserts come out all at once and we take to them with a spoon. The apple, bay and cider is a good safe dessert, for those that don't like to get too experimental. The apples are poached in bay and cider and the ice cream has a good, creamy texture to it.
Holy heavens is it too early to talk about favourite dessert of the year in January? This is Pinbone's take on the bibimbap and comprises an impressive amount of textures and flavours. The banana ice cream in the centre is fantastic and there are all sorts crunchy bits, noodles, caramelised chips, toasted waffle, salted caramel, cherries, dried banana and nutty nuggets which made digging in this dessert such fun.
Our last dessert got us discussing the merits of white pepper. The centre of the dish is a white pepper ice cream which is strong and confuses at first but once you get used to the fact that there's white pepper in a dessert, it all fits together. Added to this are toasted pinenuts and blueberry powder and you have a very intriguing dessert.
And after five snacks, fourteen mains and three desserts, the boys finally put up the white flag!
So tell me Dear Reader, do you often go for chef selection menus or do you prefer to choose dishes yourself? And would you eat heart? If you have, how did you find it?
This meal was independently paid for.
Pinbone
This restaurant is now closed
3 Jersey Rd, Woollahra NSW 2025
Tel: +61 (02) 9328 1600
Dinner Wednesday - Saturday 6pm-late
Brunch Sunday 8am-4pm
http://www.pinbone.com.au/