The newest identity of the restaurant located above the Art Deco designed Light Brigade Hotel in Woollahra is Brigade Dining. It's a departure from its former Italian roots as La Scala. Here the food is more Modern Australian with plenty of fresh flavours from a delicious beetroot and orange salad with triangles of fried bread to a crudo or hiramasa kingfish to a photogenic pavlova with meringue drops and raspberry and passionfruit creme.
When I suggested to my sometime vegetarian friend Laura that we should try a place in Manly, she messaged back straight away.
"Road trip! I'll come and pick you up!" because it may only be a few kilometres away but a drive across the bridge to Manly in peak hour pre Christmas traffic is really a road trip. But alas that was not to be, the restaurant didn't take bookings, then it did and then it didn't again. Fed up with getting the runaround we went with our Plan B, Brigade Dining in nearby Woollahra. We could leave our passports at home ;)
Located at the former site of La Scala, it is part of the Light Brigade Hotel but occupies a completely separate section and entrance. It is Tuesday night and apart from a large table it isn't very busy at all. Still that affords Laura and I the pick of our seats and we take a seat next to the window on a leather banquette. Service is friendly and the chef is Marco Adler. We are curious as to why it is so quiet.
"I'm dabbling in flesh now," announces Laura. This is progress - previously she was picking at chicken skin but now she is eating chicken liver and pate and meat is fine...well depending. And as always we over order our eyes betraying our stomachs.
We almost didn't get this dish but I am glad that Laura insisted that we try it. It's a beetroot dip sweet with orange with dabs of goats curd and fried baby capers. It comes with a generous sized bowl of fried bread cut into pieces. And goodness me it's delicious. The orange tempers the earthiness of the beetroot you cannot really go wrong with fried bread.
Likewise we are both smitten both visually and with the flavours of the hiramasa kingfish, each slice curled around avocado or sweet corn purees with thin slices of jalapeno and pickled okra. It is colourful, fresh and well balanced.
Plating is admirably pretty here and there are two scallops with a quenelle of salmon belly tartare, peas and cubes of watermelon and pink grapefruit. There is a nice assortment of flavours on this dish.
As soon as we both heard this I had to overcome my slight prejudice against fettucine (I hold very strong opinions on pasta shapes) and order this. The pasta is very generously topped with snow crab meat, pink grapefruit sections, trout roe and cherry tomatoes. Somehow it's creamy and delicate but without having much cream. It doesn't really even need the cherry tomatoes but they do provide a point of acidity and sweetness.
We should have perhaps looked a bit closer at the prices - mot of the mains hovered around the $35 mark but this one is expensive at $46 and higher than you would expect for a pub restaurant. The squab is cooked so that it is still dark pink in the centre which promptly freaks Laura out and she retreats back to the side of vegetarianism. The coffee flavour is strong and dominates the flavours. I did like the red cabbage, sausage, grapes and garlic with it.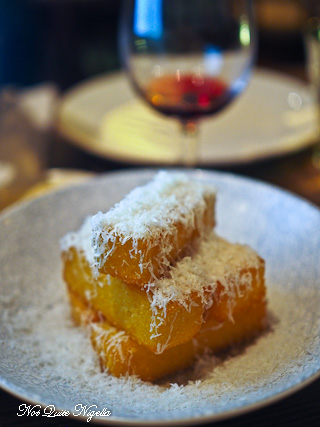 The polenta chips have a decent amount of truffle aroma and a generous blanket of finely shaved pecorino. I try to resist gobbling them all up.
There are five choices for dessert and one cheese plate but we decide to go with something light this evening (see over ordering note ;) ). This dessert has freeze dried raspberries, raspberry dust, passionfruit, vanilla cream and droplets of very chewy meringue it's light but very moreish. And by the end we're none the wiser as to why it is so quiet!
So tell me Dear Reader, do you hold strong opinions on pasta shapes? Do you have one that you love or dislike? And what is the minimum distance for you to call a drive a road trip? Do you know any partial vegetarians?
This meal was independently paid for.
Brigade Dining
Upstairs At The Light Brigade Hotel
Corner of Oxford Street & Woollahra, Jersey Rd, Sydney NSW 2025. Entrance on Jersey Road.
Phone:(02) 9357 0815
http://brigadedining.com.au/