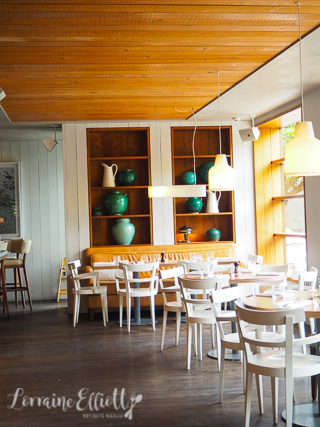 The Hotel Centennial in Woollahra has a new owner and chef. Now run by the Merivale group with chef Ben Greeno, the menu features dishes like a divine spanner crab crostino, Wild kingfish crudo, jalapeño, ginger and sesame seeds and swoon worthy desserts. Plus we spot a celebrity!
I'm catching up with my Texas trip buddy Kristie. It's a late Friday lunch and although there are new owners, when I walk in everything looks the same from the pistachio green colours, woods and colour. I wonder if anything has changed but I have a terrible memory for decor, only seeming to remember food details.
It's not very busy this afternoon. They show me to a table right in front of the pass and from here I have the perfect view of the whole restaurant. And to my left is someone that I recognise from somewhere but I can't quite place. Kristie breezes in like a hurricane and we both squeal and give each other hugs like long lost cousins even though we had only seen each other four days ago. I whisper to Kristie who works at a magazine that the man sitting to our left is someone famous but I'm not sure from where. I'm positive she will know.
She subtly looks over her menu and then hunches over and whispers behind the menu, "Oh my god, it's Simon Baker! He's HUGE!" before pausing. "I'm going to ask him for a selfie!" she whispers eagerly.
The first two items arrive quickly afterwards. The spanner crab toast is a slice of toast topped with spanner crab meat, shaved celery, shaved fennel with shaved bottarga on top. It's damn lovely and I'm too polite to grab the whole plate and finish it. Instead we make stupid moaning noises over this like a couple of fools.
I equally loved the kingfish crudo for its simplicity and lusciousness. It's slices of raw kingfish topped with ginger, toasted sesame seeds, slices of jalapeno and a shower of spring onion.
We weren't quite sure what to order for our main and we were sharing it and there are a couple of dishes that take 30-40 minutes to arrive which looked interesting but we go with our waitress's recommendation of the pan fried whole flounder, simply done with a side of seaweed salsa verde and half a roasted lemon. The fish is superbly luscious and moistly textured and it's absolutely worth dealing with all of those bones.
A big surprise is the radicchio salad which is an enormous salad that actually excites us both. I know it's strange that a salad would excite us so much but it's so beautifully hued and replete with the most luscious, plump and jammy figs, cubes of Fourme d'Ambert and toffee pecans. The only thing I have to say is that it is dressed very heavily in oil and that could be lighter.
As much as we have eyes for the salad, we also have eyes for dessert. The skinny person in me says "Just share one dessert" but then the fat person inside me says, "Let's have one each". The fat person inside me always seems to win so it's two desserts. The waffles are cut into thirds as batons and soaked with a warm, spiced banana caramel sauce, whipped cream and vanilla ice cream. The waffles are crisp and feather light.
Meanwhile Kristie is in love with this chocolate tart. The Dulcey chocolate is a Valrhona caramelised white chocolate and a feuilletine topping with a scoop of pistachio sorbet that is rich and full of roasted pistachios. I love the nuttiness of brown butter that isn't overly sweet as it balances the rest of the dessert.
After finishing as much as we can of dessert we pay our bill and Kristie looks over her shoulder at our celebrity neighbour who is getting up at the same time that we are. "Are you going to ask him for a selfie?" "NO!! I mean yes! Let's just go now!" she whispers grabbing her bag and my elbow and steering me out of the restaurant quickly before expressing her anguish at her lost selfie moment.
So tell me Dear Reader, do you have both a fat person and a skinny person inside you? Or just one? And would you ask a celebrity in a restaurant for a selfie? And do you have a good memory for decor or food?
Hotel Centennial
88 Oxford St, Woollahra NSW 2025
Hours: Monday to Saturday 12–10:30pm
Sunday 12–9pm
www.merivale.com.au/venues/hotelcentennial/menu