Lotus in Potts Point is back due to popular demand for an extended pop-up. With a menu created by returning chef Dan Hong it has a mixture of Modern Australian and Asian fusion. Some classics have made it back like the hot fudge sundae, tuna and cheeseburger.
It's a popular restaurant and the only booking we could get was at 8:15pm. Gone is The Fish Shop and its nautical theme. It has white painted walls and a large chalkboard detailing their specials and towards the back is the sexy Lotus bar where people have a pre-drink or more popularly, adjourn after dinner.
I'm here for a pre-Christmas dinner with my sometime vegetarian friend Laura and Kat. As Laura is a Potts Point local she has already tried Lotus 2.0 so we go with her recommendations.
Prawn toast, yuzu aioli, herbs $22
They set down the regular menu and the bar menu which they explain can be ordered in the main restaurant. We all love prawn toast from the bar menu so we try that first. It comes sliced up into four portions with a lot of fresh herbs on top. Perhaps too much as all I can taste are the herbs with their spiky texture.
Scallop Ravioli $28
The ravioli is a special and is filled with scallops with a bone marrow jus with ocean trout roe and a lot of tarragon. The jus gives the seafood ravioli a meaty flavour. We actually like dipping some of the scallion bread to mop up the bone marrow sauce.
Nardin smoked anchovies, chilli, cultured cream and scallion bread $24
Then we get into the dishes that we all really love. The Nardin smoked anchovies from the Cantabrian Coast come four to a serve on a plate in oil. On the side are two fried scallion bread rounds. There's a small bowl of cultured cream topped with caviar on one side and finely chopped chives on the other and then another small bowl of pickled chillies. I think we could have easily doubled this and been quite happy.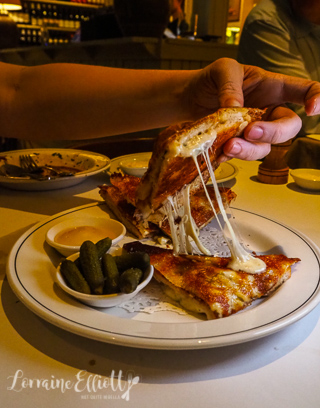 Grilled triple cheese toastie $19
My weaknesses are cheese and carbs and we bypass the famous Lotus cheeseburger in favour of the triple cheese toastie and it turns out to be a good decision. It comes as four fat, plump gooey triangles of cheese filled toastie with lovely crunchy browned cheese bits. It comes with a perfect mustard and cornichons on the side. It is also very rich so it's best shared. I decide that I'm going to move in with Laura at her place and get this delivered to the apartment every night and eat this in bed like a sloth.
Roasted bugs, chilli, fish sauce brown butter, lemon $48
Another favourite dish is the roasted bugs with the most delectable fish sauce brown butter. I'd definitely recommend ordering this to come out at the same time as the toastie so that you can dip the toastie in that fish sauce brown butter. In fact by the end of this dish, we've mopped up that whole pool of brown butter. We are all sloths in the making.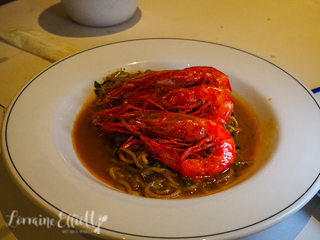 Hand made noodles, Scarlet prawns, XO and coriander $39
They forgot our order of the noodles with scarlet prawns and although we're quite full we can't resist asking for them. The noodles have a wonderful texture and come with XO sauce, chopped up coriander leaves and stems and cooked scarlet prawns on top. The scarlet prawns are a little awkward to eat as you have to shell them yourself and perhaps would be better taken out of the shell or really, the dish doesn't need them as the noodles are so full of flavour.
Hot fudge sundae, raspberries, peanuts and honeycomb $14
We order dessert but they sort of forget about it (it's a bit of a theme this evening we find) so they bring it out along with a bonus Frosty Fruit granita for the delay. The sundae is rich and with good quality vanilla ice cream, raspberry sauce, peanuts and honeycomb shards with a little pot of hot fudge sauce on the side. I particularly like the vanilla ice cream with the raspberry sauce and honeycomb pieces.
Frosty fruits granita, coconut sorbet $12
The Frosty Fruit granita is just like the classic ice block (which prompts jokes about them crushing up Frosty Fruits in the back). There's a scoop of creamy coconut sorbet on the side and fresh lime zest grated on top that adds a lovely refreshing quality to it.
So tell me Dear Reader, do restaurants ever forget about what you've ordered? What food would you get delivered to you every day?
This meal was independently paid for.
Lotus 2.0
2 Challis Ave, Potts Point NSW 2011
Monday closed
Tuesday to Saturday 4:45–11:45pm
Sunday 1–9pm
Phone: (02) 9114 7340
merivale.com