Stanton & Co. is the very newest addition to The Cannery complex in Rosebery. Named after the architect Richard Stanton who designed Rosebery as a "garden suburb", the menu is made up of share dishes in a Modern Australian style.
"So where is it?" we ask each other. Everyone is looking at me to answer but we've already done a walk around of the Cannery complex to no avail. I start to get paranoid, "Are you sure this isn't an idea between the two of you to make me walk more? It's cruel to make me do it in high heels!" I say to Mr NQN and Nina.
I resort to ringing the Stanton & Co. Turns up we just had to look up. The restaurant is located on the first floor of the Cannery building's North end. It's a long room and up one end is the kitchen. It's buzzy but we don't have to strain to be heard or shout at each other which is nice.
They show us to a table for four but my eye spies the empty booth. "I love booths," says Nina echoing my thoughts and we ask if it is possible to move. It's no problem and we slide into a comfortable booth a few minutes later which is much more roomy for sharing plates. Service from our waitress is very friendly but a bit inexperienced and she doesn't seem overly familiar with the food.
Cannery Canary $18, Royal Rosebery $21 and Prosecco $11
We order a couple of glasses of Prosecco instead of red wine because it's almost Christmas and a couple of cocktails. We order the Royal Rosebery and the Cannery Canary and both are delicious.
Tartare, cured egg yolk, rice cracker $16
They are out of tuna so they ask if it is ok to replace it with salmon which is fine. This dish is chopped, raw salmon with a cured egg yolks and a deep fried squid ink rice cracker. The cracker is a little too thin and soft to place the fish on but I do like the creamy element the egg yolk gives the fish although I think it would have suited the less fatty tuna better.
Burrata, pickled onions, pistachio furikake $18
I'm a sucker for burrata. If I see it on a menu I will order it. The ball of mozzarella on the outside filled with cream on the inside is paired with pickled onions and pistachio furikake (a crunchy Japanese seasoning mix). It's a heavenly combo with just the right amount of acidity, crunch and creaminess.
Cheese onion gyoza, mustard vinegar $18
Nina goes for the cheese and onion gyoza that comes with mustard vinegar. They're pretty good for a vegetarian dish although I thought I'd want more.
Moreton Bay bug tempura, bottarga, ponzu mayo $32
I loved the Moreton Bay bug tempura. It's light and fluffy and served with a spiced mayonnaise from the fries rather than a ponzu mayonnaise.
Crispy pork knuckle, soy seeded mustard, pickled apple $46
We saw so many of these coming out and I think it was because everyone was eating from the set menu. We wanted to like this but it was rather dry that it made it really difficult to cut and eat. The soy seeded mustard sauce was tasty though and it came with a pickled apple. We left most of this and even though we fed back that it was just too dry and left most of it, it still remained on our bill and the waitress seemed surprised when getting that feedback as she had recommended it.
Charred cos, garlic emulsion, pecorino $8
"I don't understand any of these words," says Nina when she was looking at the menu. But while she doesn't immediately recognise the components of this dish she loves the charred cos (that doesn't seem very charred as it is still crisp) with a garlic emulsion sauce and shavings of pecorino on top.
Corn, spiced coriander butter, ricotta $8
I adore corn and this is heaven to me. It is four cobettes of corn with a divine spiced coriander butter with dabsXXX of soft ricotta. Sure it can be a bit inelegant to eat and I got lipstick everywhere but I can't complain as I really liked this.
Shoestring fries, house mayo $8
The house mayo is a spiced mayo with the aroma of cumin and ground coriander. The fries are a bit cold though, I would have loved piping hot fries (and yes I'm the person that if I do go for fast food I will wait for a fresh batch of fries to come out).
I look over and Nina and Garth have stuck the pointy end of fries up the side of their mouth. "Vampire teeth!" they say and we all proceed to stick chips in our mouths vampire style (cocktails and wine will do that to you). I'm the only one that can't do it because I cannot stop laughing. We recite lines from movies like "The Room" and find ourselves generally hilarious.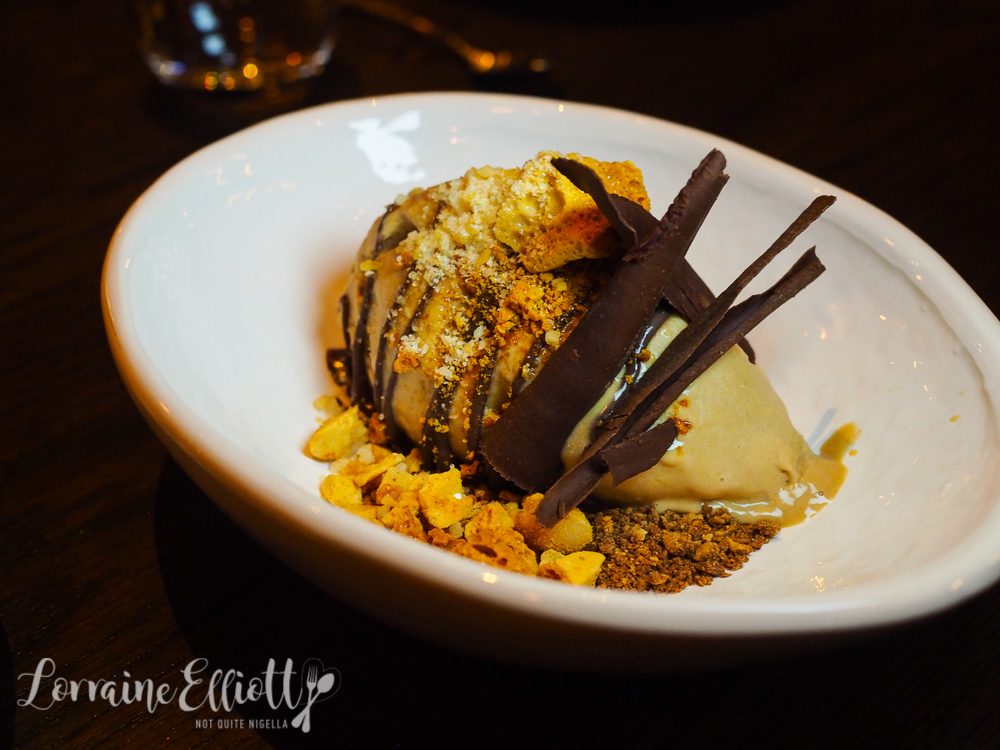 Salted Caramel Ice Cream, Textures $14
It's dessert time and the only thing about going out to dinner with your trainer is the look they give you when you suggest two desserts instead of one. "It's like a kid's dessert," proclaims Nina and she's quite right. It's sweet and rich, sort of like a birthday cake sweet and contains pop rocks. It's also a massive dessert so if you like things very sweet and large this dessert is for you.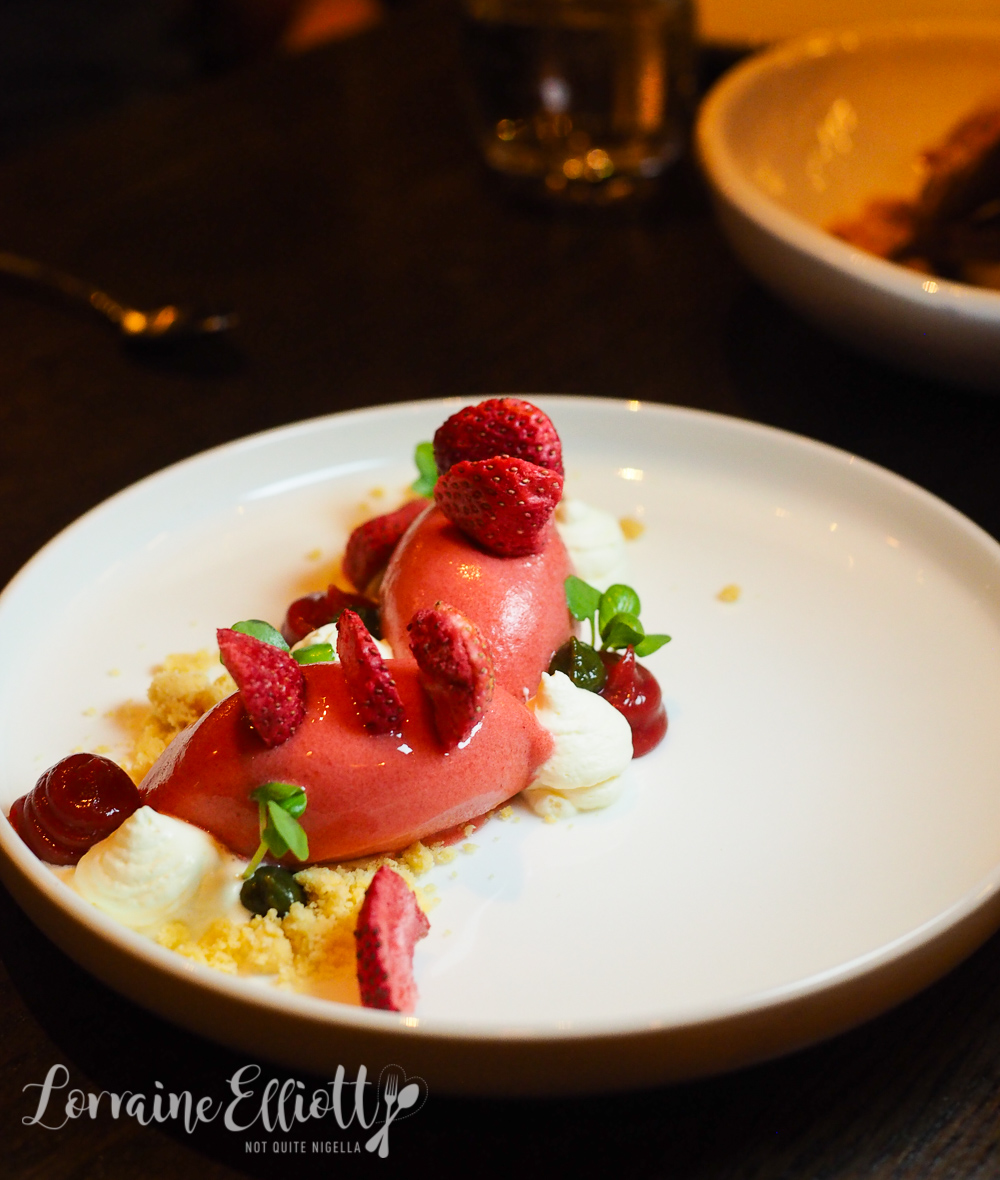 Strawberry Shortcake, Minted Basil $14
I was hoping for an old fashioned strawberry shortcake but this was more an interpretation. The shortcake is crumbs of shortbread with scoops of strawberry ice cream, freeze dried strawberries and creamy dabs. It's a pretty dish and I think this is the pick of the two desserts.
By the time we leave, we feel like we've laughed too much and been a bit disruptive. But I guess it's the silly season!
So tell me Dear Reader, are you a table or booth person? Do you ever ask to move? And have you ever made vampire chip teeth?
Stanton & Co.
61/71 Mentmore Ave, Rosebery NSW 2018
Wednesday to Saturday 12pm–12am
Sunday 12–10pm
Closed Monday and Tuesday
Phone: (02) 8339 0578
www.parlourgroup.com.au/stantonandco/