A food challenge fit for a hot summer's day, six crazy gelato loving friends ventured across Sydney to try and find Sydney's best gelateria and gelato. What makes a good gelato? What is the difference between gelato and ice cream? Read on to find out!
My eyes flicked over to the temperature. 39°C/102.2°F it read. "Perfect..." I muttered to myself. Whilst an almost 40 degree day signals either a trip to the beach or a retreat into air conditioned comfort, it is also the perfect weather for a gelato challenge across Sydney.
So what makes a good gelato? Well there are two main aspects to gelato: flavour and texture. Having judged gelato for the Dairy Australia awards last year I was made aware that it is one of the hardest fought categories (along with cheese) with much pride at stake. It is also the category that judges enjoy adjudicating the most because the quality of gelato is so high.
The difference between gelato and ice cream is that gelato has 7-10% butterfat while ice cream contains 26-30% butterfat. A good gelato is creamy and smooth with a denser, richer texture than ice cream that often has a lot of air incorporated into it. The serving temperature for gelato is warmer than that of ice cream allowing for a softer product. A warmer temperature also doesn't mute the natural flavours as much as a more chilled product.
When in Italy, the basis for judging many gelaterias is often the pistachio flavour (or the fior de latte, arguments can certainly be made for both). Pistachio is a flavour that has the widest variance from superb to simply terrible and it is said that if a pistachio gelato is bright green, then it is made of flavouring rather than real pistachios (the most sought after Italian pistachios are Bronte pistachios from Sicily).
For our challenge we decided to taste four types of gelato: pistachio, lemon, chocolate and a flavour that took our fancy. We had wanted to test out fior de latte (flower of milk) as this would give us a good representation of a gelato's texture and milk flavour but felt that after trying so many others, its subtle flavour might be a challenge.
In one hand I held a list and scoring sheets in the other. On the list were ten places that spanned Sydney's East, Inner West, North and South. Our rendezvous time was 12 noon for lunch and for the next ten and a half hours we would be sampling gelato from all over Sydney. And we'd bring our own spoons too! And obviously we're not qualified gelato judges but more having fun with eating gelato. If you've tried the gelato from these places I'd love to hear what you thought in the comments below! So read on, Dear Reader! x
Pompei, Bondi, Beach
We started our challenge at Pompei in Bondi Beach. "Remember when I said I was working on my magic powers honey? Look at this weather! It's working!" I exclaim at Mr NQN. I must admit that we've been very fortuitous with the weather for our food challenges and today is no exception. Louise, Viggo, Mr NQN and I take a seat at Pompei and soon after Belinda and Nick arrive. We start with calzone, pizza and spaghetti with seafood and down lots of Chinotto before we take a look at the gelato menu.
A small diversion - I know this isn't strictly gelato related but the spaghetti with seafood was excellent as was the Travestere calzone with hot Calabrese salami, ricotta and fior de latte mozzarella.
The milk based gelatos at Pompei's are made with biodynamic milk and can be served eat in with a chocolate wafer or taken away but we choose to eat in and select our four flavours: pistachio, chocolate, lemon and fresh fig for our special. Figs are one of my favourite fruit so I was very hopeful for this and while the flavour is excellent tasting of fresh figs, the texture tends on the wet and slightly clumpy side so whilst I rated the flavour highly, I didn't as much for the texture. The pistachio is light on pistachio and Belinda notes that the chocolate has an airy, mousse type texture to it. Alas the lemon has few fans.
Gelato texture average score: 24.3/40
Gelato flavour average score: 24.5/40
Service and atmosphere average score: 7.3/10
Highest rated flavour of the four: pistachio
Messina, Surry Hills
I climb into Belinda's car with Nick while Mr NQN talks nerdy things with Viggo with Louise driving. Speaking of ice cream and gelato, Belinda shows me a message from a young guy that she has been chatting to on Tinder. He compares a night with him like ice cream. "You're soft and melty?" she says cutting him off at the knees. Poor guy.
With Messina, there are a few locations to choose from but the Surry Hills one is the most convenient for us so we stop by there (see full review here of Darlinghurst store). As always there is a bit of a queue but we're not waiting long and service is very friendly. Although we want to order four scoops, they tell us that we can get five scoops for the same price so we order an extra flavour (Chillax Princess, a white chocolate and coconut cheesecake) but our special flavour is the very popular pandan and coconut.
They hand it over in a cardboard carrier and we take to it with our spoons. The lemon is one of my favourites with a zesty tang to it and Louise loves it too noting that you can see the zest. Nick and Viggo love the chocolate in particular and Viggo gives this flavour a 10 while Belinda and Nick both love the pandan and coconut. Nick has gelato on his hands and notes that when he goes back in to ask for a napkin, they offer him the use of their sink which is a nice touch for service.
Gelato texture average score: 31.5/40
Gelato flavour average score: 31/40
Service and atmosphere average score: 8.2/10
Highest rated flavour of the four: chocolate
Riva Reno, Darlinghurst
Our next stop is just down the road although with the heat and humidity, the idea of walking half a kilometre seems too strength-sapping. We arrive at Riva Reno also on Crown Street (see full review here). It's quiet today with just two other customers but service is excellent and we are offered our first tasting as we are tossing up our special flavour. Once Nick and I try the "New York, New York" flavour (that really should be named Canada because it tastes strongly of maple syrup) we are smitten.
The New York New York is a hit with beautifully crunchy caramelised pecans and rich maple syrup. I've always liked the texture of the gelato at Riva Reno - the silver domes keep the gelato at a consistent temperature so that it is smooth and ice crystals don't form and the gelato doesn't become melted and compacted. Viggo and I have similar thoughts, we both love the texture and rich flavours but the look of the store is quite clinical and he says that it almost appears like a real estate agency or something similar rather than a food outlet.
Gelato texture average score: 30.1/40
Gelato flavour average score: 28.83/40
Service and atmosphere average score: 7.9/10
Highest rated flavour of the four: New York, New York (special)
Grand Gelato, Glebe
We're headed towards the Inner West today where many of the gelaterias are located. Grand Gelato on Glebe Point Road is busy and the tables inside and outside are all taken. Luckily we nab one just as a group is leaving. There is a section for vegan gelato which are the dairy free gelatos.
Nick photobombing photos with his watch. I honestly don't know what to say...
The special gelato that we choose is a milk and sour cherry which divides us. Viggo says "Sour cherry, OMG AWESOME" and Belinda is similarly smitten as she loves the almondy faux cherry flavour. As for me, I'm not a huge fan of amarena cherries unless I am eating the actual cherry and for me, they are quite different from sour cherries. Mr NQN really likes the pistachio here which he says is the "First good pistachio of the day and not too powdery" while Louise finds that it tastes like pistachio skins.
Gelato texture average score: 29.8/40
Gelato flavour average score: 30.1/40
Service and atmosphere average score: 7.6/10
Highest rated flavour of the four: tie between lemon and milk & sour cherry (special)
Gelatomassi, Newtown
Admittedly Belinda and Nick are friends with Gelatomassi's Ciccio so when we walk in we are greeted with familiarity. Alas there is no lemon gelato but Ciccio is about to whip one up. He shows us the tub which is contains three ingredients for lemon gelato: fresh, hand squeezed lemon juice, water and sugar. That's all one needs to make lemon gelato. I'm a texture freak so nothing beats gelato straight out of the machine when it is a bit softer and beautifully smooth. It's usually served a few degrees colder but when the lemon comes out of the machine, we get to it with a spoon. Nick's only words? "Legit" whatever that means in Nickspeak!
Viggo loves the pistachio and rates it the best pistachio and Mr NQN loves the flavours. For me, the Valrhona 84% dark chocolate sorbet is the business. It's so dark and silky smooth but with the perfect amount of sweetness to it. As for Belinda, she always comes by here before a movie to buy a gelato cannoli to eat at the cinema across the road.
Lemon served separately
Gelato texture average score: 31.2/40
Gelato flavour average score: 31/40
Service and atmosphere average score: 9.1/10
Highest rated flavour of the four: lemon
Cow & Moon, Enmore
Cow & Moon in Enmore has always been popular but after it won the World's Best Gelato Makers in the Gelato World Tour for the Mandorla Affogato or their twist on the affogato made with Single Origin Kenyan espresso, caramelised almonds and salted caramel the queues have been legendary. There's a velvet rope to guide patrons and seats at the gelateria are at a premium. We're not waiting long as it is mid afternoon and the queues move quickly and service is polite and friendly. Alas there isn't any lemon gelato but I'm secretly glad to be able to try another one of their award winning flavours, the passionfruit creme, an Australian award winner along with of course a scoop of the Mandorla Affogato, pistachio and chocolate.
There's standing room only so we take to the street and stand to try our spoils. The affogato is divine with just the right amount of nuts and coffee. But the surprise is the passionfruit creme. For me, while flavour can be easily taken care of with the use of the right, natural ingredients, great texture is harder to come by as things such as temperature and storage come into play. But the passionfruit is sublimely smooth with just the right amount of tart from the passionfruit. Admittedly I'm a sucker for tart fruit and cream (raspberry and strawberries with cream) but it is also a favourite with Mr NQN who devours the whole tub before I can say "slow down! There's plenty more to come!".
Gelato texture average score: 31.6/40
Gelato flavour average score: 33.4/40
Service and atmosphere average score: 7.6/10
Highest rated flavour of the four: mandorla affogato (special)
Bar Italia, Leichhardt
Bar Italia is old school Italian. Open since 1952 and located on Norton Street, it's very busy this Saturday afternoon and we survey the classic gelato selection on offer. As for the special we can't resist the baklava and they come out in silver cups.
The pistachio is quite different in appearance from all the others which are smoother in texture. The pistachio here is grainier with larger bits of nuts in it which Nick doesn't mind but Louise isn't smitten with. She says, "Nuts over roasted, didn't taste like pistachio, and there was no smooth pistachio between the chunks" but she likes the baklava saying "the baklava flavour was nice and it wasn't too sweet." Belinda's comment is simply "Old skool!"
Gelato texture average score: 25.5/40
Gelato flavour average score: 25.4/40
Service and atmosphere average score: 7/10
Highest rated flavour of the four: baklava (special)
Cremeria de Luca, Five Dock
Have you ever swooned over a place as soon as you walk in? That happened to me when we walked into Cremeria de Luca in Five Dock. A gorgeous little chocolate box of a shop, my eyes don't know where to look. There's the little gelato cart with bronze domed lids where a man is busy scooping gelato and then there is the glass counter display with house made cordials. It's like stepping back in time and going back to Europe.
The main room is busy so we walk into the side room with an old fashioned stove. There's an appealing mish mash of tables and chairs and we take a seat at a table for six. Marvelling over the menu and making immediate plans to come back to try more, I order at the front counter with Viggo. Service is lovely and we order a mix of drinks and three scoops of gelato as well as a gelato burger aka a brioche bun filled with a paddle of the gelato of your choice.
There is no lemon flavour today so we replace it with a mixed berry flavour. They're good although the mixed berry gets some mixed reviews as it tastes different from what we expect of a mixed berry with an almost floral aspect to it. I particularly like the pistachio which comes close to what we had in Italy. But there's no use beating about the bush because the star was undoubtedly the brioche burger.
You can have a couple of flavours in it and you can have it plain with gelato or add Nutella and panna to it (which we do of course). There's a note that these are meant to be eaten with your hands and I look up and see a man half way through his, his expression that of pure bliss. We chose zabaglione custard gelato inside it and it is very much as delicious as it sounds, the fresh, buttery soft brioche holding in the soft, creamy gelato, panna and generous lick of Nutella.
Gelato texture average score: 29.6/40
Gelato flavour average score: 29.7/40
Service and atmosphere average score: 8.4/10
Highest rated flavour of the four: zabaglione on brioche (special)
Gelatoria Gondola, Chatswood
By now we're keyed up on sugar - even having a few spoonfuls gives us the sugar giggles and we're suddenly the loudest car on the highway heading north side to Belinda singing Kanye's Bound 2 while I provide the Kim "Aha honey!" moments. We've just found our karaoke duet song.
I have to admit that I didn't know much about Gelateria Gondola until Nick suggested it. He's a regular in Chatswood so we stopped by as it's always good to see what the north side has to offer. The shop is colourful with a melange of flavours that diverge from your classic Italian staples although they are all there. Here the flavours are more exotic and more in combination with others. The one that catches my eye is the lychee cacao, a lychee sorbet dusted with cocoa powder. I ask for a sample and the friendly girl behind the counter gives me a few to try but once I try the lychee cacao it's a no brainer.
It's a favourite with the group too with Mr NQN wolfing down the remains of it. Nick says, "SO good" of the lychee cacao although he finds the chocolate sorbet disappointing, Viggo finds the pistachio excellent, the lemon fresh which is also a hit with Belinda and Louise.
Gelato texture average score: 29/40
Gelato flavour average score: 30.3/40
Service and atmosphere average score: 7.7/10
Highest rated flavour of the four: lychee cacao (special)
Frangipani Gelato, Cronulla
I'm going to tell you something a little embarrassing right now. With a 45 minute drive from Chatswood to Cronulla, I noticed that my tongue was so furry and tired of gelato. So when Belinda opened up her glove box and a bag of Hot Dog flavoured Twisties fell out (true story, pinkie swear, don't we all have interesting things in our glove box?) then I needed to eat these, just for a change of texture. Certainly not because we were hungry.
Frangipani gelato is our last gelato stop before dinner and finding a park in busy Cronulla proves a small challenge. Located on Cronulla Street, it is busy and there are plenty of families buying gelato for everyone. I can't see a pistachio but I inquire and they have some in the back. It's perhaps not a popular flavour here and flavours like salted caramel and pavlova are the most popular. I actually don't see the bannoffee until it is too late and for my special flavour I order the pavlova. Lucky because that is an award winner at the World Gelato Tour.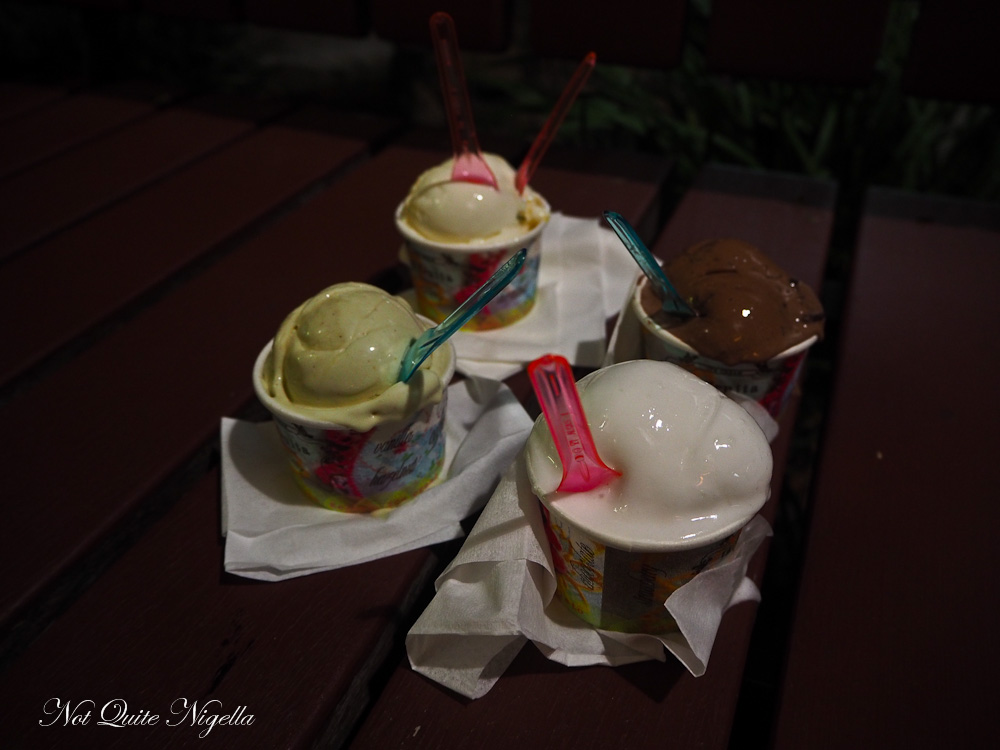 By the end of the day I realise that the special flavours are definitely preferred by most of our group. And this is no exception. The pavlova with a cloud of meringue and passionfruit is a favourite of everyone but Louise who finds it too sweet. With everyone else it scores 8s and 9's while the others score well with everyone but Louise.
Gelato texture average score: 25.2/40
Gelato flavour average score: 25.3/40
Service and atmosphere average score: 6.6/10
Highest rated flavour of the four: pavlova (special)
Giro Osteria, Cronulla
By now, it's getting to be 9pm and we have a booking for dinner at Giro Osteria in Cronulla. We make our way there and it's about 10 minutes' walk towards the beach. Located a couple of doors down from Alphabet Street it is owned by the same owners Joe Natale and Oriana De Luca as well as chef Ruben Martinez. The first table they offer us is a booth which looks appealing but is music heavy so we adjourn outside to a table where we can hear each other speak. Because debriefing after a food challenge is very important you see.
Food is ordered and we all agree that dessert or gelato isn't necessary. We aren't particularly hungry but our mouths want a change of scenery and texture.
Crudo di Pesce $18
The kingfish is dressed with fennel, lemon zest (said to be finger limes on the menu) and capers. It's not bad and it's certainly fresh but it needs a bit more seasoning. Just a sprinkle of salt would have brought out the flavours. Also we ordered this because we love finger limes and it was disappointing that there weren't any.
Cecina $16
Ever since visiting Nice and trying Socca, I've been intrigued by chickpea items so we order the Cecina, a chickpea pancake. The Tuscan style chickpea pancake is absolutely delicious with a browned butter flavour, curly kale, tallegio and sweet chestnuts on top.
Fiori di Zucca $18
The zucchini flowers are filled with a prawn mince. Nick notes that the filling reminds him of a dumpling filling and he's not wrong. It's not bad but the stem is still quite firm and the flavour is very muted.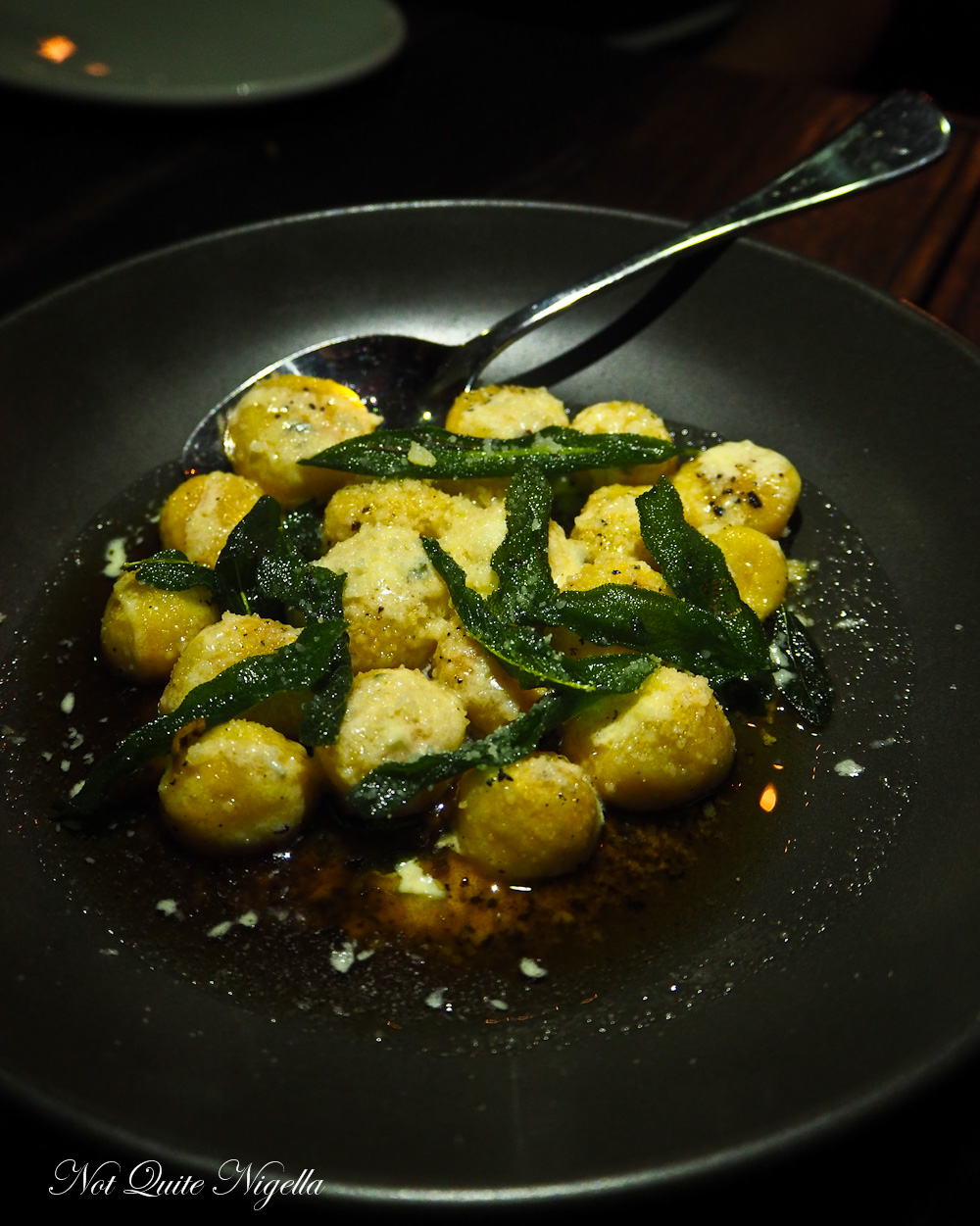 Gnocchi $21
The potato and ricotta gnocchi is tender and served with a delicious browned butter sauce and sage leaves. The sauce is so delectable that I dip my slice of bread in it.
Pesce all'acqua Pazza $36
The waitress steered us toward the fish in crazy water which is a whole snapper with a white wine and cherry tomato sauce. There's a wedge of lemon and parsley and a bowl of bread meant for dipping in the sauce. The snapper is tender and the sauce is delicious scooped on top of the fish. It's an Italian summer on a plate.
Lamb with chickpeas $34
The lamb is very tender and juicy and cooked perfectly. It is served with a creamy, smooth chickpea puree, chickpeas and mint it's a simple but satisfying dish.
A waiter comes by and hands out dessert menus and we all look at each other before saying, "Well, we won't need dessert tonight. You see today we've been..."
Highest rated lemon gelato overall: Messina, Surry Hills Highest rated chocolate gelato overall: Gelatomassi, Newtown Highest rated pistachio gelato overall: Cow & Moon, Enmore Highest rated special gelato overall: Cremeria de Luca, Five Dock
What our gelato enthusiasts had to say!
Belinda:
Love doing our food challenges and as Lorraine said soft and melty things seem to be a theme for me at the moment.
We couldn't have asked for a better day with the weather being hot and blistery. It was the perfect climate to gallivant around Sydney in search of best gelato on offer.
A firm favourite has and always will be Gelatomassi in Newtown. The lemon and chocolate flavours are my picks complimented by a cheeky smile and a smooth one liner from Ciccio. I fell in love with the milk and sour cherry gelato at Grand Gelato. Smooth with gorgeous chunks of cherry. Reminded me of my number one flavour from Ben and Jerry's Cherry Garcia. You haven't lived until you've tried the brioche with Nutella and gelato from Cremeria de Luca. This is the stuff dreams are made of!
It was a fab day spent with my favourite peeps and it was great to discover that if you're sweltering this summer, Sydney has some great gelato to cool you down.
Lorraine:
Oh how I do love our food challenges, not just for the food but for the adventures. There's never a dull moment and it was halfway through that we all realised that we were all slightly dairy intolerant but we didn't let something like that stop us (and nobody had a bad reaction-yay!). I have to admit that the hot dog Twisties was an embarrassing moment and if anything, I would have loved to have brushed my teeth because my tongue felt like it needed a scrubbing. But other than that it was enormously fun. Gelato is much easier to do as a challenge than other items like schnitzel because it is meant to be taken away and you can quickly try it before going onto your next location.
They were all fun to visit but the two surprises for me were Cremeria de Luca which was just a gorgeous little shop with the most fun menu I've seen in a long time. I just wanted to stay there all day. That gelato filled brioche was just heavenly and the drinks were so interesting. We will be going back. Gelateria Gondola was a surprise - I had never heard of it before the challenge but the flavours were great and I only wish that it was a bit closer to where we live.
Talking about this the next day, Belinda brought up the idea of us doing these food challenges when we're 70 years old. I really hope that we are still doing this then and I'm already thinking about how we manage this in a car. I'm thinking that we'll hire a driver to drive us around so that we can sing rap songs in the car hands free...
Louise:
This time I paced myself, I was surprised that I didn't end up with a sugar rush. I had a romantic idea of what pistachio and lemon gelato should taste like and only a couple of the shops got anywhere near, though I have to say that I was not expecting some of the special flavours to be so good.
I would certainly go back to a couple of places but I think it's also the whole experience of the beach and whole lot of exercise that makes a gelato on a hot day so enjoyable.
Mr NQN:
Of the flavours I tried, the special was nearly always my favourite. I found the pistachio and chocolate varied significantly. When judging the chocolate gelato I found there was a number which reminded me of chocolate paddlepops. While I enjoy chocolate paddlepops I was unconvinced that these were the perfect chocolate gelato.
With the pistachio gelato, a number of them left me feeling underwhelmed with a green tea powder flavour and powdery mouth feel. The pistachio gelato I enjoyed had real pistachio flavour and no sign of almond or powder. When eating a pistachio I find there are different flavours in the different parts of the nut, the good pistachio gelato places highlighted these flavours.
I ate a half tub of lemon gelato the next day.
Nick:
So I was online googling "hot girls eating ice cream", when I got a message from Lorraine suggesting our next food adventure would be to take on the best of Sydney's gelato. It was as if the heavens had opened up and offered me that hotty 'Khione Goddess of Snow'. Surely gelato and hot girls go hand in hand?
There's nothing like the sensation of something soft and creamy against my lips. So when we hit Gelatomassi in Newtown, I knew everyone was in for a treat. I'm biased because this place is a regular haunt for me and I highly recommend the lemon gelato when you're after something cool and refreshing. Sweet and tart just how I like my women. Don't forget the chocolate either it's #legit!
I also recommend you try the gelato filled cannoli here. I reckon the ladies would love to wrap their lips around one of these delicious creations wink wink. As a kid I loved the soft drink Passiona and the passionfruit gelato at Cow and Moon can't be beat. The fruity tang of this gelato also reminds me of sliding the seeds out of the freshly cut fruit with my tongue. Sensational!
You can't go past the the gelato stuffed brioche at Cremeria de Luca. Sinking my teeth into those soft buns took me to my safe place.
This food challenge made me realise that that life is too short and I need to fulfill my dream of opening a gelateria of my very own. I will call it "Nick's Off the Stick" and all the ladies who come to my store in bikinis will get their gelato for free. Dream big or go home.
Viggo:
It was a warm summer's day, and as I strolled down through the streets of Bondi, I saw it up ahead: our first stop for the day, this is going to be fun! I really feel like trying some gelato, and after our meal it arrives - there it is, sweet pistachio, lemon and chocolate. Magnificent, soft mellow flavours melting sweetly in your mouth, absolutely delicious.
The best part of the day was the burger at Cremeria De Luca, a sensational combination of crunchy, chocolately, chewy goodness - the brioche really balanced the textures nicely.
So tell me Dear Reader, what is YOUR favourite gelato flavour? How many scoops do you get? And do you prefer gelato or ice cream? And have you tried any of these places and what are your thoughts on them? And would you go to Nick's dream gelato shop?
Pompei's
130 Roscoe St Bondi, NSW 2026 02 9365 1233 Open lunch and dinner.
Messina
389 Crown Street, Surry Hills NSW 2010 Phone:(02) 8354 1223 12noon-11pm
Riva Reno
280 Crown Street, Darlinghurst NSW 2010 Phone:(02) 9356 2669 Sat 11pm-12am
Grand Gelato
37 Glebe Point Road, Glebe NSW 2037
Cow & Moon
181 Enmore Road, Enmore NSW 2042 Phone:(02) 9557 4255 8:30am-11:30pm
Gelatomassi
262 King Street, Newtown NSW 2042 Phone:(02) 9516 0655 10am-midnight
Cremeria de Luca
84 Ramsay Road, Five Dock NSW 2046 Phone:(02) 9712 4606 9am-11pm
Bar Italia
169/171 Norton Street, Leichhardt NSW 2040 Phone:(02) 9560 9981 8am-12pm
Gelatoria Gondola
2/77 Archer street, Chatswood NSW 2067 Saturday 8:30am-10:30pm
Frangipani Gelato
117 Cronulla Street, Sydney NSW 2230 (02) 9544 0216 7am-11pm
Giro Osteria
3/1 McDonald St Cronulla. 02 9523 0137