Lal Qila is a Pakistani and Indian restaurant on Cleveland Street in Surry Hills. The menu is extensive but ask for help negotiating the enormous menu and you may uncover treasures like gingery Gosht Handi, goat Karahi stew or Bhindi prawn and okra. Save room for the desserts - the gulab jamen is meltingly sweet while the Badami Kheer is a wonderfully comforting rice pudding flavoured with pistachio.
It was a Monday night, two nights after Belinda and I had had an very disappointing and very expensive meal at a restaurant that was getting great reviews, helmed by a lauded, established chef. We were so unimpressed that we fled to the comfort of home before ordering dessert. So the irony isn't lost on us that after a cheap but delicious meal at Lal Qila we turn to each other and say, "That was so much better than what we had the other night."
Lal Qila is on Cleveland Street in Redfern, not too far from Elizabeth Street and Central station. The name means red fort and the menu consists of Indian and Pakistani dishes. It is early on a Monday night and there is already one table seated next to us. We see that even though they are only two people, they cleverly have a big table while we just have a small one. "Excuse me, we like to order a lot, can we switch to another table?". They direct us to another table, facing the kitchen where behind the window several chefs are busy working.
The decor is romantic with red tablecloths and red faux roses and before long, we notice that there's mostly other couples in here. And there is us, two hungry gals who like to over order. When we examine the menu it's hard to get a handle on it because it is so large. Our waitress steers us in the direction of their Pakistani specialties and we aren't waiting long before mango lassis, naan and curries hit the table.
Mango Lassi
Creamy and with just the right level of sweetness, it's a generous serve of mango lassi. Generously sized would be, it runs out, the theme of all of the food.
Peshwari and Cheese and Chilli Naan $3.90 each
I love naan and would love to know how to make a really good naan at home (if anyone knows, please tell me! ;) ). The peshwari is filled with a sweet coconut and nut filling while the cheese and chilli naan gives quite a kick of chilli spice.
Gosht Handi $18.90 half size
A gosht handi is a Pakistani meat dish cooked in a ceramic cooking utensil. Commonly made with mutton, we have a choice of different meats and we go with beef. It's tender and soft with the pronounced flavour of ginger.
Goat Karahi half size $22.90
My favourite dish is the goat karahi, a stew also strong in ginger and coriander seeds and other spices. The goat is as it should be, soft and served falling off the bone. The creamy gravy is just made for rice.
Shouq e Nawab $16.90
And that brings me to an enormous biryani. When they brought it to the table I considered quickly picking up the phone and calling Mr NQN and getting him to bring his mountainous appetite with him (no luck, he was already elbow deep in a bowl of stir fried pippies and happy as a clam - no pun intended). The biryani could easily feed four or even six and we scarcely make a dent in it. There is a choice of meats and we went with the boneless BBQ chicken which makes it sound more boring than it was. It is boneless spiced chicken cooked on the barbecue.
Bhindi Prawn $22.90
All of the dishes above except for the biryani are specials. I don't normally order them but apparently they were the classic Pakistani dishes that they're known for. The Bhindi dish appears on the menu as a dish with just okra but they recommend the special version with okra and prawns. This is another favourite dish; the okra and prawns sweet and succulent.
Khoye de Gulab Jamin $4.90
They pack up some containers for us. There is so much left over and there are so many pleasures to be had from next day takeaway. We then go on to look for sweeter pleasures. The Khoye de Gulab Jamin or gulab jamun are served sugar sweet and hot, the cheese based balls melting in the mouth.
Badami Kheer $4.90
However we both really swooned over the pistachio rice pudding. There's still the slightest bit of bite from the rice, enough so that it isn't nursery soft but it's still wonderfully comforting.
So tell me Dear Reader, if you aren't enjoying a meal out, do you leave before dessert? What percentage of your meals do you think are disappointing in comparison to good?
This meal was independently paid for.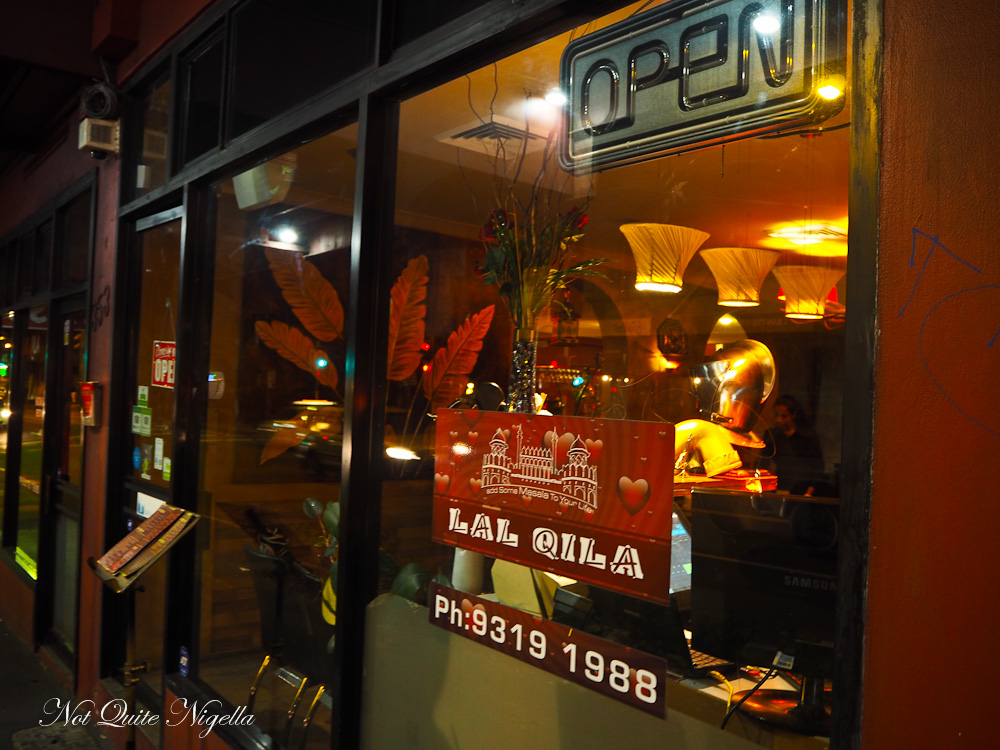 Lal Qila
351-353 Cleveland St, Surry Hills NSW 2010 Phone:(02) 9319 1988
Open 7 days 5pm-10:30pm