A Northern Beaches cafe in the heart of Freshwater or Harbord near Manly, Bent Fork is an on-trend cafe serving a mix of smoothies, juices, healthy meals, raw treats as well as post-surf friendly food. Service is friendly and food is a combination of cafe classics with a twist with Asian inspired flavours.
"Look, there are heaps of vegetarian options," I say to Mr NQN's mother Tuulikki who is busy examining the menu at Freshwater's Bent Fork cafe. I was recommended this cafe by a friend and since Tuulikki lives about five minutes' walk away we decided a Northern Beaches style get together was in order. "Ummm, errrr..." Tuulikki says dithering over the choices.
I overhear her talking to Viggo's mum Madame Butterfly about changing around choices. "Maybe if I ask them to do this or take this off then maybe..." going through several options on the menu, changing each to suit her almost vegan status. The easygoing waiter has come and gone twice but Tuulikki needs more time. On his third approach he takes our order.
"I'll have toast thanks," says Tuulikki.
As we have arrived at noon there is both the breakfast and the lunch menu available. As for the rest of us, we were all happy to share amongst each other. A range of juices and smoothies are ordered as well as a round of coffees and tea.
Drinks come out first - there is a Sweet Beet for me and a Citrus Splice for Louise, both by cold pressed juice company Botanica. I really enjoy the Sweet Beet, a very sweet concoction of beetroot, carrot, celery, ginger, red apple and lemon. Louise's sounds like the lemon detox with lemon, filtered water, agave and cayenne - it sounds like a juice cleanse in a bottle but it is very palatable not unlike lemonade.
Mr NQN's whey2go is a reward for his 2000+ calorie burning bike ride earlier that morning. It has mango, passionfruit, coconut water and whey protein and mostly tastes of passionfruit. It isn't overly sweet with a pronounced tartness from the passionfruit.
Tuulikki's drink is the Omega Me with mango, bee pollen, flaxseed, chia seed and soy milk. It's very lightly sweetened and after the sweetness of my drink it pales in sweetness but the texture is nice and creamy with a scattering of chia seeds on top for crunch.
There is a bit of a wait for food but it's such a gorgeously sunny day that it doesn't seem to matter. They do all come at once which is good even though most of us are sharing. The green pikelets are made with spirulina, green pea, mint and zucchini and topped with a runny centered poached egg, feta, salad and pesto. It's full of flavour and the soft feta and pesto adds much to the soft pikelets.
In all of the confusion with sharing I'm not sure if I got to dip my pieces of six spice soft shell crab in the sauce but the crab is deliciously crunchy and moreish. It comes with a crunchy bean sprout, green papaya, chilli and fennel Vietnamese style salad.
There are three long boned lamb cutlets with a freekah, spinach, tomato and roasted shallot salad. It's a nice, light lunch meal and the salad is plentiful in this dish. My favourite part is the meat right near the bone.
My main pick was the poached coconut chicken salad with tender chicken, coconut sauce, cashews, watercress and mixed herbs as well as little clusters of crunchy quinoa. It is one of those dishes that I want to recreate at home as it has a pleasing but lovely simplicity to it.
The crispy chicken burger has a super crispy buttermilk chicken fillet on a wholemeal roll with chipotle mayonnaise, Asian slaw and house fries. I like the burger overall, particularly the crunchy chicken inside that stayed crunchy with every bite.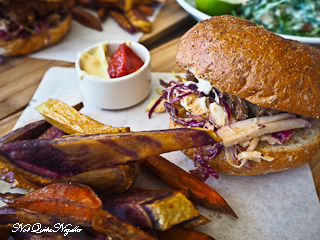 The beef burger is a slow roasted pulled beef burger rather than a mince patty. The beef is generously portioned and very tender and has a sweet, almost Asian flavour to the beef. It too comes on a wholemeal roll with chipotle mayonnaise, Asian slaw and house fries. These fries come with a house made ketchup and the mayonnaise combination with small cornichons in it.
The only complaint is that we shouldn't have ordered these as we end up with too may fries. Mea culpa - we should have seen that the burgers had fries next to them already. The sweet potato and purple potato fries are excellent while the regular potato fries are a little floury.
I look over Mr NQN's shoulder for the desserts. They suggest to us a platter of their raw desserts. Tuulikki is delighted because they are all sugar free and vegan and many are gluten free. On the platter are three raw hot cross buns - these are like an energy ball or muesli ball spiced with Easter spices. There is also a version of a Snickers bar which is my favourite as you can actually taste the telltale Snickers combination of flavours. The chocolate eclair tastes a lot of raw chocolate/cacao than an eclair while the Bounty is a tasty coconut and chocolate bar. There is also a lime bar which is nice but out of them all the Snickers wins my heart.
A fly. The "most beautiful fly in the world" apparently! ;)
Suddenly Tuulikki puts down her smoothie. She fishes a fly out of the thick concoction and the poor creature looks half dead. Animal lover Tuulikki cries out worried that she has killed a fly (which only causes country girl Louise to comment that if her farmer dad was sitting at the table, the fly would have been squashed flat in a second). Tuulikki pours a couple of drops of water on the fly and slowly and painstakingly pats it dry with her napkin (I am not making this up, pinkie swear).
She regards the fly carefully. "Look at the fly, I have never seen a more beautiful looking fly!" she exclaims to us, before adding, "It must be a special fly with these colours. It is green and blue!". We don't have the heart to tell her that that is what most flies look like.
She protects the fly and watches it as it cleans its legs of the smoothie and when the waiter comes to clear the plates, she scoops it up in a napkin and rests it in her lap carefully. After we pay and get up to leave cheeky Mr NQN says, "Did you see that you stepped on your fly mate?" jokingly. Tuulikki looks horrified for a second before she realises that he is just kidding.
P.S. However I am not kidding that later that night, she sent me a picture of the fly.
So tell me Dear Reader, have you ever saved a fly or an insect? I never thought that I'd ever ask that question on here to be totally honest! And does it take you long to pick something to eat or are you fast at deciding? It depends on how hungry I am and if I've studied the menu or not! And what do you think of raw desserts?
This meal was independently paid for.
Bent Fork
Shop 6-8 Lawrence St, Freshwater, NSW 2096
Tel: +61 (02) 9939 6459
Reservations dinner only
http://www.bentfork.com.au/