These recipes are brought to you by Woolworths Gold
Hand on my heart, these are four of the best ever sandwiches you will ever eat and will change your mind about the humble lunch option. The delectable toasted smoked wagyu sandwich is served with spicy kim chi and melted cheddar and Swiss cheese. A prawn beignet is a jazzed up savoury donut filled with a delicious prawn, chive, tomato and mayonnaise filling, perfect for entertaining. The eggplant schnitzel with tomato and halloumi is a delicious vegetarian option that could beat many meat offerings with its flavour packed filling. And last but not least is the vegetarian banh mi generously filled with a delicious mushroom pâté , mayonnaise and plenty of crunchy pickles, herbs and fresh salad.
When I was growing up, there were very few people that I could relate to on television. There was really nobody that looked like me on any shows and the closest I came to having someone to relate to was Wonder Woman simply because she had black hair. Of course I had no invisible jet, golden lasoo or American flag outfit. She really was a great role model but it would have been nice to have a few options. Or an invisible jet and gold lasoo...
Speaking of television role models, one of my adult role models was Liz Lemon from the show 30 Rock. My favourite ever episode on 30 Rock was about Sandwich Day. It was an annual day where the crew of the show was treated to a "secret" sandwich from an Italian sandwich shop in Brooklyn that was so good that it would cause a riot if they even thought to get rid of the idea. The whole episode centered around Liz Lemon's pursuit of time alone to eat her sandwich and what happens when someone eats her sandwich (a table flip, I've never done one but I suspect it might happen if someone ate my sandwich). And that's when I knew that Liz Lemon was me. I finally saw someone just like me on television after so many years!!
If I am going to have a sandwich, it just has to be a spectacular sandwich. Because a bad sandwich is just not worth the calories and carbs. And at the risk of sounding totally immodest and out of control, I liked these so much that I even thought of shutting up shop and becoming a sandwich maker for my next career. Hand on my heart, these are that good.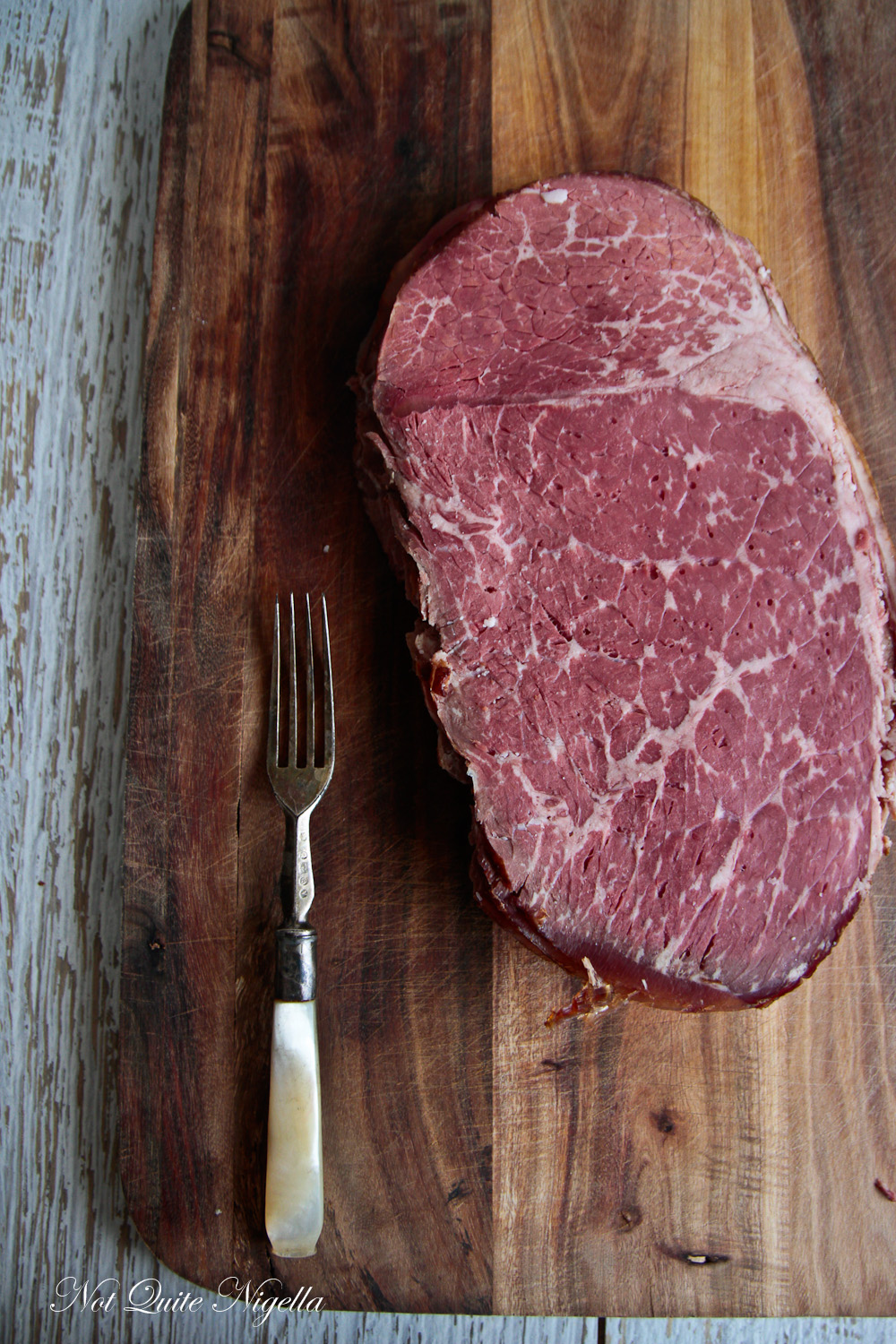 The first sandwich is a toasted sandwich with two types of cheese (Swiss and cheddar), kim chi (yes!) and the new Woolworths Gold Smoked Wagyu Beef. I bought it in the deli section so if you're curious about it, you can ask for a sample of it to try before you buy it. We're hooked on it as I love the smokey flavour and for those that don't eat pork but miss bacon, it reminds me of bacon's smokiness. It is made using Australian wagyu and smoked over beech wood. Just a couple of slices of this beef makes a sandwich a real everyday treat.
The second sandwich is something that my trainer Nina suggested to me. It's an eggplant schnitzel. In her world it would be a paleo baked version but this version with panko crumbed eggplant is deep fried until golden on the outside and soft and melting on the inside.
It is paired with slices of pan fried halloumi, rocket, spicy mayonnaise and the Woolworths Gold Sweet Solanato tomatoes that are grown exclusively for Woolworths. They're a super sweet grape shaped tomato meant for snacking but I used them in the sandwich because they are less "wet" so I put them in cut side down so that the schnitzel would stay crispy.
The third sandwich is really more a donut or a beignet but it was so good that I ate four for lunch and then an additional two more at dinner (I clearly need to practice restraint, that's the Liz Lemon in me coming out). I made some beignets and with the extra dough I decided to make some round beignets and fill them with prawn.
You can also use lobster or crab depending on how fancy you feel like getting. The filling is so simple - just mix chopped prawns (shrimp), chopped Woolworths Gold Sweet Solanato tomatoes, mayonnaise and chives. And a little serving suggestion is to have these with salt and vinegar chips because they go absolutely perfectly together.
The last sandwich is another vegetarian offering, a banh mi made with an easy shiitake mushroom pate which gives it that wonderful umami quality. There are plenty of vegetables and the whole thing is a spicy, crunchy roll where you may not even notice the absence of meat!
And if you'll excuse me I am off to make another sandwich! ;)
If that has gotten you in a sandwich sort of mood, Woolworths are giving one reader the chance to win a Woolworths Gold voucher to the value of $200 as a prize for one reader who likes and shares any pictures from this post on Instagram using the hashtag #WoolworthsGold and #whatsfordinner! The competition ends on the 2nd of May, 2015 and is open to readers in Australia.
Edited to add: the winner is Tina B. of NSW!
So tell me Dear Reader, which sandwich do you like the sound of the most out of the four? Do you have a favourite sandwich filling? And which television or movie character do you identify with the most either now or growing up?
DID YOU MAKE THIS RECIPE? Share your creations by tagging @notquitenigella on Instagram with the hashtag #notquitenigella
Toasted Smoked Wagyu, Cheese & Kim Chi Sandwich
An Original Recipe by Lorraine Elliott/Not Quite Nigella
Makes 4 sandwiches
Preparation time: 5 minutes
Cooking time: 5 minutes
1 loaf sourdough bread, cut into 8 slices (not too thick)
400g/14.13ozs. Woolworths Gold Smoked Wagyu Beef
200g/7ozs. maasden or Swiss cheese
140g/5ozs. cheddar cheese, sliced
4-6 tablespoons kim chi, finely sliced
Step 1 - Place the cheeses on one half of the bread and toast the sandwich so that the cheese melts. Top with the kim chi and the wagyu beef. Serve warm.
Eggplant Schnitzel and Tomato Sandwich
An Original Recipe by Lorraine Elliott/Not Quite Nigella
Makes 4 sandwiches
Preparation time: 10 minutes
Cooking time: 10 minutes
1 firm large eggplant
1/2 cup plain all purpose flour
2 cups panko breadcrumbs
2 eggs
Oil for frying
200g Woolworths Gold Sweet Solanto Tomatoes, halved
225g halloumi, sliced into 12 slices
1/2 cup rocket leaves
1.5 ciabatta loaves, split in half horizontally
1/4 cup spicy mayonnaise (add Tabasco or Sriracha to mayonnaise)
Step 1 - Slice the eggplant into 5-6 slices, just under 1cm/0.4inch thick. Place the flour in one shallow plate, the eggs in another and the breadcrumbs in a third shallow plate. Beat the eggs.
Step 2 - Heat a couple of inches of oil on high heat (about 8 out of 10) and start by dredging the eggplant in the flour, then the egg and then finally the panko. Fry the eggplant in the hot oil until the crumbs are golden and then turn over and do the same until both sides are golden. Place on greaseproof paper and repeat for the remaining pieces of eggplant.
Step 3 - In a dry frypan on medium to high heat, fry the slices of halloumi until you get some pan marks and the halloumi is soft and springy.
Step 4 - Spread the spicy mayonnaise on the bread, top with rocket, halved tomatoes (cut side down so that the schnitzel doesn't get soggy from the tomato) and halloumi slices. Place the eggplant schnitzel on top.
Prawn Beignets
An Original Recipe by Lorraine Elliott/Not Quite Nigella
Makes 20-25 beignets (depending on the size)
Preparation time: 25 minutes plus 2 hours waiting time
Cooking time: 20 minutes
Beignets
3.5 cups bread flour
1 teaspoon yeast
1 teaspoon sugar
3/4 cup lukewarm water
1/2 cup milk
1/4 cup vegetable oil
1 egg
1 teaspoon salt
Oil spray
Oil for deep frying
Prawn filling
1kg/2.2lbs prawns or shrimp, shelled and roughly chopped
12 Woolworths Gold Sweet Solanato tomatoes, finely chopped
1/4 cup finely chopped chives
1/2 cup good quality mayonnaise
Salt to season
1/2 cup finely grated pecorino cheese to serve (optional)
Step 1 - Place the flour, yeast and sugar in the bowl of an electric mixer fitted with a dough hook. In a jug whisk the water, milk, oil, egg and salt. Place the machine in the lowest speed and add the wet mixture into the dry mixture adding a little more water if needed (I need 1/8 of a cup more) and knead until it becomes an elastic dough - about 8 minutes with the mixer, 10-12 minutes by hand.
Step 2 - Roll into a ball and spray the inside of the bowl with oil and place the ball of dough inside. Cover with cling film and allow to rise to two or three times its size in a warm area (I put it in a recently turned on oven).
Step 3 - Make the filling by mixing all of the filling ingredients together and set aside in the fridge. These beignets are magic if they are served soon after they are cooked but are also fine if you refrigerate them and serve them later although the donut shell won't be crispy.
Step 4 - Cut out rounds of dough with a small round cutter - they expand slightly so you want them to be around a slider size but feel free to do whatever you like. Heat the oil until it reaches 187°C/370°F (if you don't have a thermometer put a wooden chopstick in the oil and if bubbles form around it then the oil is ready). Place in the hot oil and fry on both sides making sure that they are golden. It never hurts to cook them a bit more so that they aren't doughy on the inside.
Step 5 - Carefully split them in half with a sharp knife (they will be hot) and fill with the prawn mixture and serve with extra cheese and with salt and vinegar chips.
Vegetarian Bánh Mì
An Original Recipe by Lorraine Elliott/Not Quite Nigella
Makes 2 sandwiches
Preparation time: 15 minutes
Cooking time: 10 minutes
1 tablespoon oil
1 onion, chopped roughly
200g/7ozs. shiitake mushrooms, stalks removed, chopped roughly
2 garlic cloves, peeled and chopped roughly
1/4 cup pine nuts
1 teaspoon soy sauce
1/2 teaspoon sugar
salt and pepper for seasoning
2 crusty Vietnamese rolls, split
3 tablespoons mayonnaise
small handful coriander leaves
4 stalks spring onions
1/2 cucumber, sliced into batons
1 carrot, julienned and pickled*
*To pickle carrots, use this cucumber pickle recipe. You can also use regular coarsely grated carrot.
Step 1 - Heat the oil in a frypan and add the onion and garlic and saute for a minute or two. Add the mushrooms and cook until the mushrooms are cooked through - about 5-6 minutes stirring often. Add the soy sauce and sugar. Place in a small processor and pulverise until you get a pate like texture. Add salt and pepper to taste.
Step 2 - Spread the buns generously with the pate and add some mayonnaise. Top with coriander leaves, spring onion stalks, cucumber batons and pickled carrot.