*Jaffles or toasted sandwiches with sealed ends can contain a variety of toppings from humble to grand. Here I give you four ideas for jaffle fillings starting with the crazy lasagna jaffle (every bit as good as it sounds!). Then how about sojem puff or croissant jaffles to shake things up? Or how about my favourite after school snack-a bbq pork jaffle? Arctic vortex or not, these four delicious jaffle ideas will have you warmed up in no time! *
I was out the other night with two friends Lena and Dimity. We were talking about how the majority of our friends are unusual but in a good way and Lena was telling us about her quirkiest friend, one that we dubbed "Nap Girl". After eating any sort of meal, she will take a nap. If she is at your house for dinner, she will make her way to your couch where she will nap for an hour or two and then rejoin the group as if nothing unusual had ever occurred.
Lena clearly has great affection and love for this friend and she recalled another memory with Nap Girl. They were out in the city and near Hyde Park. Stuck with a bit of time between meeting people and their meal, she turned to Lena and suggested that they both take a nap in Hyde Park. "Sure, why not?" said Lena and the two snoozed away in the park.
I want to be nap girl. I want to be that person that can nap easily and feels at ease to do so anywhere. And nowhere is there a better time to nap than in Winter when the weather outside seems a little too foreboding. This last weekend wasn't as bad as I had imagined (and certainly other areas were hit much worse than Sydney). We escaped only to buy a heater (have you noticed that they're sold out everywhere but at one chain?) and a jaffle maker. And even then I got the last jaffle maker there.
Jaffles are of course that very old skool snack food that is making or has made a comeback. It's a toasted sandwich where the ends are pressed down together to form a seal on the slices of bread so that you can fill them with all sorts of delicious filling. I was spurred back into jaffle making action by the lasagna jaffle at Tartine in Mascot. Yep lasagna jaffle. Hot 'N heavy carb on carb action and unbridled lust! Sorry I thought I was writing the tag line for an X rated movie for a second...
The first jaffle that I made was this very one made with home made lasagna. Except this time I decided to get a bit more extreme and use garlic butter like a Dear Reader on facebook suggested to me! Garlic bread and lasagna in a jaffle!? Yes yes yes! It's crazy carby but it's absolutely delicious. Make this, share it and have a moment with it. I regret nothing.
The next jaffle was inspired by something I came across in Thailand. Taiyaki are Japanese fish shaped waffles filled with custard and red bean. At Japanese chain Croissant Taiyaki they use a croissant dough on the outside and it is absolutely brilliant. I thought I could do the same with a Croque Monsieur to make a ham and cheese croissant sandwich. Then I thought I would see what would happen if I added an egg to make a Croque Madame to make a ham, cheese and egg croissant sandwich. Well it turns out it works brilliantly and the egg really works well in it too cooking all the way through the puff pastry!
The third jaffle is a sweet one filled with fruit. More a request from Mr NQN than anything else. You can fill it with your favourite soft fruit inside the croissant or puff pastry dough. He loves banana so I filled it with banana and marshmallows and both melted until soft. And please don't make the mistake I did and add the salted caramel inside the jaffle because I can tell you that it takes about 20 minutes to clean all of the caramel off and around that damn thing afterwards :P
The fourth jaffle is actually one that I grew up eating. I know everyone else had baked beans but like school when every other kid had sandwiches and I had fried rice, this is a product of what I grew up eating. It's a char siu filled jaffle. And can I just say that it is so delicious I banned myself from eating them for a while. My mother used to dice the char siu or bbq pork with onion and a bit of sauce. It would make the perfect filling. Here I add some baby spinach just to give it some vegetables but give it a try!
They say that it's never too late to learn something new and it also turns out that I have been using a jaffle maker the wrong way the whole time. I used to fill them and turn them on and when the light said "ready" then I thought the jaffle was ready. Well I decided to read the instruction book for the first time ever and you are supposed to preheat the jaffle maker and when it says "Ready" you put the sandwich in and then wait 3 minutes! Haha!
So tell me Dear Reader, are you a jaffle fan? What is your favourite jaffle filling to make? And which one appeals to you most! Did you know how to use a jaffle maker properly? Feel free to share this with any jaffle loving friends (and you know a part of me thought that if I worked in an office, I'd bring in a jaffle maker to work and make them there but that's probably why Mr NQN won't let me in his office!).
DID YOU MAKE THIS RECIPE? Share your creations by tagging @notquitenigella on Instagram with the hashtag #notquitenigella
The Garlic Bread Lasagna Jaffle!
An Original Recipe by Lorraine Elliott/Not Quite Nigella
Makes 4 jaffles
1 small clove garlic, crushed
75g/2.65ozs. butter
4 squares of lasagna just smaller than the slice of bread, warm
8 tablespoons extra pasta sauce
8 slices bread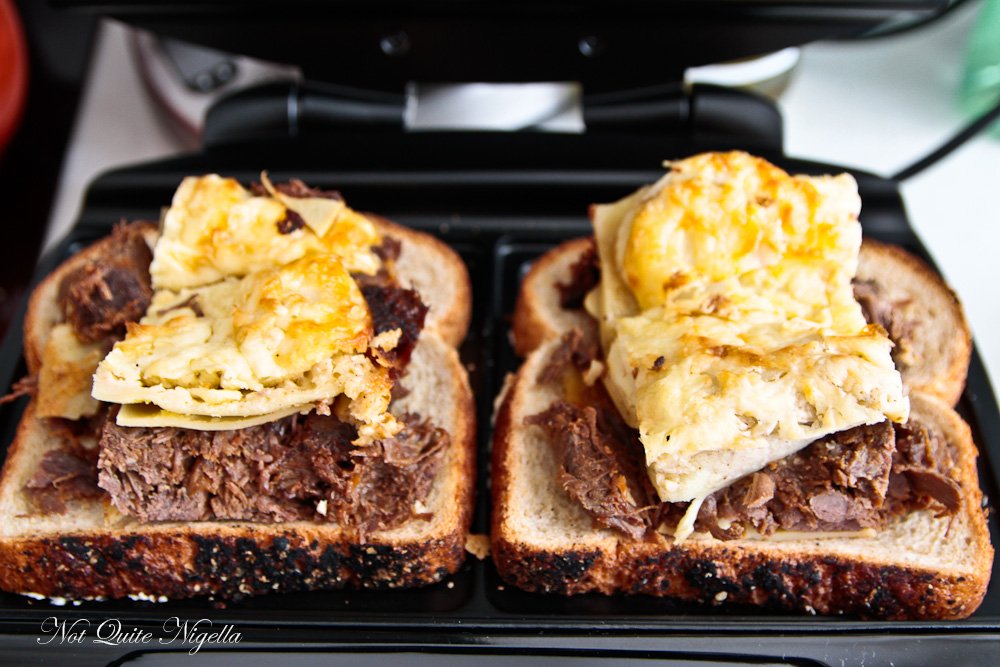 Step 1 - Combine the garlic and butter and spread onto one side the bread. Place the bread butter side down on the jaffle maker and top with the lasagna. Add 2 tablespoons of sauce per jaffle (otherwise it can be a bit too dry). Top with another slice of bread butter side up. Heat until the outside is golden and crisp.
Croque Madame Croissant Jaffle
An Original Recipe by Lorraine Elliott/Not Quite Nigella
Makes 4 jaffles
2 sheets croissant or puff pastry thawed
100g ham, sliced
1/2 cup cheese, grated
4 eggs
Croque Monsieur and Madame Jaffles
Step 1 - Preheat the jaffle maker. While it is heating up, cut the two pastry sheets into quarters each. Place the ham and cheese on four pieces of the puff pastry. When the jaffle maker is ready, place two of the ham topped pastry squares on the heated surface. Press down a little to make a little cavity for the egg and crack an egg on top. Place a square of pastry on top of each and close and toast until golden. The egg will cook inside if you cook until the pastry is golden!
Banana & Marshmallow Jaffle With Salted Caramel Sauce
An Original Recipe by Lorraine Elliott/Not Quite Nigella
Makes 4 jaffles
2 bananas, sliced
2 of those enormous American sized marshmallows, cut in four slices (or use 3-4 regular sized ones per jaffle)
2 sheets of puff pastry
Salted caramel sauce to serve (you can also use Nutella inside the jaffle)
Step 1 - Preheat the jaffle maker. While it is heating up, cut the two pastry sheets into quarters each. Top each with half a sliced banana and two slices of marshmallow. Place another square of puff pastry on top and when the jaffle maker is ready, place the sandwich inside and toast until golden and crispy. Serve with the salted caramel sauce on the side.
Oops, all the caramel everywhere!
Chinese BBQ Pork Jaffle
An Original Recipe by Lorraine Elliott/Not Quite Nigella
Makes 4 jaffles
A little oil for frying
1 red onion, peeled and chopped
500g/2 lbs. char siu or bbq pork, roughly chopped
2 tablespoons char siu sauce
8 slices bread
Butter
1/2 cup baby spinach leaves
Step 1 - Heat the oil in a frypan on medium heat. Add the onions and cook until translucent. Add the char siu and sauce and cook for a couple of minutes. Set aside.
Step 2 - Butter the bread slices and place two butter side down. Top each slice of bread with a quarter of the baby spinach and then some of the char siu filling. Top each with a remaining slice of bread butter side up and toast until golden and crispy.