Last year one of the most popular posts was one where I shared Mr NQN's lunchbox with some recipe ideas. I am back with 10 new recipes and ideas! There's a lentil and spinach dahl, rainbow salad pinwheels, Tex Mex muffins, mushroom & ginger soba salad, butter chicken naan pizzas, pumpkin & bacon pinwheels and a 5 ingredient Thai chicken curry!
Butter chicken naan pizza, dragonfruit, carrot sticks, plum, acai berry & honey yogurt and muesli, banana, dark chocolate coated figs
I know, I know, it's halfway through the year and I'm only now giving you lunchbox ideas? I realise that I am very late but I kept holding this story off because I'd make something new that I thought that you'd like and then another month would pass and suddenly it was June. Yes JUNE. Hold me.
Pumpkin & bacon pinwheels, carrot sticks, dark chocolate, plums, home grown guava, dragonfruit and natural yogurt muesli and banana
I've been making Mr NQN's lunch for almost 10 years now. It initially started as a way to save money because we were saving up for an apartment but now he doesn't want to buy lunch because he likes the variety and the wholesomeness of a home packed lunch. Nowadays his colleagues ask him what he is eating for lunch every day.
Tex Mex Muffins_
DID YOU MAKE THIS RECIPE? Share your creations by tagging @notquitenigella on Instagram with the hashtag #notquitenigella
1. The Lunchbox Ratio:
As Mr NQN is a tall (6 foot 2) but skinny (80 kilos) man that expends energy doing sport his lunch is on the big side. Side note: I've actually met readers who have been surprised at what he's like because they assume he's built like a footballer! But scale your lunchbox size up or down according to your activity level, height and weight (or desired weight).
Spinach and lentil dahl, naan bread, figs, boiled eggs and shrikhand with pomegranate-leftover dessert
I could never proclaim to be a nutritionist (please, stop laughing) but I make around 40% of the lunchbox a main item be it a sandwich, salad or baked item. The rest is a mixture of a breakfast item (muesli, yogurt and fruit), crunchy vegetables, fruit and something sweet but small. If you had a look at last year's lunchbox post I used to give him more cakes but I've cut those out. If there is cake, he takes the whole cake to work rather than eating it himself.
2. Variety Is Not Just for Swingers
Red cabbage and chicken mint salad, lychees, peach, cucumber and carrot sticks, natural yogurt and toasted muesli, black truffle almonds and Trader Joe's strawberry white chocolate coated popcorn
Variety is the main thing for lunches and this helps to ensure that he doesn't get bored and I don't get bored. I also include things that he likes like carrot sticks and a lot of fruit because it elicits an unnatural rage in me when something goes uneaten and I have to throw it away. Especially if it's something I would have liked to have eaten myself!
3. Save Time, Make in Bulk: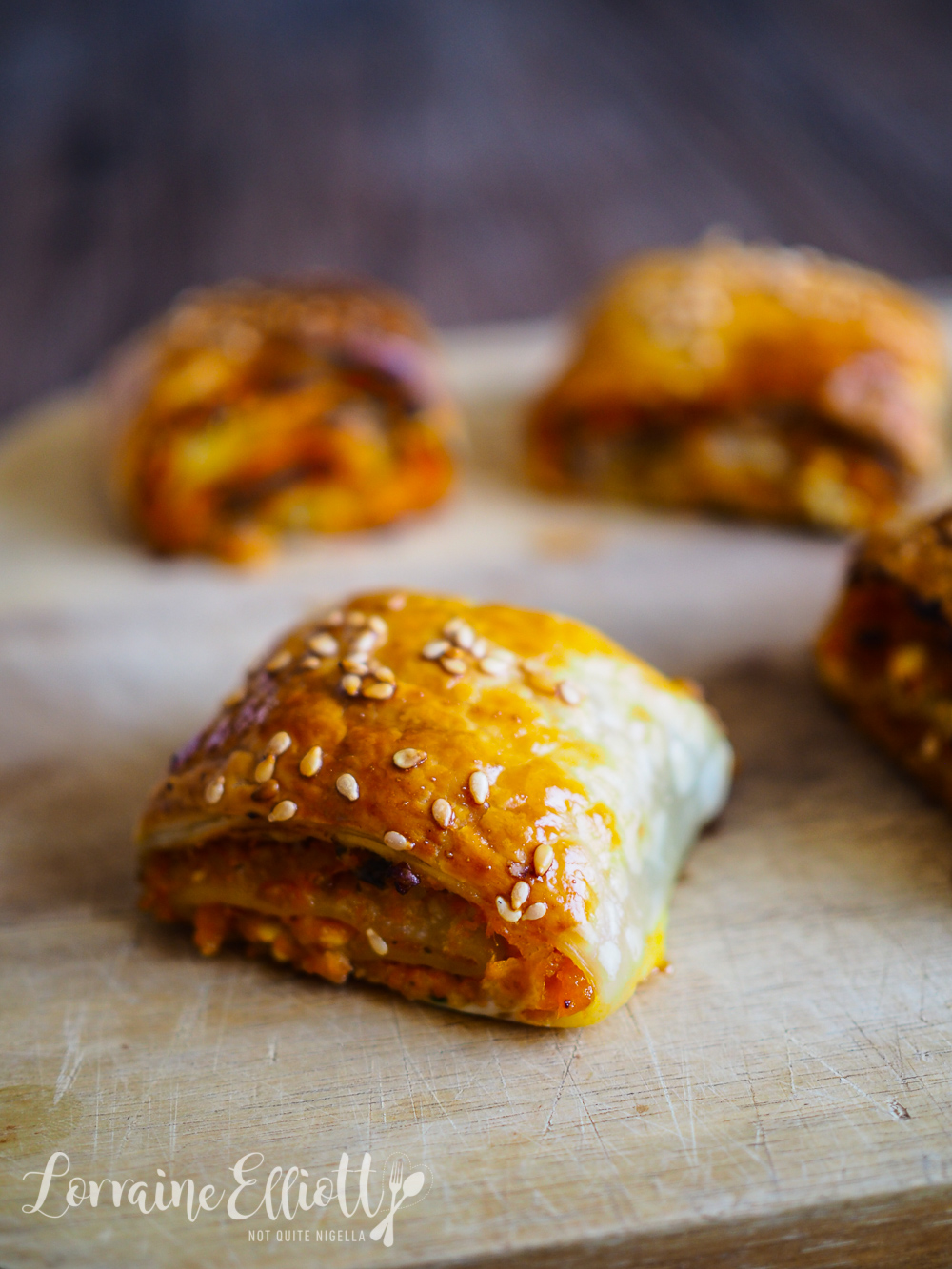 Pumpkin and bacon pinwheel pastries
I tend to make things at the beginning of the week or on Sunday that will last at least for a few days, even up to 5 days. Even better are things that can freeze well and these are items like the pumpkin pinwheel pastries and Mexican muffins. You can just grab a few from the freezer the day before or even that morning and they'll defrost by the time they get around to being eaten.
4. Make More The Night Before
5 ingredient Thai chicken curry gets better with time
Other tips are of course using leftovers. I hear there are some people that can't stand leftovers. I want to ask them why because leftovers are the best. Especially if it's something like a curry-ever tried a butter chicken naan pizza? It's amazing (see below). Or when you order takeaway order more!
5. Packaging & Wrapping
Mushroom & ginger soba salad, natural yogurt and muesli with fresh raspberries, mango cheek, dragonfruit, carrot sticks, taro mochi, Mexican mango lollipop and pig lolly
I use ordinary containers that you can find at the supermarket. These aren't airtight though. For airtight, I can recommend the brand Lock and Lock because they truly are airtight and I can put yogurt and juicy fruit in these and they won't leak.
Rainbow pinwheel sandwiches, carrot sticks, cherries, lychees, pomegranate and muesli, black truffle almonds and Trader Joe's chocolate covered popcorn
Another thing that I get a lot of questions on my Instagram stories about is wrapping, particularly beeswax wraps. They have really reduced the amount of plastic we've been using. You can either buy beeswax wraps and they last for ages or make them yourself (although these are less sticky than commercial ones and need re-waxing).
Chicken Waldorf salad on Arabic flatbread, grapes, baby corn, peaches, cherry tomatoes, strawberries, strawberry yogurt, Mexican spicy pineapple candy straws and taro mochi
To clean beeswax wraps, you just wipe them clean with a damp cloth when you're done and let them dry. Store them in an airtight container. I wrap sandwiches and pastries in beeswax wraps and I also have some beeswax squares that you can place on top of bowls or bottles to cover them. The only cons to beeswax wraps are that they can be a bit costly at first (although not exorbitant) and for me because I have a keen sense of smell, they do impart a waxy smell onto the food but Mr NQN doesn't notice this whatsoever. You can also use wax paper as well because every little bit counts.
So without further ado, let me share the recipes and ideas with you!
So tell me Dear Reader, do you pack a lunchbox, either for yourself or someone else? Do you have any lunch or lunchbox tips? What would be in your dream lunchbox?
Lentil & Spinach Dahl
All Original Recipes by Lorraine Elliott
This is a wonderful vegetarian or actually a vegan lunch that can be easily portioned into 5 lunches and will last 5 days.
Preparation time: 15 minutes
Cooking time: 30 minutes
2 teaspoons garam masala
2 teaspoons ground turmeric
1 teaspoons ground cumin
1 teaspoon ground coriander
1 teaspoon brown or black mustard seeds
4 tablespoons oil
2 onions, peeled and diced
4 cloves garlic, peeled and diced
2 cups vegetable stock
1 cup red lentils, rinsed until water runs clear
400g/14oz tinned tomatoes
2 red chillies, sliced
125g/4ozs. frozen spinach
Salt and pepper to season
Step 1 - Dry fry the spices (garam masala, turmeric, cumin, coriander and mustard seeds) in a medium hot pan for a minute until fragrant. Add oil and fry the onions and garlic in the spices until onions are translucent.
Step 2 - Add the stock, lentils, tomatoes and chillies and bring to a boil. Simmer with the lid on for 25 minutes stirring occasionally. Add spinach and cook through. Season well with salt and pepper.
Pumpkin, Bacon, Feta and Pesto Pinwheels
Bored with sausage rolls? These lunchbox favourites are so easy and make so much so you can make and freeze these ahead of time. They're also incredibly tasty!
Makes 18 pinwheels
Preparation time: 15 minutes
Cooking time: 20 minutes
3 sheets butter puff pastry, thawed in the fridge
1.5 cup pumpkin puree
6 rashers streaky bacon, processed until finely chopped
150g/5ozs. basil pesto
100g/3.5ozs. feta cheese, crumbled
1 egg, beaten
2 tablespoons sesame seeds
Step 1 - Preheat oven to 220C/440F and line a large baking tray with parchment. Take a sheet of puff pastry and spread with a third of the pesto, 1/2 cup of pumpkin puree, 1/3 of the bacon and 1/3 of the feta cheese but make sure to leave an inch at the end so that you can roll it up.
Step 2 - Roll up the pastry tightly and brush the inch exposed with egg wash to seal. Place in the fridge while you do the same with the other two sheets of pastry.
Step 3 - Brush the tops of the pastry with egg wash and cut each log into six pieces. Sprinkle with sesame seeds and bake for 18-20 minutes or until golden.
Tex Mex Muffins
Ok these are probably in no way Mexican, more Tex Mex so I changed the name to Tex Mex Muffins. These are great to freeze and can be also served warm with a dollop of sour cream and green onions on top.
Makes 12 muffins
1 cup cake flour*
1 teaspoon baking powder
2 teaspoons sugar
1/2 teaspoon salt
1/4 teaspoon black pepper
5 teaspoons Mexican spices (2 teaspoons onion powder, 1 teaspoon garlic powder, 1 teaspoon cumin, 1 teaspoon cayenne pepper)
113g/1 stick butter, melted
1/2 cup milk
2 eggs, room temperature
1.5 cups grated cheese
2 sticks green onion, sliced
3/4 cup red capsicum, diced
1/2 cup corn kernels
1/2 cup kidney beans
1/4 cup pickled jalapenos, chopped
Cake flour is 1 cup of flour with 2 tablespoons replaced by soft cornflour/cornstarch.
Step 1 - Line a dozen cupcake tray with liners and preheat oven to 180C/350F. In a large bowl whisk the flour, baking powder, sugar, salt, pepper and spices. In a jug, whisk the melted butter, milk and eggs. Pour the liquid mix into the flour and fold with a spatula until lumps disappear.
Step 2 - Add the cheese, green onions, capsicum, corn, kidney beans and jalapenos and fold until combined. Divide among the cupcake liners and bake for 25 minutes or until golden on top.
Purple Cabbage Thai Chicken Salad
I like using purple cabbage in salads because it is a bit sturdier and doesn't go soggy when you make a batch of salad ahead of time. This salad lasts for around 3 days so make a big batch and it's great to snack on if you're looking for something crunchy.
3 teaspoons icing sugar
3 teaspoons hot water
3 tablespoons fish sauce
3 tablespoons lime juice
3 cups purple cabbage, shredded
1 large carrot, grated
1/2 cup green onions, sliced
1/2 bunch fresh mint
1 chicken breast, chopped or shredded (I save them from a bbq chicken)
Step 1 - Melt the icing sugar in the hot water and then mix with the fish sauce and lime juice. Place the purple cabbage, carrot, onions, mint and chicken in a bowl and dress with the dressing.
Thai Red Curry Roast Chicken Drumsticks On Rice
This recipe has 5 ingredients and the most delicious roast chicken with a rich, creamy coconut gravy. I served this curry with turmeric brown rice.
Preparation time: 15 minutes
Cooking time: 1 hour
2kgs/4.4lbs. chicken wings or drumsticks
3 tablespoons red, green or yellow curry paste (I used red)
4 tablespoons oil
3 tablespoon fish sauce
150ml/5 flozs. coconut cream
Pinch of sugar (optional)
Step 1 - Mix curry paste with oil and fish sauce and marinate wings either overnight or for an hour in the paste. Roast in a tray for 40 minutes at 190C/384F turning up to 220/440F for the last 10-15 minutes to caramelise.
Step 2 - Pour gravy out of the tray, skim the oil and mix remaining sauce with the coconut cream. Pour over the chicken and heat for 5 minutes in the oven. Season with sugar if needed.
Chicken Waldorf Salad
When I was a kid I found Waldorf salad one of the most objectionable things I had ever eaten. Now I love it. I make no sense. Serve this on some of the flatbread that I write about below and it's a complete and tasty meal. Or if you want it low carb, serve it on salad leaves.
1 chicken breast, sliced into bite sized pieces
1/2 apple, diced
1/2 cup walnuts, toasted
2/3 cup celery, sliced
1 stick green onion, sliced
1/4 cup mayonnaise
1/4 cup natural unsweetened yogurt
I also add a few pickled jalapenos for spiciness (optional)
Step 1 - Mix all ingredients together in a bowl and season with salt and pepper
Mushroom & Ginger Soba Noodles
I always have soba noodles in the cupboard as they take 3 minutes to cook. They are also great for lunchboxes as they are best served cold. I use a sesame dressing that I'm somewhat obsessed with from the Asian grocery store and this keeps the noodles lubricated so that they don't stick together. Add seasoned shiitake mushrooms and pickled Japanese ginger. I recommend doubling the shiitake mushroom quantity below as they are so tasty.
Makes enough for 2-3 lunches (3 if you're doing a full lunchbox)
6 dried shiitake mushrooms
1 tablespoon soy sauce
1/2 tablespoon sugar
1 teaspoon dashi powder (can also use chicken or vegetable stock powder)
2 bundles soba noodles
5 tablespoons roasted sesame dressing*
4 tablespoons sliced green onions
1 tablespoon pickled Japanese ginger, sliced
Roasted sesame dressing can be found in Asian grocery stores un the Japanese section.
Step 1 - Soak the shiitake mushrooms in boiling water for 30 minutes. Add the mushrooms and soaking water to a saucepan and add the soy, sugar and dashi powder. Simmer for 10 minutes and then remove the mushrooms from the broth (I use the broth for noodle soups).
Step 2 - Boil the soba in plenty of water for 3 minutes or until done. Drain and rinse under cold water until cold. Then slice up shiitake mushrooms and toss with the sesame dressing, spring onions and pickled ginger.
Recipe Ideas, Rather Than Recipes
Rainbow Pinwheels with Hummus
This is one of my favourite lunches and this makes such a lot that I end up having some myself. I buy this enormous breads from the Paddy's Markets Nuts City stand (it's $4.70 for 5 enormous flatbreads that last for 5 days but I usually freeze half).
On top of these I spread 1 cup hummus, salad, cheese, spring onions, tomato and then roll it up and cut into pinwheels. Once made, these sandwiches can last 2 days in the fridge too. One enormous flatbread makes 6 pinwheels or enough for 2-3 lunches depending on appetite.
Butter Chicken Naan Pizzas
Make chicken or curry leftovers into a tasty pizza the next day. Top naan with cheese, onion and curry chicken and then bake at 200C/400F for 5-6 minutes. Pizza is one of those foods (like curry) that tastes great the next day!
Hasselback Caprese & Antipasti
I won't pretend that Mr NQN gets a lunch like this every day. It's mainly when we have leftovers from entertaining that he'll get something like this. Antipasti and hasselback caprese are simple to put together, just make sure to use an airtight container.