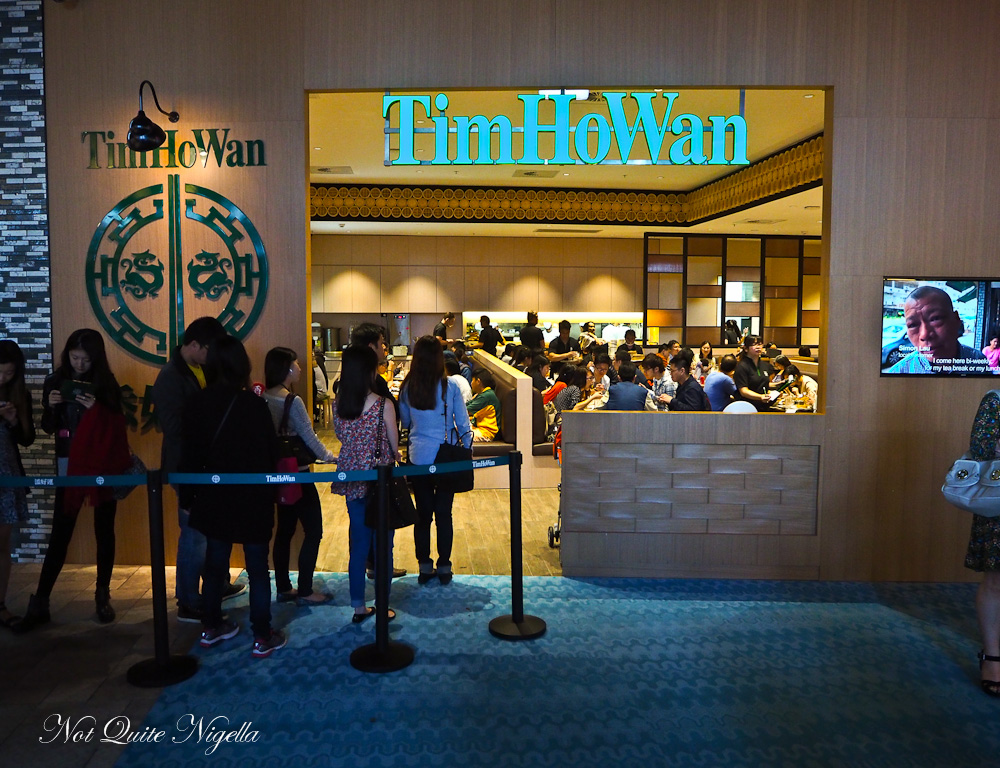 Tim Ho Wan, the famous Hong Kong dim sum restaurant has hit Sydney and if the queues are anything to go by, Sydney-siders are already familiar with the Michelin starred chain and what it has to offer. Chatswood is the first branch in Australia to open and seats 100 people, all clamouring for a chance to try Chef Mak's signature barbecued pork bun or freshly made dim sum. But guess what? There's a way to avoid that queue and sink your teeth into a barbecued pork bun without waiting...
It was about three years ago that I first tried a barbecue pork bun at Tim Ho Wan and my instant response was to turn to its creator chef Chef Mak Kwai Pui and beseech him to open up a branch of the dim sum restaurant in Sydney. I'm sure I wasn't the first to do this - the restaurant was already famous for being the world's cheapest Michelin starred restaurant. It all began 2009 when Chef Mak the ex chef of the Four Seasons branched out on his own. He started small with a 19 seater in Mong Kok and then buoyed by demand expanded to other locations in Hong Kong. Fast forward three years and Tim Ho Wan has expanded to Singapore, Taiwan, Philippines, Indonesia, Malaysia, Vietnam with Thailand set to open soon. There are plans for two more Sydney based locations, one at 580 George Street and another in Burwood with Melbourne also opening this year.
It seems almost contrary to the man that I had met. In fact when I asked him about opening up other stores he demurred, citing concerns about maintaining quality control. He was a modest, hard working and humble person with no hubris or attitude. So when the expansion plans come about it came with a surprise albeit a pleasant one.
Sydney's operations are headed up by Vince Howe, of Stag Asia and the Sugar Daddy Group. And how do they intend to keep up the Tim Ho Wan standard? Vince says, "Chef Mak has two disciples who are responsible for the training and supervision of each outlet's opening. Group Executive Chef Cheung Yat Sing was one of the disciples who visited our restaurant to supervise the kitchen made sure that all dim sum stations are stablise. Often, he will be around for a few weeks (before and after opening). Prior to this, THW Sydney's team had flown to Singapore in December for close to a month to learn the functions of each station and was attached to experienced chefs who taught and supervised our Chefs. Chef Mak himself would also make random visits to his outlets to ensure that the quality standard of THW is achieved."
So what goes hand in hand with the title of cheapest Michelin starred restaurant in the world? Queues of course. And since day one the queues for Tim Ho Wan have been relentless. The average wait is about 1 hour although I've heard that people can wait up to 2 hours. Each day they have served just under 1,500 covers (their peak hours are 10am - 2pm and 5pm - 9pm) with the number of buns sold averaging around 2,500 – 3,000 per day. One of the aces up their sleeve is Executive Chef Eric Koh formerly of Hakasan in London and Mr Wong.
Executive chef Eric Koh
But do you want to know a secret on how to beat the queue? Do what I did and grab 8 or 9 of your favourite eating buddies and book the private room. That way you bypass the queue and have a room to yourself for the space of two hours. We are given a choice of 2:30pm - 4:30pm or 4:30pm - 6:30pm and we choose the former.
At first the room seems to be a bit bunker like and hidden away but the noise of the main dining area that seats 100 is very noisy with customers and Canto-pop and we all agree that it is a comfortable respite from that. It also means that you have one staff member always looking after you. The only stipulation is that there is a minimum spend of $300 total but reaching that for 10 or even 12 people isn't hard to get to.
Like many places in Hong Kong, yum cha isn't an affair with trolleys gliding past. Here you are given a paper menu on the table, an ordering slip and a pencil to tick off the quantities that you want. We had warned them in advance of Viggo's shellfish allergy and unprompted they bring a menu marked with the dishes that contain seafood. There are 25 dishes currently on the menu - 23 savoury and 2 sweet and we try pretty much all of them but a couple. Chinese tea is $2.50 per person and the restaurant is not licensed.
One thing that we should have specified was for a gradual progression of dishes because there's a problem when you order about 20 dishes and that is they all come out at once. Like a tidal wave of dim sum. Mr NQN is busy snapping away and we're trying to balance everything on the lazy Susan and it's a bit overwhelming so if you order a lot, ask them to stagger the order.
Congee with pork, century egg and salted egg $6.80
The congee arrives first. Congee is such a classic Hong Kong breakfast that I can't wait to dig into it. It's thick and creamy and with small diced pieces of century egg and salted egg. I usually like a bit of ginger with century egg to offset its richness.
Beancurd skin roll with pork and shrimp $6.20
The beancurd roll with pork and shrimp has a good texture although the flavour is a bit muted and milder than what I had hoped for.
Pork dumpling with shrimp $7.20
The pork siu mai are plump little morsels made for one succulent bite of bouncy pork and prawn goodness.
Braised chicken feet with abalone sauce $6.20
Hands up who loves chicken's feet? I do but I grew up eating these. These are quite firm in texture and cold in temperature. I prefer them hotter and softer in texture as this brings out the gelatinous texture of the meat and alas these aren't a favourite with the table with most going back uneaten.
Fish maw with prawn paste $8.80
One of my favourite dishes is the fish maw with prawn paste. Fish maw or swim bladders are sold in many Hong Kong and Asian markets and appear as puffy yellow curled over sacs. It is prized for its medicinal properties like increasing blood circulation. When cooked it gives the large prawn paste rectangles a soft and silky, glistening web-like texture.
Vermicelli roll with sesame sauce $5.80
The vermicelli roll with sesame sauce isn't quite as photogenic as its menu counterpart. There are three rolls of rice flour with a sesame and hoi sin style sauce and spring onions. To be honest I prefer the ones with the meat or seafood filling.
Wasabi salad prawn dumplings $7.80
I wasn't quite sure what the wasabi salad prawn dumplings would be like but these are very good - freshly fried and full of plump prawns with a drizzle of wasabi sauce to give them the slightest tingle and a teeny dab of roe.
Spring roll with egg white $6
It's a bit of a joke that we always have to get spring rolls whenever we go to yum cha and these are good with a brittle crisp texture on the outside and a soft filling. But to be honest, I had other interests than the spring rolls...
Baked Bun with BBQ Pork $6.80
These were my main focus. The famous baked bun with bbq pork filling. The ratio of filling to outer is perfect with these buns. Certainly if you're trying them for the first time and are expecting a puffy doughy bao they're quite a different proposition. These buns are unexpectedly sweet and luscious with a generous amount of filling. The top is crunchy and sweet like that of a pineapple bun. Mr NQN, Nick and The Wizard go for an extra serve of these.
Inside the pork bun
Pork rib with black bean sauce $6.80
The pork ribs are slippery and well seasoned with a salty, rich black bean sauce.
Pan fried carrot cake $6
I'm a tad confused by the carrot cake because it is labelled carrot cake but is really radish cake. We can't see any carrot in it, only radish but the crispy outer and soft interior studded with lup cheong gives the mild savuory cake little pops of flavour. And it's obviously nothing at all like a sweet Western style carrot cake ;).
Poached fresh seasonal vegetables $8.80
I'm going to go out on a limb and say that I don't know if the poached lettuce is going to be everyone's sort of thing. My mother made it for us when we were growing up and it's actually pretty good but she adds sauce and bacon (and adding bacon to anything is going to be good really) but this is a simpler version of poached lettuce with a little oyster style sauce on top. This along with the chicken's feet wasn't particularly popular at the table.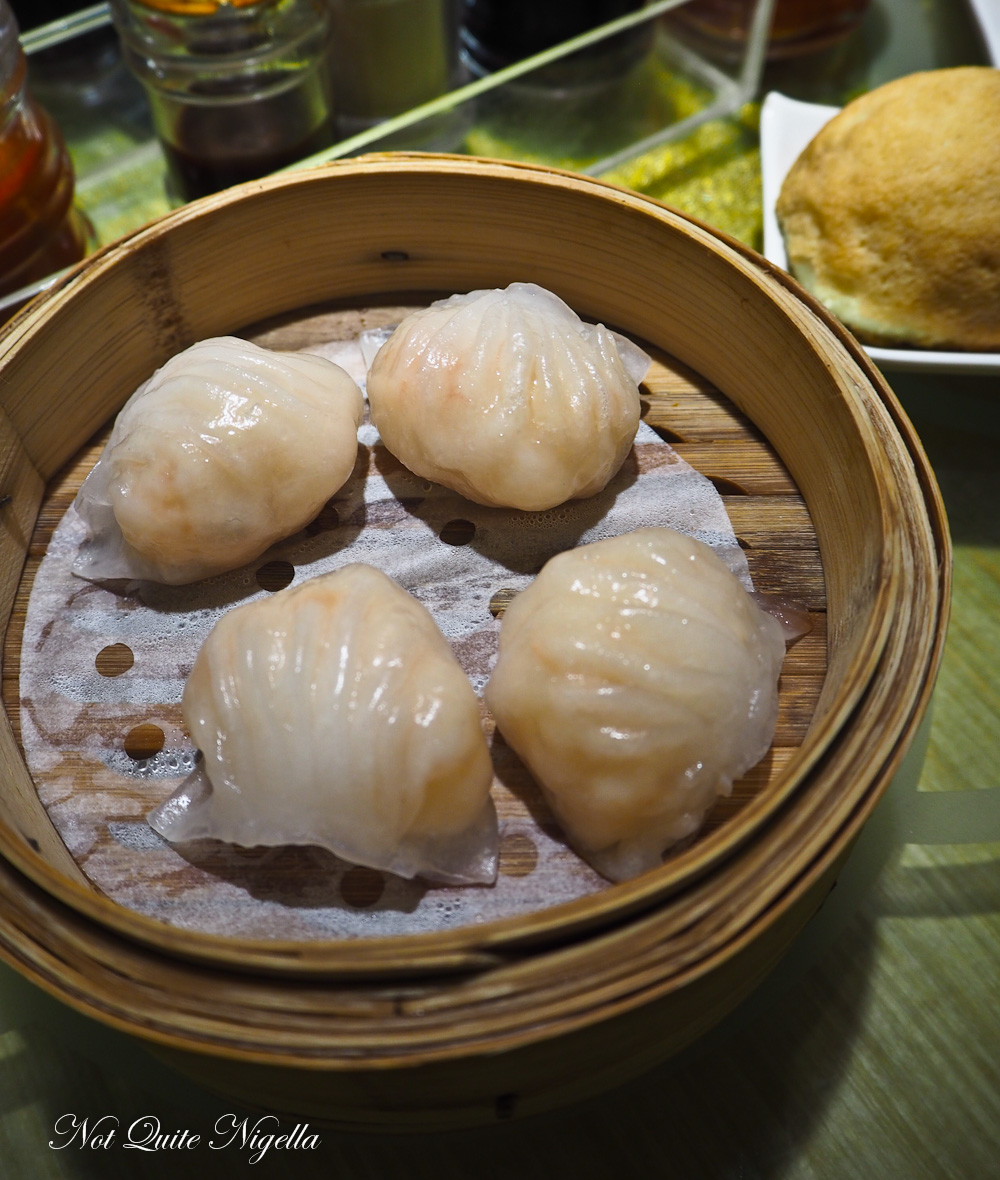 Prawn dumplings $7.80
The prawn dumplings are very similar to the ones that you get at other yum cha places. With lots of prawn and a thin skin, they're delicious.
By now the table is totally full so our friendly and efficient waiter Anthony puts a hold on the food so that we can have a bit of a rest. By now it is 3:30pm and we have an hour left.
Beef ball with beancurd skin $6
The food comes back after a pause and we start with beef balls with bean curd skin. They are soft and full of flavour and sit attached to a bean curd skin on the bottom.
Glutinous rice in lotus leaf $8.80
I have a soft spot for these glutinous rice packages and this is a good one with plenty of sticky rice and filling. The sauce coats the rice nicely and I wish I had more room for this.
Rice with beef and fried egg $8.80
I was curious to see what this was like as we don't often see this at yum cha. It comes in a metal bowl with a layer of rice at the bottom, a patty of seasoned mince and an egg on top. I like the mince patty but the egg is a bit too firm for me and out of this dish or the lotus wrapped rice above, I preferred the lotus one above.
Vermicelli roll with shrimp $7.80
The key to picking these things up is to try to not let the pieces of prawn fall out because you'll end up chasing the slippery little buggers around the plate! This comes with a sweet soy sauce drizzled over the top that really adds a lot of flavour to the rice noodles.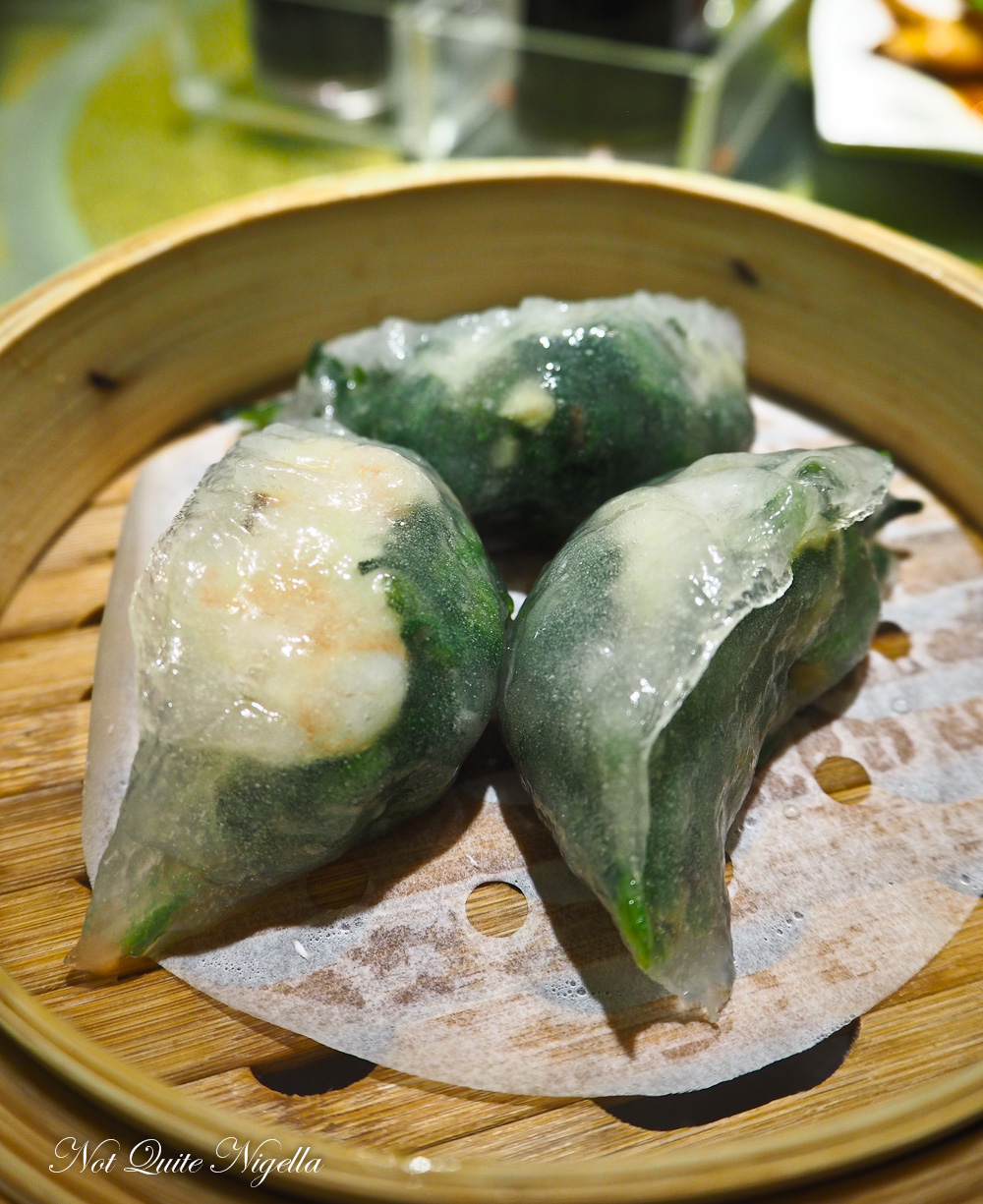 Spinach dumplings with shrimp $6.80
The spinach dumplings are plump and filled to the brim with plenty of soft spinach and just a little bit of shrimp (or perhaps that was the one that I got). The menu pictures have much more shrimp in them.
Tonic medlar and osmanthus cake $5.80
We're nearing the end stretch - the boys have their final bbq pork buns and we turn to dessert decisions. There are just two desserts on the menu and for those that crave mango pancakes, mango pudding or dan custard tarts, I'm afraid that you might be out of luck here. Instead there are two light and refreshing desserts. The tonic medlar jelly with fragrant osmanthus is a refreshing jelly speckled with little pieces of osmanthus flowers and goji berries.
Mango pomelo sago $6
The mango pomelo sago is the favourite though the sweet mango and sago dancing over the tongue and the pearls of pomelo segments giving it a slightly tart burst of flavour.
So is it worth the queue? That depends on you, but you know your way around that now ;). Also, I've waited an hour to get into yum cha before. It is good yum cha but perhaps not quite the same as the Hong Kong version but it is early days yet. Price wise, it's not too different from other yum cha restaurants but this gives diners the chance to try a Michelin starred chain.
We look at the time and our two hours is up. They hand us the bill and I look at the total wondering if we've reached the $300 minimum. And there it is staring at us in the face.
$300.10.
Fate. Kismet. Food. Friends.
So tell me Dear Reader, how long would you line up for yum cha and for how long? Have you tried Tim Ho Wan yet? What did you think? Would you chance the queue or try and get a group of friends for a private table?
This meal was independently paid for.
To read my interview with Chef Mak Kwai Pui click here.
Tim Ho Wan
The District (above Chatswood station) 436 Victoria Ave Chatswood, NSW 2067
Tel: +61 (02) 9898 9888
To book a private table, call them to reserve one. The private table seats 10-12 people and has a $300 minimum charge. Open 7 days 10.00am - 9.00pm (last order 8:30pm, last arrival in the queue recommended at 7:45pm).