A small dumpling bar on busy Cleveland Street in Surry Hills, Billy's Dumplings is easy to miss. But the dumplings and dishes are worth popping in for. There are classic dumplings like xiao long bao but there are also flavours like kim chi & pork, chicken & pine nut as well as lamb, mashed potato and rosemary dumplings. Alongside these are dishes like slow cooked pork belly and vanilla chicken.
If these past few weeks were any indication, the weather is certainly coming up dumplings. I look at the weather not as in sunny, rainy or windy but salad (sunny), pastry (rainy) and cold (dumplings).
As the temperatures dropped, we bundled ourselves in layers, shrugged on coats and long leather boots and made our way to Cleveland Street in Surry Hills. We were on our way to Billy's Dumplings. A few days before, keen dumpling enthusiast Mr NQN messaged me on his way home and asked if I had heard of Billy's Dumplings. I hadn't even though I've walked past the area hundreds of times. So with Nick in tow we arrive one blisteringly cold evening. It seemed a match made in heaven.
We take a seat and Billy himself comes over. He's very friendly and we hear a little about him. He's an accountant that lives upstairs and he and his sister started this cozy dumpling restaurant about a year ago. From Beijing there's a range of house made dumplings and Beijing style dishes. Many of these are displayed above the open kitchen but there are more in the menu.
Dumplings are a given and we take a seat on the stools and decide on some food. As always we over order but cold does that to you. We ask Billy about the hourglass on the table that says 20 minutes on each end. He explains that when they had just opened there were complaints that the food was taking too long but we aren't waiting long before our dumplings arrive. We sip on Osmanthus tea and munch on pickles and prawn crackers while waiting for our food.
We've opted for a range of pan fried and steamed dumplings and they can be ordered as serves of 6 or 12. The chicken dumplings are pan fried and have a single pine nut in each amongst juicy chicken mince and bamboo shoots.
The pork and kim chi dumplings are a favourite for Nick and me. They have just the right amount of spice and flavour and the pan frying gives them a delicious crispy edge.
The prawn dumplings are steamed and are really more egg and chive than prawn. I overhear Billy explaining to other patrons that the food isn't so much yum cha style but Beijing style.
The xiao long bao are small mouthfuls that could do with a bit more soup. There's one plump with soup but the other two don't have much soup in them.
The dumplings that intrigued us are the lamb and rosemary ones that are like a baked lamb dinner inside. They're filled with a little creamy mashed potato, soft strands of lamb and the flavour of rosemary. Dunked in some vinegar and chilli they come to life.
Our mains arrive together and the first to hit the table is the fried tomato omelette. I remember having this very dish in remote towns in Xishuangbanna and thinking what a delicious but simple concept it is. I take a scoop of the tomato and egg and taste it. It's just as I remember it and it's fantastic is its simplicity. Billy explains that it's a very popular dish in China especially during winter because they preserve the tomatoes in jars to last through Winter. I loved these Chinese tomato eggs so much that I developed a recipe for them!
We wanted to order this as we were curious. The aroma of the vanilla chicken is strong. Billy explains that it was a dish that he had tried in Sunnybank, Queensland and it isn't a Beijing dish at all. The chicken filled is breaded and fried and has an aromatic and slightly sweet aspect to it but it's never overwhelmingly sweet or dessert-like. The boys in particular like this and it is good with the plain rice.
There is a choice of pork belly or pork shoulder and our weakness for pork belly means that we go with that option. The sauce is full of aromatic spices and the soft pork belly pieces have a slight numbing edge from the peppercorns. The serve is enormous, way too much for the ambitiously hungry boys to finish but egging each other one, they demolish the serve.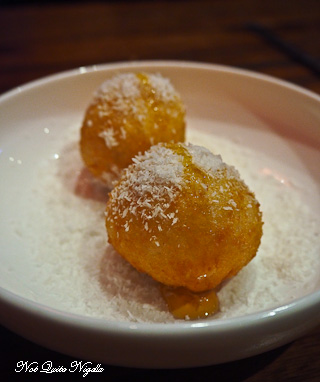 I save a little room for the desserts. The coconut bun is a red bean filled sticky rice dumpling that can either be deep fried or steamed. We went for deep fried on Billy's recommendation and it is crispy and stretchy but a little dry with all of the desiccated coconut. It could have used a scoop of ice cream or something else on the plate.
The crystal jelly fares much better and is like a more elaborate version of mango jelly with mango, mango jelly and ice cream with two red bean filled mochi to the side. We tug and scoop at this dessert until there's nothing left...
So tell me Dear Reader, have you ever tried vanilla in a savoury dish? Did you like it? And do you tend to eat more dumplings in Autumn and Winter? And how long do you think is a fair amount of time to wait for your first dish to arrive?
Billy's Dumplings
432 Cleveland Street, Surry Hills, NSW 2010
Tel: +61 (02) 9319 7283
http://www.billys-dumplings.com.au/