When the hipsters move in, you know that a place is a changing. The city of Parramatta is one that is growing along with their population. With a large overseas born population, Parramatta's food offerings are diverse. Come with me as I explore it with local artist Tom Polo and discover where to find lunch for $2, coffee roasters, Cuban sandwiches, Polish goodies and North Eastern Chinese cuisine that you eat with a gloved hand!
"Excuse me, do you know where errrm Batman Walk is?" I say self consciously, aware that I am wearing a cape and that I sound possibly unhinged.
"No sorry," the three passersbys answer. Their looks to me are wary, as if dealing with a crazy person. I bet they're wondering whether to let me know that Batman isn't real.
I'm in Parramatta and in my usual state (i.e. lost) and even the maps on the phone don't know where Batman Walk is. I call Marlaina and she comes to collect me as I wait outside Trattoria, Jamie Oliver's new branch of Jamie's Italian. Many business have opened up branches of their city side stores. They join Gelato Messina and Bourke Street Bakery and George Calombaris is set to open up a branch of Jimmy Grant's in late 2015.
Smith's Fine Tea and Specialty Coffee (café)
When I was offered the chance to take another look at Parramatta through a local's eyes I eagerly said yes. Marlaina collects me and takes me to Smith's Fine Tea and Specialty Coffee where I am meeting Tom Polo, a local artist born in Parramatta. Christopher and Domenica are also along for the ride as well as Marlaina, another artist who also works at Parramatta City Council and an NQN reader. Between the four of them, we are hitting a collection of their favourite eating haunts.
Smith's is Tom's pick for hot chocolate. Located on Batman Walk (it's a real laneway!) it is housed in a converted antique store. The menu is compact and is just tea, coffee and hot chocolate. The owners are local Parramatta boys Aykut Sayan and Tony Sleiman who also own Circa Espresso and Three Ropes. And Tom's pick here? The hot chocolate made with a 70% Venezuelen cacao from Mork's Chocolate blended with coconut milk and a light hit of chilli and toasted coconut on top. It's warming, rich and earthy dark with the chilli coming in right at the end.
Manaeesh Bakery and Pizza (Middle Eastern)
Our second stop is close by and it's for a Arabic style pizza at Manaeesh Bakery. Here the owner Sargent who recently took over the business (and hasn't changed a thing, if it ain't broke etc), delivers fresh, hot thin manaeesh pizza breads with a range of toppings. We watch as two business workers leave with a pile of 41 manaeeshes.
The cross section of customers is wide and people sit down or takeaway boxes of these thin crusted breads. Marlaina is excited about the prices - after all it's not many a place where you can get lunch for $2. Tom and Christopher both have different favourites here. Tom's is an oregano, labne and vegetables manaeesh that they roll up, much like a gyros. He loves the mint and freshness of the vegetables.
Christopher's pick is the oregano and cheese pizza which at $4 is an absolute bargain. For good measure we try the most expensive item on the menu, a cheese, sujuk and vegetable manaeesh for $7. They're all delicious but the pick has got to be the cheese and oregano for its delicious simplicity. It's not greasy at all yet tastes buttery with plenty of oregano.
On the way to our next stop Tom points out Excel Roll, a Vietnamese roll store part of the Hong Ha chain. We walk past comic book stores - Cosplay seems to be big in Parramatta with a yearly SciFi film festival. There are plenty of 80's arcades including one with a huge staircase and we duck in and out of them, Tom pointing out a place with the cheapest Vietnamese pork rolls in Parramatta.
Paper Plane Café ##
We end up at Paper Plane cafe who are famous for their French toast in flavours like lemon meringue and peanut butter. It's decidedly hipster with a bit of hipster attitude to the service too. The menu has a definite American feel to it with Cuban Midnight sandwiches, burgers, pulled pork fries, asada fries and fried chicken sandwiches. Although we were lured by the idea of the French toast, it's not a particularly unusual flavour today so we decide to go for the Cuban midnight sandwich and the Paper Planes burger because you don't often see peanut butter on a burger.
The Cuban midnight sandwich arrives on lightly toasted sourdough. It is filled with triple smoked ham, pulled pork, Swiss cheese, dill pickle and white bbq sauce (aioli barbecue sauce) and is served with some fat, crispy chicken salt seasoned chips dubbed "Bad Boys". The sandwich is great even with the non Cuban sandwich bread and I find myself forgetting the three bite rule.
Ordered more for curiosity the Paper Plane burger comes with a beef patty, peanut butter, bacon, lettuce and tomato. I thought that it might have been like a satay sauce but it's straight smooth peanut butter and while we thought that it was interesting, we're not quite sure if we would order it again. I would have loved the bacon a bit crispier too.
The Emporium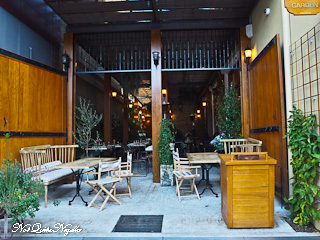 The next stop is just around the corner and is a favourite of Marlaina's. It is the newest, shiniest place in Parramatta. It's a restaurant, bar, bakery and coffee roastery. Only open for a few weeks when we visited, service still needs a little polish.
Nevertheless it's a beautiful venue, full of lush greens and natural light in the covered garden courtyard area. The chef is Robert Cannon (ex Pony Lounge & Dining). Plans are also afoot to have the top floor turned into a Sky bar serving champagne and oysters.
Knowing that we have more stops on the way, we bypass the cheese and cured meat platter and go for one of the mains that Marlaina enjoyed. It's a good sized serving and pretty as a picture. It is soft and plump pan fried gnocchi on a bed of pea puree with snow peas, charred onions filled with a creamy soubise. The flowers are made out of ricotta salata and the dish is pretty and light.
Sabu
Our next stop is one of Christopher's favourites, Sabu for some of his favourite dishes: zucchini flowers stuffed with prawns with a ginger dipping sauce and spicy miso soup. I'm fairly nonplussed about miso soup but this version with chili, salmon and cabbage is a treat and I would order this over regular miso in a second. Service is friendly and polite here.
We are curious about the tempura rice maguro hana. I loved the crispy rice sushi at Kiyomi and was hoping for something similar. This version is fine but the rice needs more crispiness and crunchiness to it.
The zucchini flowers arrive and they are filled with prawns, shiitake mushrooms, coriander and chilli and dipped in a tempura batter and deep fried. They are split in half on the diagonal and served with a ginger dipping sauce. I liked the idea but the zucchini flowers could have been a bit crispier and the ginger dipping sauce a bit sweeter as it was very tart.
We also try dessert while we are here. It arrives as a fluffy ball with pine foam on the outside. Inside is a layer of yuzu parfait, pistachio parfait and there are also pistachio and matcha crumbs scattered on the outside. It's well balanced when you get some of the parfait in the centre along with the crumbs and foam.
Hong Fu (North East Chinese)
Our second last stop sees us going for a short walk along the river. Just a few weeks earlier they explain how it had flooded so much that it flooded the bottom floor of the car park opposite. Even weeks later they are busy trying to regenerate the area and restore it to its previous condition.
We reach Hong Fu, one of Tom's recommendations, a North East Chinese restaurant. 44.9% of Parramatta's residents were born overseas and the Indian and Chinese community make up two of the largest overseas groups. Earlier that afternoon he had mentioned the pork bones where you are given gloves to eat.
There's a wall of their framed reviews and the menu is thick as a wedding album. We turn the pages with the colour photographs to find Tom's favourites. When we only order three dishes the waitress rolls her eyes in exasperation which makes us giggle.
The boiled pork on the bone is a large serving. My mother makes something just like this with a soy and star anise based sauce. There is one glove per person and you pick up the bones in one hand and take to them with chopsticks in the other. They're perhaps not first date food because there's a lot of sucking and gnawing (depends on your idea of a good first date I guess!) but it's fun and tasty.
The spring pancakes were a recommendation from Tom's friend. They're filled with julienned potato strips and fresh coriander and wrapped in a flour wrap. They're quite mild in flavour and need some sauce or something to pep them up. We spoon some of the sauce from the pork onto them.
Although we had ordered pork, they have made them with chicken which is fine by us. The hand made noodles are springy, chewy and flavoured with just the right amount of lip licking sauce. I have kept my glove on when trying to fish them off the plate into my bowl although I'm sure you're not meant to keep the glove on for the entire meal. You just can't take me anywhere...
Tatra Delicatessan
Removing our gloves, we leave to catch our very last stop of the day. Tatra Delicatessen is a Polish deli located on Darcy Street (although it will be moving to another area in Parramatta very soon). They stock all manner of Polish and Eastern European goodies from frozen pierogi, fresh and cured sausages, pâté, jams and drinks.
I'm intrigued by the banana nektar so I buy this for Mr NQN (no faux banana here, it tastes like fresh bananas complete with tiny lumps of banana!) and the cakes including a delicious apricot and almond cheesecake and an almondy poppyseed layer cake.
I'm heading to Queen Viv's house that evening so I need to buy some cheese. I buy two cheeses, a pepper cheese and a cheese in green wax that are both mild but pleasant. There is also European farm cheese available. My purchases are heavy and also include a dill sauce for good measure.
On the way back to my car, we pass through arcades where curated vintage stores like Prospector Store sit alongside wedding dress stores and hairdressers. Kids play a game of table tennis on the public table tennis tables. Tom and Marlaina point out areas that will be taken down and rebuilt into other buildings and for other projects. I get the feeling that it won't be the same for very long.
So tell me Dear Reader, which stop appealed to you the most? Would you do a food walking tour either independently or if there was an organised one? And do you live in a suburb that has some gems? If so, please tell me all about them! I love to do these stories!
Want to see other suburb tours? Here they are!
Meet My Suburb: Marrickville, St Peters and Dulwich Hill
Meet My Suburb: Kensington & Kingsford
Meet My Suburb - Homebush West/Flemington
Meet My Suburb Tour: Cabramatta
All of my meals in this post were paid for independently. Parramatta City Council is an advertiser on the blog, however all opinions remain my own.
Smith's Fine Tea and Specialty Coffee
3/70 Macquarie Street, Parramatta, NSW
Mon - Fri: 7:00 am - 3:00 pm
https://www.facebook.com/pages/SMITH-Fine-Tea-Specialty-Coffee/
Manaeesh Bakery and Pizza
95 Macquarie St, Parramatta NSW 2150
Phone:(02) 9891 5219
Monday to Friday 7am-6pm, Saturday 7am - 5pm, Sunday closed
Paper Plane Café
Shop 5/2 Horwood Place, Parramatta, NSW
https://www.facebook.com/cafepaperplane
The Emporium
51 Phillip Street, Parramatta, NSW
Tel: +61 (02) 9687 1955
http://theemporiumparramatta.com.au/
Sabu
321 Church St, Parramatta NSW 2150
Phone:(02) 9635 1088
http://www.sabu.com.au/menu/
Monday to Sunday 12pm - 3pm, 5pm - 10pm
Hong Fu
103 George St Parramatta, NSW 2150
Tel: +61 (02) 9891 1225 Open Monday to Friday (closed Tuesdays): 11.30am-3pm; 5.30-9.30pm Saturday and Sunday 11.30am-3pm; 5.30-10pm
Tatra Delicatessen
12 Darcy Street, Parramatta NSW 2150
Phone:(02) 9806 9271
Open Monday, Wednesday, Friday 9am-6pm, Thursday 9am-7pm, Saturday 9am-3pm, closed Sunday
http://www.tatradeli.com/