Say Bon Voyage or Farewell to your family or friends in the most delicious way with these sweet and adorable but ridiculously easy Bon Voyage world map cupcakes. Saying farewell has never been sweeter than these chocolate and mulberry cupcakes with a whipped chocolate ganache topping and a custom painted topper!
I made these world map cupcakes for a lovely girl Tessa at my agency who was leaving to go on a trip across the world. She was leaving Sydney for New York for a great adventure. And can I let you know in a little secret?
The secret to these toppers is that they are really easy and do not require special artistic skills.
I repeat they do not require special artistic skills. I should know, I don't have any.
You really only have to draw a few outlines since you can't fit a whole world map on top of a cupcake so I stuck with Australia, New Zealand (because she was from NZ) and America because that was her travel route. You can of course focus on whatever country or state or area you like. Using the foam sponge molds means that you can make them ahead of time and they will always get that perfect dome shape. I went back to school when they told you that you can make green out of blue and yellow. I only had blue fondant so I coloured the countries in with yellow edible colour and voila it was done before I could even believe it.
How to make these world map cupcakes video
Her colleague Eddie told me that she likes chocolate but not overly sweet chocolate so I decided to make cupcakes with a chocolate and mulberry filling. They were so light and fluffy and I topped them with whipped chocolate ganache and the dome fondant topper. They also last for ages - I had one leftover that didn't have a cover that I kept in the fridge and it was delicious after a week!
I hope you're having a restful January Dear Reader! For me, 2015 was a thrilling year of firsts and little triumphs and things to be thankful for. Please forgive me if they sound little or insiginifcant to others but little sometimes means as much as big to me. Here is a list of my favourite parts of 2015 inspired by Amy's list:
Girl at Carcross (short for Caribou Crossing), The Yukon
Fell in love with Scotland and The Yukon. Two destinations that I had never been to before and I hope to visit again.
Started ordering cocktails on a Friday and Saturday night. I suspect it's more about the ritual of celebrating the weekend with good company. I even drank a whole cocktail on my birthday (I usually can't finish a whole one).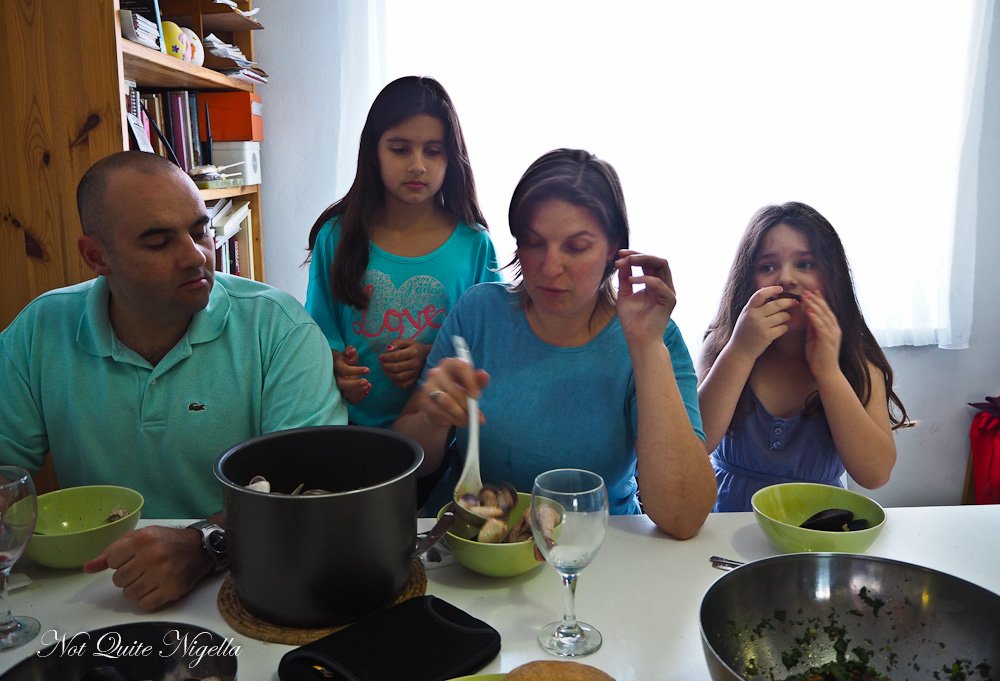 Learned how to make Chilean food from a lovely reader Constanza and her family at her house. She now lives in Chile and is building a gorgeous and very unique home.
Discovered new television shows: Better Call Saul, Unbreakable Kimmy Schmidt, Orange Is the New Black, Master of None, The Killing and Brooklyn 99 (as well as continuing my obsessions with all time favourites The Good Wife, The Mindy Project and Law & Order SVU). Geez I watch a lot of tv...
Celebrated Day of the Dead (for the first time) and Halloween (not for the first time).
Finally grew long nails (with the help of vitamin supplements, is that cheating? Probably...).
Went on tv a couple of times, went on the radio quite a few times!
Ate a 3 course meal on a Ferris Wheel.
Saw my first kid's ballet concert (for my niece Natalie).
Dropped my beloved camera into the sand and wrecked the lens :(
Drank a Sourtoe cocktail - a shot with a mummified human toe in it.
Took up Segwaying and LOVED it. It's exercise for lazy people. There I've said it.
Finally developed a Pad Thai recipe that I was really happy with.
Got invited to a Dear Reader's Indian wedding! Thanks Mimansa and Karnik! See you in February :)
Celebrated Eurovision for the first time. I am still none the wiser as to what is going on but I appreciate camp glamour.
Read a huge amount of blogs. My friends, it's like knocking on your doors and having a cup of tea with you daily.
Made haggis from scratch and did not regret it (okay while scrubbing the stomach I may have felt pangs of regret...).
In 2015 I finally, FINALLY became a confident driver (I don't freak out in tunnels very much any more).
image by mayur gala
And constantly pinched myself that this is life and isn't it beautiful?
So tell me Dear Reader, are you having a restful January? What were your 2015 highlights? Did you have a destination that stole your heart in 2015? When do you go back to work (or are you back already/didn't have holidays?).
Bon Voyage Cupcakes!
An Original Recipe by Lorraine Elliott/Not Quite Nigella
Preparation time: 15 minutes
Cooking time: 30 minutes
Decorating time: 1 hour plus overnight drying time
Makes 6 cupcakes
2 cups self raising flour
1 cup caster sugar
1/2 cup cocoa powder
1 cup lemonade (or other fizzy drink, must be fizzy)
1/2 cup vegetable oil
1 teaspoon vanilla
2 eggs
1 cup frozen or fresh berries (I used mulberries)
For whipped chocolate ganache frosting
1.5 cups chocolate chips
3/4 cup cream
For fondant decoration
200g/7ozs. blue fondant
Yellow and black colouring gel
Cupcake domes
2 fine paintbrushes
Round cutter
Step 1 - Make the fondant decorations so that they have time to dry. Dust a surface with cornflour/cornstarch and roll out the blue fondant thinly and then cut out using round cutters. Gently place on top of the domes centering them and smoothing the sides. Allow to set hard overnight.
Step 2 - Trace the continents with pencil (you can tailor this to the person's trip by focusing on the countries that they are visiting). I focused on Australia and America because she was going from Sydney to New York. I also included New Zealand because she is originally from there. And there is no longer lead used in lead pencil so don't worry about that.
Step 3 - Using a fine paintbrush, paint the outline in black. Allow to dry completely and then colour in the countries with yellow gel which will turn green. Allow to set completely.
Step 4 - Preheat the oven to 160C/320F and line a cupcake tray with liners. In a large bowl whisk the flour, sugar and sift in the cocoa powder. In a jug whisk the lemonade, oil, vanilla and eggs. Make a well in the dry ingredients and mix in the wet and the berries until just combined. Scoop into the cupcake cases and bake for 25-30 minutes until cooked inside. Cool completely.
Step 5 - Melt the chocolate chips and cream together until smooth and liquid. Refrigerate this until it is firm and then place the mixture into the bowl of an electric mixer fitted with a whisk attachment. Whisk for 3-4 minutes until paler and fluffy. Place into a piping bag fitted with a large star tip. Pipe a dab on top of the cupcakes and then use this to attach the domes on top.