I don't quite know what it is about me and Greek food but I adore it. Greek yogurt is my favourite type of yogurt, Halloumi is one of my favourite cheese and Taramosalata is also one of my favourite dips and don't even get me started on Dolmades or Baklava which are a complete addiction for me. So this Friday night I am anxious. I am crossing from the North Shore to the Inner West during a heinously busy Friday night peak hour. My father was at the helm and we were running frightfully late - not helped by the traffic and my father's unfamiliarity with the North and Inner West. When I finally get there I am greeted by Davis Tsirekas's smiling face from the window of the busy kitchen. "Hello darling! Welcome!" he says. He lets me know that they've thoughtfully held the hot food (thanks guys!) until I got there.
It's a Tweetup arranged by Fridley and consists of hand picked bloggers and a few other tweeters. He and David have planned a special banquet for us tonight. For $50 we get the regular banquet menu plus all wine as well as a range of other courses. David will just keeping cooking things and sending them out to us until we tell him to stop (which is just music to my ears and stomach).
_Course 1: Dips (Taramasalata, Tzatziki, Splt Pea). Pic by Betty's Bites
_
Warned by many to pace myself for the onslaught of courses to come, I help myself to just a little bit of dip although they are all delicious, particularly the Taramasalata and the creamy Tzatziki which tops all other tzatzikis. David strains the already strained yogurt again and balances it with olive oil which gives it that creamy texture. There's also smoked eggplant, split pea dip and olive paste which I didn't get to try.
I have had far too many bad Greek salads in my life, so much so that I don't usually order them. This is an  exception with the creamy feta, spanish onion, fat olives and tomatoes telling you why the salad is so popular.
_Course 5: Pickled cabbage
_
They're all lovely pickles but the octopus has to be my favourite. But I didn't eat too many of the pickles because I knew there was more to come and this was just the start.
The moist zucchini fritters signal a start to the hot dishes and the excitement to come.
The Sheftalies, a delicious, juicy Cypriot pork sausage is horizontally sliced in half and sings with a char grill flavour.
_Course 8: Deep fried halloumi
_
We're given what I believe to be two plates of deep fried halloumi. The bottom plate of halloumi is cut into batons and with the golden crumbing it resembles fish fingers. The halloumi becomes quite a different creature when deep fried with an almost crumbly texture, like feta. It's nicely paired with the bursting pomegranate seeds.
I do my friend duty and taste these for Reem as she doesn't knowingly eat pork (tasting is no hardship ;) ) and it's filled with a soft cheese and equally soft lamb and served with that gorgeously thick Greek yogurt.
_Course 11: Rustic Grandma's Chips-pic by Bettys Bites
_
The hand cut chips are delicious although be warned the mayonnaise is heady in the aniseedy Ouzo. And thanks to Betty from Betty's Bites for lending me her pics :)
David's mum makes the filo for thus spinach pie and it's beautifully layered with the crispy pastry and moist filling. Very moreish.
Unfortunately I didn't get to try these as they disappeared at the other end of the table. They were stalks of asparagus, shallot stems, oyster mushrooms, zucchini and white yam dipped in a donut-like yeast batter and then deep fried and served with a tomato and honey sauce.
The stuffed eggplant is covered in a rich tomato based sauce and a thick, creamy Greek yogurt and is delicious with the eggplant having that luscious soft texture.
These fresh artichokes are kept in a mixture of olive oil, white wine vinegar and and water. They are  nicely char grilled with a good flavour to them.
These were given to Richard as he was on a dairy free eating regimen (a brave soul being able to resist dairy in a Greek restaurant). They're strong with herbs, particularly oregano with a chunky, coarsely ground texture.
Have I mentioned how much I love halloumi? No? Well I do and I can eat platefuls of the stuff when it's barbecued or fried. Pairing it with the soft dried figs and pepper is an inspired move with the sweet fig, hot pepper and salty halloumi going so well together. And yes I ate three pieces despite knowing that there was more food coming up.
As if I don't have enough trouble leaving room for food then up comes my other favourite item, the dolmathes (dolmades). David's mum makes these for the restaurant and they're wonderful and absolutely the best dolmades I've ever had with the rice not being at all gluggy as you sometimes see. Reem and I were so distraught by the idea that the leftover ones would be thrown out we ask for them to be packed up for us. And yes they tasted wonderful the next day and yes I know your next question. Did I eat the next day? You bet! ;)
The lightly coated calamari is delicious and boldy seasoned.
Another gorgeous filo dish where David uses his mum's pastry is the pumpkin pie which is so crunchy that when you sink your teeth into it, shards of pastry, sweet pumpkin and salty filo go everywhere. Paired with a beetroot emulsion this isn't a poor man's vegetarian option by any means.
Yes oh yes, this is the dish that could produce a food orgasm. I am utterly besotted by the dish which features soft pork belly, dates and pistachios and filo layers with a sweet edge to it provided by the thick date and mastic sauce. Not knowing the name I say to Reem "Hmmm this tastes like a Pork Belly baklava" only to have her say excitedly "Oh yes this must be the pork belly baklava!". And despite being full to bursting I had a second piece. You bet your sweet bottom I did ;)
_Course 22: Giouvetsi Goat _
One of the most interesting dishes of the night was a specialty that David made for us. I'm a big fan of goat meat which is usually a very lean meat and therefore more suited to stews and curries. David and two friends did a little "Kobe Goat" experiment based on the Kobe Beef method of producing wonderfully marbled beef by feeding the cows beer. They fed the goat (appropriately named "Goat") chestnuts and beer for 3 months using a total of about 24 cases of beer. The resultant meat is remarkable. Marbled with fat, it is soft and fatty and completely unlike other goat meat. Experiment a success.
I only had a little room at this stage but I did manage to taste some of this bean salad which was flavoured with fennel and lemon.
I'm not a big fried liver person so I try a bit but leave it to the offal fans who will appreciate its distinct and strong flavour more.
Sadly I didn't try this as it was eaten at the other end of the table.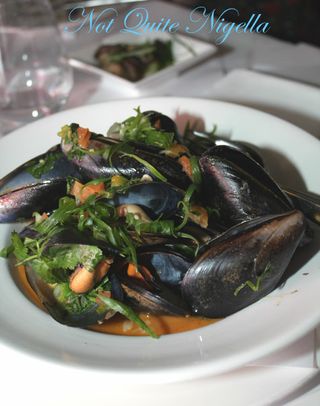 The Spring Bay Chili mussels cooked in a white wine and tomato based sauce are delicious, but at this stage I do my best and can only manage one.
_Mashed potato
_
The Lamb Skaras is rich with zingy lemon and oregano and very soft indeed. The potatoes have hints of oregano and lemon and the string beans are crunchy. The mash that comes with it is in a word divine with a gorgeous garlic and olive oil flavour.
Housed in a clay dish and cooked with a lid of paper, this lamb casserole is sweet and soft and quite strong in lamb scent. During the Greek War of Independence, the guerillas were said to cook their food in the ground to avoid detection. I want to have more but I can't fit any more in. You see I'm waiting for the...yes you know it. The Greek desserts. Did anyone say baklava?
One of David's tweets that excited me (yes I get excited by the mere mention of food) was the Caramel Baklava ice cream and the Mandarin Bougatsa. The Bougasta is a custard filled filo pastry and these little triangles of soft custard are lightly scented with mandarin. They crunch in the mouth and are lovely and warm and go brilliantly with the three tier stacks of Baklava ice cream. There is  bottom layer of vanilla ice cream, a middle layer of caramel and baklava and then another layer of ice cream. The Bougasta sit in a pool of tahini and mint cream, the tahini David makes in house to give it a stronger sesame flavour.
This is an intriguing one. I've had olive oil ice cream before and it can be too overwhelming but this one thankfully isn't. Using Olympia Greek olive oil (which always tastes stronger than Italian olive oil to me), it's tempered by the use of pistachios and dried figs although there is most certainly an olive oil taste. It's a popular dish at the table.
Have I told you how much baklava I can eat in one sitting? Perhaps not in an effort to retain some dignity. This is my third (or fourth given I had two serves of the pork baklava) serve of baklava tonight and I'm not slowing down as far as baklava consumption is concerned. The sweet candied but salty kalamata olives are wonderful in the layered dessert. Think salted honeyed caramel. The kalamata and mascarpone ice cream is reminiscent of a creamy prune ice cream.
I didn't expect to find this so moreish but when you have a pear that's so perfectly cooked you go back for more. Not too hard, not too soft, not too sweet but just sweet enough, this was the table favourite which provided a nice cleansing sensation too. It's served with a delicate pasteli which is a honey, sesame biscuit.
Please excuse the half eaten photo but the other end of the table got to this before we could take pics. The tangy rhubarb is paired with a creamy rice pudding with a hint of vanilla and cinnamon.
The one that had Steph in raptures was the Ekmek. The only sales pitch you need is three words: brioche, syrup and cream. Yes it was delicious and a fantastic version of a bread and butter pudding. Apparently Byzantine Peasants of Constantinople used to eat this - who said peasant life was hard?
After our stomachs are well and truly sated David comes upstairs to meet everyone. He's a natural and enthusiastic host and perfect for TV (someone, snap him up!). An ex swimming coach, in 1999 he set up Perama and quickly learnt all about Greek food starting with the origins of classical Greece. His wife Belinda is also a blogger and an NQN reader and her blog features their gorgeous girls Mia and Ruby. As a twitter enthusiast, every Wednesday he brings in the laptop and tweets his food preparation for the day. He stays and chats to us and we bid him goodbye with our stomachs full and our bags full of food.
Thanks to James (Fridley) for organising it and David and his team for feeding us so well. My fellow bloggers were:Bettys Bites, Betty The Hungry Girl,  Citrus and Candy, eece, Foraging Otaku, Pigged-out, Raspberri Cupcakes, Reemski and Spicy Ice Cream.
So tell me, Dear Reader, what was the longest or largest meal you've ever had and how many courses did you have?
Perama Restaurant
88 Audley Street, Petersham, NSW
Tel: +61 (02) 9569 7534
Open: Tuesday to Saturday, 6pm-10:30pm