My favourite Greek chef David Tsirekas tends to the Halloumi
Food is sizzling on the BBQ, a whole lamb is roasting on the spit and suddenly there's a frisson, people are whispering and eyes are widened as the gossip passes through the crowd "He's here!! He's here!" they say. "Who is here" I ask Reem. "George Colambaris" she says smiling knowingly. "Oh" I say knowing of George's dislike for bloggers and quotes such as "The biggest comment we get now is from girls who go to the toilet and love the moisturiser. You could put a dog turd on the plate and they'd still talk about the hand cream." Meh, I say staying put. My favourite Greek chef is right at the BBQ, Perama's David Tsirekas and Adriano Zumbo has just walked in. No need to get excited about a man who thinks he can serve me a dog turd and I'd be happy.
Adriano Zumbo
_David's father George _
Like a Greek Family BBQ, all the generations are present and I am greeted with the sight of David's father George who is tending to the lamb on the spit and Jenny his talented mum who makes the delectable pastry for his restaurant. Then there's David's wife Belinda who herself is a blogger and their two adorable daughters Mia who is 6 and Ruby who is almost 2 who manages to captivate everyone with her antics.
David's mum Jenny
Reem and George
In the centre of the table there's a plate of homemade pickles and dips such as taramasalata, tzatziki, split pea and a smokey eggplant dip. They are all great but the split pea has me coming back for more. "Pace yourself" everyone says to each other. If we know anything it's that there will be a lot of food. Mr NQN hasn't eaten at all today in anticipation of this feast. The pickles and olives are sweet but sour in that lovely pickle dichotomy.
_Ruby and the hard fought souvlaki-look at that face!
_
Slices of BBQ'd halloumi are passed around and I forcibly restrain myself from eating more. I adore halloumi, the squeaky cheese with the crispy outer and spongy inner and this one is perfect and not too salty. Souvlaki are then passed around but not without incident. Little Ruby wants a Souvlaki but mum Belinda tells her in a soft voice "No it's too hot". Ruby is determined to have one and so mum relents but Ruby doesnt' want just any souvlaki but the one given to another guest and she cries and points until the souvlaki is hers.
Chorizo, souvlaki and chicken wings on the BBQ
Sliced chorizo
Slices of chorizo come out next and then chicken wings and sausages. And these are just the canapes! I know to save room for the dessert as there are chcoolate, peanut butter and sour cherry ice cream sandwiches which are part of Perama's Sugar Hit which I know absolutely have to be tasted. So when lunch is ready, I reluctantly pace myself and help myself to the food.
Salads and pastry array
Bean salad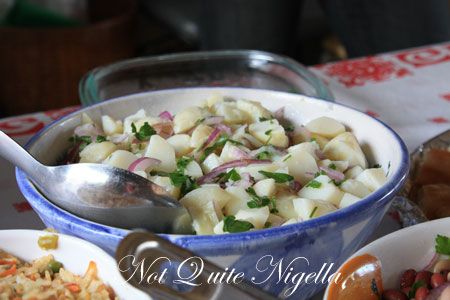 Potato salad
Jenny's cheese pastries
Jenny's fantastic lemon potatoes
There's an array of food like rice salad, potato salad, a beautiful rocket, walnut and fig salad, bean salad, Greek salad and Jenny's spinach and cheese filo pastry, cheese filled pastry and mouth watering lemon potatoes.
Rocket & Fig salad
Greek salad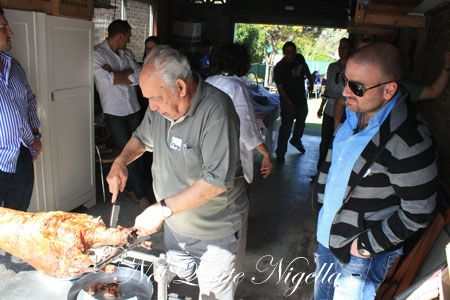 "I've been told to sit by the lamb when it's about ready and to get the skin as that's the best bit" Reem says and when the lamb is ready we eagerly help ourselves to the lamb. We get a slice of the skin and the fatty part and it's very moist and tender.
Ruby's boyfriend for the day. What a cutie!
Mia and her thankyou collage
David flanked by his daughter Mia who is holding up a sticker collage thanks everyone for coming and reminds us of the reason why we're here: to support Street Smart which is a charity that helps the homeless and the down and out with accommodation, food and longer term strategies to help to empower them with skills and move out of homelessness. David has very generously donated $60 for each ticket sold to Street Smart which is over 50% of the ticket price. He's a generous soul with a big heart (and a mean cooking arm).
_@Carmr and George (who generously donated $600 on the day)
_
Melomakarona biscuits
Portuguese Custard Tarts
We're all rather full but we know that David's desserts can make a grown man squeal like a girl so we help ourselves to the goodies.  The nutty, syrupy Melomakarona biscuits are delicious. The portuguese custard tarts have an earth shatteringly crisp pastry.
The amazing ice cream sandwich
The chocolate and peanut butter with sour cherry and vanilla ice cream sandwich is as good as it sounds and possibly even more. There is just enough peanut butter but not too much so it gives it a salty richness and the sour cherries are lovely in it. And yes I think I finished the whole huge triangle.
The Greek pastry is lovely and moist from the syrup and has an unusual texture - almost spongey.
So tell me Dear Reader, would you be completely won over by the products in a restaurant bathroom? Would it change your opinion of the food there?
Donations can be made to Street Smart Australia.
_NQN and Mr NQN attended as guests of David Tsirekas
_
Tsikeras Family BBQ
Cost: $100 ($60 of which goes directly to Street Smart)
When: Sunday, the 18th of October
Perama Restaurant
88 Audley Street, Petersham, NSW
Tel: +61 (02) 9569 7534
Open: Tuesday to Saturday, 6pm-10:30pm