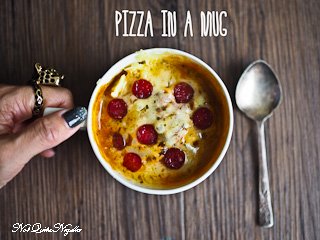 We've all been there. We come home famished, or perhaps you've been busy working and then look up and an insatiable hunger fills you. You need something now, you need it tasty and you don't want to wait. Enter: the 2 minute pizza in a mug!
Two minute pizza in a mug is a single serve pizza that takes just over 1 minute to cook. And it is real. I'm thinking of anyone in an office that needs a meal that they can make in an emergency. Sure you do have to go to the shops to buy the ingredients but I'm pretty sure that nobody is going to steal your raw ingredients (and you can keep the salamis in your drawer as they don't need refrigeration).
Even though I work from home it doesn't mean that I don't think of my former office life and when I came across this recipe for pizza in a cup I knew that I had to try it. Also I tend to spend hours engrossed in editing only to find myself hungry and in need of something quick.
Way back when I used to work in an office the only thing I looked forward to was lunch. Going out to get lunch was the highlight of the day but there were some days where it was impossible either due to the weather or deadlines. That is when we would try to make up something in the little kitchen using a microwave and the hot water tap. It was never anything particularly exciting but I remember thinking how nice it would be to have something decent beyond popcorn or instant ramen but also something fun too.
I tried the mug pizza on a cold day and one where I had a list as long as my desk and I wanted something quick that I could make for lunch that was a bit more fun than a salad and a bit more warming. And it was really tasty! Mr NQN had a couple for lunch and asked what it was with an approving query. Of course it isn't a substitute for a real pizza, nobody would claim that but I have to say that I thought that this was enormously fun and very tasty. And absolutely no effort at all!
So tell me Dear Reader, do you have a quick fix meal? What are you eating for lunch today? Does it vary day to day? And which is your biggest meal of the day?
2 Minute Mug Pizza!