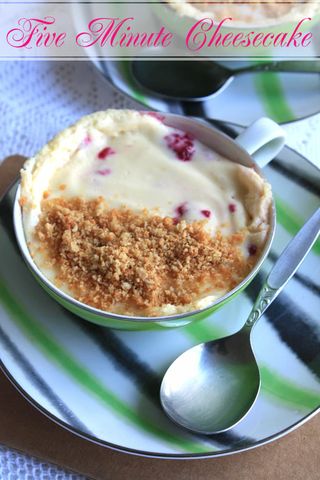 Allow me to draw you a rather woeful picture: we have finally moved into our new place and were waiting for our new oven to arrive. My baking fingers were itching to bake something. Like an addict I'd pore over cookbooks flagging the recipes that I wanted to make and don't you know it, they were all cakes that required an oven. My hands would twitch, wanting to beat something or whisk something. Pictures of delicate macarons were pored over lustfully and longingly, my fingers stroking the pages. All things that required my long awaited oven. Until my friend Kathy (who I want to employ one day as she is such a fantastic ideas person unless of course someone else has already hired her) linked me to this recipe for a Five Minute Cheesecake in a Mug from the blog I Really Like Food.
Now those of you that have made baked cheesecakes know that they're a long process. Whole cheesecakes take at least an hour in the oven although the mixing of one is a relatively quick process. So it should be possible surely? I tried a few variations trying to make my own version using raspberries and some turned out ok and some barely passable but the final recipe if I can say immodestly was rather good indeed.
The raspberries and lemon balance the creaminess and sweetness of the cheese. The key of course is to whisk it thoroughly. If it's not mixed properly, the resultant cheesecake will be awfully lumpy - it needs to be smooth which does involve some elbow work. I refused to use the Kitchenaid for it, after all the key was to make it as easy as possible with as little equipment and washing up as possible. Like the Five Minute Chocolate Mug Cake, timing is the key. I dislike giving timings for microwaves as they vary so much but mine took 60 seconds on 50% power and then another 45 seconds on 50% power but do check and adjust. It will cook further once it's out of the microwave.
Of course it's not an entire miracle and you do need to chill it for a couple of hours to get the true, cold cheesecake texture but you can console yourself with the idea that you only have to cook it for 5 minutes. Might I add that one of the best things is that you really need to use low fat cream cheese and sour cream - yes you need to if you want to beat this by hand. The beautiful part is that it doesn't taste low fat and truly only takes 5 minutes. OK so it is a miracle indeed.
So tell me Dear Reader, what culinary miracles do you dream of performing? Dinner on the table within 15 minutes? A neverfail souffle or the ability to throw amazing dinner parties? Or something else altogether?
And because it's Wallpaper Wednesday, here is your image to help you get through Hump Day!
The 5 Minute Cheesecake in a Mug
Quantities are per mug or cup
2  1/2 tablespoons icing sugar

2 1/2 tablespoons low fat cream cheese

2 tablespoons light sour cream

1 tablespoon lemon juice

a small handful fresh or frozen raspberries or blueberries

1/2 egg beaten well

1 biscuit in a zip lock bag to crush -I used an Anzac Cookie
Step 1 - In a bowl, mix cream cheese, sour cream, egg, icing sugar and whisk well until very smooth (as pictured). Add lemon juice and raspberries.
Step 2 - Spoon into cup or mug and place on a plate in the microwave. Microwave for 1 minute on medium. Once done, check it for doneness (it shouldn't be cooked). Microwave for 45 seconds on medium again. Jiggle it gently, the centre should be slightly wobbly and it will firm up once refrigerated. If it's still liquidey give it another 30 seconds on 50% power.
Step 3 - Bash the cookie in the ziplock bag with a rolling pin (this is great therapy if someone is proving particularly annoying). Sprinkle the bashed up cookie crumbs on top of the cheesecake.
Step 4 - Place cooled cheesecake in the fridge for a couple of hours. When cold and set, eat greedily and smugly knowing that this only took you 5 minutes to cook it and it is low fat.