Are there ever those times when you want to feed a crowd but don't have the time or energy to do anything elaborate? Then allow me to offer you this salmon and sweet potato pie. It makes a lot out of relatively little and is so enormous that it can feed 6 or 8. All it needs is a tin of red salmon, some eggs and an abundance of vegetables and before you know it, you've got a warming, nourishing pie that feeds the whole family.
Originally, when Dear Reader Robbie sent me this recipe, this quiche or pie had a crust to it. But then I thought that I might make it without the crust to save some calories and then I thought I might want to top it with a roasted sweet potato and caramelised garlic mash. Because so many people, myself included have been struck with the flu or illness lately and adding an abundance of garlic and sweet potato might help. This pie was wolfed down by Mr NQN who usually eschews cooked tinned fish but in this case the salmon didn't distract him at all. He loved the sweet mash, abundance of mushrooms and creamy sauce. And the best thing is that it is rich in vegetables so you don't need to make a side dish and feeds an army - or a hungry husband for almost a week.
If you follow me on snapchat you'll see that I still see Nina my trainer twice a week. Apparently that is a rare thing as she tells me that people tend to see their trainers for a short period before giving it up. Yet she still refuses to give me a frequent buyer punch card ;)
We frequently give each other television and movie recommendations. Which is a little strange because if you meet Nina she'll tell you her five favourite movies all involve action, robots, blowing things up and super heroes. I find those sorts of films confusing and I can't follow what is going on on the screen. Yet there is still a little bit of crossover with what we like.
"You know how there are two circles and sometimes they overlap?" she said to me.
"Where are you going with this? Is this a new exercise?" I asked her, warily.
"No the bit that overlaps, that shape is the shows we have in common," she said.
"The ellipse?" I said.
"I don't know, let's call it 'that bit'" she said. Nina knows a lot of stuff about fitness but she often forgets words. Like the time I asked if an exercise that she asked me to do was going to work my bottom.
"No we are working your front bottom," she explained before realising what that meant.
Anyway she warned me against caramelising the garlic for the full benefits but sometimes you've got to pick your battles. And words ;)
So tell me Dear Reader, do you ever cook things that will last over several meals? Have you managed to elude the flu so far? And are you on snapchat? Follow me-my username is "notquitenigella"! :)
Did you make this recipe?
Share your creations by tagging @notquitenigella on Instagram with the hashtag #notquitenigella
Crustless Salmon Sweet Potato Pie
An Original Recipe by Lorraine Elliott
Preparation time: 20 minutes
Cooking time: 1 hour or so depending on the size of your sweet potatoes
1.5 kilos sweet potato
2 heads garlic
4-5 tablespoons olive oil plus extra for greasing
400g mushrooms, thinly sliced
1/2 cup finely chopped white part of green onion
1.5 cups grated cheese
425g tinned wild red salmon
1 cup light sour cream
1/4 cup mayonnaise
4 eggs
Zest of 1 lemon
Salt and pepper to taste
Step 1 - Cut the tops off the heads of garlic and roast these along with the sweet potato in a 220C/440F oven (if you cut up the sweet potato it will cut down on the cooking time). The garlic should be cooked and soft after 20 minutes so remove this to cool and remove the soft cloves from the paper skin and mash or blend. The sweet potato will take longer depending on the size of the sweet potato.
Step 2 - In a bowl mix the mushrooms, onion, cheese, salmon, sour cream, mayonnaise and eggs. Grease a large baking or roast tray with oil and place the mixture in and bake for 20 minutes.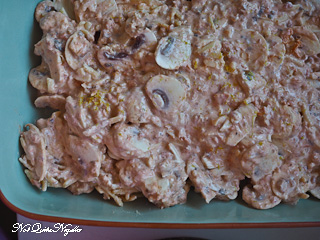 Step 3 - When the sweet potatoes are ready, remove the skins and mash them along with the garlic and season with salt and pepper.
Step 4 - When the salmon mix is cooked, remove from the oven and spread with the sweet potato mash. I drew in a pattern with a fork but that's not necessary (and it's debatable whether it worked). Place under the grill to heat through until caramelised (I used a blowtorch as my grill isn't brilliant).