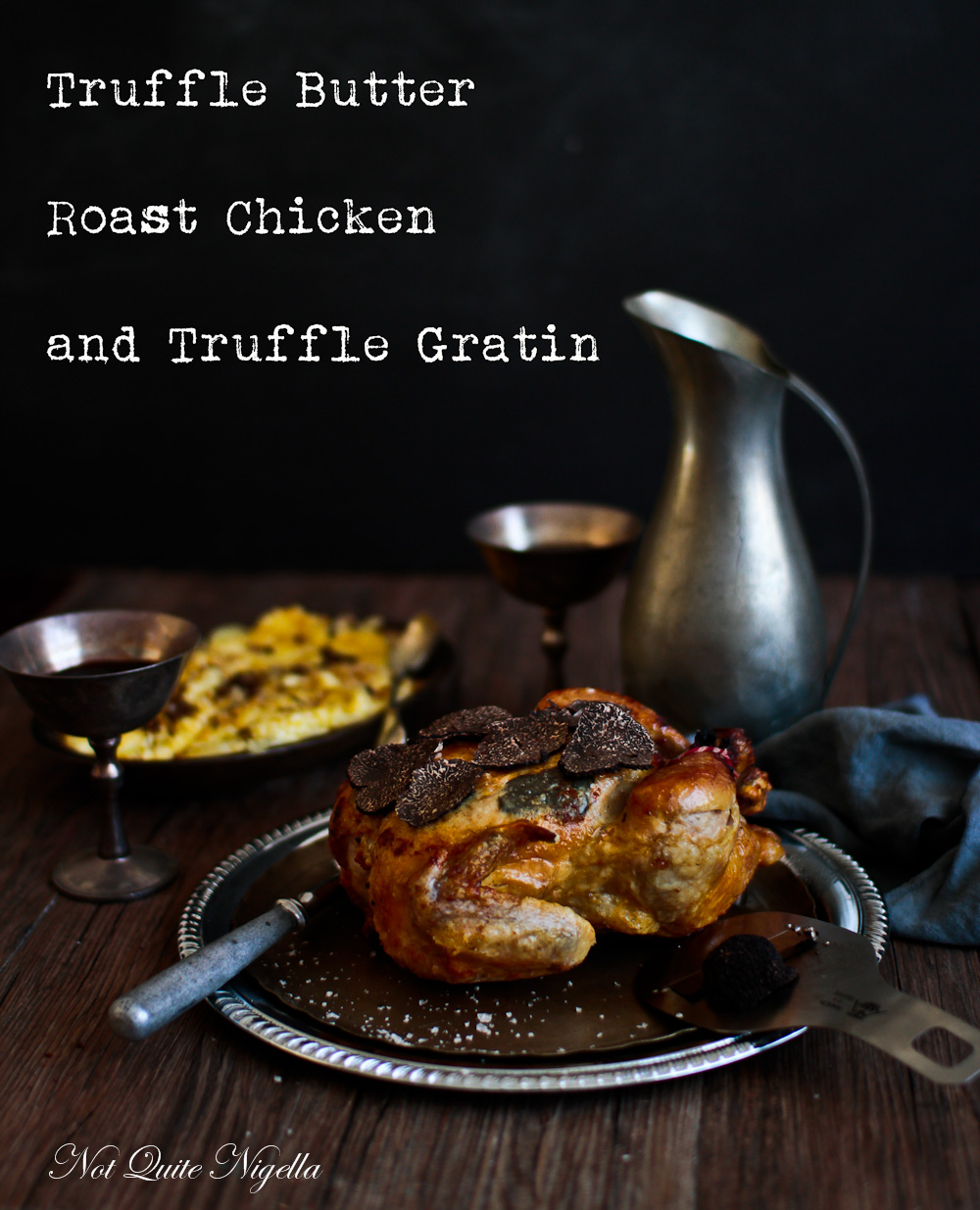 This week we counted ourselves very lucky when we bought a black truffle to cook with. The key to most truffle recipes is how to extend the life of this precious black jewel. The truffle's aroma is what people find the most alluring. Hard to describe until once you smell one, you'll never forget it. If a sense could be encapsulated into a food, it would probably be umami. It's a distinct savoury aroma but it is also delicate. Cooking a truffle with too much heat reduces its smell so what is the best way to cook with truffles?
Truffles love being the star of the dish. By that I mean they pair up well with bland and creamy flavours - the classic combination of eggs and truffles is an example. They also benefit from being served with fats-be it in a gratin, butter or oil. Interestingly, commercial truffle oil doesn't contains truffle but you can make your own truffle oil using infused slices of truffle but this will only last up to 10 days. And when you pick your truffle, smell all of them - they're remarkably different.
Black truffles last for up to 10 days but I found as time went on, the aroma of the truffle gradually diminished. I set about finding a recipe to use the truffle as soon as I could. Although I have just said that truffles lose some of their potency once cooked, I was making a roast chicken that needed to "dry out" (honestly this makes the chicken sound like it has an alcohol problem doesn't it?) in the fridge for 2 days for the skin to crisp up. So I slipped a couple of slices of truffle under the skin.
The chicken had two days for the truffle to infuse the breast. I then roasted it and then brushed it with fresh truffle butter and shavings of truffle. The shavings are a bit thick I have to admit. I paired it with a chestnut and shiitake mushroom stuffing which I really adored and I wish I made double of.
Someone asked me if you really do need a truffle grater. I have one and I would say no you don't need to buy one if you have a perfectly good knife at home. Restaurants use them to shave truffle at the table but to get other textures you could also use a Microplane or just a knife. I got better, thinner results with a knife. A ribbon Microplane rains down some well sized, feathery shavings while a fine grater is possibly a bit too fine for anything but a truffle butter.
The gratin was an easy choice. I made up a fennel and potato gratin and combined it with chicken stock, garlic and cream. I used freshly grated truffles on top and used the fine Microplane for that but the ribbon would have been better.
For us at least we treated truffle like an every day treat which is why I liked it in butter spread on top of toast. It doesn't last that long and if you can have it on toast instead of your usual spread then that gives each day a little bit of luxury.
We ate our meal not in a fancy, formal setting but in front of the television watching my new favourite show. It's been a while since I've been in love with a show until I came across The Americans. It was recommended to me by Kim who seems to have the same taste as me with shows. Normally I wouldn't be interested in a Soviet Spy Cold War drama set in 1980's America but I was hooked from the first episode. Is anyone else watching it? None of my friends are and I want to talk to someone about it!
Storing a truffle with eggs in an airtight container can help to infuse them with truffle aroma
It stars Keri Russell and Matthew Rhys as a married couple who are KGB spies and operating in America. They have "missions" to complete and it is exciting and quite fast paced but also has long, lingering looks and expressions. It's also a wonderfully crafted show, well edited so that it is suspenseful and the acting is so convincing that it managed to convince the two leads to fall in love in real life (they now have a baby!).
I do have some questions though because I do have to suspend reality when I watch it even though it is based on real life and was developed by a real CIA operative. The first things is the wigs! I mean where are they storing all these amazing wigs and disguises and where are they getting changed? Superman (I know he's not real) had a phone booth. Do they have a Hollywood level makeup and hair person waiting to do them up? My favourite disguise for Elizabeth (Keri) is when she looked like a [cast member of The Golden Girls][08127b61] and for Philip (Matthew) it's pretty much [all of them because he manages to look skeevy][5f1de396] in all of them. Oh and we get to see a lot of Keri Russell's ass in it but none of his. Not fair. So if you love the 80's and a bit of action then I try it-you'll either love it from the first episode or not (when Fleetwood Mac's "Tusk" came on, I was hooked). And eat your dinner in front of it if you want too!
So tell me Dear Reader, have you watched The Americans? Do you have a new favourite show? I haven't seen the new season of Orange Is The New Black yet-is it good? And have you ever cooked with truffle? Do you eat dinner in front of the tv ever?
DID YOU MAKE THIS RECIPE? Share your creations by tagging @notquitenigella on Instagram with the hashtag #notquitenigella
Truffle Butter Chicken
An Original Recipe by Lorraine Elliott inspired by the Zuni Cafe chicken method
1.4kg Chicken
4 tablespoons salt
4-6 slices of truffle plus more to serve
1 cup freshly boiled water
1/2 cup cream
Truffle butter
100g/3.5ozs. butter, softened
10g/0.35ozs. freshly grated truffle
Chestnut and mushroom stuffing
2 tablespoons butter
1 onion, peeled and finely chopped
1 clove garlic, peeled and finely chopped
3/4 cup cooked chestnuts, roughly chopped
4 shiitake mushrooms, sliced
2 slices bread (I used regular supermarket rye bread), chopped into small cubes
1/2 cup chicken stock
1/2 cup cream
Step 1 - Remove the lump of fat from inside the chicken. Rinse the chicken and then pat all over very well with paper towels. Sit the chicken on a couple of sheets of paper towel. Place your index and middle finger between the skin and meat of the breast and gently pry it apart and place a few truffle shavings in there. Rub salt all over one side and then loosely cover with more paper towels. Place in the fridge 1 day. Then turn the chicken over and do the same for the other side. You want almost a waxy coat and the salt and truffle will absorb into the chicken. Place in the fridge for 1 more day. I also recommend preparing the gratin ahead of time as that way they can cook simultaneously.
Step 2 - Make sure your oven in clean because it will smoke too much otherwise. Have the gratin ready to bake (see recipe below). Then also make the stuffing by sauteing the onion and garlic in a small saucepan in the butter until translucent. Place the rest of the ingredients in a bowl and mix together and then add the onion and garlic once it is cooked. Place in a small baking dish and cover tightly with foil. Bake at 240C/475F for 30 minutes (I cooked everything together in the same oven).
Step 3 - Place a metal baking dish in the middle rack of an oven and preheat to 240C/475F (very hot). Take a piece of parchment and lay it on the tray. Place the chicken breast side down and you should hear it sizzle. Roast for 30 minutes. Meanwhile mix the butter and 10grams of finely grated truffles to make a truffle butter.
Step 4 - When the chicken has had the 30 minutes, turn it over and roast it breast side up for 10 minutes. Then turn it back over and roast it breast side down for another 15 minutes. Brush with the truffle butter. Gently remove it from the tray and place on a serving platter and cover with foil and rest for 10 minutes (make the gravy while it is resting). Serve with freshly shaved truffles and the gravy.
Step 5 - Make the gravy by deglazing the pan on which you roasted the chicken. Add 1 cup of freshly boiled water from the kettle and scrape away all of the tasty caramelised bits (you can let it sit for a minute or two). Then place the liquid in a small saucepan and bring to the boil. Add the cream and then salt and pepper for seasoning. Remove the fat by placing a paper towel on the surface. It will absorb the oil that has floated to the top first. Repeat 2 or 3 times with a new paper towel until all the oil is absorbed. Season with salt and pepper.
Potato and Fennel Gratin
250g/8.8ozs. potatoes, peeled and thinly sliced with a mandolin
1 medium sized fennel bulb, trimmed and sliced thinly with a mandolin
3 shiitake mushrooms, sliced
1 brown onion, thinly sliced
1 clove garlic, finely chopped
2/3 cup cream*
1/2 cup chicken stock
2/3 cup cheese
1/4 cup breadcrumbs
50g/1.7ozs butter cut into cubes
10g of freshly grated truffle to serve on top
Step 1 - Mix the potatoes, fennel, onion and garlic together and place in a baking dish. Whisk the cream and chicken stock together and then cover with this mixture. Cover tightly with foil and bake at 240C/475F for 30 minutes (I baked this alongside the chicken because I want to serve them at around the same time).
Step 2 - Remove the foil and once the chicken is out of the oven turn it down to 180C/350F. Sprinkle with cheese and breadcrumbs and cubes of butter and bake for an additional 10 minutes.