Chez Pascal on Rocky Point Road in Sans Souci offers a step back in time and a look at some French classics. It is a romantic French restaurant helmed by a father and son team, Philippe and Pascal Lebreux. Philippe is a Mauritian born chef who has worked with Paul Bocuse and his son Pascal (after whom the restaurant is named) runs the floor. There are dishes like French onion soup, escargot and Crepes Normandie.
This meal at Chez Pascal has been a few months in the making. Whenever we have wanted to go, the restaurant has been fully booked and I am told that on Friday and Saturday nights we have to make a booking a few weeks in advance. This may be partly because of their appearance on a reality tv show called The Hotplate. Cheryl was a fan of the show and urged us all to visit with her. "All I want is a hug or kiss from Philippe," she says channelling a schoolgirl crush.
While we are looking at our menus full of French classics at reasonable prices (mains are generally mid $20's) and drinking our wine (it's BYO) chef Philippe bursts out of the kitchen to greet the restaurant as a whole welcoming everyone to his establishment.
To us he quips, "Enjoy! Make yourself at home. Don't break anything!" before giving Cheryl a much welcomed welcome kiss. It is a restaurant that has been operating for 30 years, an anomaly in fickle Sydney.
They bring the blackboard specials over and talk us through them before propping them up on a chair for us to consider. There are a few things that we like the sound of and we share everything. The first course is because Alyson's friend Deborah is family. Pascal brings out devilled eggs. "These are from papa," he says. They're absolutely delicious-the filling is smooth and perfectly seasoned and we reminisce over the retro feel of these.
We receive two boules of "French damper" each sliced up and served with butter, tapenade and garlic butter.
For a cold winter's night there's nothing more satisfying or gratifying than a French onion soup. This has a top layer of Swiss Gruyere cheese atop a crouton submerged in a rich broth layered with soft onion strands. It's a must order and my favourite entree of the evening.
Foie gras isn't an everyday treat so we decide to try this which is a slice of foie gras on brioche served on a truffle essence veal reduction sauce. The sauce isn't very strong in truffle at all but it is quite salty and I mostly taste veal with its strong savouriness. We also don't need that much sauce for the foie gras. This also comes with a glass of sweet Sauternes.
This dish is made for the bread. There are half a dozen tender prawns in a creamy Pernod sauce that is just begging for the bread to soak it up with.
Another favourite (and another worthy use of the bread) is the escargot in garlic butter. We fish out the escargot and then dip pieces of bread into the holes of the escargot dish to extract all of the delicious garlic butter.
There is a little pause between entree and main and we are served a scoop of lemon sorbet in adorable little sorbet trays. These trays bear Paul Bocuse's image and name as Philippe worked with him.
I was just saying the other day to a friend that I haven't had pheasant very much and when I saw it was on the menu I just had to order it. It's served with a chestnut sauce that has an element of sweetness but isn't overly sweet. The pheasant is a tad dry but the sauce helps counteract this. All of the mains have the same vegetables: potato, carrots and broccolini.
The lamb is cooked through (we did order it medium rare) but it is still juicy and succulent and served with a thick mint and port wine sauce.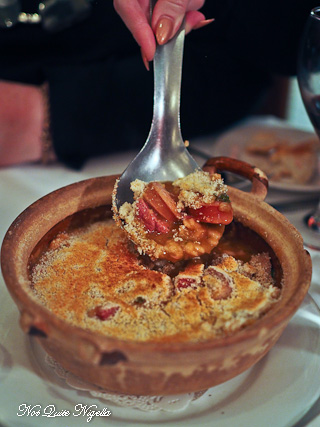 While I love sharing, this isn't really a sharing restaurant and a cassoulet is one of those dishes that isn't really meant for that. Part of the delight of a cassoulet is digging in and discovering the treasures of sausage, confit duck legs and flavours. This is strong in thyme and very rich as befits a cassoulet which is ideal for winter.
Many of the mains are well priced and it has been a while since I saw a main dish in the low $20s in Sydney. The pork fillet is tender and served with a sweet blackcurrant liqueur sauce.
My favourite main ends up being the scotch fillet which is wonderfully tender and cooked just as ordered. It's smothered in an eschallot sauce that goes with the beef well.
After mains Philippe comes out again and lets out a loud roar (I actually jump, it was a surprise!) and invites everyone to come back in October for the 30th anniversary of the restaurant with the promise that they'll make it worth it "If you want to party like animals!"
The rules are very strict for the Crêpes Normande. It says on the menu that the crepe will not come with cream or ice cream. These are timed with exacting measures so this comes out first and the coffees afterwards. This is a thin flat crepe deeply caramelised and crispy with thin slices of apple cooked into it. It's like eating a crepe toffee apple and you get the kick from the Calvados a little after. And when I try a little with some cream from another plate I hear a roar from the kitchen but it's unrelated ;).
The staff mentioned that this was a salted caramel tart but it's a regular caramel tart served in a shortcrust base with a vanilla anglaise with raspberry coulis feathered patterns.
This is Cheryl's choice-she loves sweet drinks like Baileys and dessert wines and cocktails like the Fluffy Duck and Strawberry Blonde so the whole retro vibe suits her to a tee. The Bailey's mousse is smooth and with a hint of Baileys to it. It too comes with vanilla anglaise and raspberry coulis patterns.
French coffee $16.50
I can't drink coffee late at night or I will be up all night but Belinda and Deborah both order French coffees with a shot of Cointreau and Kahlua and a mountain of whipped cream on top.
The bill is about $75 per person, no doubt helped by the BYO. As female guests leave they are handed a long stemmed rose from Philippe who bids everyone adieu with warmth and a kiss on each cheek.
So tell me Dear Reader, do you like retro classics like these? And can you drink coffee late at night? Which television cooking shows do you like watching?
Chez Pascal
440 Rocky Point Rd, Sans Souci NSW 2219
Phone: (02) 9529 5444
http://www.chezpascal.com.au/
Opens: 6:30pm Tuesday to Saturday