Bistrot 916 is the new neo-French bistro by chef Daniel Pepperell (Hubert, Alberto's Lounge), Andy Tyson (Hubert) and Michael Clift (Rockpool) located at the former site of Lotus and The Fish Shop. You can opt for French classics and feast on a seafood tower or you can try their spins on spring rolls using boudin noir. The interior is simple and kept dark like a bistro with pops of colour from the blush pink table coverings.
It's our wedding anniversary dinner and Mr NQN is slightly alarmed that we are having French food which he proclaims "too rich" but yet is the reason that I love it. But at Bistrot 916 you can choose your own adventure. You can have escargot, chicken liver parfait and steak frites but you can also have French food like boudin noir spring rolls, Murray Cod with blue swimmer crab butter and mushroom frites for heaven's sake.
The Bistrot 916 menu is one page long with fruits de mer, entrees, plats principaux of the protein with frites variety, sides and desserts. The choices for the Plats Principaux is classic steak or mushroom, confit duck or lobster (although at $200 a kilo the current situation of inexpensive lobster seems to be have bypassed most restaurants and is perhaps best saved for an expense account lunch). The mostly French wine list looks fantastic although Mr NQN just has an Aperol Spritz while I bypass a drink this evening.
Heavenly is how I'd actually describe the half dozen oysters served on ice (ice over salt any day please - it makes a difference) with three condiments: a creamy jalapeno hot sauce that comes with its own squeezy bottle that you ought to keep on the table (it goes with everything). There's also a classic mignonette and a fantastic ginger jelly - the jalapeno hot sauce and ginger jelly are the picks.
With a menu of "I'd eat everything" we go with our sassy and friendly waiter's recommendations (mainly because they were the things that I really wanted too). The lamb's brains is two crumbed and deep fried lamb brains, gloriously soft and creamy in texture paired with a smoked eel mayonnaise that channel a chunky tartare but upgraded in flavour.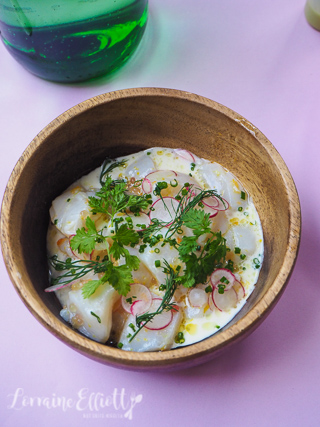 We're picking more from the fruit de mer and entree menu than the Plate Principaux because our tastes go that way. And the scallop ceviche and lait de tigre is a spin on ceviche. A layer of pumpkin custard almost mimics the texture and look of sea urchin roe and there's also finger limes, radish and a buttermilk and sour cream dressing with orange kosho in place of yuzu kosho. The scallops are silky in texture with an appealing zestiness.
Boudin Noir Spring Rolls channel Vietnamese spring rolls. These long batons are served with fresh mint leaves and crisp lettuce leaves with an apple cider vinegar dipping sauce with cubes of apple to counter the richness of the boudin noir.
The fish of the day is Murray Cod. There are two perfectly cooked pieces of fish with crispy skin sitting in a bath of melted blue swimmer crab butter. And may I offer just one tip: get some baguette on the side. It comes out warm (yay!) and you will want to mop up every scrap of that divine butter. It's either that or lick the plate, there's no other option. Also what sort of psychopath leaves butter on a plate?
Tomatoes, cabbage and cream is an intriguing combination. The tomato salad combines heirloom tomatoes (which are currently so wonderful), including an enormous, thick steak-like slice of yellow beefsteak tomato, with a red cabbage jelly, sauerkraut and cream strongly spiced with pepperberry. It's a great side dish found on the entree menu that would go with a steak frites or the other frites.
Sometimes I just go ahead and order because Mr NQN hates looking at menus but he spied the banana ice cream and asked if we could have that so the banana ice cream it was. It's creamy and taste of pure banana and a bit of dried banana too. After sampling it I leave him to his happy moment with it.
As for me, I go weak at the knees for the Quarts de Chaume custard made with the dessert wine from the western Loire Valley of France. The custard is gorgeously creamy and wobbly with a layer of viscous Quarts de Chaume jelly. Each spoonful of this elegant custard is a sensory experience.
So tell me Dear Reader, do you prefer modern or classic French food? And what would you prefer with your frites: mushroom, duck, lobster or steak?
This meal was independently paid for.
Bistrot 916
22 Challis Ave, Elizabeth Bay NSW 2011
Monday to Thursday 5pm–12am
Friday to Sunday 12–3pm, 5pm–12am
Phone: (02) 9167 6667