In the mood for some French food with bistronomy flair? Missy French in Potts Point's menu is made up of classic French dishes mixed with regional specialties. Head Chef Chris Benedet references the South of France on the menu as the weather in Sydney is the most similar. Periwinkles, pistou and pithiviers feature as well as fantastic desserts. Bien sur!
A restaurateur acquaintance once told me a bit about opening up a business in Potts Point. It's a funny suburb, right next to the cleaned up but still notorious neighbour Kings Cross. But Potts Point residents are affluent, with lots of designer dogs and boutiques. My friend said that because of the high disposable income, restaurateurs can do well in the area. Which is good because if you're not a local, then you may find yourself driving around in circles trying to find a park that lasts for longer than an hour.
It's a Monday night and Missy French, the French restaurant opened by 21 year old Josephine Perry (Neil Perry's daughter) is very busy. One hour after we arrive the main room is completely full. Missy French is located on Rockwall Crescent, a small street branching off the main Macleay Street.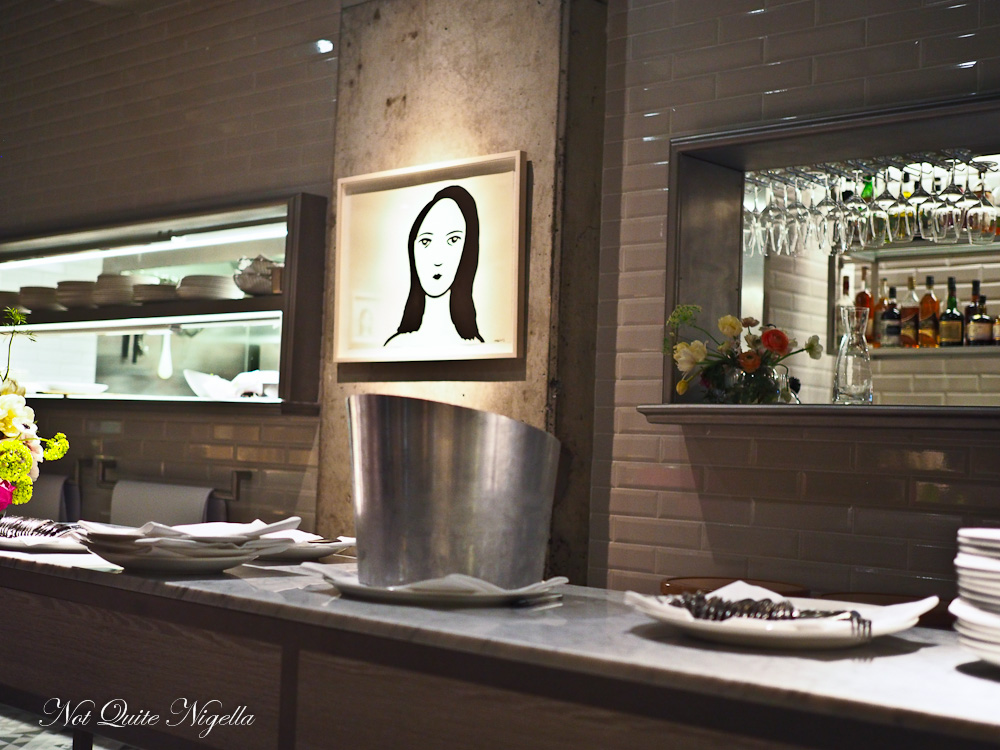 It's a beautiful and elegant space with dove grey walls, good lighting and bunches of purposefully mismatched flowers that look like they've been gathered from a French country garden. The Head Chef is Blue Mountains born Chris Benedet (ex Bel Mondo, Becasse and Rockpool) who is in the kitchen tonight.
Chris says, "I guess our (Josephine and I) vision for the restaurant in terms of food is to create a neighbourhood restaurant with a style of bistronomy. Bistronomy to us is a mix of some classic style French dishes done in a simple and relatable way and also some modern takes on French cooking."
We are sitting on the banquette against the right side of the restaurant, resting on the soft cushions. It had been a strange day (Mercury in retrograde and all) and my camera goes slightly on the blink as does my phone. Oh well, the only solution is to eat well if the world is coming to an end! Service is very friendly and deferential and we are offered a wine list along with our main menu.
Bread is $2 a person and the bread is by Iggy's. The butter is whipped and the bread is served appealingly warm.
Periwinkles, pistou and potatoes $21
We are tempted by our waitress's recommendation of periwinkles. They're edible sea snails that are slow cooked and then pan fried in garlic butter. The liver of the periwinkles is then chopped up into a sauce with lemon and parsley. They are served with a sweet pea puree and crunchy golden potato balls. The periwinkles have a soft texture with still a bit of tender bite to them and the pea and golden crunchy mashed potato balls provide texture and comfort. Pistou is a popular Provençal condiment from the South of France. On one of Chris's visits to France he noted that, "Our climate is most similar to the south of France so I try to take inspiration from there when deciding on dishes for the menu as well as keeping some classics that Sydney siders know."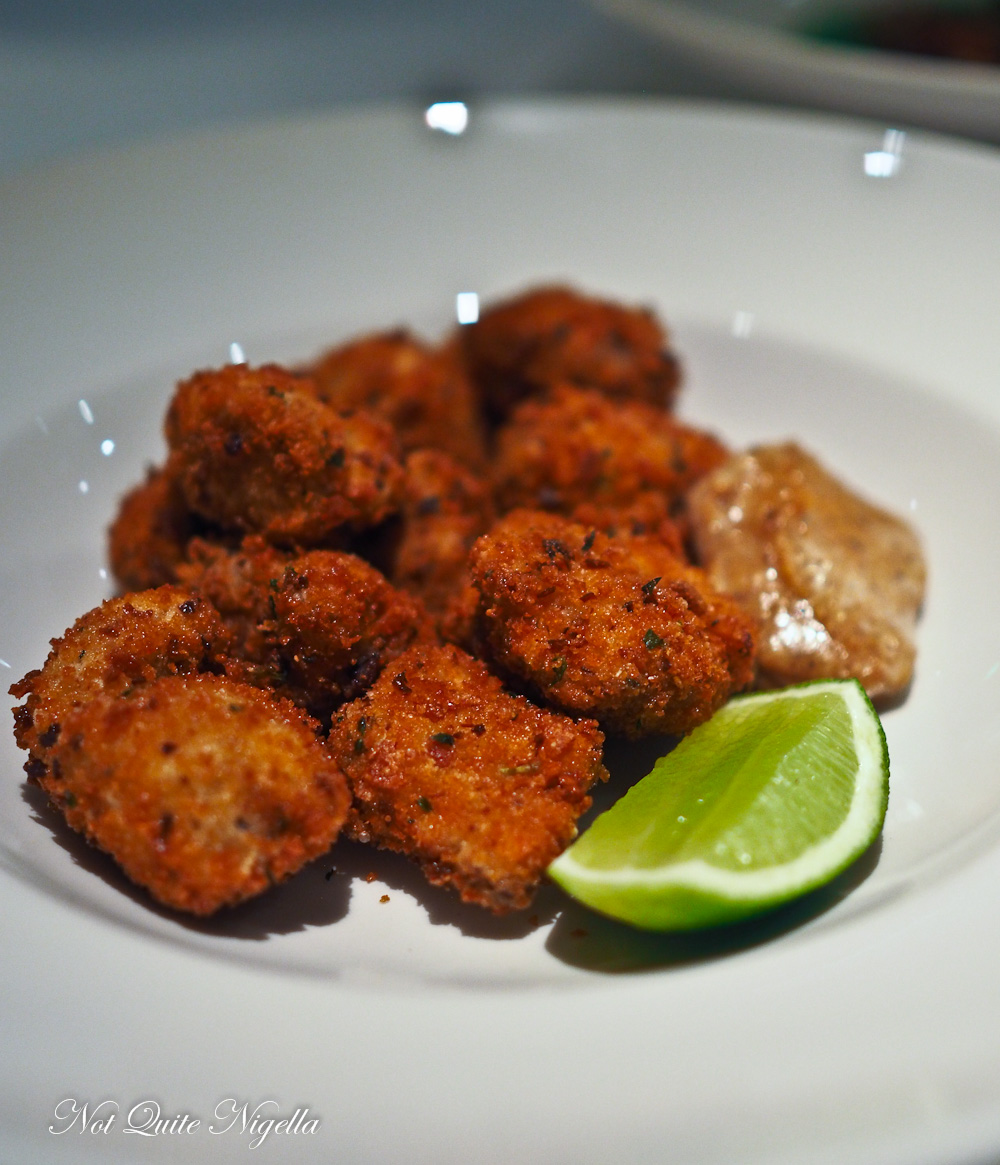 Veal Sweetbreads $21
The crumbed veal sweetbreads are slightly springy and mildly flavoured and I enjoy these a lot. I've always thought that if people were to get into offal, sweetbreads would be the ideal stepping stone.
Pithivier and Peas $31
The waitress steered us towards the pithivier filled with slow cooked pork belly, celeriac, mushrooms and chestnuts. It is perhaps the restaurant's signature dish and Chris explains, "We salt the pork for 24 hours and then cook it over night, its pressed and then diced to go through the mix of vegetables. We then make like a chou farci with cabbage before making the actual pie. We do the pies everyday." It sits on a bed of crushed peas and is served with jus.
Ocean trout a la Grenobloise $32
Likewise the ocean trout is a nice dish - cured ocean trout with a sauce Grenobloise which is a flavour packed topping made of capers, browned butter, parsley and lemon. It's a boldly flavoured fish but a tad on the salty side.
Pommes Dauphine $9
It's about now that I have to confess that I think I ate all of these pommes dauphine. The crunchy golden outer and soft interior is ever so slightly addictive and at one point Belinda looks down to see half of them gone. Oops...
Berry Mille Feuille $15
It's getting late for a Monday night (which is really just 9pm for us but well Mondays) but we can't not order dessert and the dessert menu does look very tempting. The berry mille feuille has us both almost scraping the plate with our forks. Artfully thin and crisp pastry discs are filled with a mix of the sweetest berries, chantilly cream and blood orange curd.
So tell me Dear Reader, do you believe in Mercury in Retrograde being a thing? What is your favourite French region for food? And do you like sweetbreads?
This meal was independently paid for.
Missy French
22 Rockwall Cres, Potts Point NSW 2011 Phone:(02) 8599 4912
Open 7 nights a week from 6.00pm and lunch Friday to Sunday from 12.00pm.
http://www.missyfrench.com/