The Mercedes glides its way through Singapore's streets. At 7am it is early and it has yet to reach its peak humidity. I take a L'Occitane towelette and a bottle of water and flick through the International newspapers on offer. And for those who prefer their news delivered through a tablet, there is an iPad to use too. This is just the start of the extraordinary service at Raffles Singapore.
The Raffles hotel is instantly recognisable internationally. It is of course the place where the Singapore Sling was invented but it has an enviable guest list of royalty and celebrities since it first opened in 1887 by the Sarkies Brothers, a family of Armenian hoteliers who had the foresight to name it after Singapore's founder Sir Stamford Raffles. The colonial past and the extensive and sympathetic renovations ensure that there is plenty for history buffs as well as the jetset.
The driver calls ahead to alert the team of my arrival and when we pull up I am greeted warmly. First by the gentleman in the Indian Imperial Army uniform who shakes my hand and then by the rest of the staff including my butler Ayako who whisks me through the lobby to my courtyard suite. All suites have 24 hour butler service. Non guests are not permitted in the lobby which gives it an air of serenity as well as exclusivity and a touch of mystery. It's also a relatively small lobby that would be easily overwhelmed by the large tour buses that stop by the hotel regularly.
The courtyard suites are a sanctuary and you could almost forget that you are right in the middle of action in Singapore. It's quiet, the only sound is of the ferns swaying in the breeze.
The Colonial style building really echoes times past but with modern touches. The high ceilings and furniture are from yesteryear's proportions when ceilings were grand. There is even a wall of historical photographs as well as a resident historian (more on him later).
There's a continental breakfast waiting for me including raspberry topped custard danishes, pain au chocolat and buttery delicious croissants and jams. There's also a fruit salad and fresh juice and tea is delivered.
Ayako checks me in and shows me the features of the spacious room. At 624 sqft /58 sqm it is a good size for two people and yet despite its size, it is still an entry level suite. The breakfast room also has tea and coffee as well as a welcome fruit basket.
The king sized bed is very comfortable and features perfectly pressed and smooth Egyptian cotton linens. There's a valet and a sizeable closet. There is also a dressing table that doubles as a work desk and internet is fast and free for multiple devices.
The marble bathroom is also large and features dual sinks as well as a comprehensive amenity kit using the Raffles house toiletries created for them by Fragonard. There is also a separate bath and shower. Comfortable robes and slippers are there to slip on after a shower.
Ayako offers to unpack for me. I've never actually had this done before and I'm a little reticent because I've had a week in Copenhagen so I don't know in what condition my clothes will be in. But she seems like the non judgmental type and she and another butler Dusty unpack both my suitcases quickly and efficiently while I eat my breakfast. She takes some items to be pressed which she returns with soon after.
Meals at the Raffles are a highlight and there are several signature dining experiences. There is of course their afternoon tea for which people queue. For $62SG per person you get a three tier stand with sandwiches and sweets as well as access to a buffet of dim sum, cakes and puddings as well as unlimited tea or coffee.
Tiffin Bar
I try four restaurants: the Tiffin bar has a daily Indian buffet with a range of curries. Meat is on one side and vegetarian is on the other and you can also order freshly made peshwari and cheese naan. The range is fantastic with a huge array of flavours and condiments. My favourite is the black daal and the cheese curry with chunks of soft fresh cheese. When they hear I like vindaloo they bring over some beef vindaloo. That's one of the keys to Raffles: the staff are always trying to make sure that you have the best stay possible.
Bar & Billiard Room
But if you are visiting on a Sunday there is one event that you can't miss. Sunday brunch at the Bar & Billiard Room is an institution at Raffles and the selection is enormous with five meats from the live carving station to three types of oysters (Irish, Tsarakaya and Fine de Claire) to lobster tail and lobster claw.
That's not to mention the verrines and hot and cold appetisers, salad and the 37 cheese selection of mostly French cheeses that would make a turophile weep with joy. This is no ordinary buffet and there are around 100 items.
There are three packages available. One with food only, one with unlimited Billecart Salmon brut champagne and one with unlimited Billeacart Salmon rose champagne. The cost doesn't come cheap as the price starts at $198SGD but no expense has been spared as there is unlimited lobster tail and claw, oysters, foie gras and French champagne. As the buffet goes for 3 hours most arrive at 12pm and stay until the end.
The food doesn't actually taste like it's from a buffet and this is one of the best buffets I've tried. Usually the temperature of buffet food can be a bit off-items are a bit tepid or soggy from sitting on display for so long. Everything tastes very fresh here and I start with a plate of heavenly morsels from the sea: two of each type of oyster and a lobster claw with mayonnaise and hot sauce. A little warning: the sweet, mildly briney Tsarakaya oysters do run out half way so get in early.
Then I segue into more cold entrees with the verrines and there are items like scrambled egg with sea urchin and crab; Maine lobster, saffron potato, smoked haddock and rock fish reduction or Quail egg with smoked salmon and caviar.
The next plate is a hot selection and I can't resist Iberico pork ribs smothered in a sweet gingery barbecue sauce. Because Singapore doesn't grow much themselves they have to import everything so they source from all over the world. The Australian beef standing rib roast is divine and the duck breast is also delectable with the meat perfectly cooked.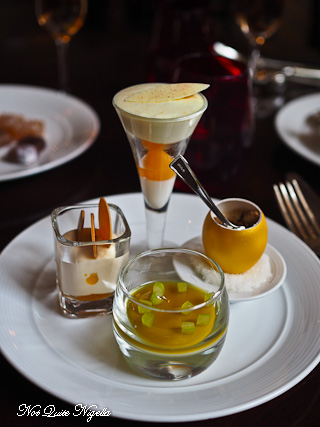 For dessert I choose four of the prettiest desserts and am rewarded with a delightful range of flavours. They are also a small serve so that there isn't a lot of wastage. The cheese section calls and there are some real beauties like Perail, Pyrenees Brebis, Munster and Chaource.
And then to finish, a plate of petit fours including a perfectly cooked vanilla rum canele, butter orange pate de fruit and house made chocolate truffles!
Long Bar
After brunch, guests can also go to the Long Bar and order a Singapore Sling. When the bar was first opened it was forbidden for women to drink alcohol in public so Hainanese bartender Ngiam Tong Boon devised a drink that looked like fruit punch but had alcohol like gin and cherry brandy in it along with orange, pineapple and lime juice.
It's on the sweet side and is served with a bag of unshelled peanuts where you can toss the shells on the floor. Guests of the hotel that arrive in the afternoon will also get to try this cocktail as it is often served as the welcome drink upon arrival.
Long Bar Steakhouse
The Long Bar Steakhouse is next to the Long Bar near the Raffles shopping precinct. I'm dining with my cousin this evening and we are presented with a large steak house sized menu. This is broken up into starters and steak mains with another section for other mains. Signature dishes are indicated with a chef's hat.
I go for the taster plate where you get to try three entrees in a smaller size. The Scottish smoked salmon is paired with a beetroot tartar, caper berry and a five spice Xeres cream. There is also a Dungeness crab cake with fennel and aioli that is rich in crab as well as my favourite portion: the tuna tartar nicoise with half a quail's egg, olive and tomato.
My cousin Ah Tzan orders the foie gras piccata which is a slice of foie gras served on a beetroot carpaccio with roasted sesame seeds and a split jus. It's soft and intensely rich. By the end of my stay I've tried the foie gras at the grill restaurant, at the buffet and here and out of the three the grill is my favourite because I like a bit of sweetness with foie gras although this is also good.
There are a few personal preferences that I have with a steak. I like it grass fed and I like it dry aged. There are two options for this: an Irish steak and a Scottish steak. I've never tried an Irish one so I go for this and it is served with a Bordelaise sauce. It also comes with a corn succotash and a choice of mustards including an intriguing grapeseed mustard which has a gorgeous sweetness to it and this is a really beautiful, succulent steak.
My cousin orders the ribs-after the ribs that afternoon I did wonder what they were like here. They're a similar recipe using Iberico ribs but these ones are a bit more glazed. They're so juicy, succulent and gingery and come as a generous portion. So much so that he takes some home with him because he doesn't want to let it go to waste.
And the macaroni zite? How cute is this? It's cheesy and crunchy and we love prying off one long noodle at a time.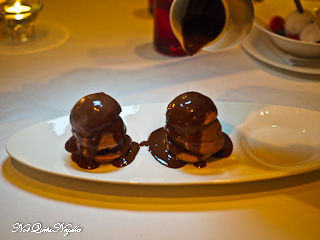 Dessert is a choice of a fruit salad type of dessert or a profiterole. Chocolate wins, even after the wonderful but rich steak. These come two to a serve and are filled with chocolate ice cream and little chunks of chocolate crumble cookie and a rich dark chocolate sauce on top.
My cousin goes for something a bit lighter-two scoops of coconut sorbet, presented prettily. It's just the right amount of sweetness.
When I return to my room after a big day out, my butlers have fashioned me a towel shaped into an elephant. On the credenza there is a personalised handwritten note and my favourite tea is out ready for me to make a cup.
Along with these are two pages from "The trials and pleasures of an uncompleted tour" to help guests slumber peacefully.
Raffles Grill
The Raffles Hotel's fine dining formal restaurant is the Raffles Grill adjacent to the lobby. Opened in 1923 it is a small but white tablecloth bedecked dining room with crystal chandeliers and formal but friendly service. There is a five course degustation menu for $228SGD. Matching wines can also be added to the menu for $148SGD per person. Lunch time diners can also have a 2 course business lunch for less than $50SGD.
Bread and butter arrives first with salted and unsalted butter. Although I've eaten plenty I don't think I can resist really good bread like these mini rye loaves and French mini baguettes, especially with salted butter.
Amuse Bouche
The amuse bouche is a quail sausage with foie gras and a trumpet mushroom.
The Alaskan crab comes in two cylinders of crumbed crab with green asparagus topped with porcini mushroom mayonnaise, wild mushrooms and Argan oil vinaigrette. It's as delicious as it is pretty.
The Saint George Bay scallop is a perfectly cooked scallop poached in fish stock, succulent and cooked through but not dry. It is topped with a seaweed jelly disc and served with broccoli, dried seaweed and oyster foam bringing the briney taste of the sea.
You don't often see foie gras in Australia and I love this Asian take on foie gras. Although the menu is French it does have Asian accents. The pan seared foie gras is topped with sesame seeds with cinnamon poached quince, tomato powder, walnut chutney and a divine tamarind reduction. It is my favourite foie gras course of my stay and I wish this dish hadn't ended.
The milk fed lamb shoulder is a gorgeous, sweet, luscious serve with quenelles to the side featuring cubes of delicious chick peas "panisse" cake, eggplant caviar, pumpkin puree and a spicy sauce. It's a rich cut, yes but this is well portioned and the last savoury course so you don't feel overly stuffed.
And to refresh even more is a mandarin yogurt with mandarin consomme poured at the table, a square of yogurt cake and a scoop of mandarin sorbet.
And petit fours include raspberry choux puffs, dark chocolate truffles and a chestnut financier.
The next morning is an early start so I call on my butler to arrange a pick up of the luggage and breakfast. Even at 11pm they offer to pack my clothes for me but I decline their kind offer this time. The next morning just as promised there's a gentle knock at my door. They have placed my dim sum breakfast on the table outside my room.
I don't usually eat much for breakfast but when dumplings are this good you tend to forget habits quickly. There are two char siu buns, some crystal dumplings, siu mai, samosas and curry puffs plus some clear soup and fresh, cold mango. Knowing that Sydney is a bone chilling 8C in a few hours when I land I partake of the cooling mango eagerly and watch the rays of the sun illuminate the garden below.
So tell me Dear Reader, do you prefer historical hotels or very modern, sleek ones? And what is the best buffet you have been to? Do you have a strategy for buffets? And do you get your money's worth generally out of them?
Raffles Singapore
1 Beach Rd, Singapore 189673
Phone: +65 6337 1886
http://www.raffles.com/singapore/