I once dated a guy who halfway through our relationship was grumbling about having taken me to the best restaurants in Sydney and the expense that I had incurred on his credit card.
"I should have started in the mid price range and then I could have worked my way up to the top. Now you'll be expecting 5 star 3 hat restaurants all the time."
I looked at him like he was crazy. "What makes you think I would have dated you if you had started in the middle range?"*.
*it's not strictly true. My first date with Mr NQN was bad take away pizza. But then I thought Mr NQN was much more fabulous than this guy.
But in any case, I couldn't help thinking about this ex of mine when I arrived in Singapore to be whisked away to my hotel and to dinner at Waku Ghin, Tetsuya's new restaurant in Singapore. With food completely unlike his Tetsuya's restaurant in Sydney and only seating a  mere 25 people at one time, it was something that I was more than curious about. And when Mr NQN took my place at the Waku Ghin dinner in Sydney there was much gnashing of the teeth and moaning  as I was committed to another event. But no matter, I finally got to try it here! It's no ordinary dinner costing about $400SGD per head but it has a clear emphasis on Japanese cuisine as opposed to the French Japanese cuisine at Tetsuya's.
The swirls in the carpet echo the swirls in his custom made knives
We walk into the Marina Bay Sands complex. There are shops from Miu Miu, Gucci, Chanel and the motherlode, a Manolo Blahnik shoe shop. We make our way up to the second floor where we look down and see floors and floors of the casino. I'm not much one for gambling but because they allow for smoking here, some of the cigarette smoke does end up in all areas and that does include Waku Ghin so there was a bit of sniffling throughout the night from yours truly who is allergic to cigarette smoke.
The casino floor below
There is an illuminated sign above the doors and white drapes on the outside giving it an almost "closed" look. But then the doors swing open and a battalion of staff greet us. And given that the restaurant seats 25 there has got to be at least 25 staff in both the kitchen and on the floor.
The restaurant experience was said to be one where one moved from one table to another but in reality it is much less complicated than that. There are two seatings, one at 6pm and one at 9:30pm. The diner is lead to a room where the savoury courses are brought out (about eight savoury courses) and then you adjourn to another room for the dessert courses. I was envisaging much more getting up and down so I am relieved given my heels!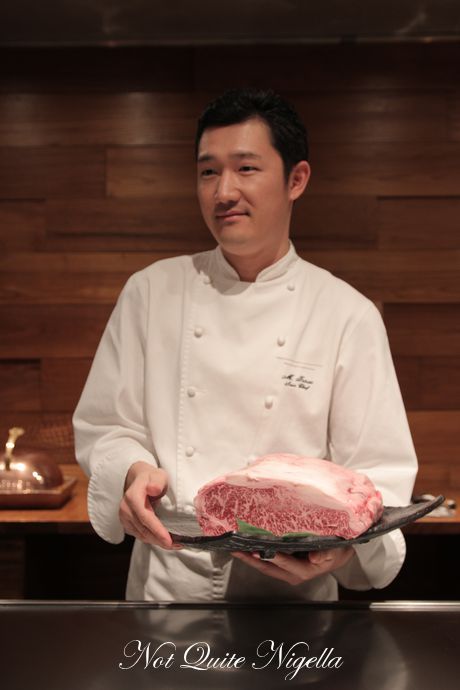 _Sous chef Inoue with Wagyu (marbling score 9)
_
We are seated in front of a long grill plate and facing a wall with protruding wood blocks. Ghin means silver in Japanese and for this restaurant it is represented in the knives, the grill and even things like fish which features so predominantly on the menu. Even the logo of the two horizontal lines represents the grill. The courses start shortly arrive we settle in with a glass of N.V. Pol Roger to soothe the nerves after travelling.
Sayori with Nanohana and Japanese strawberry
The first course is a seasonal Japanese fish called Sayori or needlefish with Nanohana and Japanese strawberry. Now I usually run screaming from savoury dishes with strawberry in them. I don't mind some fruit but strawberries are not a favourite with savoury. This  changed my mind completely. The diced strawberries imported from Japan (and yes they come from the South where the earthquake hadn't affected things) are sweet but subtle and paired with a sashimi of sayori which is a firm white fleshed fish with the iridescent skin still on and it is served with nanohana which are mustard flowers which give it a savouriness that the sweet strawberries need. There are also the subtle flavours of chives and basil.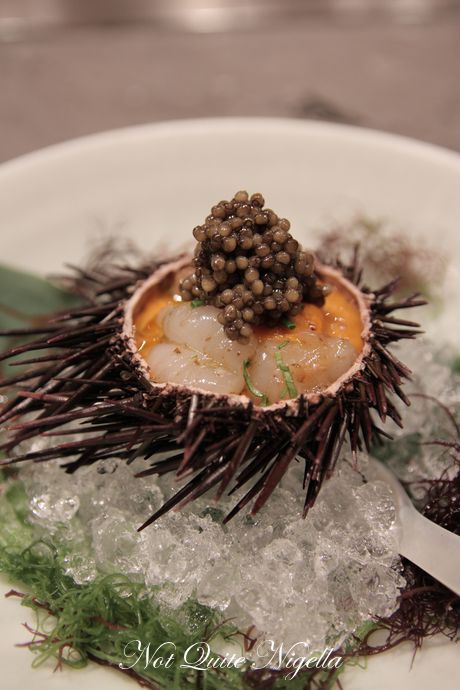 Marinated Botan Ebi (prawns) with sea urchin and Oscietre caviar
A spectacular looking dish indeed! I remember seeing sea urchin when I lived in Japan and how I'd gently touch one of the spikes realising how sharp they would be if one stepped on one in the ocean. This dish is pure creamy texture. The botan or spot prawns  are marinated but retain that creamy raw texture and the rich sea urchin roe combine beautifully with the soft, salty Oscietre caviar. This is a dish that must be slowly savoured with the mother of pearl spoon (a must with caviar). The Botan prawn is a real delicacy and they are found in the seas surrounding Japan at depths of 300-500 metres and it is prized for the texture of the meat which is usually eaten raw.
Slow cooked Tasmanian Petuna Ocean trout with Witlof and yuzu
Tetsuya has a long standing relationship with Petuna who produce the ocean trout in Tasmania and his signature dish is the confit of ocean trout. This is a different version of the confit of trout which is slow cooked which sits on a rough puree of peppery wakame seaweed, wilted witlof with orange zest and wasabi. The witlof is a slightly bitter but lovely match to the creamy ocean trout. It comes with a side salad of leaves and finely sliced green apple. We're given chopsticks and a fork and knife with all courses although this dish would probably be best eaten with the fork and knife.
Alaskan King Crab wtih yuzu scented extra virgin olive oil
Now Alaskan king crab legs are always going to impress and even moreso when a chef comes out and displays how to cook them on the teppan grill. Sous chef Inoue sets down some sea salt, some grapeseed oil and adds water. He then places the crab legs, tops them with fresh bamboo leaves and then a copper bowl on top to cook them. A few minutes later he counts down 3...2...1 and opens the cloche to reveal the cooked crab legs. They're soft, sweet and perfectly cooked with an aromatic accent of yuzu (like a cross between lemon and mandarin). And ladies, he is single! Well some of my travelling companions did ask... ;)
Abalone
Tasmanian Abalone with Fregola and tomato
There's no shortage of the best produce here and Chef Inoue next cooks up some abalone for us with one abalone per person. He slices it  simply into quarters and then adds it to a salad of rocket, aioli, aonori (seaweed) quartered cherry tomatoes and fregola for a dish with distinctly Italian flavours to it. The abalone is plump, juicy with that slight chewiness to it and the Italian flavours go surprisingly well with it as it is quite mild flavoured.
Lobster
Braised Canadian lobster with tarragon
Well you know what got me excited didn't you? Lobster of course! The lobster, sliced into medallions and sauteed with garlic and shallots is served in a seafood broth made rich with lobster shell and lobster head. It is served with sliced of baguette, wakame seaweed and a garlic and paprika mayonnaise. It is heavenly and rich and the lobster is succulent and moist. I didn't detect much tarragon with the broth being so strong in flavour.
Sizzling Wagyu beef porn
Earlier in the evening Chef Inoue had brought out a large piece of Blackmores beef with a marbling score of 9 which is an incredibly high marbling score so we were advised early of an incredible treat. He simply grills thinly sliced pieces of the beef and serves them with freshly grated wasabi from Shizuoka prefecture which he grates on a sharkskin grater in circular motions.
Wagyu beef with wasabi, citrus soy sauce and grated radish
Now I expected this to be good. But what I did not expect was just how melt in the mouth perfect it was. It would have to be among the best beef I have ever had. It was lusciously succulent and dotted with wasabi, shaved spring onion, deep fried Japanese garlic chips and the ponzu sauce it was several mouthfuls of heaven. And when he asked us if we would like another serve of this I eagerly nod yes just assuming that everyone else did as well (they did).
Consomme with rice and snapper
The last savoury dish was a chicken consomme with spring onion with rice and pieces of snapper with hints of wasabi. I'm afraid I had hit my wall going for that second slice of wagyu so I had bargained away crucial stomach space. This dish I presume was meant to soothe the stomach with some clear consomme to counteract the unctuousness of the wagyu. But all I was really thinking of was the wagyu and this is mild in flavour in comparison to it and I would have appreciated it more before the wagyu.
Gyokuro green tea
To add to this and to prepare us for the dessert courses in the other room we have a final cup of green tea. Gyokuro is a green tea that needs to be brewed with warm and not hot water as they are baby leaves and hot water releases the tannins and makes it too bitter.
The dessert room
Strawberry shortcake
The strawberry shortcake came out as a strawberry coulis with pieces of strawberry, cream and an vanilla bean ice cream. It's sweet and creamy with a slight tang from the strawberries. It's not bad but I found that this dessert wasn't as wowing as the previous savoury  courses and I longed for something more creative.
Ghin cheesecake
The Ghin cheesecake is an airy light Japanese mousse cheesecake with a distinct citrus flavour to it further lightening it. It is topped with silver leaf and dusted with icing sugar giving it a snow topped effect.
With no room for coffee or tea we are presented with our boxes of petit fours which you know me, I promptly dropped the box (luckily unopened). Inside were a butter cookie with a sugared edge, a gorgeous raspberry macaron, a very dark, bittersweet chocolate truffle and a nutty meringue. It's the perfect way to relive the experience later on while nibbling on a tiny morsel of sweet memory and confection.
We end off the evening with a rooftop viewing at the Sky Bar perched on top of the Marina Bay Sands complex after which we retire to our hotel. Our home for the next two evenings was The Fullerton Hotel.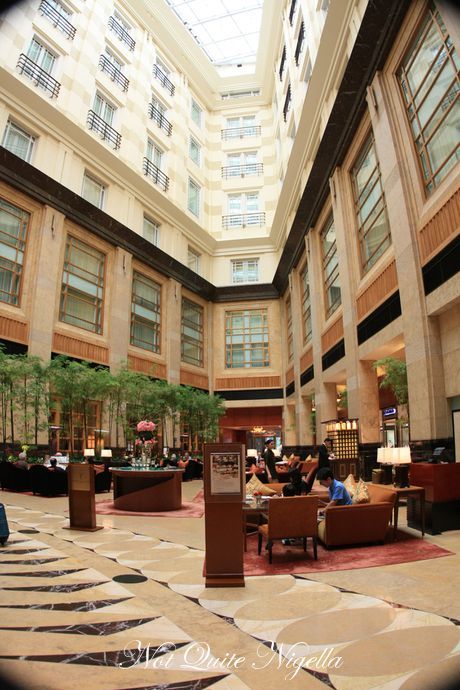 The working post box
The Fullerton hotel is one of the grandest hotels in Singapore. Formerly a post office, where there still remains a single red post box that is cleared every day, the lobby is grand glass, shiny surfaces and marble.
I go upstairs to my room which is on the eighth floor. Inside there is a room with a king sized bed (although this is done with joining two beds together), a large bathroom with a bath and a box of deluxe amenities, a spacious walk in wardrobe and an arrangement of exotic fruit (including dragonfruit, mango, pineapple, star  fruit, grapes and jambu (a crispy, sweet, red wax apple).
There is also a tray with cakes including their famous kueh which is the layered cake that Singapore is known for which is  moist, dense and eggy. There are three types of chocolate truffles and a bottle of Pierre Jean 2009 Merlot wine too. Now why can't I get this waiting for me when I get home in Sydney? ;)
Poolside
Before we dined at Waku Ghin we visited the Fullerton's new sister hotel, the Fullerton Bay, only recently completed and it must be said absolutely gorgeous. Whilst the Fullerton is stately the Fullerton Bay is all bold Hollywood glamour.  The surfaces are all reflective including a divine shimmering inlaid tile floor. So much to covet and so little ability to steal floor tiles! ;)
The Lantern Bar is the Fullerton Bay's top floor bar. As I am a teetollaer (see previous embarrassing incidents getting drunk on 1/3 of a cocktail) I have a mocktail version of the red berry drink which is just the ticket. The red berries lend a tartness but it is balanced with a sugar syrup and loads of fresh mint which makes it so refreshing. The weather here is 25 degrees with a high humidity but now is the time to visit we found as it isn't oppressively humid so that you feel like you can't move but it is still warm enough to be beneficial for the skin (yes these things count people!).
We;re headed up to the rooftop bar where we'll have a quick cocktail. We start with some fries with truffle and parmesan which remind me of the angel fries at Manta except with thinner, crispy fries. They're fantastically moreish and we use the excuse that it is dinner time in Sydney for our excessive scoffing of fries.
View from the top floor of the Fullerton Hotel which faces Marina Bay Sands
When we arrived in the afternoon after a long flight all we wanted to do was rest. But you see my dear readers, that is not what Singapore is all about. The adage sleep when you're dead applies here and this is a city where people work late, eat late, sleep a little and get up to do it all again. It's where resting doesn't quite fit in the equation with a sensory experience such as this.
So tell me Dear Reader, what first date place would or has impressed you?
NQN travelled to and explored Singapore as a guest of the Singapore Tourism Board. She dined at Waku Ghin as a guest of Tetsuya.
Waku Ghin
Marina Bay Sands. Casino Level 2, Bayfront Ave Singapore 018956, Singapore
Tel: +65 6688 8507
Open Monday to Saturday from 6pm
Fullerton Hotel
1 Fullerton Square, Singapore
Tel: +65 6733 8388
Fullerton Bay Hotel
80 Collyer Quay, Singapore
Tel: +65 6222 8088