"Auntie, would you like to try some food?" a voice says to me.
I swing my head around and look at him with a look that says "Are you talking to me?"
This was the first time in my life that I have been called Auntie and it was during my Singapore visit. And even more flooring, it came from not the mouth of babes but a full grown adult male. And as someone that is somewhat of denial about my age and most likely to be voted "mutton dressed as lamb" in future decades, it's a little strange but sweet.
And isn't it funny how even though I don't see my Singapore based cousins often (and here everyone is cousin, auntie or uncle) they intrinsically know what I want even without a word spoken. My cousin Tzan and his wife Geok Lee pick me up and take me to Takashimaya where I price a Longchamp Le Pliage bag (eek! more expensive than in Australia, who would have imagined?) and take me out to ice cream at Island Creamery as I express a desire for my beloved sweet corn ice cream. Geok Lee tells me "They've got very unusual flavours there-like Cendol" and I'm immediately sold.
Unbeknownst to me, Tzan is an ice cream enthusiast and when he asks the woman behind the counter for "one scoop of everything" I wonder where on earth he was when I was a child as those words are music to a child's ears.  But as I am an adult and know that I have eaten a month's worth of food in the last few days I suggest that we limit it to trying the more unusual flavours. I know...what on earth possessed me to limit it?
We start with cendol, pulit hitam (black sticky rice), teh tarik, bandung (rosewater drink), soursop and Tiger beer sorbet. The cendol complete with the wriggly green tapioca worms and the pulit hitam with the toothsome grains of black rice are a favourite along with the tek tarik which gives me a little caffeine pick me up. The Tiger beer is strong in hops and the soursop is a refreshing and we use this as a palate cleanser as we are about to go off to lunch. Yep that's the thing about my family and I, we can eat pretty much any time ;)
We're off to lunch where there will be a table of 15 of my family members, some of whom I haven't yet met as it has been so long since my last visit to Singapore. And Tzan tells me that he chose this restaurant because it specialises in a lesser known type of cuisine called Heng Hwa cuisine said to be a simpler cuisine related to Foo Chow cuisine (my mother's family background). Originally from the Fujian province of China you could count on one hand the number of Heng Hwa restaurants here in Singapore. There is an emphasis on seafood as Heng Hwa is a coastal town and the style of food is said to be lighter and more home style.
Me? I'm excited to be trying century eggs. Here they are lightly savoury crumbed and deep fried. I take a bite and it is delicious, tasting like a light batter which really just gives it texture and a boiled egg. I'm not quite sure what all the fuss about century eggs is and perhaps the deep frying helps in this regards (to paraphrase Nigella Lawson, how can deep fried be anything but good?).
I am not usually a huge fan of intestines but this braised pig's intestine, cut into small pieces is actually very tasty. With a slightly rubbery and spongy texture but with a distinct savoury star anise flavour I actually go back for a second and third serving of these.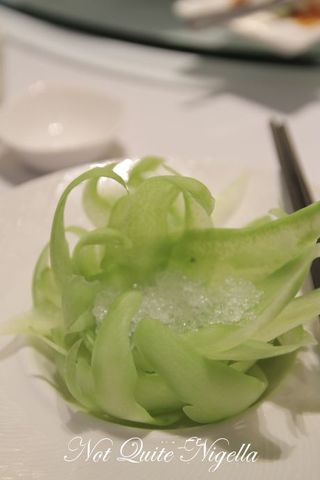 Another item that I wasn't expecting to like was the iced bitter gourd. Here, it is very thinly shaved and comes on a plate with the ends curled up like a flower with shaved ice in the centre. It is also accompanied by a watery honey sauce to dip it in. There isn't any bitterness to this gourd perhaps offset by the honey and the shaved bitter gourd has a crunchy, fresh texture like biting into a crisp apple.
Oh the less adventurous side, the thin slices of cold pork belly was delicious soft and came edged with a garlic sauce.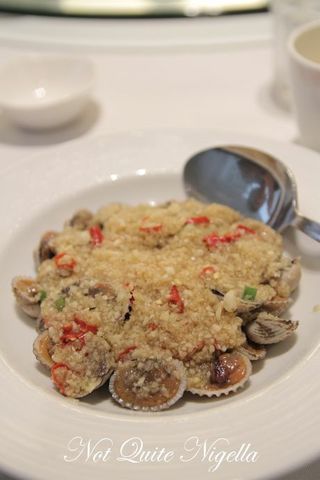 Oh yes can you see how much they love garlic here? On top of these little cockles is finely diced garlic and chilli which complements the briney cockles with little morsels of meat that we dig out with our chopsticks.
The kids were getting rowdy now baying for "real food" so my older cousins put them on hold while I took the photos. The wilted spinach with two types of egg comes with a rich stock. The two types of eggs are salted egg and century egg and both add flavour and their own distinctive taste to the dish. The sauce is somewhere between a soup and a sauce.
The fried eggplant comes out as strips and have one of the crunchiest batters I've come across and are sprinkled with that wonderful mixture of sweet and savoury pork floss.  The eggplant in the centre is appealingly soft against the crunchy batter.
The kids loved this and I must say that it was all crunchy, fluffy deep fried goodness. I can't say that I tasted a lot of prawn but it was very good indeed.
This is a dish that my mother cooks at home and no-one else in the family likes it except for me. It is a red wine chicken and whilst she usually uses wings as I prefer them here they come as fillet pieces. The sauce is thick and with a light red wine flavour to it. And if you're curious, it is unlike a red wine sauce that comes with a steak as it is a fermented red rice wine.
The steamed bamboo clams comes generously portioned with finely diced garlic. The clams are fresh and garlicky (that is a given considering how much garlic there is on top of them) and all I can think is how much garlic they must go through here!
The fried noodles called mee sua are super fine noodles, even finer than rice vermicelli, and come topped with bean curd, vegetables, prawns, pork, peanuts and hijiki seaweed. They're very soft and light which saves it from being too dry although I couldn't imagine eating a large plate of this by myself.
These noodles were the saucy, soupy counterpart of the fried noodles but the noodles in this were thicker and served in a soup type of sauce with the same accompaniments as the dish above which I preferred slightly more.
It's a sad goodbye to Singapore. After countless meals and drinks I still feel like I've only scratched the surface of this food obsessed country. And all I can think of is how long until my next trip back.
I leave you with one of my favourite things: Asian snack foods. Japan has amazing flavours of Kit Kat, Bali has cheese Tim Tams and Singapore has Duh, Tomato! and BBQ Curry Dude Twisties!
So tell me Dear Reader, is the rest of your family as food loving as you? And do you like to try snack foods from the countries that you visit? Which country in your opinion has good snack food?
NQN travelled to and explored Singapore as a guest of the Singapore Tourism Board. The meals in today's post were paid for independently.
Island Creamery
10 Jalan Serene, Singapore
Tel: +65 6468 8859
Pu Tien Restaurant
127 Kitchener Road, Desker Road Conservation Area, Singapore
Tel: +65 6295 6358