*This article won the Best Singapore Experience - Digital category award at the 2012 Singapore Experience awards***
In my last Singapore post I showed you about the high end of Singapore. And although it has been a good 15 years since my last visit before that we used to visit a lot. My mother is Singaporean and every few years we'd get on a plane to visit my aunt, uncles and countless cousins. I can tell you these five things about Singaporeans:
Step 1 - Singaporeans are obsessed with food. Like _seriously _obsessed. They will spiritedly debate the merits of their favourite chicken rice, char kway teow, oyster omelette place and then cluck at you good naturedly for going to the wrong place or give you a loud bellow of "Approved!" for selecting the right place.
Step 2 - They love high end and they love low end food. By low end I mean cheap hawker centre meals where deliciously fragrant and flavoursome food can be had, in the heat and humidity, for a mere $1 per drink or $2-$4 per main meal. The high end here is higher than the high end is a lot of countries with the most expensive meals costing about $400SGD per head.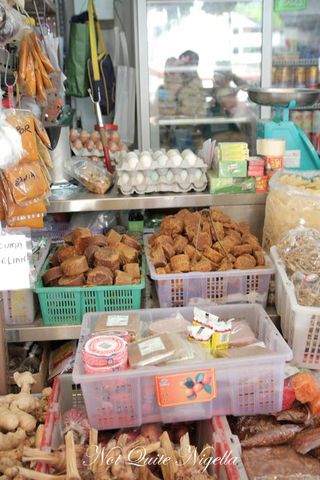 3. They love to shop and the shops are open until late to cater for this love.
Step 4 - They don't seem to sleep much. They're too busy working, eating and shopping.
Step 5 - They are obsessed with food. They really are. So it's no wonder that with a mother from Singapore I would be similarly devoted. It was in my genes...
So it would seem only fitting that we see Singapore, the other Singapore beyond the glittery 5 star jewels with some of the locals of Singapore. These people will uncover to us the hidden gems, the best places to eat where Singaporeans eat and the places about which they furiously debate.
Geylang Serai Food Market
No trip to Singapore is complete without a visit to a hawker centre. All of us were up early at the crack of dawn and ready to partake in Tony Tan's food tour of local hawker centres and shops where he gives us a his view on the food and history of Singaporean cuisine. We start at the Geylang Serai food market where the hawker food sits on the level above the wet market below. It's a predominantly Malay muslim market so the food is mostly halal.
We start with the stands around the outside of the markets that sell dried shrimp and palm sugar. There are differences in the palm sugar here-we are used to paler palm sugars in Australia whereas here it is darker. Tony shows us belacan which is the pungent shrimp paste used in laksa and all sorts of other delicious dishes. There is also a fascinating black nut, the Buah Keluak which is poisonous and fishermen use to stun fish before they catch them.
When the fish eat the nuts they become dazed and float to the top making them easy to scoop up. The nut is poisonous without treatment but after treatment becomes deliciously edible (and we'll get to try this later).  Treatment involves burying it in alkaline ash and then boiling and roasting it which semi prepares it. It is then mixed with spices and the filling is then stuffed back into the shell and cooked. And I can't help thinking about whoever thought of this process really must have wanted to eat this!
Another interesting item is the Tongkat Ali which is the bark of the tree that is used in tea and coffee to increase how shall we say...stimulation. It is said to be like Viagra for both women and men! We tried some but sadly didn't feel any effect which is probably a good thing as our other halves were at home in Sydney...
We enter the wet market and it is so named because the ice used to pack and keep the fish for selling makes the floor very wet. Starting at 5:30am there are all types of fish for sale in the ten or so stands that sell fish with prices marked per whole fish rather than by weight. There is a stand with fresh cockles being scooped up.
Tony holds two types of coffee beans in his hands. One is roasted in margarine and sugar and has a glossy coating to it and another looks more like a regular coffee bean. He urges us to put one of each in our mouths to taste the difference. Singapore coffee is a 50/50 blend of these beans.
We pass a stall where "Auntie" (everyone older is pretty much auntie or uncle) is chewing on a betel leaf wrapped in betel nut. She is also making pot pourri out of flowers and shredded pandan leaves to leave around the home which she packages up in newspaper and staples shut. Tony tells us that many of the older generation have become addicted to chewing on the betel nut and this leads to problems like involuntary drooling but the initial feeling is that of relaxation. He buys a few for us to try as Alison and I want to give it a go a bit later as they suggest having a toothbrush handy as it turns your mouth brown (as if involuntary drooling didn't sound unglamourous enough!).
But enough shopping, we're hungry! All of these smells is enough to make a girl suddenly want breakfast and as in Asian countries, the best places for food are the ones with long queues. We line up at this stand which is popular for their Nasi Padang dishes and Tony tells us that the owner has also made the pilgrimage to Mecca.
Pork is one meat that isn't sold here because it is a predominantly Muslim market but meats such as beef, chicken and goat are popular and they also sell offal including beef lung, spleen and tendon. As we are getting hungry (it's lunchtime according to our Sydney based tummies), we follow Tony around to gather the best of what the hawker centre offers including the beef lung above. I try a bite and it is flavoursome and quite firm in texture and actually quite pleasant indeed without the overtly strong offal smell that some offal has.
This looks like a lot of food but there were seven of us I promise! This is the drinks and sweets selection including kuih ubi (cassava cake), onde onde, green and white pandan cake, roti boy, silken tofu with syrup, kuih dadar (the green rolls). I do love Asian based sweets which use a lot of coconut and items such as beans or fruit.
After trying the Nasi Lemak from the stall above I can see why there is such a queue. It's a lovely balance of flavours and the killer? It's about $1 for this package of goodness! No wonder people eat out all the time...
The mee siam comes with a tangle of vermicelli noodles, half a fresh kaffir lime, egg, tofu and a whole lot of flavour. But my heart is won by the nasi lemak.
And of course an array of drinks in this humidity! The Milo dinosaur with what can only be described as a kid portioned serving of Milo powder is fabulously Milo-y and how I would have made my Milo milk as a child if I had been allowed to. The Cendol is a favourite with the coconut milk, green tapioca "worms" and syrup.
Our lunch eaten we take to browsing the streets where we stop by a fruit store which has some unusual fruit. These brown fruit are called chiku and feel like ripe figs but taste like a caramel flavour combined with an overripe taste. The pick is the Golden Egg fruit below which tastes somewhere between a mango and a kumquat. They are sweet and slightly tart and you can eat the skin and it reminds me of the achacha fruit.
5B
And a not so quick pop into a kitchenware store 5B on Joo Chiat Road which stands for 5 brothers. This shop has an amazing amount of kitchen goodies at ridiculously low prices. The icing tips below were $6.50SGD (about $5AUD/$5.13USD) for the entire set of tips which is a steal. And I sort of had to drag myself out of here but not before I bought some tiny petit four molds for $1.20SGD each!
328 Katong Laksa
And if you think we're done with our tummies you would be mistaken because our next stop is one of Anthony Bourdain's favourites, 328 Laksa. Run by a former beauty queen she stirs the big pot of laksa soup which she tells us is the key to good laksa. Matthew our photographer tells us that every family has their own laksa recipe and his mum's involved adding earth worms to the fried shrimp and frying them together!
328 Laksa has been open for 13 years now and dishes out hundreds of bowls of laksa a day. Because they are so popular, they can charge the comparatively high sum of $4 (Sandra tells us that the usual price for laksa is $2). Here only rice noodles are used and they cut them up so that people don't need to use chopsticks to eat it using just a spoon. The reason is because selling street food was not permitted and having the extra chopsticks made it harder as it was another thing to haul away when the authorities were after you!
We watch her dunking the noodles and bean sprouts into the soup but then fishing it out with a specially made ladle with holes punched into it which allows the soup to drain out. She repeats this several times until the vegetables are cooked and the noodles have been dipped and they then sprinkle laksa leaves and chilli sauce over the laksa .
I take spoonful of the laksa and it is fantastic. The cockles, which are initially placed raw in the broth are cooked by the hot broth. They are soft as are the prawns and there are also thinly sliced pieces of fish cake. The most traditional drink to have with this is the lime juice which is sweet and refreshing in this heat.
I try some rojak which is always one of my favourite cooling salads-it's kind of like having a salad with a lot of dressing. Pieces of fruit and vegetables are tossed in a rich peanutty sauce and comes with slices of century egg which isn't anywhere near as fearsome as I thought it would be. It's like boiled egg but  more jellied and salty.
Chin Mee Chin Confectionery

'
And now onto sweets! We stop by Chin Mee Chin Confectionery which is famous for their kaya toast. Kaya is an ambrosial coconut jam with an eggy custardy flavour to it and it is so good that I have been known to eat it by the spoonful. Here they bake wholemeal fruit buns and spread the kaya and butter over it. The usual pairing is with a soft boiled egg with soy sauce which is very soft boiled and you dip in the sweet toasted kaya bun into the salty soft egg.
Gwan Hoe  Soon Restaurant
One last food stop on Tony's tour! His tours usually last 7 hours and people sample about 40 items during this time but we're having a condensed version. Our last stop is the oldest Perakanen restaurant in Singapore and chef Raymond Ouyang is one of the top 10 Perakanen chefs in Singapore.
The first dish is the babi bangang pork belly which is a delicious pork which he specialises in and he tells us is rarely if ever seen in Singapore. It has a fabulous crispy crackling and comes in long pieces with a garlic sauce brushed over the top and a sweeter sauce alongside it. It is served with two sorts of absolutely cracking pickles.
We then try the otak otak which is a minced fish and herb fish cake but much lighter.
The next dish is one that my mother makes quite a bit with cabbage, mushrooms and vermicelli noodles and sauce and reminds me of home cooking.
The last dish is an ayam chicken Buah Keluak with the aforementioned black nuts inside. They're similar to fishing out the flesh from inside an escargot and here they come partially cracked for easy access. The meat needs to be prised out with a teaspoon angled just so. The flesh is gorgeously rich and just packed full of flavour and despite how much work this takes, taste wise it is worth the effort.
Wee Nam Kee Chicken Rice
We end  off the day by trying out a chicken rice place called Wee Nam Kee. I do adore chicken rice and here you can get yin and yang style which is half white chicken (boiled) and half roasted on the plate along with a bowl of the broth and a bowl of rice. We pair this with barley water which reminds me of childhood trips to Singapore.
The chicken comes out and we add the ginger and chilli sauces to it. The chicken is nice but I don't know if this is the best chicken I've had. The rice, seasoned with duck sauce provided on the table however is brilliant as is the broth. And I've heard that some places are known for their chicken but not for their rice and vice versa. And if you want a furious debate ask a Singaporean their opinion on it! ;)
Little India
We're up bright and early the next morning to have our breakfast at another hawker centre from another local's perspective. I could definitely get used to this! Today we're headed towards the Little India area where Singapore's sizeable Indian population live. Here produce is the absolutely freshest that it can be. Many of the buildings have not been refurbished so that you can see them all in their original 1920's state. Every sunday evening, thousands of members of the Indian commmunity and foreign workers gather in Little India.
_ The chilli padi or bird's eye chilli_
Our tour guide Hai who pioneered the concept of hostels in Little India shows us around the different fruit and vegetables stands. Okra, a popular vegetable in Indian cuisine comes in two sizes, regular and jumbo which are the older okra. There are also enormous bananas that are different from plantains and the chilli padi which is the second hottest chilli.
Pusat Tekka Centre, Little India
We arrive at our breakfast destination at Pusat Tekka Centre. I remember the first time I went to a hawker centre when I was small. I thought "Oh my god where are they taking me?". But what I quickly learned after my first bite of hawker food is how tasty and cheap the food is and how hawker centres are ingrained into Singaporean culture. People may drop $400 on a meal but they also love their hawker centres.
We take our pick of nearby stalls where we try a  range of food including biryani. Here they have  a version of biryani where the spices and marinade are not only infused into the meat but also the uncooked rice making the biryani incredibly fragrant and flavoursome. The shop owner scoops it out from a giant pot of biryani and fishes out a piece of chicken among the mutton and fish pieces buried underneath the rice and boiled eggs.
We take this to the table and eat it with our hands using the right hand only and using the thumb to scoop up the rice onto the four fingers held tightly together. The thumb then pushes the food in the mouth. And yes this was my first time doing this and I made a royal mess!
We try and plain roti and a murtabak stuffed with mutton and vegetables for $4. We watch the shop owner rhythmically roll the roti without even having to look at it while he is talking to us. And apparently he has been the subject of many write ups as have many of the stalls here.
I adore the teh cino which has an added layer of sweetened condensed milk to the hot tea. And everyone's favourite drink the cendol comes here with added sweetened condensed milk in the Indian version of the drink.
And I can't resist but try the Indian version of rojak which is one of my favourite dishes. Here the sauce comes separately unlike the Chinese version where it is all mixed in together. You can pick the items you want in the rojak and they slice them up and add some cucumber pieces and voila you have the tastiest salad ever!
Have you ever had a fortune told? Well here in Little India there is a little parrot called Mani who for $5 will pull out a card with a fortune for you. Mine was a terrible fortune but Alison's was much better and promised marriage for her (and for me too, better not tell Mr NQN!).
Oh and did you want to hear about that strange betel nut thing? Alison from delicious. magazine came to my hotel room to try it (safety in numbers and all that). She popped the whole leaf in her mouth and chewed. Her reaction wasn't very encouraging as she was grimacing. I then bit into the leaf and started chewing for all of about 20 seconds before I realised that this was probably a fast path to hell or vomiting and I spat it out. I'm not a fan of bitter items and this was bitter and then some. It also had a disturbingly numbing effect on my mouth which for someone about to have a meal was not desirable. but as they say, when in Singapore do as the Singaporeans do!
But I take some consolation in the fact that I tried it so that you didn't have to! ;)
So tell me Dear Reader, when you go on holiday do you like to eat where locals do? And do you try things that you've never tried before?
_
_
_NQN travelled to and explored Singapore as a guest of the Singapore Tourism Board. _
Tony Tan's Tours
http://www.betelbox.com/tour-food.htm
Geylang Serai Food Market
1 Geylang Serai #01-K1
Singapore 402001
1800 222 2121
5B
42 Joo Chiat Rd, Singapore
Tel +65 64587228
328 Katong Laksa
53 East Coast Road, Singapore (three locations in total)
Tel: +65 9732 8163
Chin Mee Chin Confectionery
204 East Coast Road, Singapore 428903
Tel: +65 6345 0419
Guan Hoe Soon Restaurant
38 Joo Chiat Place, Singapore 427762
Tel: +65 6344 2761
Wee Nam Kee Chicken Rice
Novena Ville, 275 Thomson Road, Singapore 307645
Open: 10.30am – 12 midnight (Daily)
Little India and Hai's Walking Tour
http://www.the-inncrowd.com/walkingtoursindex.htm
Pusat Tekka Tekka Centre
665 Buffalo Road, Singapore 210665
Tel: +65 6736 6622