"We have between 12 to 18 amuses which we send out to guests" chef Ryan Clift of Singapore's Tippling Club and former head chef of Melbourne's Vue de Monde says. He's only half joking. We're somewhere in between the seven complimentary amuses bouches that have come out to us (and these are typical of what a diner will get). In one area there is the test lab which in fact looks like a designer laboratory complete with all of the chef toys. And why the name Tippling Club? Ryan explains that tippling means to eat and drink in small portions.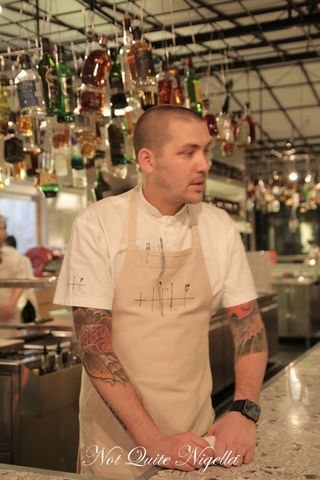 Apparently in the 18th century tippling clubs were exclusive clubs where food and alcohol enthusiasts would eat and drink the rarest alcohols. The club members would go on missions in search of these rare types of alcohol and there was reports of one ultimately doomed mission where a tippling club would visit Peru to acquire Pisco and only one returned. And so Tippling Club with its emphasis on finding rare ingredients exemplifies a modern day version-except without risk of perishing of course.
It is a restaurant that can serve only 30 each night and true to the name, Ryan sources ingredients from as far flung as the Himalayan mountains. There are two tasting menu costing between $140SGD (classic) to $240SGD (gourmand). However if you want, each course in the tasting menu is matched to a wine or cocktail for $230SGD for the classic menu or $390SGD for the gourmand. And we're getting a combination of their classic menu and their gourmand menu this evening, all matched with cocktails and wines. And I'm quite lucky to be getting these pics as they have a strict no photography policy for their food!
But let me start with my first amuse bouche described as "daily surprise snacks from the test kitchen". It is an amuse of potato and leek vichyssoise with a square of confit potato and avruga caviar. We pick it up eager to try it and some spill a  little on the table. It is housed in a slender glass vessel which has a spout at either end. We put one end of the spout into our mouths and take in the little square of potato confit topped with avruga caviar and down the hatch! It's creamy, salt, poppy and rich. A perfect start.
The cocktail menu is cleverly designed so that the four parameters of sweet, spice, sour and dry are measured against the cocktails on offer. The "MB's apple pie" is a rectangular glass in a cardboard sleeve designed to mimic the McDonalds' apple pie in flavour and look. And if you look at the diagram above, it is firmly in the "sweet" category.
We are all having different cocktails although we all swap and try each other's. Mine is a refreshing cucumber cocktail that has a distinctly Japanese feel to it and a favourite for many in our group. Japan is a country where Ryan spends a lot of time finding and researching ingredients. In fact he was in the underground during the recent earthquake.
The second amuse is a small glass pot of carrot curry with freeze dried raita (cucumber yogurt) and features a blanket of furry green powder. A spoonful of everything gives a complete textural and sweet and savoury sensation with the mixture of freeze dried and powdery greens.
The charred pepper embers are delicious-not charred tasting at all and they come with a large splodge of miso and wasabi dipping sauce. Picking up the culinary tweezers provided, I dunk a piece of pepper deep into the sauce as I expect the proportion of sauce to match the size of the ember. However the sauce is quite strong and I find this best delicately dipped into the sauce. The pepper doesn't taste so much of pepper rather of the crunchy batter outside.
The paella is an amuse that requires a finishing touch at the table. The paella has saffron, smoked paprika rice, edamame, micro ebi sakura shrimp, tiny cubes of jamon and a hot fluid gel flavoured with jamon that is poured over just before serving. This amuse is full of texture and senses, there is the very crunchy texture against the liquid from the gel and a distinctly fishy aroma and taste contrasting with the jamon flavoured gel. And yes this isn't your typical paella!
Now I had a bit of trouble catching up with the descriptions from Ryan as he brought out each dish himself and this one has a lot going on in it. There is a braised pig's trotter in a cube form with caviar, caramelised onion, pear, mushroom and licorice. Despite all of these ingredients the mouthful that we pop into our mouth fastened onto a hat pin type of instrument has a distinct livery aftertaste right at the end!
Now as you can see, this stainless steel spoon of goodness is unlike any other green curry you may have tasted. Bringing it to our nose it is a heady aroma of coconut and Thai green curry and scooping the entire foam topped spoonful into my mouth I taste the home made lemongrass tofu, puffed rice and the distinctly licorice flavour of Thai basil and pea puree. Mirror mirror on the wall, this was one of my favourite amuses of them all.
It's cocktail time again and this time it's a science experiment looking number which comes with whirling particles and a foggy top. Smoking tomato water completely makes sense here and it is delicious and fun.
Hi Mami is a sake based cocktail served in a Japanese cup and has a citrusey honey aspect to it. I had to stop after a sip because I needed my wits about me and I get drunk embarrassingly easily.
OK now we're done with the amuses and we're onto our the courses. Our first course is a W.A. scampi with kuzu noodles with a bouillabaisse, tiny caviar tomatoes and that very mysterious ingredient called Japanese sea grapes. Can you see them there? They're that tiny bunch of dark green grapes even smaller than caviar. It's a type of sea succulent and it took Ryan one and a half years to get them into Singapore. He first tried them at El Bulli and has been in search of a good supplier since. This dish is fabulous, made even more so by the scampi although picking up the kuzu noodles proves an almost fruitless exercise as the slippery little suckers elude fork, knife and spoon time and time again.
Oh my, this dish is seven degrees of heaven. I lament my inability to eat more because I just wanted to be alone with this. He tell us that this dish was accidentally created - they puree the raw foie gras and use sulfur nitrate and Armagnac to cure it. It is served with a crispy gaufrette biscuit, 8 spice powder and apple puree, a paper thin apple crisp and slices of fresh apple. It is wonderfully smooth and when, as instructed you crush the biscuit you can do your own version of scooping up the foie gras with the biscuit chips. Chips and dip have never tasted this good.
The gnocchi was not your usual gnocchi (I think by now I've now realised nothing is typical here). It is a mock gnocchi made using an enzyme reaction and reverse jellification. Piping the gnocchi into hot stock produces a soft, light gnocchi. It is paired with a puree of Lyonnaise potatoes and sprouting onions thinly sliced and dried and a French onion inspired soup in a deep beef stock which is just heavenly.
The last savoury course arrives and it is a slow braised wagyu beef cheeked cooked at 72 degrees celsius for 48 hours. The 72 degrees is the stage at which the connective tissue starts to break down making it wonderfully soft. The beef pieces are buried beneath a mound of red wine quinoa, beetroot puree and smoked yogurt dots and there are specks of freeze dried raspberries. The rich and vividly shaded red wine quinoa is a natural match for the beef and the quinoa gives the soft beef texture.
Out comes out more equipment including a bowl with wispy wafts of what appear to be dry ice (perfect for Halloween!). Ryan stirs the pot and we can hear some crackling inside it and the fog parts to reveal some crunchy little pieces. He ladles these up into bowls and explains that it is an apple cereal dish with -196 degree freeze dried apples with apple granola, and maple syrup to finish it off. It's quite tart but I love the buttery, fine granola crumbs.
A new cocktail and so far we've had a multitude of cocktails. This one is served in a small glass bottle and tastes like the alcoholic version of Multi V. This isn't just Willy Wonka land but Willy Wonka land for cocktail lovers.
Our final course was inspired by Strauss's Blue Danube and spaceships docking on the moon, as you do, the fluffy white orb is firmer than originally thought (we thought that it would be a flyaway meringue). It is meringueish and filled with a butterless and eggless sodashi citrus curd and white chocolate and a coriander gel. The rocks underneath are made from white chocolate rolled in coconut ash. Ryan explains the properties of coconut ash and its history. Every year the King of Thailand has a black toffee made from coconut ash made for him. The black in the toffee is made from dehydrated young drinking coconut cooked for 72 hours on a fire and it must be tended to constantly thereby making it a  very difficult item to make. As coconut doesn't have any natural sugars or salt it doesn't taste burnt but looks black.
Many, many cocktails, amuses, wines, mains and desserts later we bid Tippling Club goodbye. But of course being Singapore the night is young and there are plenty of things to entertain you with.
From one hot young chef to another we head to visit Singapore's own dessert chef Janice Wong. In Holland Village, a cool and exclusive part of Singapore we look up and see the glowing words "2am Dessert Bar" and a smile spreads across my face. Now why can't every city have a dessert bar that opens until 2am? Here the desserts have a deft touch and are definitely of the restaurant calibre rather than a cafe. And there are leather clad day beds on which you can recline while eating your desserts. My mind is overwhelmed by fabulousness (and no I wasn't tipsy) at this sleek modern day Marie Antoinette salon.
Licensed and with savoury snacks the focus is on beautifully plated desserts and before the night ends we end up begging her to open one in Sydney. Janice's journey is an interesting one. With an economics degree she decided to not go the route that she was set but instead to study at Le Cordon Bleu and become a pastry chef working in some of the most renowned kitchens in the world.
We're offered a five course dessert degustation designed by Janice who quietly and efficiently goes about plating her beautiful desserts. The first one was one that intrigued us all. Simply called "purple" it was inspired by her first attempt at painting and as a result she wanted to come up with a series of shades as desserts. Purple comprises of purple potato puree, blackberry parfait, leather, lavender marshmallows and fruit of the forest sorbet. The leather component isn't actually leather but cassis or blackcurrant and the whole dessert is mounted on acrylic blocks with that first painting pressed between them. The half balls are a moussey blackberry parfait with just the right amount of sweetness and it sits on a creamy purple potato puree with little pieces of lavender marshmallow and a portion of fantastic fruit of the forest sorbet.
_Popcorn $15
_
Even more briefly titled "Popcorn" this was popcorn with a sweet corn pudding, a ribbon of yuzu marshmallow and a sprinkling at each end, one sweet with sugar and one salty with corn salt so that you can have a sweet or savoury sensation depending on mood. This was a favourite with the table.
This dessert is blanketed by a tangy fruity "cloth" which is similar to a fruit leather but skilfully translucent and reminds me of a fabric. The dessert is a bit of savoury via the basil white chocolate and the shiso leaves and also features light passionfruit puff meringue and sea grapes which we had at the Tippling Club.
She tells us that this was a somewhat controversial dessert as Singaporeans are just getting used to the idea of  savoury items in dessert (slightly ironic given the proliferation of beans in Singaporean desserts ;) ). This was beetroot sorbet paired with a goat's cheese crumble, peach and buttery crumbs. This is again a balance of sweet and savoury but with more savoury than you usual dessert and I can imagine this would be ideal for the non sweet tooths out there.
Now the specialty of the house is a dessert that could satisfy a couple. Rich and chocolatey this contains a chocolate caramel truffle in the centre and looks like a part of the Earth's surface rendered in the darkest chocolate. Here the 72% Valrhona chocolate is blended with water (specifically Evian) with small balls of yuzu sorbet and gel and bits of praline. The idea is to smash the surface to reveal the caramel centre. Perhaps it's because it's the last dessert but this dessert divides many at the table and I found it too much on the bitter side for me.
Well you didn't think we'd finish there did you? Not when there are chocolate truffles to be had! Specifically yuzu and white chocolate truffles which and dark chocolate and bergamot truffles. The yuzu and white chocolate were divine-the combination of sweet white chocolate juxtaposed against the tangy yuzu (Japanese citrus fruit like a lemon and mandarin) is stunning.
The basil marshmallows are distinctly basil-y and sweet and I relish the one on the stick!
I swear I won't eat for another week. Well...until tomorrow perhaps ;)
So tell me Dear Reader, would you visit a late night dessert bar (yes I'm still trying to get her to open one here! ;) )  And do you usually have cocktails or wine with your meal?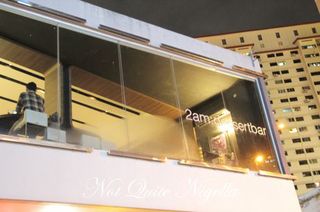 Tippling Club
8D Dempsey Road, Singapore
Tel: +65 6475 2217
Open Weekdays 6pm-12am; Sat 12pm-3pm, 6pm-12am
2am: dessertbar
21A Lorong Liput, Singapore
Tel: +65 6291 9727
Open Mon-Sat 8pm-2am; also open Sun