"It's creepy and it's kooky,
Mysterious and spooky,
It's altogether ooky,
The Killer Vanilla Cake!"
Looking to make a creepy elegant cake for Halloween? Then look no further than this killer vanilla cake. I like to fantasise that Morticia and Gomez Addams might have had something very similar for their wedding cake.
In this three tier cake, a very vanilla buttercake is sandwiched with white chocolate ganache and covered with a marble fondant coating. Intricate spider web design is hand piped in royal icing and it is decorated with home made skulls and graveyards!
I called her Morticia, naturally.
Hallowe'en is coming up soon and I am very excited about this year's party. The guest list is very small, there's a reason for that which I will share with you so while I would love to invite everyone that I usually do, sadly it isn't practical. I'm cooking up something unusual and special in my cauldron you see.
How to make a Creepy Halloween Wedding Cake!
I know my friends are pretty willing to try almost anything but during Halloween I have to dial back the crazy at times. While I want food to look kooky, crazy or challenging I want it to taste great too. This butter cake smells amazing while it is baking and the vanilla gives a comforting feel and aroma even if the appearance doesn't.
While on our recent trip to Bangkok I tried something unusual for the first time. Eat Me's chef Tim Butler took us around the markets and we got to talking about things that chefs eat. Because most chefs seem to love eating challenging things. The thing that he mentioned was a drink of lobster blood and sprite. Yup, you read that correctly.
Lobster blood or technically hemolymph is actually clear but when exposed to oxygen it has a blue tinge to it due to the presence of hemocyanin which contains copper. And did you know the reason why vertebrates have red blood is from hemoglobin which is rich in iron? Lobster blood like I guess a lot of blood has a salty quality to it that actually goes well with Sprite and in parts of Asia it is a delicacy and a treat.
He sent some out that night when were dining at the restaurant as a little surprise. I stared at it, with its slightly eerie light blue tinge. I took a sip, there was a slight saltiness and sweetness, not unlike one of those sports drinks. It wasn't bad at all in fact and I'm so glad that I actually got to try it. I think it sounded worse than they actually was. Although I did draw the line at putting this on the Halloween menu this year!
So tell me Dear Reader, have you ever tried lobster blood? Would you give it a go? And are you doing anything for Halloween this year?
P.S. I wanted to get a cut shot but I thought I'd wait until our Halloween party to do that as I didn't want the cake to dry out! And is Morticia too creepy for you?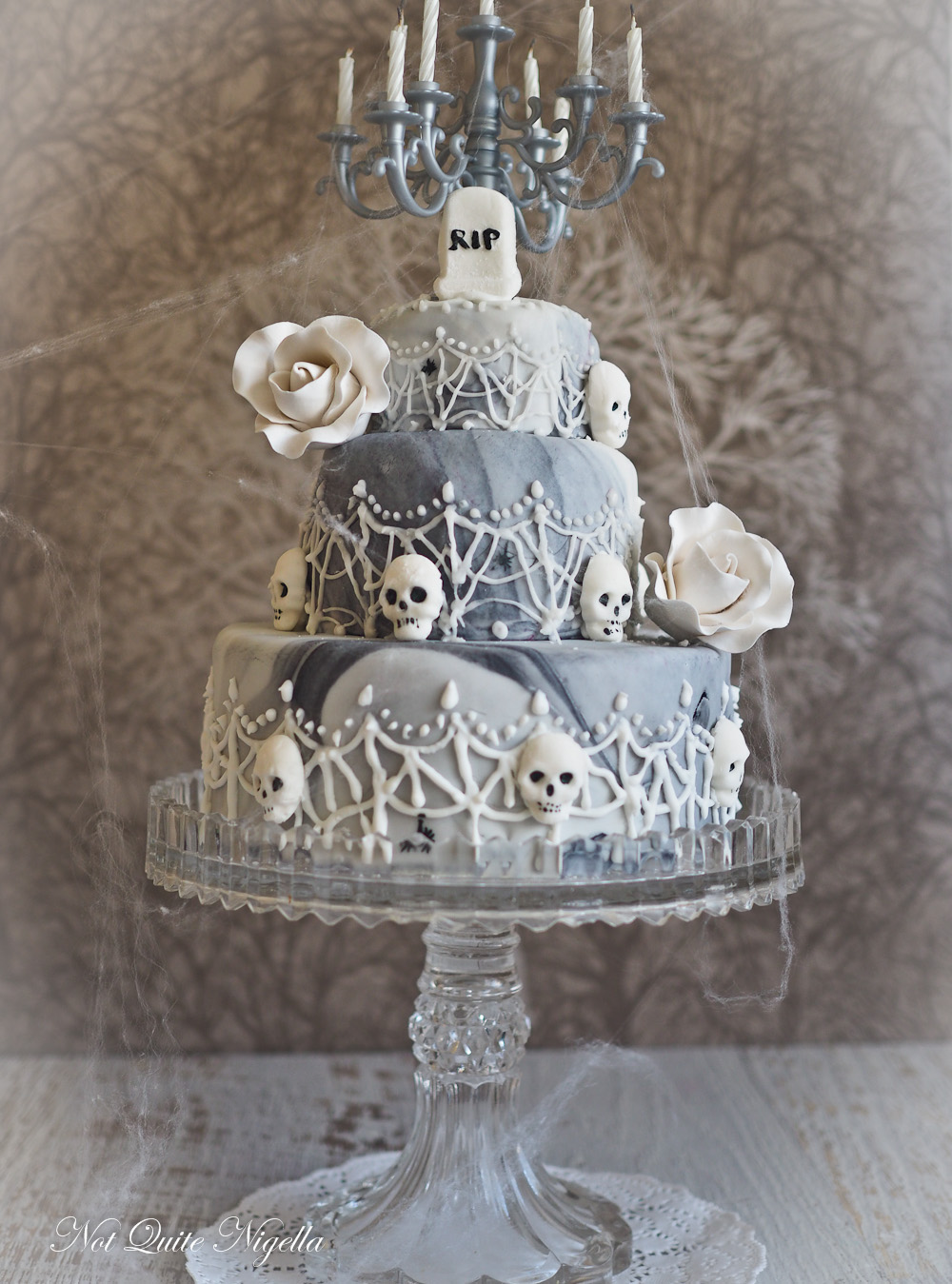 The Vanilla Killer Halloween Wedding Cake
An Original Recipe by Lorraine Elliott
Degree of difficulty: hard
Preparation time: 3-4 hours
Cooking time: 1.5 hours
250g/8.83ozs. butter
250g/8.83ozs. caster sugar
1 tablespoon vanilla bean paste
5 eggs, at room temperature
300g/10.6ozs. cake flour
4 teaspoons baking powder
100g/3.5ozs. sour cream
Red food colouring (optional, I recommend Lorann's Red Velvet Emulsion)
Ganache
600g/21.2ozs. white chocolate
250ml/8.83ozs. cup cream
White on white colour (Wilton has one)
Syrup
1/4 cup water
1/4 cup white sugar
1 teaspoon vanilla bean paste
Fondant
400g/14.13ozs. white ready to roll fondant (this is more than you will need but it is easier to work with more fondant than less when covering a cake)
50g/1.7ozs. black ready to roll fondant
Royal icing
225g/8ozs. pure icing sugar
3 tablespoons water
2 tablespoons pavlova magic
Decorations
Black edible colouring gel
Fine paintbrush
Gum paste skulls, RIP gravestones and white flowers (can be purchased at cake decorating stores but I made the skulls and gravestones using gum paste and a mold)
You will also need cake boards that are half a cm larger than your cake to make crisp corners (you can do it without but you get really sharp corners that way).
Step 1 - Line 3 tins (one 15cm, one 10cm and one 6cm) with parchment on the base and sides. Preheat oven to 160C/320F.
Step 2 - With a beater attachment, cream the butter and sugar until pale (2-3 minutes) then add the eggs one at a time mixing well after each addition. Mix the red food colouring with the sour cream. In a measuring jug measure the cake flour and baking powder and whisk together. Add the flour and the sour cream in two lots, alternating until just combined.
Step 3 - Spoon into the three tins and bake. the 6cm cake will take about 30 minutes, the 10 cm one around 1 hour and the 15cm one 1 hour and 20 minutes. Press down in the centre and if it feels soft or squishy keep baking it. Cool completely. These are best baked a day in advance so they have time to firm up to decorate.
Step 4 - Make a syrup by simmering the vanilla, sugar and water for a few minutes. Allow to cool.
Adding white on white to the white chocolate ganache to make it more white
Step 5 - Split cakes in half horizontally. Make a ganache by melting the chocolate and cream together until you get a smooth consistency. Add a little white gel to it (optional but white chocolate can look quite yellow). Allow to firm up in the fridge.
Step 6 - Take a layer of cake and its two corresponding cake boards. Dab a bit of ganache on one cake board and place the first half of the cake on it. Brush with the vanilla syrup. Spread ganache on the sides and top. Place the other cake board on top and then fill up so that the side is completely filled with ganache to the side. Use a scraper tool to smooth it out. Refrigerate until set. You can keep scraping this until it is very smooth adn using a palette knife dipped in room temperature water also helps to smooth the ganache. Repeat for the other layers of cake and keep in the fridge to firm up the ganache.
Step 7 - Clean and dry your working station completely because you don't want any crumbs of red cake in the fondant. Sprinkle some cornflour/fine cornstarch on the surface and knead the fondant until it is soft and pliable. Place 2/3 of the white fondant on the surface and shape the black fondant into a log and place this on top of the white fondant. Roll out and fold over one or two times until you get a marble pattern. Roll it out large enough to fit the cake and sides and then cover the cake with the fondant. Smooth down the sides, trim exccess fondant away and smooth the sides-you may end up with excess fondant on the sides, you can cut this off with scissors and smooth with your hands or a fondant smoother.
Step 8 - The marble effect works best if there is lots of white so take the remaining white and roll in a medium sized portion of the leftover grey marble fondant. Repeat for all layers until you have three marble covered cakes. You can use dowels for these (to add structure) but this a relatively small cake so I didn't use them. Stack them on top of each other using the vanilla syrup in between.
Step 10 - Make the royal icing by placing the three ingredients in a food processor and blitzing until smooth. Spoon 2 teaspoons into a small piping bag (I made up about three of these bags and filled them up as I needed them). With a pencil (don't worry pencils no longer have lead in them), sketch the pattern you want to pipe. I avoid freehand piping because it can go wrong quickly unless you are practised at it. Then pipe the patterns with royal icing.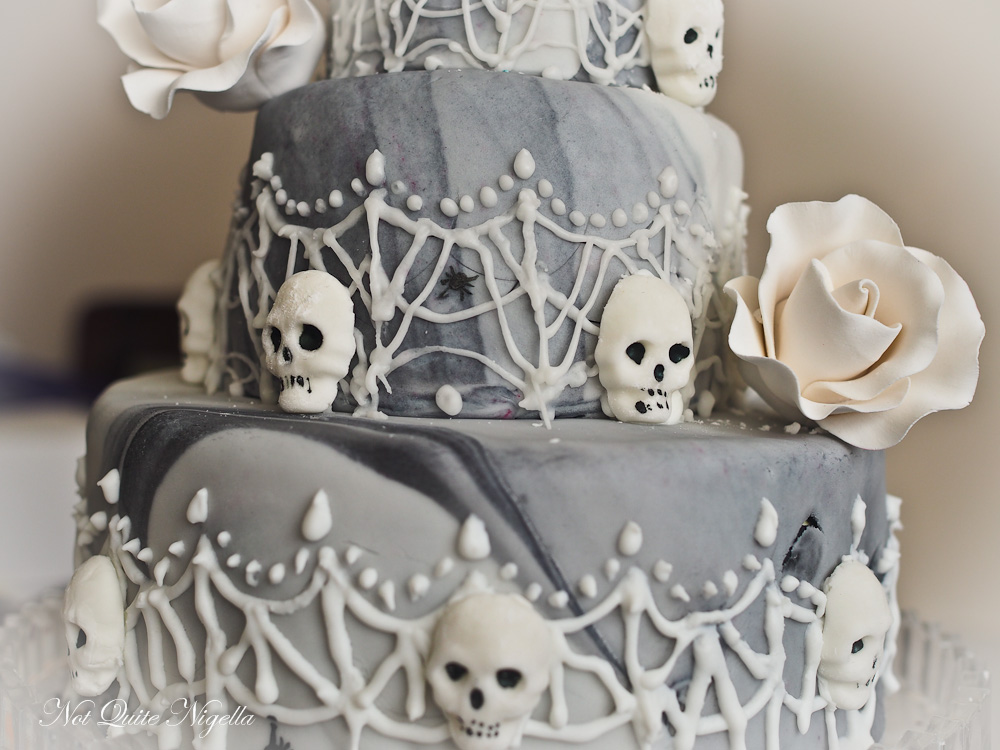 Step 11 - Attach gum paste skulls using royal icing and affix the white flowers using wire. Draw little spiders using edible black ink.