If you want something pretty but light to serve for dessert then may I offer you this gorgeous Nepalese dessert called Sikarni? It's a whipped yogurt dessert that I've added some luxe Bronte pistachio paste to. Then it's just a bit of spice and then some fruit or nuts on top. It's so creamy that you would swear that it was made out of the richest cream!
The yogurt is actually strained overnight so you do need to start it beforehand but it pays dividends with a super rich creamy texture. You can use pistachio, walnuts, almonds or cashews and you can also use spices like black pepper or saffron too. It's very versatile. I will grant that the Italian Bronte pistachio paste is not a traditional ingredient but I had some and it fit the nutty theme. I have to say that it really added a wonderful flavour to it too.
We always keep yogurt in the fridge but recently it was for a different visitor and not Mr NQN. We were looking after a little Maltese Shih Tzu for the day. She is a very sweet little dog that was incredibly well behaved and she didn't bark or pine even once. For me she was the perfect little dog. For a whole day she was my shadow and joined me by my desk and in the kitchen.
While I was making lunch in the kitchen by the sink she was lying down half napping at the kitchen entrance. All of a sudden I heard a loud honking noise and I looked down alarmed. She was honking like a goose! I wondered if she was choking on something and I started panicking. I tried to open her mouth to remove whatever it was but she wouldn't open it, she simply looked back at me with a completely calm expression. By now I was terrified. "How do you heimlich a dog?" I thought to myself picking her up. I pressed against her tummy and that didn't help. "Oh my god, I can't even heimlich a dog..." I said to myself.
Then suddenly as soon as it started, the honking stopped. I turned her around and she looked at me with those gorgeous expressive black eyes. She just acted as though nothing at all had happened. Like she hadn't honked like a goose for a good 20 seconds and that I hadn't just heimliched her or tried to.
So tell me Dear Reader, have you ever been in a situtation where you have had to do a heimlich manoeuvre? On a human? Or a dog? And do you prefer lighter or richer desserts? Have you ever tried this before?
DID YOU MAKE THIS RECIPE? Share your creations by tagging @notquitenigella on Instagram with the hashtag #notquitenigella
Sikarni Pistachio Spiced Yogurt
An Original Recipe by Lorraine Elliott
Degree of difficulty: very easy
Preparation time: start the recipe the night before. Then 10 minutes
Cooking time: 0 minutes
2 3/4 cups natural yogurt
1/4 cup thickened cream
1 tablespoon Bronte pistachio paste*
1/2 cup icing sugar
2 teaspoons honey
1/4 teaspoon ground cardamom
1/4 teaspoon ground cinnamon
Pinch of ground nutmeg
2 teaspoons chopped pistachios
Fruit to decorate
Step 1 - Place the yogurt and cream in a cheesecloth or over three strong paper towels that line a sieve. Cover and set over a bowl and allow to drain overnight in the fridge. You don't need the whey that comes off the yogurt (although it is a good source of protein).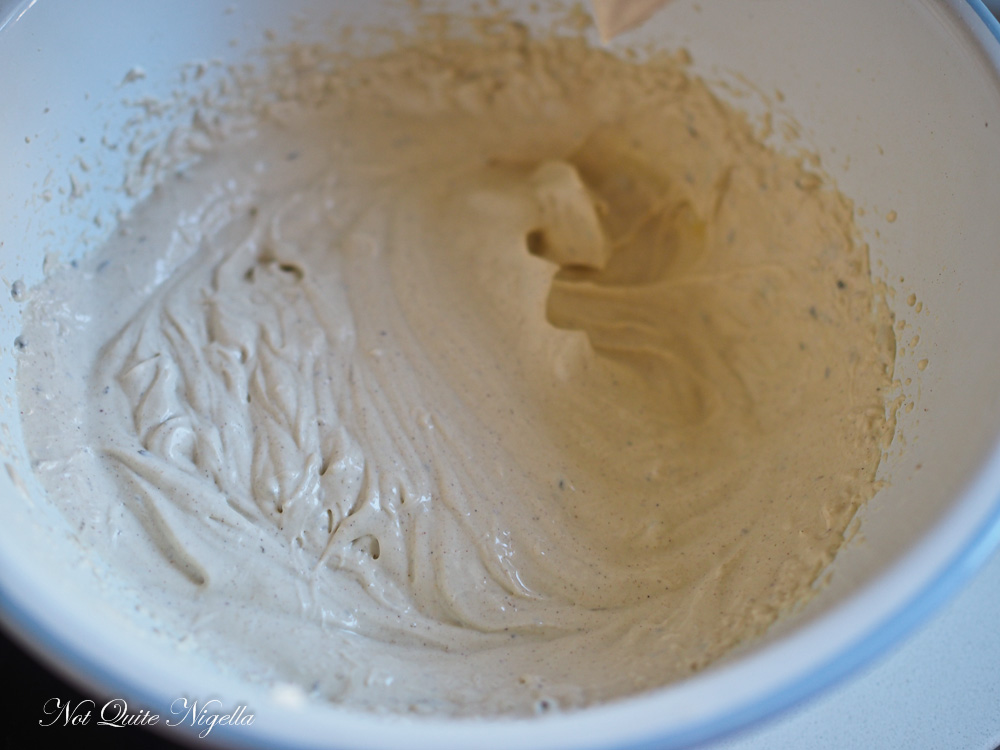 This is a very boring photo but hopefully it shows the silky, creamy thick texture of the sikarni
Step 2 - Place the thick yogurt in a medium sized bowl and sift the icing sugar over it and add the honey, pistachio paste, cardamom, cinnamon and nutmeg. Whip with a mixer for 3 or so minutes until fluffy and light. Step 3 - Pour into serving cups and top with cut fruit and chopped pistachios.